Gretta wished she had something like this when she started
Hi ,
I know it's only November…
But it's never too early to order the perfect gift for the holidays.
Over the years I've realized that the definition of a perfect gift has nothing to do with the stuff or the monetary value assigned to it. 
Rather it's the meaning the gift makes in the receiver's life.
What can you give that's meaningful?

We found something for you here
Perfect for all those who have real passion for entrepreneurship! 
If you have friends, family or co-workers who're aspiring entrepreneurs, started something on the side or are already in business…
This will surprise and delight them!
I'm talking about the Foundr Coffee Table Book (Hard-Cover).

Here's what our star instructor, Gretta van Riel, had to say about this book:

"I honestly wish that I had something like this when I started with my own entrepreneurial journey…"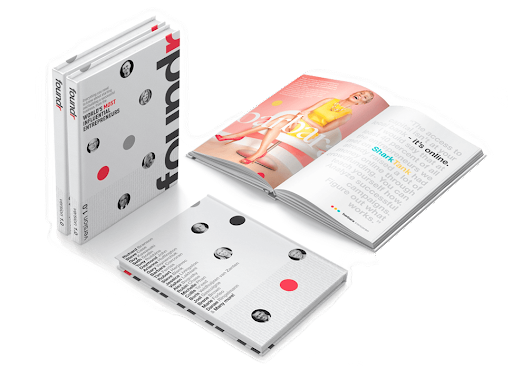 Containing timeless wisdom from legends such as…


Richard Branson
Steve Case
Guy Kawasaki
Seth Godin
Tony Robbins
Daymond John
Arianna Huffington
Gary Vaynerchuk
Barbara Corcoran
Tim Ferriss
Robert Herjavec
Steve Blank
And more…
This book will inspire confidence and help unlock true entrepreneurial potential!
Don't take my word for it.
Here's what people say:

"A well produced book that features many good ideas from varying sources written as short essays, generally one or two pages long. It was presented to me as a coffee table book and that's probably its best use, to skim through topics of interest and read several essays on your topic."
"Make $1000 in 3 days! Foundr reveals shocking tricks to getting out of your 9-5. Banks hate this book! Jokes aside, Foundr magazine has a special part in my life, the podcast with Nathan Chan gave me a new perspective and made me work hard on my goals. The content from the entrepreneurs in this book is a gold mine and Foundr v1.0 is a must-have for the ones willing to go hard at their goals."
So in short, this book probably is your best hope for inspiring others in this shaky economy.
Order multiple copies.
Let everyone in your circle have one.
You'll be remembered for this act of inspiration.
No doubt.
When you order today, you also get free shipping to the US (and the rest of the world).
Help inspire entrepreneurs!
Nathan Chan
CEO, Founder of Foundr
P.S. Here's some entrepreneurial wisdom from Venus Williams:

"Being an entrepreneur doesn't mean you have to go all-in. People think it means I have to quit my job and now live off my credit card and here we go—it may or may not work. You can always start your business and your new dream while you work your current job to mitigate the risk. You don't have to take all the risks that people often envision—they think that entrepreneurs are the riskiest people on the planet, and a lot of times they aren't."
Wouldn't it be cool to have a book full of practical wisdom like these that you can indulge while snuggling up on the couch by the fireside this holiday season?
Older messages
🎃👻 24hrs to go - treats, no tricks
Sunday, October 30, 2022
Hey , Your special deal for Foundr Startup Tools expires at midnight tomorrow. If you want to save money on your favorite software tools and services while still enjoying the amazing features they
48hrs left - how much do you want to save, ?
Saturday, October 29, 2022
Hey , After 48 hours, this deal here will expire. It's for our new and exclusive Foundr Startup Tools, which gives you access to more than 70 deals that instantly cuts down your software bills.
Increase your income with foundr+
Wednesday, October 26, 2022
There is a big caveat though… Hi , 48 hours left. If you haven't heard, we just reopened low monthly payment options for our new foundr+ membership, but only until 11:59pm this Wednesday. Plus, you