What senators do for voters after hard-fought races
| | | |
| --- | --- | --- |
| US Edition - Today's top story: Before you vote for a senator, here are some facts about what they actually do View in browser | | US Edition | 7 November 2022 |
Once all the votes have been counted, the victory speeches delivered and the yard signs removed, there will be a job to do. But what, exactly, do U.S. senators do? As Drake University political scientist Rachel Paine Caufield notes, the men and women who make up the Senate face a laundry list of roles and responsibilities, ranging from crafting legislation in the Capitol to answering constituents' questions back home. And then there is the not-so-small matter of preparing for the next campaign to save their seat.
Caufield's article typifies the approach The Conversation has taken to covering the midterm elections. Horse race stories and beltway speculation are best covered elsewhere. Instead, we have strived to look at deeper questions and provide articles that explain and explore rather than exhort.
Also today:
Matt Williams

Senior Breaking News and International Editor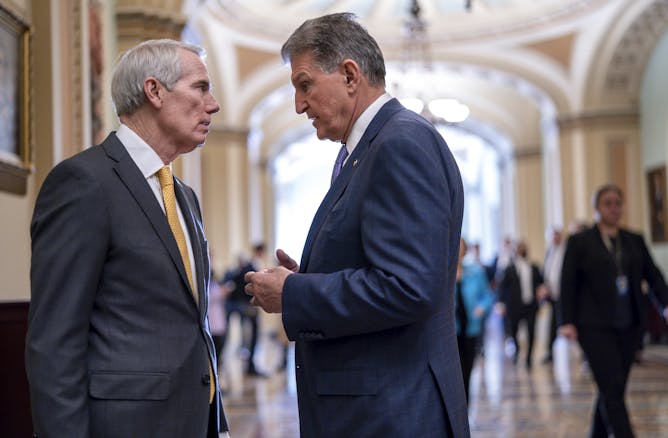 Thirty-five Senate seats are up for grabs in the midterm elections. What tasks and responsibilities await the winners?
Politics + Society
Voter demographics and policy priorities are two recurrent, big issues on Election Day – but shifts in election administration and voting laws are new challenges influencing the midterms.

What deep-dive polls reveal at the political landscape of America as the 2022 midterm election approaches.

Some fascists claim that democracy and fascism have the same goal – to give effect to the will of the people. But who the people are is where the ideologies divide.
Environment + Energy
Our planet is undeniably in crisis and desperately needs COP27 to succeed. Without concrete action, we are condemning today's children to a harsher future.

Geographic, cultural and political identity are all part of being Indigenous.
Arts + Culture
Headlines about pickleball's exploding popularity abound. But the less visible social undercurrents of an emerging sport ultimately shape its long-term future.
Education
Scholars explain what affirmative action is – and isn't – as well as what its effects are, and why, among others, the military has supported it for decades.

Asking alumni to reflect on 'a person or event in their past that had particularly benefited them since graduating' resulted in larger gifts.
Health + Medicine
Inflammation is a complicated and important part of how the immune system responds to threats to the body. But when the inflammatory response goes awry, it can lead to serious problems.
Economy + Business
While corporate partnerships can be 'win-win' arrangements, sometimes they don't work out – especially when values don't align.
Older messages
Twitter users in search of a new roost
Saturday, November 5, 2022
+ 8 billion people dwell on Earth ‌ ‌ ‌ ‌ ‌ ‌ ‌ ‌ ‌ ‌ ‌ ‌ ‌ ‌ ‌ ‌ ‌ ‌ ‌ ‌ ‌ ‌ ‌ ‌ ‌ ‌ ‌ ‌ ‌ ‌ ‌ ‌ ‌ ‌ ‌ ‌ ‌ ‌ ‌ ‌ ‌ ‌ ‌ ‌ ‌ ‌ ‌ ‌ ‌ ‌ ‌ ‌ ‌ ‌ ‌ ‌ ‌ ‌ ‌ ‌ ‌ ‌ ‌ ‌ ‌ ‌ ‌ ‌ ‌ ‌ ‌ ‌ ‌ ‌ ‌ ‌ ‌ ‌ ‌ ‌ ‌ ‌ ‌ ‌
Climate reparations top UN summit agenda
Friday, November 4, 2022
+ midterm issues to keep in mind ‌ ‌ ‌ ‌ ‌ ‌ ‌ ‌ ‌ ‌ ‌ ‌ ‌ ‌ ‌ ‌ ‌ ‌ ‌ ‌ ‌ ‌ ‌ ‌ ‌ ‌ ‌ ‌ ‌ ‌ ‌ ‌ ‌ ‌ ‌ ‌ ‌ ‌ ‌ ‌ ‌ ‌ ‌ ‌ ‌ ‌ ‌ ‌ ‌ ‌ ‌ ‌ ‌ ‌ ‌ ‌ ‌ ‌ ‌ ‌ ‌ ‌ ‌ ‌ ‌ ‌ ‌ ‌ ‌ ‌ ‌ ‌ ‌ ‌ ‌ ‌ ‌ ‌ ‌ ‌ ‌ ‌ ‌ ‌
The Conversation: 2022 in review
Thursday, November 3, 2022
Our impact, made possible by you ‌ ‌ ‌ ‌ ‌ ‌ ‌ ‌ ‌ ‌ ‌ ‌ ‌ ‌ ‌ ‌ ‌ ‌ ‌ ‌ ‌ ‌ ‌ ‌ ‌ ‌ ‌ ‌ ‌ ‌ ‌ ‌ ‌ ‌ ‌ ‌ ‌ ‌ ‌ ‌ ‌ ‌ ‌ ‌ ‌ ‌ ‌ ‌ ‌ ‌ ‌ ‌ ‌ ‌ ‌ ‌ ‌ ‌ ‌ ‌ ‌ ‌ ‌ ‌ ‌ ‌ ‌ ‌ ‌ ‌ ‌ ‌ ‌ ‌ ‌ ‌ ‌ ‌ ‌ ‌ ‌ ‌ ‌ ‌
Political violence isn't going away anytime soon
Thursday, November 3, 2022
+ the ethics of not voting ‌ ‌ ‌ ‌ ‌ ‌ ‌ ‌ ‌ ‌ ‌ ‌ ‌ ‌ ‌ ‌ ‌ ‌ ‌ ‌ ‌ ‌ ‌ ‌ ‌ ‌ ‌ ‌ ‌ ‌ ‌ ‌ ‌ ‌ ‌ ‌ ‌ ‌ ‌ ‌ ‌ ‌ ‌ ‌ ‌ ‌ ‌ ‌ ‌ ‌ ‌ ‌ ‌ ‌ ‌ ‌ ‌ ‌ ‌ ‌ ‌ ‌ ‌ ‌ ‌ ‌ ‌ ‌ ‌ ‌ ‌ ‌ ‌ ‌ ‌ ‌ ‌ ‌ ‌ ‌ ‌ ‌ ‌ ‌ ‌ ‌ ‌
Celebrity candidates bring shock factor to midterms
Wednesday, November 2, 2022
+ reducing opioid use with cannabis ‌ ‌ ‌ ‌ ‌ ‌ ‌ ‌ ‌ ‌ ‌ ‌ ‌ ‌ ‌ ‌ ‌ ‌ ‌ ‌ ‌ ‌ ‌ ‌ ‌ ‌ ‌ ‌ ‌ ‌ ‌ ‌ ‌ ‌ ‌ ‌ ‌ ‌ ‌ ‌ ‌ ‌ ‌ ‌ ‌ ‌ ‌ ‌ ‌ ‌ ‌ ‌ ‌ ‌ ‌ ‌ ‌ ‌ ‌ ‌ ‌ ‌ ‌ ‌ ‌ ‌ ‌ ‌ ‌ ‌ ‌ ‌ ‌ ‌ ‌ ‌ ‌ ‌ ‌ ‌ ‌ ‌ ‌