What The Elle - Got Resolutions? (We've Got You.)

It was not a great year for women. To say the least.
In fact, the Ellevest Women's Financial Health Index clocked in at the lowest level in the past five years. Issues negatively impacting women included the attack on reproductive rights (which, among other things, is an economic issue), the lingering effects of the pandemic on women's workforce participation, high inflation, and little progress on gender pay gaps.
Oof.
While women were getting knocked back, parts of the financial industry … bet on crypto. And NFTs. And scooters. And Adam Neumann.
You bet on women. And you bet on yourself.
So as that time of year approaches — resolution season, "new year, new me," auld lang syne — all we need is to remember that while change can feel slow, we have that power. We can always show up for each other and ourselves. (Consider adding a few of the resources below into the mix to keep taking care of yourself financially in the coming year — and every year.)
I want to finish this week's newsletter with a thank you to all of you. Thank you for being part of this vibrant community of women and our allies. And thank you for so actively engaging with us to share your wins and the impact you want to have with your money.
Together, we are building something that's unique, that's powerful, and that we can all be proud of.
Thank you. See you next year!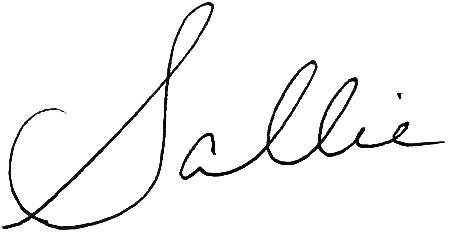 CO-FOUNDER & CEO
10 small money habits to pick up in 2023
At Ellevest, we're big fans of snagging small wins where you can find them. Here are ten little things you can add to your routine in the new year to help you feel just a tiny bit more in control.
7 money intentions to set for 2023
A roundup of our best advice on getting organized and setting smart goals in the new year, no matter where you are on your financial journey.
7 ways 2023 could be a game-changer for your career
No matter how things went this year, now's a great time to reflect on 2022's takeaways and set some intentions for leveling up in 2023 — no matter what that means for you.
Let 2023 be the year you start investing
Waiting to invest can cost you big time. So if your New Year's resolution is to do the thing, here are our best resources to help.
6 ways to show up for women with your $ in 2023
2022 has been heavy, but the battle for financial justice has just begun. These New Year's intentions can help you walk the walk into 2023.
If you make one resolution in 2023, make it this one
OK, OK, so it's a snappy headline. But c'mon, you know you wanna find out what "this one" is. (We'll give you a hint: It's one of our biggest "goals" here. 😉)
(Just for) fun New Year's rituals the Ellevest team swears by
| | |
| --- | --- |
| • | Write down all your biggest regrets from this year — and burn them. (Safely, of course. 😉) |
| • | Look back on your year in books and set some new reading goals for 2023. |
| • | Don't quit social media cold turkey — try pruning instead. |
| • | Compile all the recipe videos you saved but never tried in 2022 in a digital organizer (think Evernote, Notion, etc.) — and finally put together a plan to make 'em in 2023. |
One simple trick to getting ahead of 2023? Start investing toward your goals.
© 2022 Ellevest, Inc. All Rights Reserved.

All opinions and views expressed by Ellevest are current as of the date of this writing, for informational purposes only, and do not constitute or imply an endorsement of any third party's products or services.

Information was obtained from third-party sources, which we believe to be reliable but not guaranteed for accuracy or completeness.

The information provided should not be relied upon as investment advice or recommendations, does not constitute a solicitation to buy or sell securities and should not be considered specific legal, investment or tax advice.

The information provided does not take into account the specific objectives, financial situation, or particular needs of any specific person.

Investing entails risk, including the possible loss of principal, and past performance is not predicative of future results.

Ellevest, Inc. is a SEC registered investment adviser. Membership fees and additional information can be found at

www.ellevest.com

.

Older messages
💸 Your fave Ellevest content in 2022
Tuesday, December 20, 2022
Plus, insuring your investments, checking in with the Fed, and reimagining midlife for women. ‌ ‌ ‌ ‌ ‌ ‌ ‌ ‌ ‌ ‌ ‌ ‌ ‌ ‌ ‌ ‌ ‌ ‌ ‌ ‌ ‌ ‌ ‌ ‌ ‌ ‌ ‌ ‌ ‌ ‌ ‌ ‌ ‌ ‌ ‌ ‌ ‌ ‌ ‌ ‌ ‌ ‌ ‌ ‌ ‌ ‌ ‌ ‌ ‌ ‌ ‌ ‌ ‌ ‌
👛 How Do We Solve the Masculinity of Wealth?
Tuesday, December 13, 2022
… and other answers to your questions on how to build wealth. ‌ ‌ ‌ ‌ ‌ ‌ ‌ ‌ ‌ ‌ ‌ ‌ ‌ ‌ ‌ ‌ ‌ ‌ ‌ ‌ ‌ ‌ ‌ ‌ ‌ ‌ ‌ ‌ ‌ ‌ ‌ ‌ ‌ ‌ ‌ ‌ ‌ ‌ ‌ ‌ ‌ ‌ ‌ ‌ ‌ ‌ ‌ ‌ ‌ ‌ ‌ ‌ ‌ ‌ ‌ ‌ ‌ ‌ ‌ ‌ ‌ ‌ ‌ ‌ ‌ ‌ ‌ ‌ ‌ ‌
⛅ What About 2022 Was Hopeful?
Tuesday, December 6, 2022
Plus, a new case for reparations, WTF FTX, & a reminder to put a little respect on your cal. ‌ ‌ ‌ ‌ ‌ ‌ ‌ ‌ ‌ ‌ ‌ ‌ ‌ ‌ ‌ ‌ ‌ ‌ ‌ ‌ ‌ ‌ ‌ ‌ ‌ ‌ ‌ ‌ ‌ ‌ ‌ ‌ ‌ ‌ ‌ ‌ ‌ ‌ ‌ ‌ ‌ ‌ ‌ ‌ ‌ ‌ ‌ ‌ ‌ ‌ ‌ ‌
Tuesday, November 29, 2022
Plus, student loans paused again, donation budgets, and the legal right to be no fun. ‌ ‌ ‌ ‌ ‌ ‌ ‌ ‌ ‌ ‌ ‌ ‌ ‌ ‌ ‌ ‌ ‌ ‌ ‌ ‌ ‌ ‌ ‌ ‌ ‌ ‌ ‌ ‌ ‌ ‌ ‌ ‌ ‌ ‌ ‌ ‌ ‌ ‌ ‌ ‌ ‌ ‌ ‌ ‌ ‌ ‌ ‌ ‌ ‌ ‌ ‌ ‌ ‌ ‌ ‌ ‌ ‌ ‌