Bloomberg - Evening Briefing - Where it stops, nobody knows
The US economy is cooling just like the Federal Reserve wants, but growth hasn't stalled—also as the Fed wants. While US gross domestic product for the last quarter exceeded estimates, the central bank's preferred inflation measure slowed to its lowest pace in more than a year, and the number of temporary workers declined (an uptick can augur a recession). Together, these data points make it likely the Fed will, as expected, downshift the size of its interest rate hikes when it meets next week. But there's danger lurking, some warn. If the Fed backs off monetary tightening too soon, inflation could again climb, this time on the back of a still-tight labor market. And inflation's bite remains evident despite its decline: just look at soaring American credit card debt and automobile repossessions. In Europe, the outlook is worse. Inflation and Russia's war on Ukraine have left the euro zone teetering near recession, with labor strikes from France to Germany to Italy another indicator that workers are in crisis. In the US, John Authers contends that even with all the good news, a hard or soft landing is hard to predict. "The data now look better for soft," he writes in Bloomberg Opinion. But "the gut-check remains braced for hard." 
What you'll want to read this weekend
Germany pledged to send more than 100 Leopard 2 battle tanks to Ukraine after Chancellor Olaf Scholz's apparent foot-dragging caused tensions with the US. As Russia is said to plan a new offensive, the US also reversed its earlier hesitation to send Kyiv some of its tanks as well. The Biden administration also has confronted China's government with evidence that allegedly suggests some state-owned companies may be providing assistance to Vladimir Putin for his war.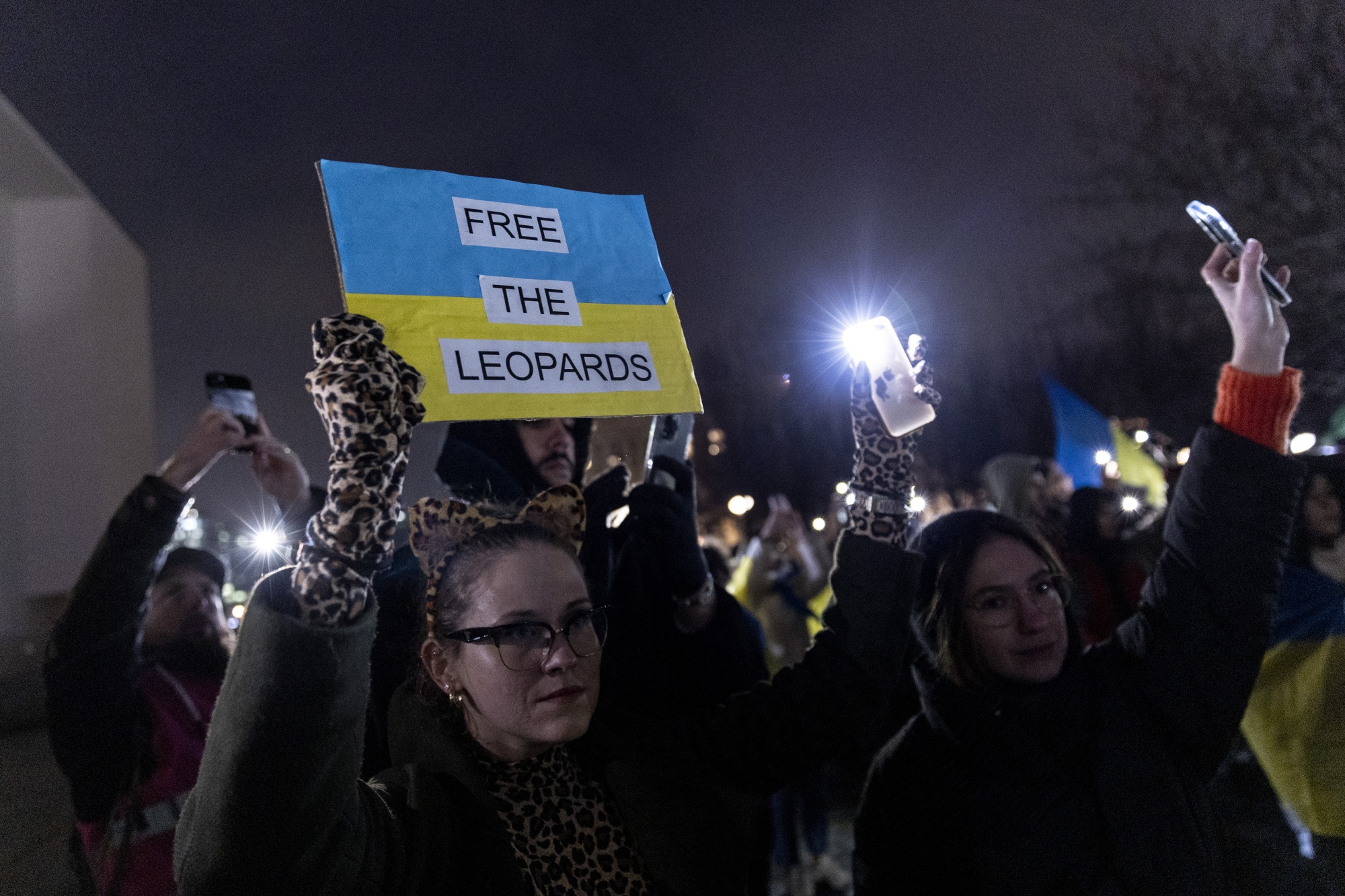 Protesters in Berlin urging the German government to send Leopard tanks to Ukraine. Photographer: Maja Hitij/Getty Images Europe
Many hedge funds found themselves on the wrong side of global market turmoil last year, but not Ken Griffin's Citadel. It churned out a record $16 billion in profit for clients across its core strategies, from equities to quant. Indian tycoon Gautam Adani also had a standout 2022, but this year is looking ugly for him: his company lost $51 billion in market cap this week thanks to Hindenburg Research. The short-seller accused the Adani Group of "brazen" market manipulation and accounting fraud. 
The share of US employees actually engaged at work declined for the second straight year to just 32%, with 18% actively loafing, according to a Gallup survey. The largest decline in engagement was among workers in jobs that could be remote but were working fully on site. The past week saw more tech firms fire thousands of workers ahead of a downturn that may not come. The only good news for them is that companies in Chicago are looking to hire. 
What happens when you ask the hottest artificial intelligence tool in the world to design an exchange-traded fund that can beat the US equity market? Something unexpected. When professors at the University of Minnesota Law School asked the tool, ChatGPT, to take their exams, it earned on average a C+. It did better in business school, earning a B to B- on a Wharton professor's test. Lawyers everywhere smirked.
Investment in renewable energy, electrified transport and green tech reached $1.1 trillion in 2022—tying global investment in atmosphere-warming fossil fuels for the first time. But while humans are expert at burning oil, learning how to produce energy that doesn't destroy the climate is a work in progress. Breakdowns of huge wind turbines have led manufacturers to tap the brakes on new designs. And in the US, the quest to build domestic EV and battery chains is leading Washington to "some questionable places" to secure raw materials in Africa, Anjani Trivedi writes in Bloomberg Opinion.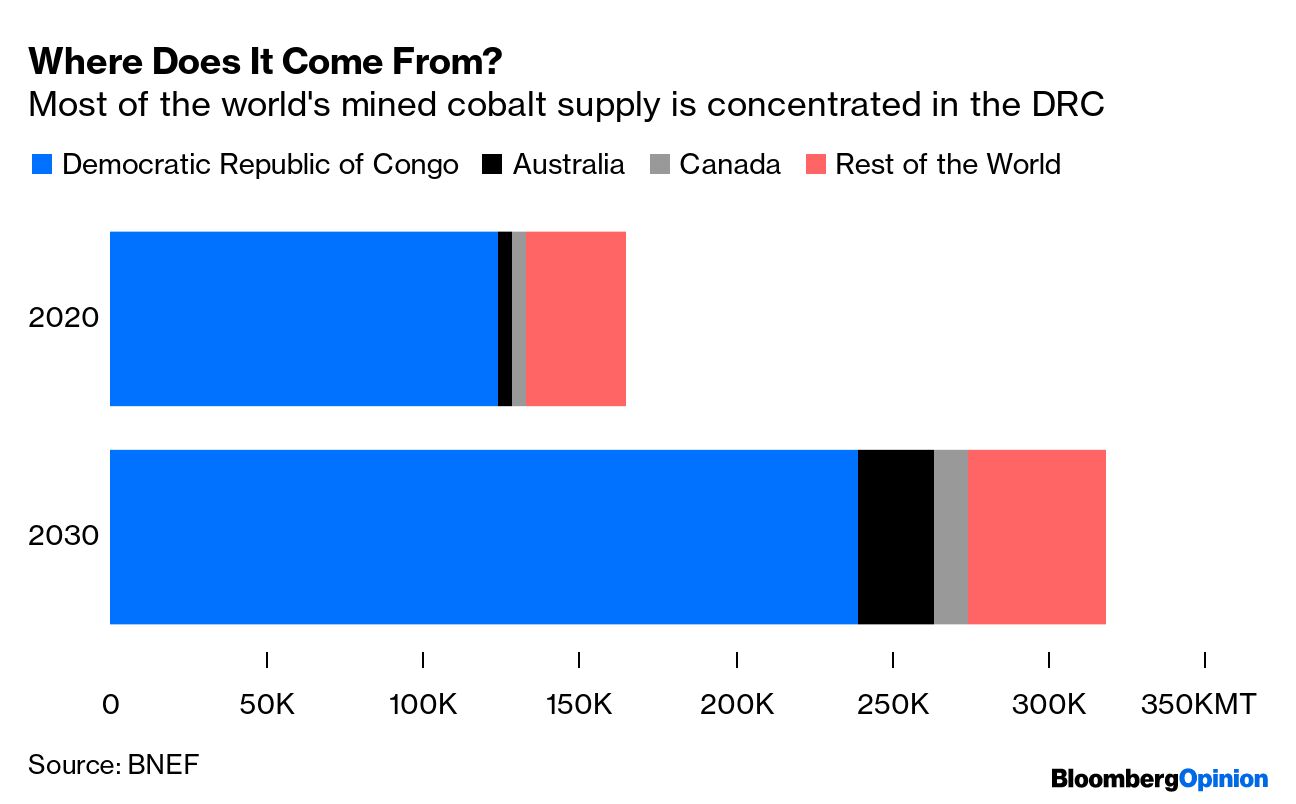 What you'll need to know next week
In Japan, child welfare in divorce often hinges on single-parent custody, leaving the other parent largely excluded from a child's life. The painful reality for parents who find themselves shut out is linked to an opaque family law system shaped by more than a century of contradictory priorities. A landmark proposal aims to make Japan's system more like that of other nations—though critics say it may make matters much worse.
Yasuo Hojyo is 
fighting for custody
of his son. He fears the boy will be alienated from him by the time the legal dispute is over.
Photographer: Noriko Hayashi/Bloomberg
Get Bloomberg's Evening Briefing: If you were forwarded this newsletter, sign up here to get it every Saturday, along with Bloomberg's Evening Briefing, our flagship daily report on the biggest global news.
Like getting this newsletter? Subscribe to Bloomberg.com for unlimited access to trusted, data-driven journalism and subscriber-only insights.
Before it's here, it's on the Bloomberg Terminal. Find out more about how the Terminal delivers information and analysis that financial professionals can't find anywhere else. Learn more.
Key phrases
Older messages
Friday, January 27, 2023
Bloomberg Evening Briefing View in browser Bloomberg The US Federal Reserve's preferred inflation measures eased in December to the slowest annual pace in over a year while consumer spending fell,
Thursday, January 26, 2023
Bloomberg Evening Briefing View in browser Bloomberg The US economy beat expectations in the last quarter of 2022, posting the kind of mild slowdown that the Federal Reserve wants to see as it attempts
Wednesday, January 25, 2023
Bloomberg Evening Briefing View in browser Bloomberg US short seller Hindenburg Research is targeting Asia's richest man with accusations of market manipulation and fraud. The bold move comes after
Tuesday, January 24, 2023
Bloomberg Evening Briefing View in browser Bloomberg The US Justice Department and eight states sued Google, calling for the breakup of the search giant's ad-technology business over alleged
Monday, January 23, 2023
Bloomberg Evening Briefing View in browser Bloomberg Ken Griffin's Citadel churned out a record $16 billion in profit for clients last year, outperforming the rest of the hedge fund industry and