Bloomberg - Evening Briefing - The buyback binge
US President Joe Biden dislikes them. The taxman is coming after them. And Wall Street strategists warn the boom won't last. Yet against all odds, Corporate America continues to splurge on its own shares—fueling the new year rally. Indeed, in the first month of 2023, announced buybacks more than tripled to $132 billion from a year ago, reaching the highest total ever to start a year. The planned repurchases surpassed the previous January record (set two years ago) by more than 15%. And there are signs corporate demand is still picking up. Last week, the Morgan Stanley desk that executes buybacks for clients saw orders increase 5%. That, along with retail buying and demand from rules-based quant funds, underpinned the S&P 500's third weekly gain in four. —David E. Rovella
Here are today's top stories
Major hedge funds have been asked by US regulators to review certain employees' personal mobile phones as part of a mushrooming probe into Wall Street's use of unofficial messaging platforms like WhatsApp to do business.  
Derivatives shops, used to clearing hundreds of billions of dollars in trades every day, found themselves in a dramatically different era this week: the old days of manually processing deals. Early Tuesday morning in Europe, a little known but critically important software company that underpins the smooth functioning of stock, bond and commodities markets started to seize up, succumbing to a cyberattack. Suddenly, in offices across the globe, the clock had ticked back to the 1980s.
Gautam Adani has seen $52 billion erased from his personal fortune in the span of just six trading days—a downfall so spectacular that it defies just about every historical comparison. He's not quite like onetime crypto wunderkind Sam Bankman-Fried or Archegos Capital Management's Bill Hwang, who went from tens of billions to nothing in a flash. After all, even after the share-price collapse in the wake of Hindenburg's short-seller report, Adani continues to oversee a sprawling empire. But still.
A Russian offensive in eastern Ukraine appears imminent even as Kyiv holds out for more weapons deliveries to power its own push in the south, according to US and European officials. The latest assessments indicate that while the array of arms already sent from the US, Europe and other allies is helping Ukraine hold Russian forces back, it's not enough for a substantial recouping of territory before Moscow's coming offensive. Still, officials cautioned that neither side is likely to gain much ground in a war that remains very bogged down, at least not soon. And fears that Russia will send forces from the north through Belarus are likely unfounded.
Now that the era of the legendary Apple designer Jony Ive is over, Apple is said to have decided against naming a new executive to replace its departing top product designer. For decades, Apple's design czars were some of the highest-profile people at the company. Even before Ive became head of design in 1997—around the time co-founder Steve Jobs returned to Apple—design executives gained fame for molding the company's iconic products.
After a period of staying home, travelers are spending heavily and putting miles and points to work for them again. So much so that airport perks and credit card benefits are getting a bit of fine tuning to better manage the surge in demand—especially when it comes airport lounges. Starting this week, some travelers may get the boot when they least expect it. These are the five best airline travel cards to have right now.
Montreal thrived for years as a bustling property market, tech-company hotspot and an artistic center, with new office and condo towers rising like never before to keep up with demand. Now the downtown is marked by construction cones, quiet streets and empty buildings. Work from home is taking its toll on the Canadian city.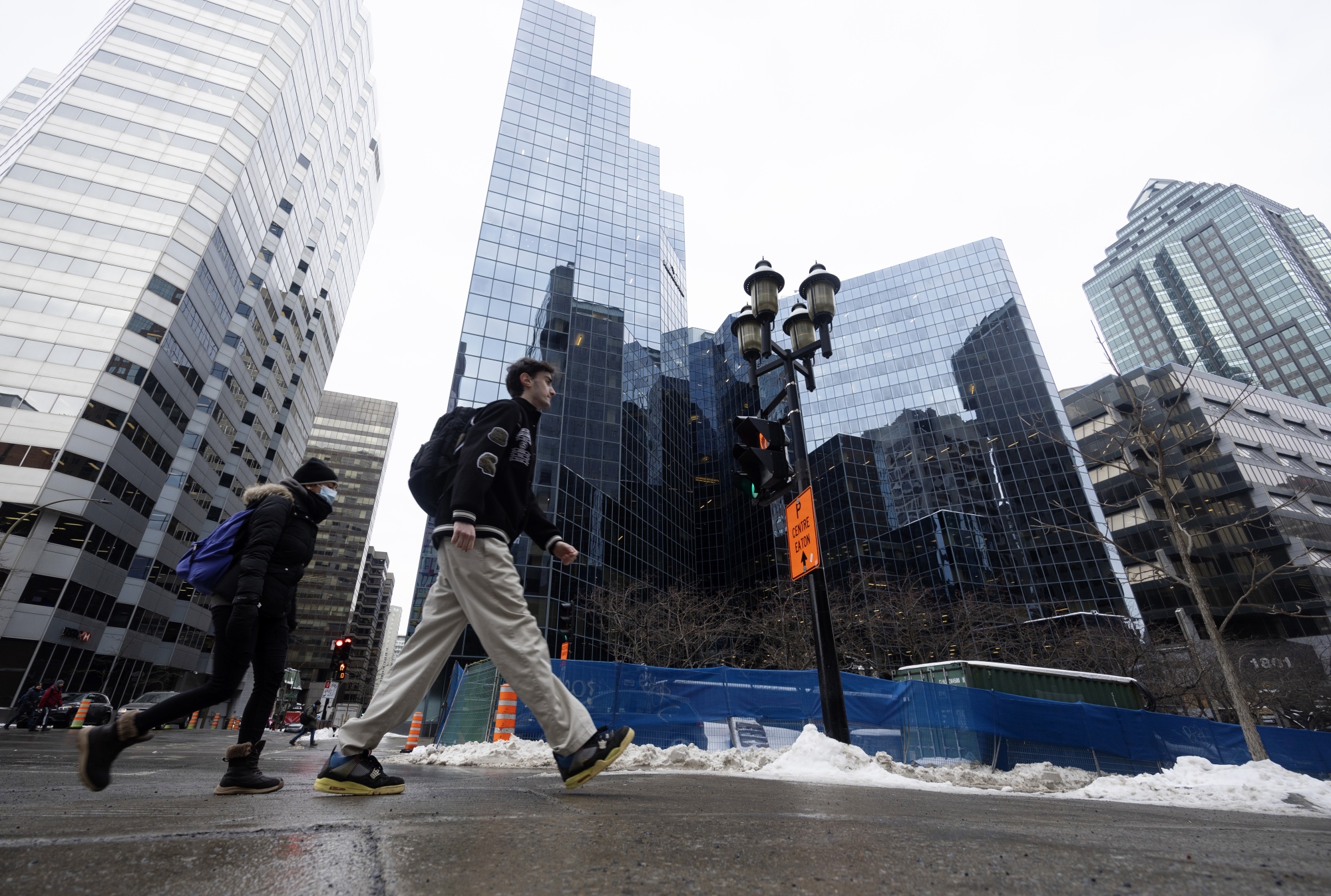 Montreal's office vacancy rate has soared to 16%, according to CBRE Group Inc., while huge construction projects slow commutes, keeping workers away. Photographer: Christinne Muschi/Bloomberg
Bloomberg continues to track the global coronavirus pandemic. Click here for daily updates.
 What you'll need to know tomorrow
On the first episode of Bloomberg's Getting Warmer With Kal Penn, our host investigates the toxic relationship humans have with plastic and why we recycle so little of it. In New Jersey, he meets Tom Szaky, whose company TerraCycle promises it can recycle things like cigarette butts and dirty diapers. But does it really?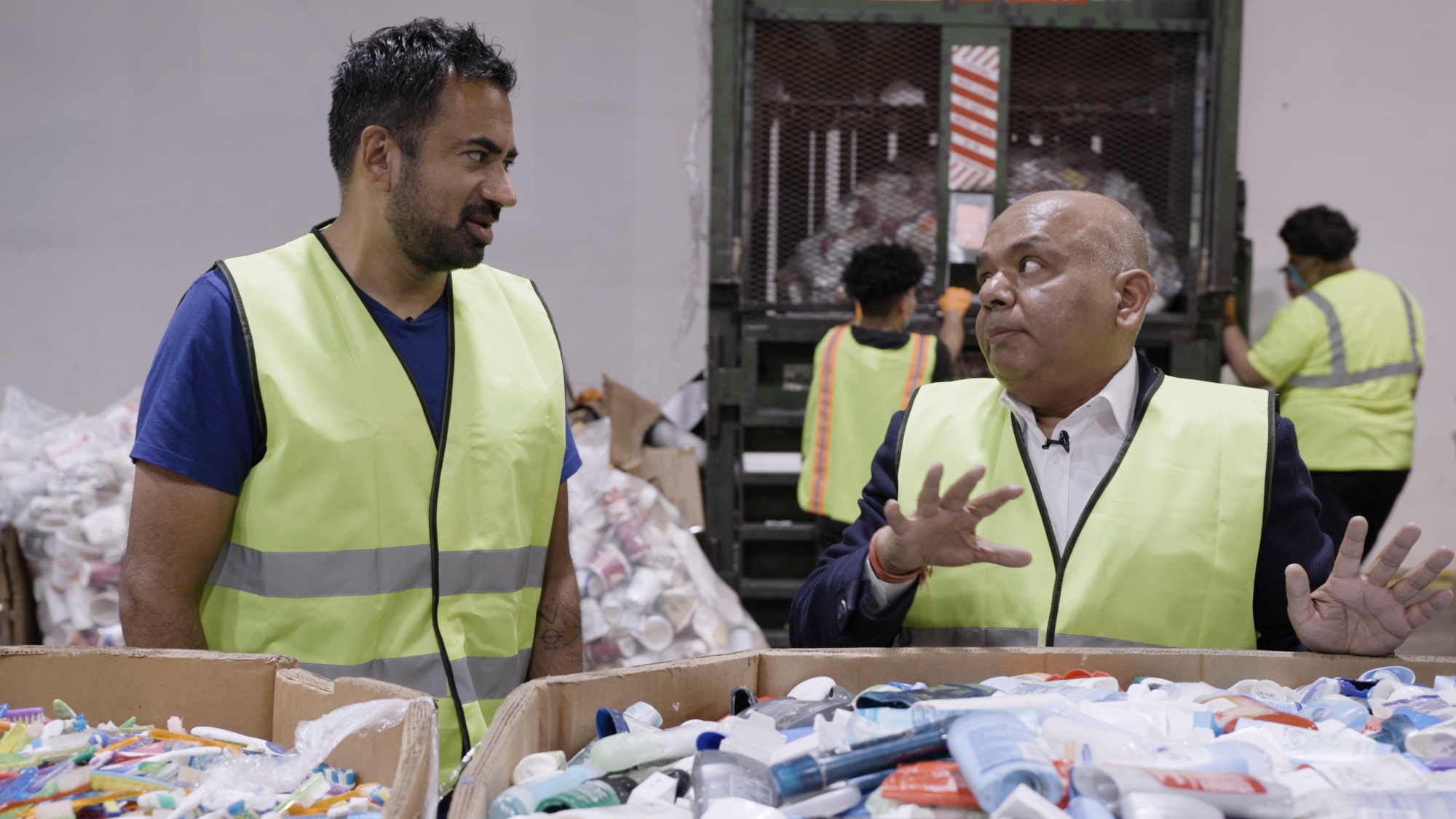 On Getting Warmer With Kal Penn, Penn visits a plastic recycling center in New Jersey to find out how some hard-to-recycle items are finally getting recycled. Photographer: Bloomberg
Get the Bloomberg Evening Briefing: If you were forwarded this newsletter, sign up here to receive it in your mailbox daily along with our Weekend Reading edition on Saturdays. 
Like getting this newsletter? Subscribe to Bloomberg.com for unlimited access to trusted, data-driven journalism and subscriber-only insights.
Looking for a group subscription? Help your team stay on top of today's business landscape with our discounted group subscription options.
Before it's here, it's on the Bloomberg Terminal. Find out more about how the Terminal delivers information and analysis that financial professionals can't find anywhere else. Learn more.
Key phrases
Older messages
Wednesday, February 1, 2023
Bloomberg Evening Briefing View in browser Bloomberg Adani Enterprises, the flagship company of beleaguered Indian tycoon Gautam Adani, pulled the plug on a record 200 billion-rupee ($2.4 billion)
Tuesday, January 31, 2023
Bloomberg Evening Briefing View in browser Bloomberg The International Monetary Fund raised its growth outlook for the first time in a year, saying it sees a "turning point" for the global economy. The
Monday, January 30, 2023
Bloomberg Evening Briefing View in browser Bloomberg Big money has spent a fortune snapping up homes in recent years. Now regular folks are outsmarting the pros. First-time buyers and small investors
Saturday, January 28, 2023
Bloomberg Weekend Reading View in browser Bloomberg The US economy is cooling just like the Federal Reserve wants, but growth hasn't stalled—also as the Fed wants. While US gross domestic product
Friday, January 27, 2023
Bloomberg Evening Briefing View in browser Bloomberg The US Federal Reserve's preferred inflation measures eased in December to the slowest annual pace in over a year while consumer spending fell,