Finimize - 🏦 Another bank's on the brink
Today's big stories
Deutsche Bank was the latest financial giant dragged into the spotlight of harsh investor scrutiny

Stocks haven't exactly been following the usual playbook lately – Read Now

TikTok tried to placate Congress, but its promises fell on deaf ears
Dunking On Deutsche
What's Going On Here?
Deutsche Bank's stock took a beating on Friday, as the cost of insuring against the bank's failure hit new heights.
What Does This Mean?
Credit Suisse and Deutsche Bank have both weathered their fair share of financial storms. But after surviving the European banking crisis a decade ago, Credit Suisse has vanished from the scene and left its former companion in the spotlight. Maybe it's only natural, then, that worried investors are shifting their focus to Deutsche Bank now, especially given that the price of its credit default swaps – basically what investors buy to protect themselves against the bank's failure – have spiked in recent days.
Why Should I Care?
For markets: "Nein" to a stitch in time.
This might have European investors on edge: see, while the Federal Reserve and the Swiss central bank tamed their own brewing storms very quickly, the European Central Bank (ECB) isn't famous for being quick on its feet. What's more, the ECB's head honcho recently brushed off concerns about big banks in the region, saying that there's nothing to worry about. Let's hope that's right – because if there's one thing we know from past crises, it's that a speedy response is vital.

The bigger picture: Banking's built different.
Authorities can keep insisting the banking system's safe until they're blue in the face, but when a confidence crisis sets in, it's hard to shake. See, banking's a unique industry: you won't pass up on a Coke or drive past a McDonald's because those firms' stock prices are down – but when a bank's shares take a dive, it can get folk worrying. That can lead to customers pulling their deposits, as well as prompting other banks to freeze lending – and with both of those out the window, banks have no banking to do, and they can run aground pretty quickly.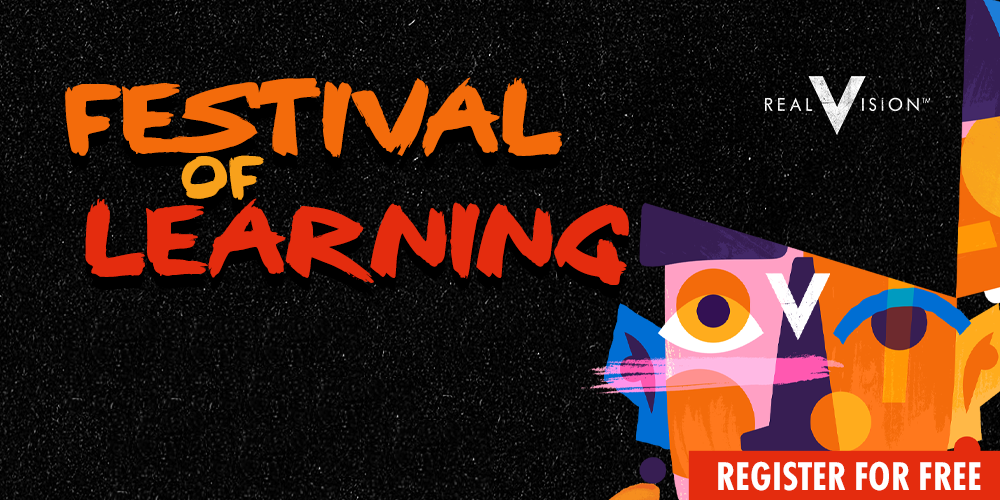 The Coachella of finance
Coachella could guarantee some Instagram likes, but it won't teach you anything about investing.
That doesn't sound like a good time at all, if you ask us. But instead, you could swap the desert for the comfort of your own couch by joining Real Vision's 2023 Festival Of Learning.
There, you'll meet thousands of like-minded attendees online, and get access to live masterclasses from world-class investors and thinkers.
Sure, you won't catch Beyoncé, but you'll mingle with financial rock stars like Raoul Pal, Tom Bilyeu, Denise Shull, Mish Schneider, Jim O'Shaughnessy, and many more.
You won't need to fork out $400 for tickets, either: you can register for the Festival Of Learning for free. Just remember your cowboy boots and polaroid cameras.
Tik For Tak
What's Going On Here?
US politicos across the aisle put TikTok's CEO in the hot seat late last week, probing the company's rumored ties to the Chinese government.
What Does This Mean?
In a marathon congressional grilling session, TikTok's CEO stuck to his guns, insisting that the firm doesn't dish out user data to any government. What's more, TikTok's much-vaunted "Project Texas" – a grand plan to erect a data storage fortress in the Lone Star State – allegedly aims to keep all US user data within American borders. But lawmakers seemed less than convinced: TikTok's under the umbrella of Chinese firm ByteDance, after all, which could be cozy with government officials, and that means the US is treating this affair as one of "national security".
Why Should I Care?
Zooming out: Two to tango.
US authorities seem to be angling for either an outright ban on the popular app or a sale to American bidders, but both options look like non-starters right now. A ban could provoke the ire of TikTok's 150 million US devotees, which could be a dance with death for politicians' popularity. And a sale looks impossible too, given that the Chinese government's already pooh-poohed that idea. To top it off, TikTok's price tag could stretch to hundreds of billions – and there aren't many firms with the funds to cover that.

The bigger picture: Eye for an eye.
The prospect of a wholesale ban on TikTok will have competitors like Meta and Alphabet rubbing their hands together in glee. And there's little doubt that those firms' lobbyists will be hard at work in Washington, pointing out that Google and Facebook are forbidden in China, which would make banning TikTok a tit-for-tat kind of deal. But the US companies that make a killing in the Middle Kingdom (like Starbucks, McDonald's, and Estée Lauder) won't agree: they'll be shaking in their boots about possible Chinese retaliation – so keep an eye on their share prices as this plays out.
"I buy expensive suits. They just look cheap on me."
– Warren Buffett (an American business magnate, investor, and philanthropist)
Thanks for reading Reader. If you liked today's brief, we'd love for you to share it with a friend.
Key phrases
Older messages
Thursday, March 23, 2023
Coinbase was issued a serious warning | Accenture announced thousands of job cuts | TOGETHER WITH Hi Reader, here's what you need to know for March 24th in 3:09 minutes. 🗓 If you've already
Wednesday, March 22, 2023
The Fed struck a compromise | Inflation dashed Brits' hopes | TOGETHER WITH Hi Reader, here's what you need to know for March 23rd in 3:07 minutes. ⏱ Time slips by pretty easily – so you might
Tuesday, March 21, 2023
JPMorgan rushed to rescue First Republic | Amazon's still slimming down | TOGETHER WITH Hi Reader, here's what you need to know for March 22nd in 3:03 minutes. 🔮 ChatGPT's smart, but it can
📈 The bitcoin bros are laughing now
Monday, March 20, 2023
The Credit Suisse takeover means pain for one group | It's bitcoin's time to shine | TOGETHER WITH Hi Reader, here's what you need to know for March 21st in 3:13 minutes. 👀 When markets get
5️⃣ Five simple steps to size up stocks
Sunday, March 19, 2023
FedEx delivered – and then some | Banks borrowed big from the Fed | TOGETHER WITH Hi Reader, here's what you need to know for March 20th in 3:12 minutes. 💰 Tax-free returns don't come knocking