Bloomberg - Evening Briefing - Schwab gets a downgrade
Charles Schwab has been downgraded. Its clients have been pulling cash out of the firm's low-interest-rate bank accounts at a speedy clip—twice as fast as was expected by Morgan Stanley. An analyst there in turn yanked the buy-equivalent rating on Schwab for the first time since he began covering the brokerage stock seven years ago. Client money is moving from so-called sweep accounts into money market funds at a rate of $20 billion a month, analyst Michael Cyprys wrote in his report. The downgrade reflects the heightened risk that analysts see in financial companies like Schwab, which is struggling with some of the same forces that hammered the now-collapsed Silicon Valley Bank. Schwab invested in long-term bonds at a period of record-low interest rates and is now sitting on losses on those investments after the Federal Reserve jacked up rates. "While clients aren't leaving and Schwab has other sources of liquidity, earnings face more pressure than we had expected," Cyprys wrote, lowering his forecast for profit this year and next by 30%. —David E. Rovella
Here are today's top stories
A Manhattan grand jury voted to indict former President Donald Trump for his alleged role in paying hush money to an adult film star, the New York Times reported.
The average Wall Street bonus plummeted 26% last year as a slump in dealmaking and banks' efforts to contain costs weighed on compensation. The industrywide bonus pool sank to $33.7 billion last year, down 21% from 2021. That meant the typical bonus paid to employees in New York's securities industry fell to $176,700, the lowest since 2019.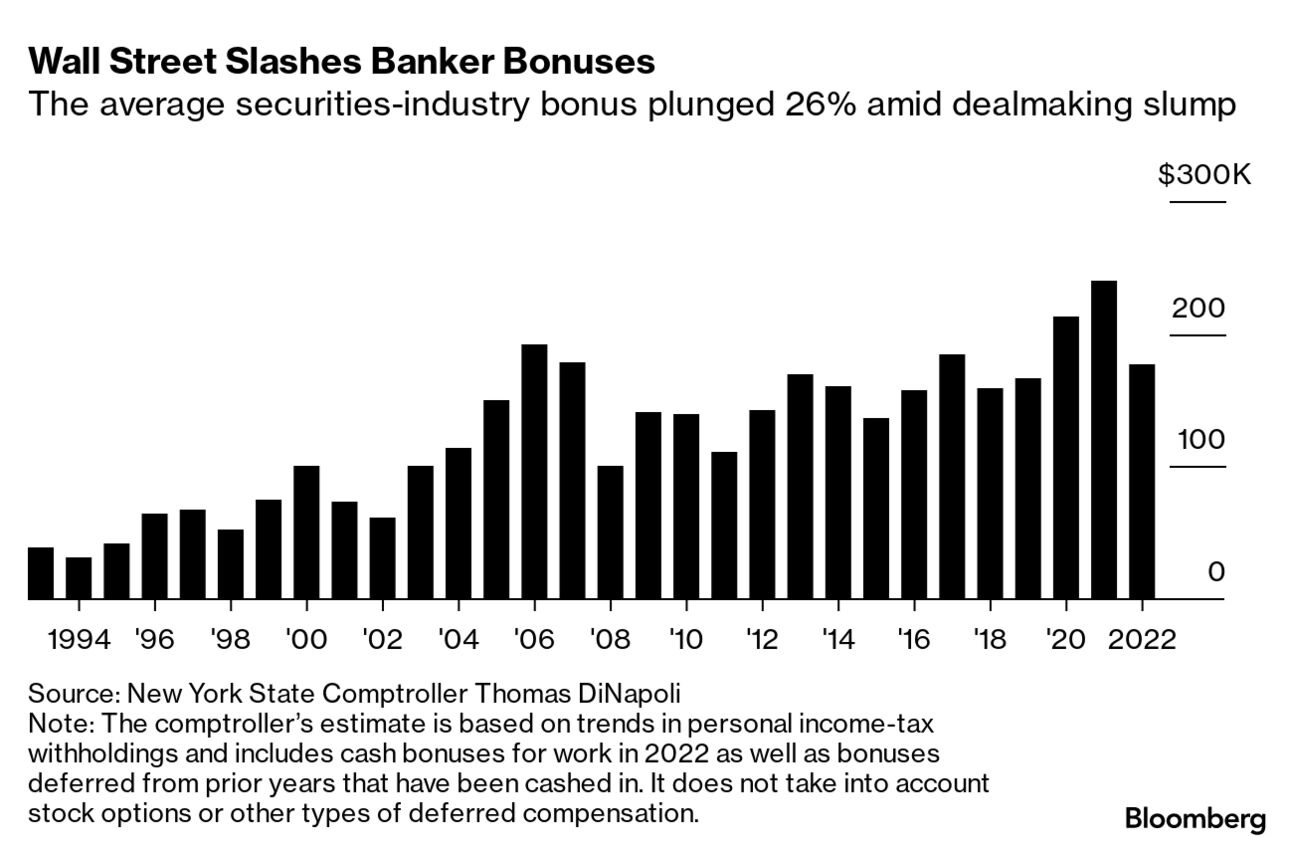 Michael Burry admits he got it wrong. The founder of Scion Asset Management directed traders to "sell" ahead of the Fed meeting on Feb. 1. Now, he's telling Twitter followers that advice was incorrect, while congratulating dip buyers for pushing stocks higher than he anticipated. Meanwhile, money-market mutual funds are proving an irresistible place for investors to park their cash right now instead of banks. The amount squirreled away in them has surged to more than $5 trillion, which risks becoming a problem for the US economy if it grows too much and too fast.
The Biden administration is pressing regulators to tighten the rules for mid-sized banks, its strongest step yet in response to the banking crisis that led to the failure of a pair of regional lenders. The White House on Thursday called for federal banking agencies, in conjunction with the Treasury Department, to enact a series of changes. None require Congressional approval.
After years of wrangling, the world's most important oil price is about to be transformed for good, allowing crude supplies from west Texas to help determine the price of millions of barrels a day of petroleum transactions. The shift is because the existing benchmark, Dated Brent, is slowly running out of tradable oil for it to remain reliable.  
Tesla is said to be looking to build a battery plant in the US. The catch? The electric vehicle maker wants to do it with China's dominant EV battery manufacturer. Meanwhile Tesla co-founder Elon Musk's antics are keeping some advertisers away from Twitter.
How do we even begin to decarbonize economies when almost everything built in the modern era was designed around fossil fuels? In the ninth episode of the Bloomberg Originals series Getting Warmer With Kal Penn, Penn explores how we can renovate everything from electrical grids to air travel and even our homes. From the top of the Empire State Building, Penn finds out how one of the world's most visited skyscrapers was reborn from within—saving its owners $13 million in the process.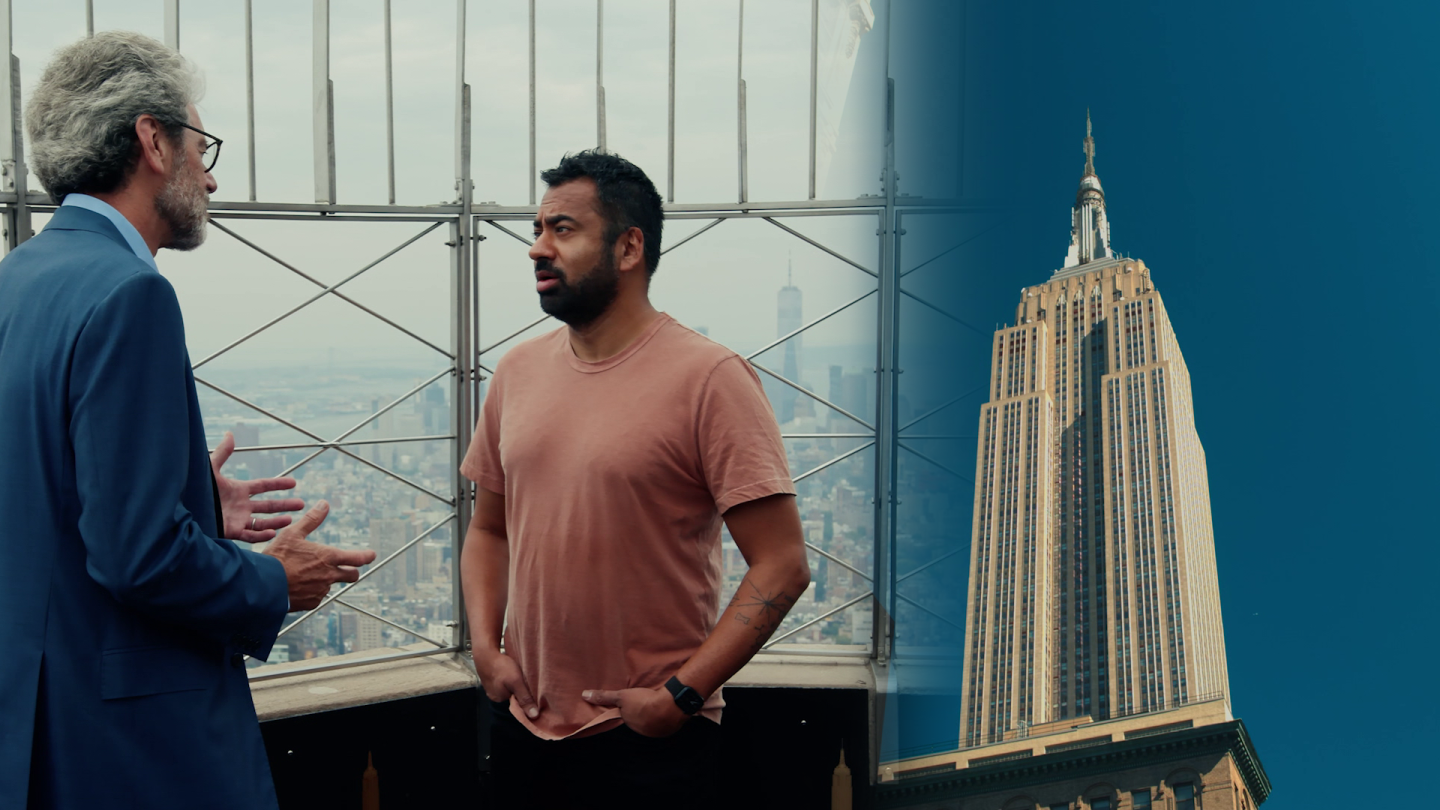 Tony Malko, left, chairman of the Empire State Realty Trust, and Kal Penn discuss how the Empire State Building has tried to decarbonize its operations. Photograph: Bloomberg
Bloomberg continues to track the global coronavirus pandemic. Click here for daily updates.
What you'll need to know tomorrow
The environment is in crisis, but a revolutionary new concept may offer hope for an otherwise grim future. From the overgrown Fukushima exclusion zone in Japan to the majestic redwood forests of California, initiatives to nudge forward the natural expansiveness of wilderness ecosystems are helping heal the damage humans have wrought. In the sixth episode of the Bloomberg Originals series The Future With Hannah Fry, the renowned mathematician and author travels from remote landscapes to crowded cities, revealing the new technologies and strategies being leveraged to encourage nature's return. 
Hannah Fry visited the area around the Fukushima nuclear power plant in Japan, where in 2011 a tsunami
led to a meltdown
. Since then, with humans gone, the disaster zone has returned to nature.
Photograph: Bloomberg
Attention Evening Briefing readers: We'd be very grateful if you could spare a few minutes to fill out this survey so we can better serve you and your news needs. Thank you kindly for your attention.
Get the Bloomberg Evening Briefing: If you were forwarded this newsletter, sign up here to receive it in your mailbox daily along with our Weekend Reading edition on Saturdays. 
Like getting this newsletter? Subscribe to Bloomberg.com for unlimited access to trusted, data-driven journalism and subscriber-only insights.
Before it's here, it's on the Bloomberg Terminal. Find out more about how the Terminal delivers information and analysis that financial professionals can't find anywhere else. Learn more.
Want to sponsor this newsletter? Get in touch here.
Key phrases
Older messages
Wednesday, March 29, 2023
Bloomberg Evening Briefing View in browser Bloomberg The Federal Deposit Insurance Corp., facing almost $23 billion in costs from recent bank failures, is said to be considering steering a larger-than-
Tuesday, March 28, 2023
Bloomberg Evening Briefing View in browser Bloomberg Anyone out there betting the US Federal Reserve will actually cut rates this year has got it very wrong, says BlackRock. The world's biggest
Cracks in a $7 trillion empire
Monday, March 27, 2023
Bloomberg Evening Briefing View in browser Bloomberg On the surface, Charles Schwab being swept up in the wave of recent financial meltdowns makes little sense. The firm, a half-century mainstay in the
Saturday, March 25, 2023
Bloomberg Weekend Reading View in browser Bloomberg The US Federal Reserve's job has gotten a lot tougher of late what with the fight against inflation now bumping up against fears of exacerbating
Friday, March 24, 2023
Bloomberg Evening Briefing View in browser Bloomberg The lightning-fast banking crisis has in two weeks claimed three mid-sized US banks, took a chunk out of a fourth and sent Credit Suisse into the