Foundr - 🧜🏿‍♀️ Live like a mermaid?

Hi ,
Have you ever dreamed of living like a mermaid? Swimming in crystal clear waters, feeling the cool ocean breeze on your skin, and basking in the warm sun all day long?
And I'm not talking about wearing a mermaid tail and pretending to be one. I'm talking about living a life of freedom and adventure, where you can work and play from anywhere in the world. 
Nikki went from having no idea what to sell to doing $10k in a single day…
Josh went from being an electrician with zero background in business, to launching a product from scratch and doing over $3k in its first 10 days…
And Fiona went from knowing nothing about setting up a website, to having a new fake tan drying powder that did over $71k in just 11 months!
>>> They all did it using the frameworks here and now you can too.
Because in 2023, if you want to build your own business faster and with more certainty that what you're building will actually sell…
It's less about waiting till you have the "right idea"…
And more about having the courage and inner drive to follow the right blueprint and take the rights steps in the right order. That's why some first-time entrepreneurs succeed so much faster than others. 
When you have a proven, step-by-step framework to follow…
It's no longer about your skill, it's about your system.
Every single one of the frameworks chosen inside foundr+ courses, including the legendary Start & Scale program has been proven and verified to work.

You can pick and plug in any of those frameworks to your startup idea and double the revenue for your business.
And right now, you can unlock them all for the lowest price we've ever offered it at!
This is how you confidently build any business in any economy!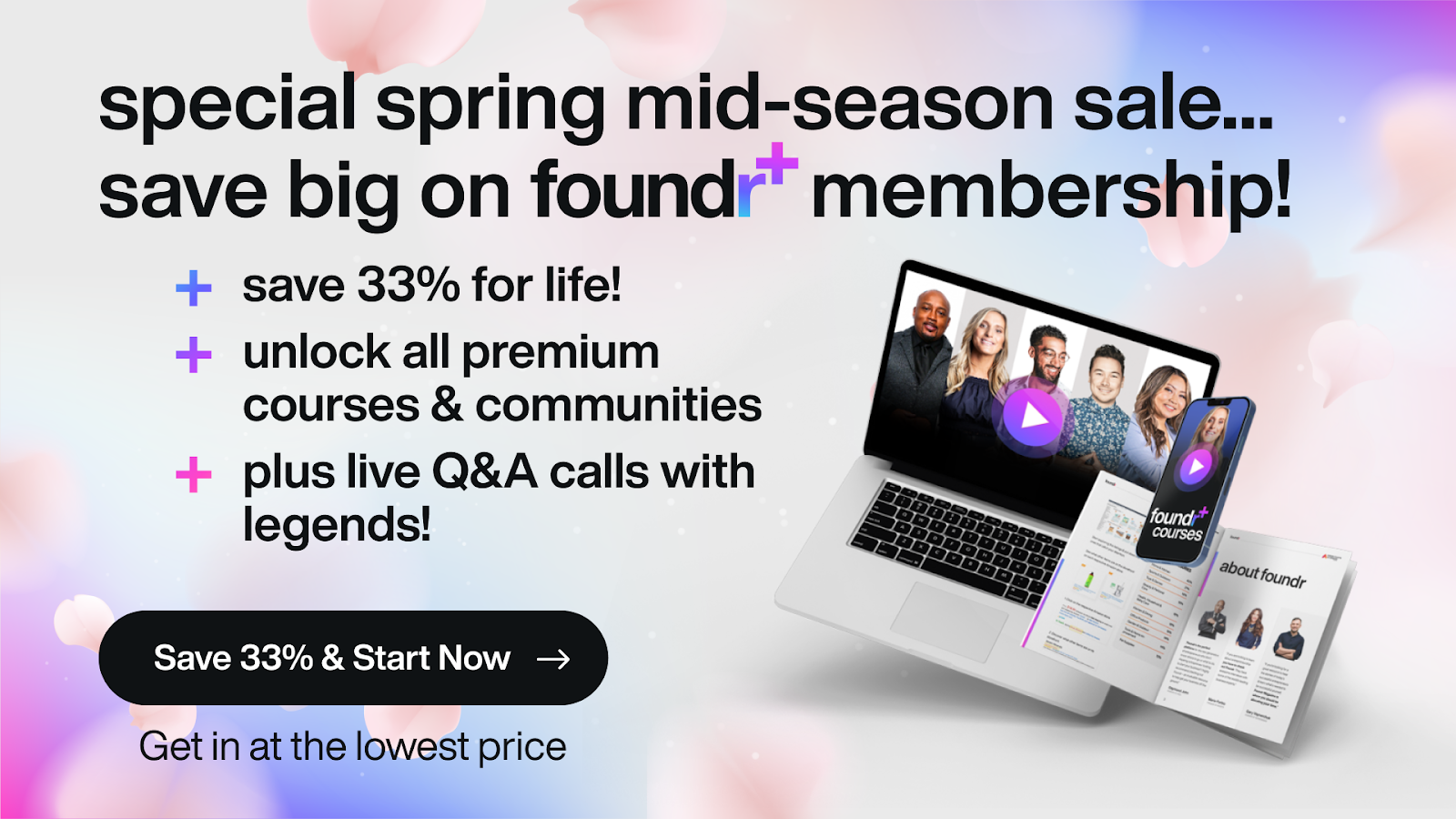 There's nothing else like this.
It's your turn.
Nathan Chan
CEO
P.S. Here's just some of what you're getting:
27+ cutting-edge programs

The biggest foundr+ discount ever

2 live q&a instructor calls each month

$250k+ of savings with foundr+ startup tools

Private community of 30k+ like-minded entrepreneurs
Plus you'll get instant access to every new course we release. Get all the details here.
P.P.S. If you're not interested to hear about our Foundr+ Membership, click here and we will only send you relevant entrepreneurial content.
Key phrases
Older messages
Sunday, April 23, 2023
hope you grab it now Hi , How bad do you want it? If you're really serious about building your own ecommerce business in 2023, we're about to help you do it faster. Because that's what this
Saturday, April 22, 2023
you're gonna love it Hi , This may be one of the most important announcements you'll hear from me this year. We're launching a big Spring Mid-Season Deal for foundr+! You get everything at
[video] It's not that hard (proof)
Friday, April 21, 2023
watch this Hi , To prove that just one new idea can change your life in 2023 faster than you ever thought possible, I want to introduce you to some special entrepreneurs… Meet the inspiring six-figure
🔮 My Biggest Ecommerce Secret!
Thursday, April 20, 2023
recipe of my 4 multi-million dollar brands Hi , You may have wondered… How can I be creating 4 multi-million dollar brands from scratch in some of the most competitive markets like teas, watches, drink
Wednesday, April 19, 2023
My BIGGEST ecom mistake ever Hi , I remember the day I lost $1.3 million and it was the biggest mistake I've made in business so far. I was devastated! Go see what happened And while it's a bit