Bloomberg - Evening Briefing - American under watch
Everyone seems optimistic in Washington as the government hurtles toward potential economic disaster. President Joe Biden on Thursday said that he and Republican House Speaker Kevin McCarthy "had several productive conversations" and "our staffs continue to meet." The GOP says both sides are narrowing their differences over raising the debt limit, but still haven't reached an agreement to avert default. Should a deal be reached soon, Tuesday is emerging as the likely day for a House vote. The Senate would then need to act quickly to send it to Biden's desk before June 1, the date by which Treasury Secretary Janet Yellen has said her department could start running out of cash. But as the brinkmanship intensifies, not everyone is singing a happy tune. Two ratings agencies, including Fitch, just put America's AAA credit rating under watch. —David E. Rovella
Here are today's top stories
Failed regional lender First Republic Bank made its name catering to wealthy clients across California and New York, reeling in many with unusually sweet mortgages. The system made its employees rich. The San Francisco-based bank—which regulators seized and sold to JPMorgan early this month—was said to be paying dozens of employees more than $10 million apiece before its collapse. One of them was even making more than Jamie Dimon. But those days are over it seems: First Republic's new boss just told 1,000 employees they won't be returning.
The Supreme Court put new limits on the Clean Water Act, slashing the power of federal regulators to protect wetlands in a long-sought victory for a couple seeking to build a house near an Idaho lake. With one member of the court's six Republican-appointees defecting as to the ruling's reasoning, the conservative majority has potentially given companies a freer hand to discharge pollutants. A victory for property-rights advocates and defeat for environmentalists and the Biden administration, the opinion was written by Associate Justice Samuel Alito.
The leader of the far-right "Oath Keepers" group was ordered to serve 18 years in prison for his role in the 2021 attack on the US Capitol and conspiring to use force to keep Donald Trump in power after he lost the 2020 presidential election. The prison term for Stewart Rhodes was the longest handed down so far in the government's prosecution of more than 1,000 people over the Jan. 6 insurrection.
US Special Counsel Jack Smith is wrapping up his investigation into Trump's refusal to return highly classified documents after his defeat and is said to be poised to announce possible criminal charges in the days or weeks after Memorial Day. Separate state and federal criminal inquiries into efforts by Trump and his allies to reverse the 2020 election continue, probing what the Jan. 6 committee concluded was an attempted coup.
US apartment landlords who benefited from rapid rent growth during the pandemic are suddenly in the red. Higher interest rates and surging expenses are erasing their profits, even as rents are still climbing in many places. Debt payments already exceed income from multifamily buildings financed with more than $47 billion of securitized loans.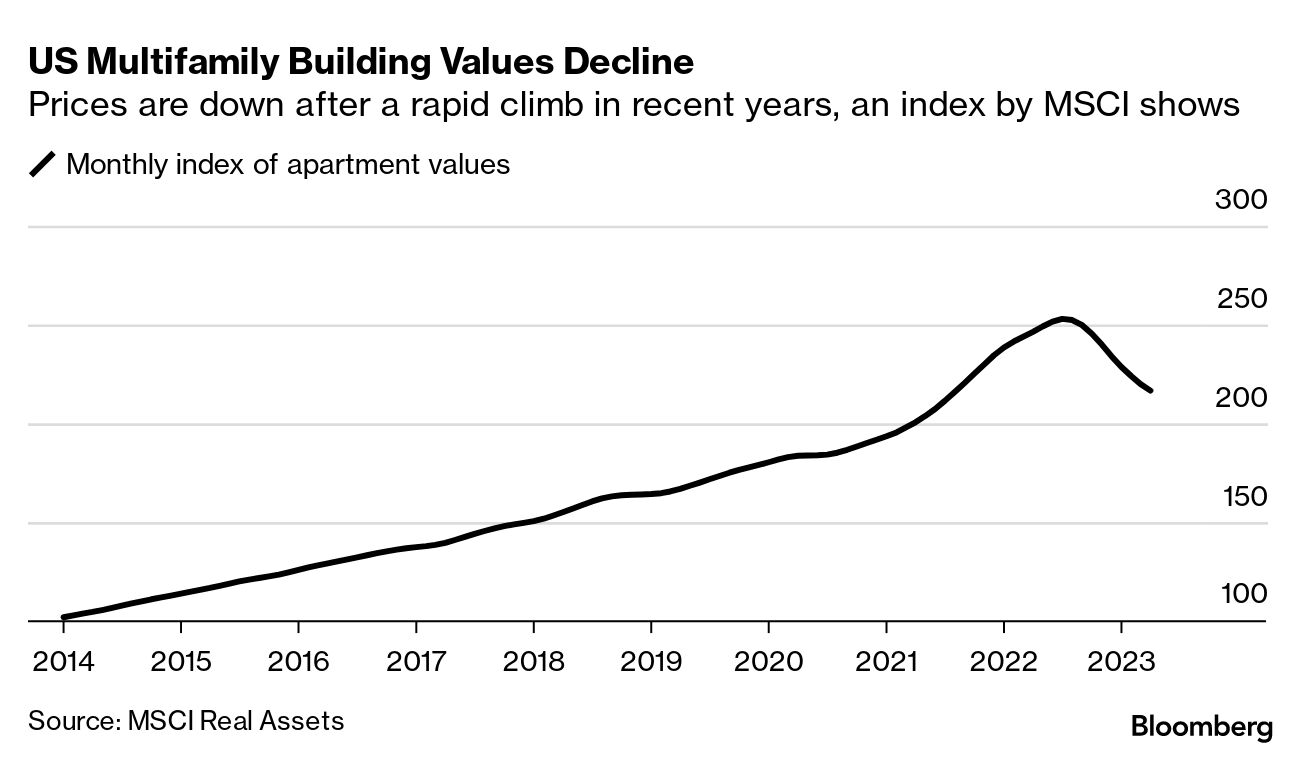 China's muted economic rebound and Beijing's reluctance to deploy large-scale stimulus are reverberating around the globe, crushing commodity prices and weakening equity markets. Investors are pulling back expectations for the world's second-biggest economy as worries mount that its recovery from pandemic restrictions has lost momentum.
The Singaporean dollar surged to the strongest level on record against the Malaysian ringgit, with the latter suffering more from weakening confidence in China's economic recovery. "Historical ringgit volatility is picking up again, and I think that the main driver is the market's incrementally more bearish views on China," said Galvin Chia, a currency strategist at NatWest Markets. Recent worries about the potential disruption to China's consumer sector amid another Covid wave there presents new headwinds, he added.
What you'll need to know tomorrow
The Feb. 3 Norfolk Southern train derailment in the small, tight-knit community of East Palestine, Ohio, was just the beginning. Chemicals leaked into the soil and creeks amid a massive fire, and the intentional detonation of toxin-laden railcars spewed smoke into the air and across the landscape. The calamity prompted an evacuation order in this village near the Pennsylvania state line, as residents on both sides of the border said they suffered illness in the days and weeks afterwards. Months later, questions still remain. On this episode of Bloomberg Investigates, we speak to residents, experts, government officials and the train company's chief executive to find out exactly what happened and how this small town can recover. Meanwhile, battle lines over the environmental fallout—and who is responsible—are being drawn.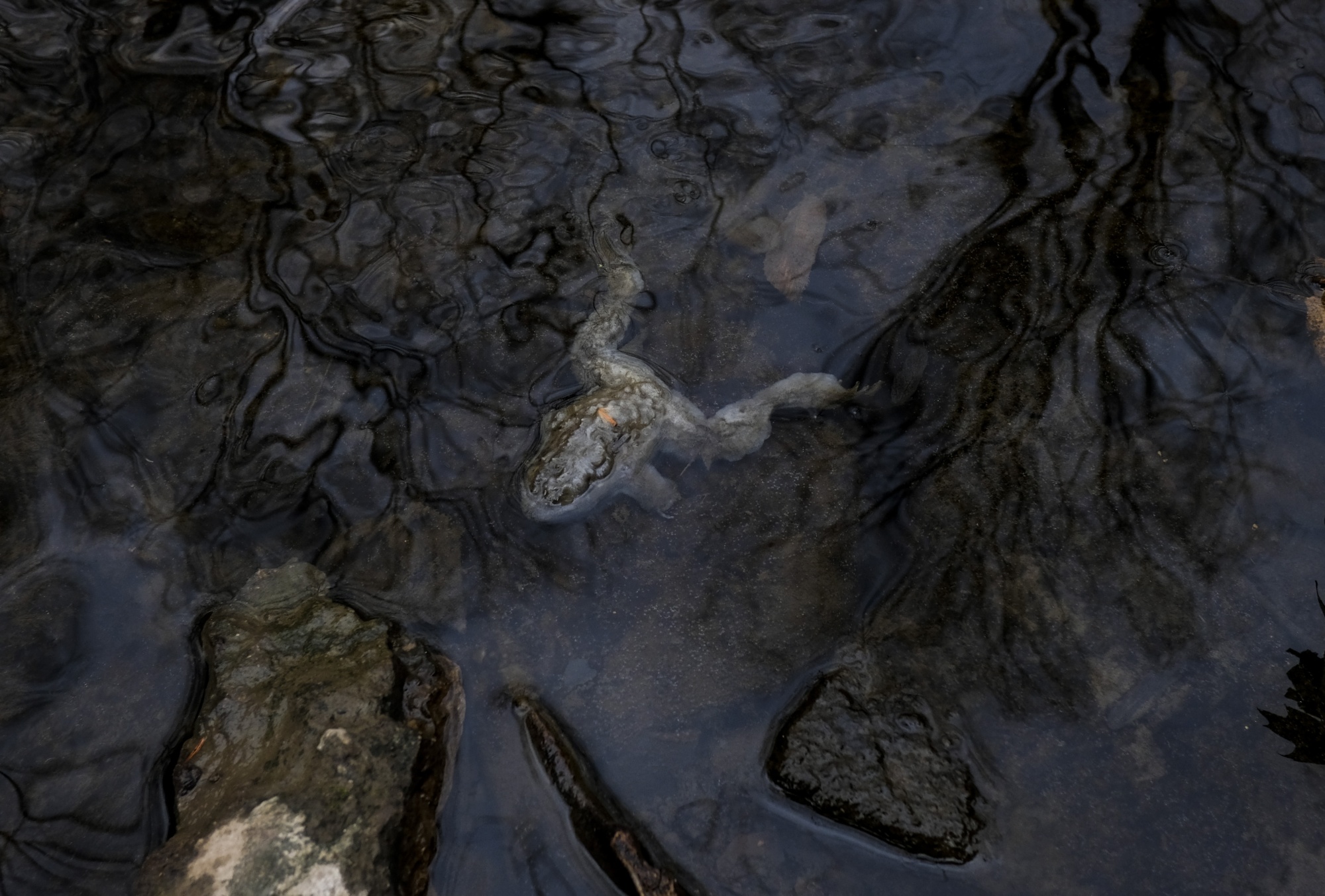 A dead frog floats in Leslie Run creek in East Palestine, Ohio, on Feb. 20. Months after a Norfolk Southern Corp. train crashed, caught fire, and then saw several toxin-laden cars intentional detonated, releasing hazardous chemicals into the air and water, the town's residents have more questions than answers. Photographer: Matthew Hatcher/Bloomberg
Get the Bloomberg Evening Briefing: If you were forwarded this newsletter, sign up here to receive it in your mailbox daily along with our Weekend Reading edition on Saturdays. 
Transformation in a Time of Uncertainty: Join us in a city near you for Bloomberg's Intelligent Automation briefing. Top business and IT executives are gathering to explore ways to offset economic pressures and help organizations thrive by enhancing operational efficiencies and stakeholder value. Roadshow cities include San Francisco on June 20; Mumbai on Aug. 18; London on Sept. 19; Toronto on Oct. 19; and Seattle on Nov. 8. Register here.
Like getting this newsletter? Subscribe to Bloomberg.com for unlimited access to trusted, data-driven journalism and subscriber-only insights.
Before it's here, it's on the Bloomberg Terminal. Find out more about how the Terminal delivers information and analysis that financial professionals can't find anywhere else. Learn more.
Want to sponsor this newsletter? Get in touch here.
Key phrases
Older messages
Wednesday, May 24, 2023
Bloomberg Evening Briefing View in browser Bloomberg What do Americans think of the economic car crash shaping up in Washington? Depends on who you ask, and maybe how you ask them. A CNN poll Tuesday
Tuesday, May 23, 2023
Bloomberg Evening Briefing View in browser Bloomberg There's still no debt deal and the US's so-called X date—when the country starts running out of cash and is forced to make painful cuts to
Monday, May 22, 2023
Bloomberg Evening Briefing View in browser Bloomberg Wall Street held its collective breath ahead of a White House meeting over the US debt limit standoff. Stocks fluctuated before the crucial summit
Saturday, May 20, 2023
Bloomberg Weekend Reading View in browser Bloomberg Just a couple of months ago, the world was eagerly awaiting a signal from the US Federal Reserve that its policy tightening was near an end as it
Friday, May 19, 2023
Bloomberg Evening Briefing View in browser Bloomberg It was just 24 hours ago when US House Speaker Kevin McCarthy and his adjutants were making positive sounds about negotiations to settle the