Foundr - Biggest summer sale of 2023
Hi ,
One of my most powerful entrepreneurial lessons came when I was pursuing my first job—at McDonald's. 
After getting turned down at one location, I dropped off my resume at a different one and started calling every week.
A few weeks later, I showed up in person and reiterated my desire to work there. 
They gave me a job. 
And said, "Yep, we're going to give you a job purely because you kept hassling us, and you're hungry."
I learned then that if you really want something, you've got to put yourself out there. 
And you have to want it bad enough that you will not take 'No' for an answer.
Today, if you really want to put yourself out there, it's not by working for someone.
It's by building something you're proud of.
That's why we created Foundr.
Foundr exists to serve people who are bravely putting themselves out there as founders—to pursue their passions, to escape the grind of working for someone else, to enjoy more fulfilling work or more time with their families. 
We want you to succeed, and we're here to support you every step of the way.
So I'm excited to share this special Summer Sale to help you build—faster and cheaper!
During this sale, you save BIG on our flagship Foundr+ business building membership…and get it at the lowest price ever!
>>> Go here now for all the details.
If you want to have the confidence and competence to build any business faster…
The connections and network to succeed in any economy or recession…
And a proven system that'll leave your friends and family wondering how you replaced your full-time income or scaled your existing company so quickly…
Then this is the most no-brainer opportunity you've ever seen from us.
Seriously, in our nearly 10 years of helping thousands of people start and grow businesses, this is the BEST DEAL we've ever made. No questions about it.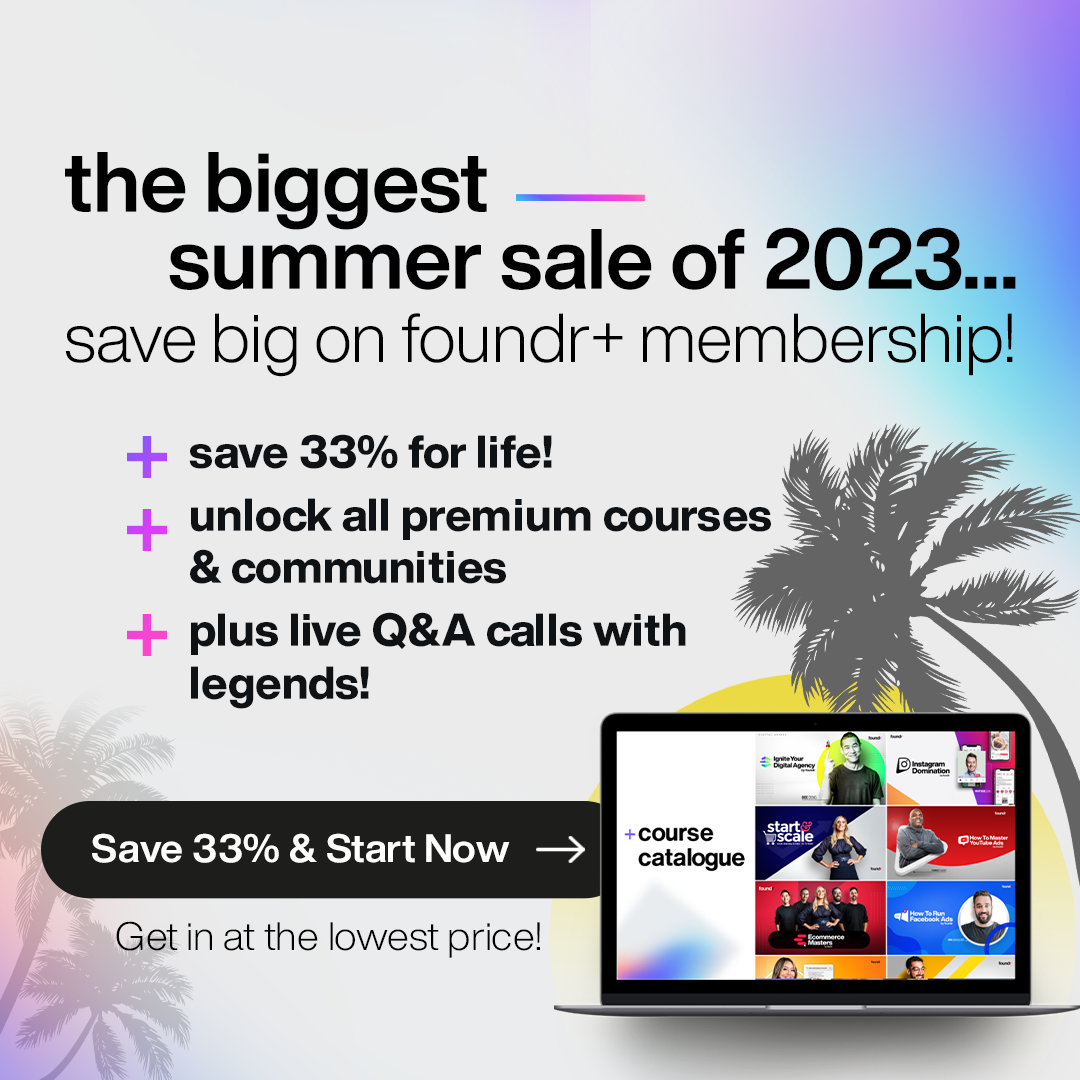 Let's Build.
Nathan Chan
CEO
P.S. Since this is truly the biggest summer sale of 2023, please make sure to read all of the deal details on this page here. I want you to see everything you're getting. If you have questions, ask support right on the page, don't wait as the deal will expire soon.
P.P.S. Opt out text and link here.
Key phrases
Older messages
🚨 6 hours to go - Memorial Day sale
Thursday, June 1, 2023
We have to remove it by then Hi , In 6 hours, we'll be closing doors to this: The Memorial Day sale for foundr+ membership Foundr+ will help you: Start a business from scratch Scale your existing
⏰ 12 hours left for Memorial Day sale
Thursday, June 1, 2023
ends today Hi , Keeping it short… Just 12 hours to go! Grab your special Memorial Day deal for foundr+ our flagship membership that grants you instant access to… 27 premium cutting-edge courses on
Fwd: 🇺🇲 24 hours left for 's Memorial Day savings
Thursday, June 1, 2023
hurry up and claim the deal Hi , Just a friendly reminder that less than 24 hours from now we'll be removing this special Memorial Day deal for our flagship foundr+ membership. Even though you'
🇺🇲 big foundr+ sale for 48 hours only
Wednesday, May 31, 2023
Memorial Day Hi , 48 hours left. We can only keep this special Memorial Day deal for our new foundr+ membership till 11:59 pm this Thursday. Costs less than $7 a day… And will make it easy for you to
Your challenges are 100% real. Let's talk!
Tuesday, May 30, 2023
Stay open and win Hey , want our help in knowing the best products to sell and businesses to start in 2023? YES NO, I'M NOT To your success, Team Foundr This email was sent to newsletterest1@gmail.