How you should be thinking about your relationship to social media

Hey folks👋🏽
I blinked and now we're in June. Happy June! I've noticed an interesting conversation about why we're all more reluctant to be publicly enthusiastic, both online and offline.
It's in everything: the way people overthink every action for fear of being recorded and put online, to our hesitance to share the things that make us excited for fear of being seen as "cringe" or "uncool". It's even in our social media (Close Friends, Circles). I, for one, miss being childishly enthusiastic about things. Let's go back to letting people enjoy things!
💌 In today's email:
🔓 Lloyd George shares some important perspective for anyone worried about how much and how quickly social media is changing
📱 Mitra recommends a tip for getting inspiration
📣 What's happening in social: May the algorithm(s) be with you; TikTok is holding down its crown as the short-form king; feature updates and interesting reads from across the industry.
+All our latest content from the blog
Have a great weekend, and we'll see you next Friday!
Warmly, 

 

Tami & the Buffer team
🚀 Share click-worthy content and skyrocket your engagement with Buffer
Stand out from the sea of sameness online with visuals that catch the eye and are published at the perfect time. With Buffer by your side, organize content in one place, easily import your existing work, learn what works with analytics, and get more eyes on your content. 
🔓 Creators Unlocked: Lloyd George
In this edition of Creators Unlocked, we turn the spotlight on Lloyd George, a multifaceted creator, and founder of The Cre8tor Hub. Lloyd's dipped his fingers in all content pies, from podcasting to TikTok, consistently producing engaging content that has earned him an impressive following and client base.
I asked Lloyd about the rapidly changing landscape of social media and what, if anything, he's doing to prepare as a creator and business owner – here's what he had to say.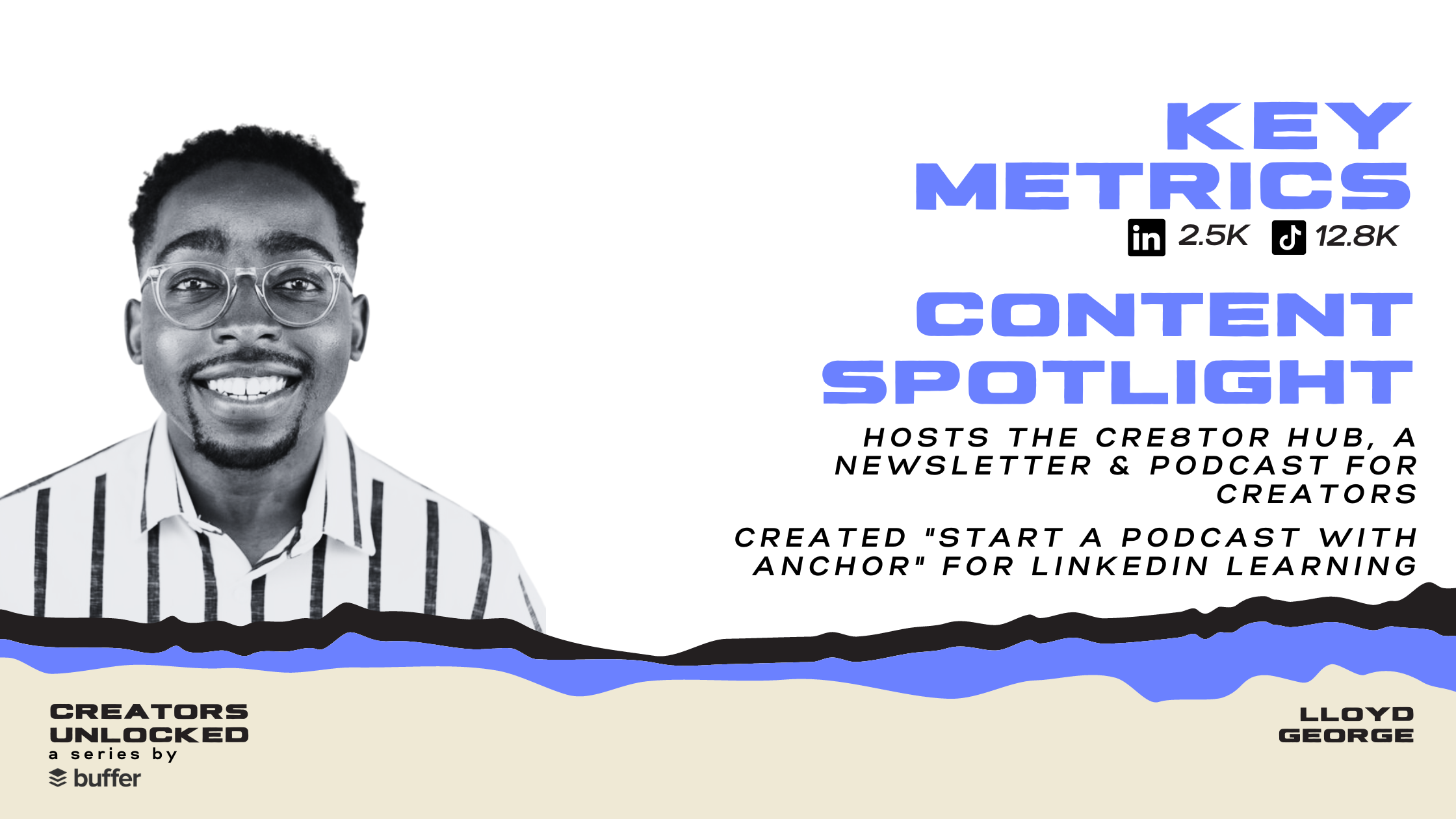 When I first started as a creator, my career was highly centered around TikTok. Over time, I've realized an undeniable fact – no matter what social media platform you opt for or how they choose to remunerate or interact with you, you don't own that platform. This reality introduces a level of instability, even when things are seemingly going well. In response, I've prioritized diversifying as rapidly and broadly as possible and reconfiguring my expectations. 
At the outset, I thought achieving success meant having 100,000 followers across all platforms. I believed that once I reached this milestone, I could work with any brand I desired and attain my goals.
However, my new outlook is that with 5,000 solid followers or a similar number of dedicated subscribers to my newsletter, I can still achieve my goals. I have control over those email contacts; I can reach out to them whenever I wish and host live events if I want. They are genuine followers.
It's crucial to remember that we don't own these social platforms. They're never going to prioritize us, nor are they going to compensate us based on our perceived worth. There's never been a moment in history when creators have been wholly satisfied with a platform.
So, with this perspective, I've diversified by establishing an email newsletter list, which currently comprises around 500 subscribers. These individuals truly appreciate my content and are loyal followers.
I've also made a conscious effort to derive income not solely from social media but also through starting my own business. To be clear, I'm not anti-social media; I believe it's important for creators. However, as a creator, you should view social media as a tool for building a business rather than the platform that defines your business.
✍🏾 Be our (writing) guest
Do you have a story you want to tell? Tips or advice you'd like to share? We're now taking guest posts on the Buffer blog! Check out our guidelines for next steps.
👇🏽 The latest from the blog
📱 Social Tip of The Week from Mitra, Buffer's Social Media Manager 
Not sure where to start with TikTok or Reels?
The easiest way to get inspired is to scroll through the platforms and see what other people are doing to help you get ideas. But don't just copy what everyone is doing for certain trends - make it authentic to you and your brand!
Once you learn more about how people post on TikTok/Reels, you'll feel more comfortable trying it out yourself. 🤗✨
🤳 What's Happening in Social
Unsubscribe | Update my mail settings 
Sent by the team at Buffer
2443 Fillmore St #380-7163 San Francisco, CA 94115 USA
Key phrases
Older messages
How to hold them (your audience) so they won't let go
Friday, May 26, 2023
Read to the end for the latest in social media 👀 ‌ ‌ ‌ Image Hey folks👋🏽 Doesn't it feel like the pace of social media has increased in the past few months weeks days?? I almost can't keep up
Three steps to properly documenting your ideas
Friday, April 28, 2023
The latest tips, strategies, advice, and stories from the Buffer blog. ‌ ‌ ‌ Image Hey folks👋🏽 Is it just me or is the year going by real fast? I feel like I'm still playing catch-up with January,