Friends do not let friends wear glitter before noon
Skimm'd after starting a new book — Check out what we Skimm'd for you today

"Who cares lol"
— Selena Gomez after she went viral for making a face at Chris Brown's VMA nomination. It came naturally to her.
Top Story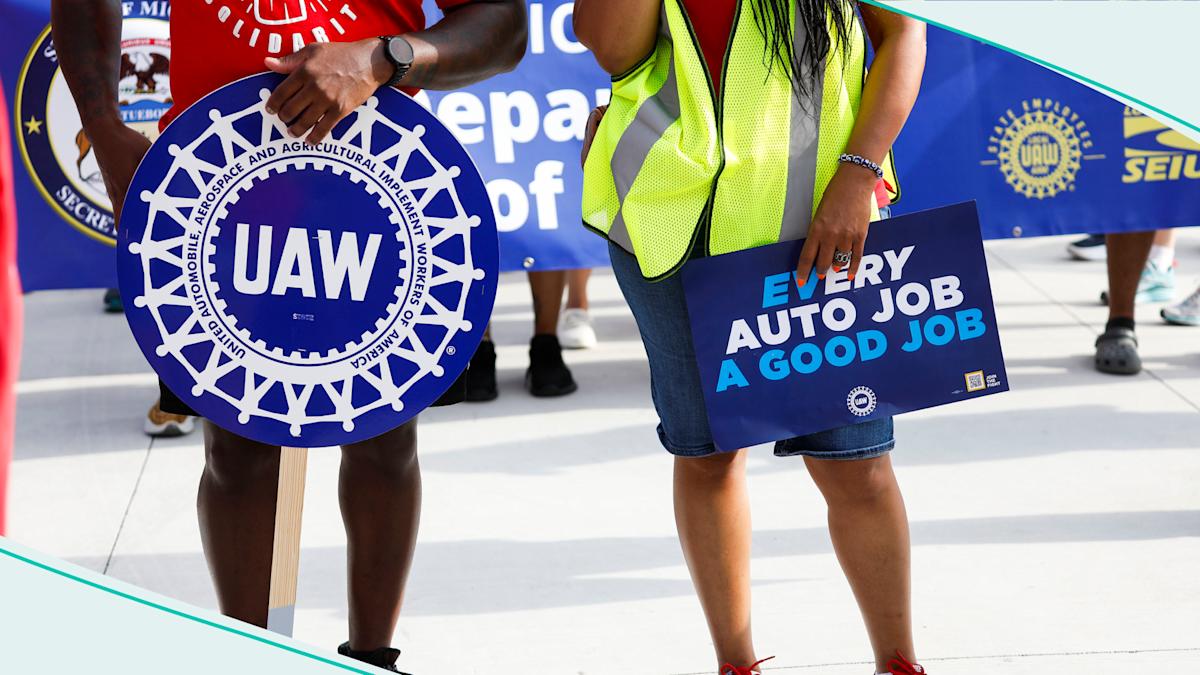 Red Lights, Stop Signs
The Story
All eyes are on the United Auto Workers strike.
Why's that?
Contracts with General Motors, Ford, and Stellantis are set to expire if an agreement isn't reached by midnight. The union, which represents nearly 150,000 workers at US car plants, is asking for a 36% wage increase across four years, the elimination of wage tiers, and a four-day work week. Still, if an agreement isn't reached, then there could be work stoppages at a few plants, but it's not clear how many workers would be walking off. And as quiet as EVs are on the road, it could be the reason for this loud mess.
Explain.
The transition to EVs is on its way as automakers are currently pouring billions of dollars into making them and getting them out on the roads. GM, Ford, and Stellantis say the cost of going green limits how much they can offer their workers. The union doesn't agree as it points to the CEOs' big paydays and record revenues. One expert says if the companies sign off on a wage increase, then it could fall on the consumers and push EV prices up. General car costs aren't expected to increase by much. As for the US, a 10-day strike could cost the economy $5 billion.
And Also...This
Why Pennsylvania residents can rest easy…
The capture of an escaped killer. Yesterday, authorities said they captured 34-year-old Danelo Cavalcante after a two-week manhunt. Cavalcante — a convicted murderer serving life in prison — escaped from a Pennsylvania jail on August 31. He managed to pass undetected by crab walking up between two walls. In the two weeks that Cavalcante was on the run, he changed his appearance, broke into homes, and stole a van and a rifle. His escape grabbed the nation's attention because of the way he broke out and how he managed to evade police for so long. Now, authorities say they were able to capture him by securing a perimeter, picking up his heat signal, and using police search dogs to find him and help arrest him. They also took some time to take a photo with him. The Chester County DA said, "Our nightmare is finally over and the good guys won."
---
What's giving us an E.T. dupe…
Mexico. Earlier this week, a self-proclaimed ufologist unveiled two alleged "non-human" corpses in front of Mexico's Congress. The expert claimed the bodies are of deceased aliens that were found in Peru in 2017 and could be 1,000 years old. The bodies had only three fingers on each hand with elongated heads — looking a lot like Hollywood's stereotypical aliens. The expert also reportedly said one of the bodies had been pregnant. The researcher's claims have previously been debunked. Meanwhile, NASA has plans to share its findings on an unidentified anomalous phenomena (UAP) study at 10am ET today. Catch it here.
---
What's feeling inflated…
Inflation. Yesterday, the Labor Dept announced consumer prices in August were up 3.7% from the same time last year. Experts said rising gas prices are to blame. This is the last big data set to be released before the Federal Reserve meets again next week.
…Oh and speaking of inflation, it's the one thing not affecting Zara's owner Inditex. It saw a 40% jump in half-year net profit. Those TikTok hauls seem to be doing the trick.
---
Who won't be caught up in 2024…
Sen. Mitt Romney (R-UT). Yesterday, the 76-year-old senator announced he will not run for reelection and called for "a new generation of leaders." It comes as more than half of the Senate is reportedly over the age of 65.
---
What Ticketmaster better be ready for…
Olivia Rodrigo's "GUTS" World Tour.
---
The Roman Empire could be on his.
Forward this to a friend. Click here.

Here are today's recs to help you live a smarter life…
1. A skin-loving tinted moisturizer that does everything but feels like nothing.
This award-winning SPF 35 moisturizer is full of 100% clean ingredients that help hydrate, brighten, and nourish skin. Not to mention give you that perfectly dewy, no-makeup look. PS: Skimm'rs get 15% off.*
---
2. Viral, all-season sneakers you won't have to break in.
40K five-star reviews don't lie. This sustainably-minded brand's comfy canvas, leather, and suede sneaks just cleared a 104K-person waitlist after racking up tons of celeb (and HQ'r) fans. Even better? Skimm'rs get an exclusive 20% off.*
---
3. How to get the lowdown on your hormonal health.
50%–75% of US women don't know they have PCOS. Thankfully, LetsGetChecked's health testing provides helpful info about your hormones. Just send in your at-home sample for speedy, easy-to-understand results. Psst…Skimm'rs get 25% off.*
---
4. Layering pieces if you're constantly cold in the office.
There comes a time in every office day when you find yourself shivering uncontrollably. That's when you'll thank yourself for packing one of these sweaters into your work tote.
Psst...looking for more discounts on brands Skimm'rs love? Check out all of our exclusive promo codes here.
Skimm'rs
We like to celebrate the wins, big and small. Let us know how your friends, neighbors, coworkers (and yes, even you) are making career moves, checking off goals, or making an impact in the community.
Working hard…Marilynn J (NY). She is launching Her Workplace, a new workspace and digital career community for women and non-binary people to share stories, build relationships, and exchange knowledge, with the first location set to open in NYC on September 25.
(Some) Birthdays…Julie Warren (FL), Stefani Sanchez (NY) Claire McCaskill (VA), Madison Sutton (NY), Aarti Chokshi (PA), Gayle LePosa (MD), Denise Wiseman (MA), Victoria Baker (C), Lauren Weber (OH), Ciara Wolfe (TX), Ashley Nylin (GA), Bakir Djulic (BIH), Sue McGinniss (WI), Rosemary Opalka (NC), Liza Dawley (MN), Emily Leahy (NE), Jennifer Peterson (NJ), Laura Yerkovich (CT)
PS: Paging all members of theSkimm. Reach out here for a chance to be featured.
Skimm'd by: Rashaan Ayesh, Melanie De Lima, Anacaona Rodriguez Martinez, Chantal Vaca, Julie Shain, and Mariza Smajlaj
---
Photos by Bill Pugliano via Getty Images, Brand Partners
Design by theSkimm
---
*PS: This is a sponsored post.
Older messages
The gladiator who defied an emperor
Sunday, September 17, 2023
Skimm'd while upgrading your wardrobe — Check out what we Skimm'd for you today September 15, 2023 Subscribe Read in browser Daily Skimm Header Image Skimm'd while upgrading your wardrobe "
Weekend: The game's up, Scarlet
Sunday, September 17, 2023
Skimm'd with this week's best sales — Check out what we Skimm'd for you today September 16, 2023 Subscribe Read in browser Daily Skimm WEEKEND Skimm'd with this week's best sales "
Labrador hangin' out the passenger door
Tuesday, September 12, 2023
Skimm'd while saving on hundreds of sunny styles — Check out what we Skimm'd for you today September 12, 2023 Subscribe Read in browser Daily Skimm Header Image Together with Lilly Pulitzer
Where were you when the world stopped turning?
Monday, September 11, 2023
Skimm'd while shopping Fashion You'll Actually Wear Week — Check out what we Skimm'd for you today September 11, 2023 Subscribe Read in browser Daily Skimm Header Image Skimm'd while
Sunday, September 10, 2023
Skimm'd while buying ourselves jewelry — Check out what we Skimm'd for you today September 10, 2023 Subscribe Read in browser Daily Skimm WEEKEND Skimm'd while buying ourselves jewelry "