Morning Brew - ☕ Fortnite funds
| PRESENTED BY | |
| --- | --- |
Good morning. We have gathered you here today to remind you that, yes, it is the 21st of September—a day Earth, Wind & Fire has claimed as their own and forever ruined by giving your least favorite coworker the confidence to ask, "Do you remember?"
But we have some good news. Our best-selling leadership course about navigating difficult conversations at work starts on Monday, September 25.
Not only will it help you communicate better with a difficult colleague, but it'll also give you the tools to ask for a raise from your boss, interview effectively, and handle other cringe-inducing conversations with assurance.
Learn more about the live course and our on-demand offering that allows you to complete it on your own time.
—Molly Liebergall, Cassandra Cassidy, Matty Merritt, Abby Rubenstein, Neal Freyman
| | | | |
| --- | --- | --- | --- |
| | Nasdaq | 13,469.13 | |
| | | | |
| --- | --- | --- | --- |
| | S&P | 4,402.20 | |
| | | | |
| --- | --- | --- | --- |
| | Dow | 34,440.88 | |
| | | | |
| --- | --- | --- | --- |
| | 10-Year | 4.414% | |
| | | | |
| --- | --- | --- | --- |
| | Bitcoin | $27,077.10 | |
| | | | |
| --- | --- | --- | --- |
| | ARS Pharma | $2.92 | |
*Stock data as of market close, cryptocurrency data as of 3:00am ET. Here's what these numbers mean.
Markets:

Stocks

slid

after the Fed hinted that one more rate hike is coming before the end of the year despite opting to hold rates steady as expected at yesterday's meeting.

Stock spotlight:

ARS Pharmaceuticals plunged because the FDA unexpectedly refused to approve its nasal spray alternative to EpiPen injections for treating severe allergic reactions.
Drew Angerer/Getty Images
The deadline to avoid a government shutdown is fast approaching, and the House is tripping over its two right feet.
Moderate and ultra-conservative House Republicans are in disagreement, and if Speaker Kevin McCarthy can't secure enough votes to pass a new spending bill by October 1, the government's fiscal New Year's, the money tap will be shut off for most federal agencies.
A potential shutdown means…
FEMA's Disaster Relief Fund could dry up, food stamp payments could be delayed, national parks could close, and clinical trials for new medications could go on pause.

Hundreds of thousands of government workers could be furloughed. Essential workers may be expected to clock in without pay. That includes air traffic controllers and the TSA, who might stop showing up and start polishing their resumes, causing significant travel disruptions.
Depending on how long the potential shutdown lasts, a pause on federal workers' paychecks could reduce the nation's strong consumer spending and cost the US economy $6 billion per week, EY estimates. The most recent shutdown in 2018 lasted for a record 34 days, and analysts say a shutdown now could also drag on for weeks.
Why can't the House GOP get along?
Though McCarthy and President Joe Biden agreed earlier this year on a $1.6 trillion budget cap, some far-right Republican holdouts want it lowered to $1.4 trillion.
Members of the House Freedom Caucus—the hardline Republican holdouts including Rep. Matt Gaetz, who recently threatened to try to oust McCarthy—said they would not support any budget that includes additional aid to Ukraine. That's one reason why some lawmakers think a government shutdown is inevitable.
Looking ahead…one option to keep the government could be moderate Republicans rallying around a new short-term funding plan that could get enough bipartisan support to avoid a shutdown. But yesterday McCarthy tried to work with the right wing of the party, saying he was close to having the votes for a bill with steep spending cuts...that has virtually no chance in the Senate even if it passes the House.—ML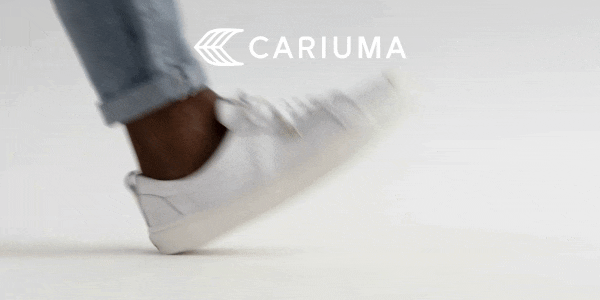 There's nothing quite like stepping into the cozy embrace of autumn in a fresh pair of kicks. Luckily for you, we've got a pair of shoes on our radar that'll have you struttin' in style and turning heads.
We're talkin' about Cariuma's sustainable (yep, B Corp-certified) sneakers. They cleared a 104k waitlist and have racked up over 40k 5-star reviews, so now is the time to cop the shoe of the year. Plus, their ethically made leather kicks are absolutely perfect for sweater weather.
Look, these consciously sourced classics are loved by everyone. No, really. Even A-listers like Jon Hamm and Helen Mirren have been spotted sporting their silhouettes. They never go on sale, so you gotta cop 'em ASAP while supplies last.
NYSE via Twitter
Klaviyo had a big opening day. The marketing software company popped more than 20% above its IPO price of $30/share during its first day of trading yesterday and ultimately ended the day 9% up. This performance will likely help other tech companies to feel confident enough to go public. But, for those keeping score of the IPO market at home, this week's other high-profile, venture-backed market entrant, Instacart, fell yesterday after an initial bump following its Tuesday debut.
Merrick Garland says he's "not the president's lawyer." Facing a grilling from Republican lawmakers over how the criminal case against the president's son, Hunter Biden, was handled, the attorney general pushed back against accusations of bias, saying he is also "not Congress's prosecutor." The combative sparring at a routine Congressional oversight hearing previewed some House Republicans' priorities as they pursue an impeachment inquiry into President Joe Biden.
Free Covid tests are coming back. Sweater season is expected to bring a rise in Covid cases with it, so the government will restart a program that offers free at-home Covid tests. Starting Monday, you'll be able to order up to four tests at COVIDtests.gov and have them delivered through the mail. The Biden administration also said yesterday it's spending $600 million to buy tests from US manufacturers to get in front of the anticipated increase in demand.
Frazer Harrison/Getty Images
Did your kid charge your credit card so they could wear a virtual banana suit in a video game? Time to let it go. As of Tuesday, Fortnite players—and their parents—can apply for a refund for unintended in-game purchases.
The $245 million in refunds are part of a settlement reached earlier this year between the Federal Trade Commission and Fortnite-maker Epic Games over what the agency called deceptive billing practices. The FTC alleges that Fortnite players were duped into spending real money in the game through "dark patterns"—or interface designs that get users to buy stuff they may not intend to.
A check with your name on it could be in the mail soon if…
Your

kid bought something

in

Fortnite

on your credit card without your knowledge between January 2017 and November 2018.

You were wrongfully charged by

Fortnite

or your account was locked after you told your credit card company that you were wrongfully charged by

Fortnite

between January 2017 and September 2022.
Hide your kids: The FTC's settlement with Epic also included a $275 million fine—the largest penalty ever issued for violating one of the agency's rules—for collecting data on users under the age of 13 without their parents' consent. Microsoft was hit with a smaller fine in June for the same thing.—CC
It's a generational thing. Your birthday can say a lot about your portfolio. Find out what yours reveals in the latest episode of Fresh Invest, our award-winning investing podcast sponsored by Fidelity. They look into the investing trends of each generation, from Boomers to Zoomers. See if you follow your generation's trends. Listen here or watch on YouTube.
Francis Scialabba
The cringe memes your dad keeps sending about 98-step coffee orders are kinda right. Starbucks has 383 billion unique latte combinations and is investing in changes to help baristas make all of them a lot faster, according to Bloomberg.
Why the need for speed? The coffee chain is struggling to keep customer wait times down. Most customers are continuing a pandemic trend and swarming the Sbux app to order their morning bev, making it easier to add extra pumps of…everything. And Starbucks can't just do away with the customizations that are slowing things down: Extra charges bring in over $1 billion in revenue every year, according to the president of Starbucks North America.
So, Starbucks is spending billions to shave seconds off your wait time:
The chain introduced smaller ice cubes for easier scoopability and is rolling out portable cold foamers so baristas don't have to clog up prep space at the big blenders.

It also filed a patent earlier this year for a

machine

that could automate drink-making.
The company claims the changes will make baristas' jobs easier, but some workers aren't so sure. Understaffing is still one of the main issues driving the unionization effort among Starbucks locations—not a lack of souped-up Keurigs.
Big picture: Other chains are also vying for speedier order handling to accommodate larger menus and more sales volume. Popeyes is overhauling its kitchens for the first time in a decade to make faster chicken sandwiches.—MM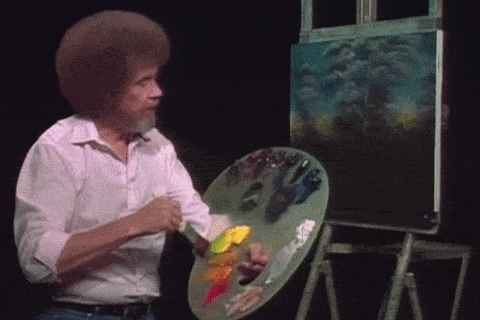 The Joy of Painting/Netflix via Giphy
Stat: How much would you pay for happy little trees? "A Walk in the Woods," the first painting Bob Ross ever made on his TV show, The Joy of Painting, is expected to sell for $9.85 million at auction. The program debuted in 1983 and ran for 11 seasons on PBS, with Ross painting 1,000 canvases on-air. Since Ross's soothing instructions resurfaced as a pandemic comfort watch, the hirsute painter has become the most searched-for artist on Google, leapfrogging Andy Warhol and Pablo Picasso, according to the owner of the gallery hosting the auction.
Quote: "I don't think he meant what he said, and I don't think he's a bad person. It just came across that way, and that meant we lost that business, one of the most successful collabs in the history. Very sad."
Adidas CEO Bjørn Gulden is willing to give Ye the benefit of the doubt—even though the company's decision to drop its Yeezy collab after the rapper made statements attacking Jews and praising Nazis left it with $1.3 billion worth of canceled merch. Though Adidas reiterated that ending the partnership was appropriate in the wake of the CEO's remarks, the company has been successfully selling off the leftover Yeezy gear while donating some of the profits to groups fighting antisemitism. Gulden jumped to Adidas from rival Puma after the company had severed ties with Ye.
Read: Meet the billionaire keeping TikTok on phones in the US. (Wall Street Journal)
Travel tip: A villa on Lake Como was just named No. 1 on the list of the 50 best hotels in the world.
Look: Take a moment to marvel at the design that goes into those fruit stickers you chuck in the trash before you bite an apple.
(Bird)watch: Peep birds all over the world from home with Bird Buddy's new feature.
Money tip: These apps will cancel your unnecessary subscriptions.
Don't wait: Sign up for BetterHelp and get matched to a licensed therapist in as little as 48 hours.*
A pro's perspective: We had a few more q's on Fresh Invest this week, our investing podcast sponsored by Fidelity. See what this Fidelity pro said about investing mantras, aha moments, and magical genies.*
*A message from our sponsor.
Brew Mini: Today's Mini is a puzzle within a puzzle. When you complete the circled squares, you'll encounter symbols you see every day from your couch. Play it here.
Three Headlines and a Lie
Three of these headlines are real and one is faker than promising to call if you're ever in town. Can you spot the odd one out?
We made up the QuiltTok one.
Word of the Day
Today's Word of the Day is: hirsute, meaning "hairy." Thanks to Dr. Hugh Smith of Mississippi for the hair-raising suggestion. Submit another Word of the Day here.
✳︎ A Note From Fidelity
Investing involves risk, including risk of loss.

Fidelity and Morning Brew are independent entities and are not legally affiliated.

"Financial Communications Society" 05/04/2023 Fresh Invest Season 3, Gold Medal for Corporate Retail within Branded Content: Audio. https://thefcs.org/portfolio-awards/2023-brochure.

Fidelity Brokerage Services LLC, Member NYSE, SIPC, 900 Salem Street, Smithfield, RI 02917
✤ A Note From Fidelity
Investing involves risk, including risk of loss.
Fidelity and Morning Brew are independent entities and are not legally affiliated.
Fidelity Brokerage Services LLC, Member NYSE, SIPC, 900 Salem Street, Smithfield, RI 02917

Older messages
Wednesday, September 20, 2023
Influencer marketing continues growing. September 20, 2023 Marketing Brew PRESENTED BY SurveyMonkey It's Wednesday. Instacart, an advertising business that doubles as a grocery-delivery company,
Wednesday, September 20, 2023
How dipping credit card revenues are affecting stores. September 20, 2023 Retail Brew TOGETHER WITH Listrak Happy Wednesday. If you thought planning for the holiday shopping season was a chore, try
Wednesday, September 20, 2023
New Google tool helps apps dodge gov't censors. September 20, 2023 Tech Brew PRESENTED BY Facet It's Wednesday. It's been a big week in tech news, between the Google/DOJ antitrust case, the
Wednesday, September 20, 2023
Why Disney is spending $60 billion on parks... September 20, 2023 View Online | Sign Up | Shop 10% Off Morning Brew PRESENTED BY Indeed Good morning. The Senate is following the lead of many workplaces
🚗 Buckle up! Get ready for the future of EVs and AVs
Tuesday, September 19, 2023
Join us virtually on September 27th Hey Tech Brew reader, Rev your engines and charge up your curiosity because Tech Brew has a virtual event that'll have you saying "Vroom Vroom!" We are inviting