Bloomberg - Evening Briefing - 'Verge of the abyss'
Israel's defense minister told the US to brace for a "long war" against Hamas just as Secretary of State Antony Blinken returned to Israel for further talks amid a global push to prevent the conflict from spreading. President Joe Biden, who has ordered two carrier strike groups to the eastern Mediterranean along with other forces, may visit Israel in the coming days. US officials are worried about a regional escalation by Hezbollah or its patron, Iran, should Israel invade Gaza. And with good reason: Iran said Monday that an expansion of the war between Israel and Hamas was increasingly becoming unavoidable. More than 600,000 Palestinians have left northern Gaza on warnings from Israel amid a bombing campaign that's killed thousands. The Oct. 7 attacks by Hamas killed at least 1,400 Israelis, with many others having been taken hostage. United Nations Secretary-General Antonio Guterres warned that the Middle East is on the "verge of the abyss."  Read the latest on the war here. —Natasha Solo-Lyons and David E. Rovella
Here are today's top stories
Stocks rose and bonds fell amid diplomatic efforts to prevent the Israel-Hamas war from becoming a regional conflict. Oil declined, following last week's rally. Here's your markets wrap. 
Charles Schwab executives said its cash-sorting problems, with clients moving money from the bank into higher-yielding products, are beginning to abate despite persistently elevated interest rates.
The US plans to tighten sweeping measures to restrict China's access to advanced semiconductors and chipmaking gear, seeking to prevent its geopolitical rival from obtaining cutting-edge technologies that could give it a military edge.
US pharmacy chain Rite Aid filed for bankruptcy in an effort to close unprofitable stores, address lawsuits over its role in the opioid pandemic and rework a debt load of roughly $4 billion.
The lucrative broker commission system at the heart of the US residential housing market is facing unprecedented antitrust scrutiny from the Justice Department and in two class-action lawsuits. The US is focused on the real estate commission-sharing system that typically puts homesellers on the hook for a 5% to 6% cut of the sale, split between their agent and the buyer's agent.
The push by employers to get American workers back into the office appears to be working. Fewer than 26% of US households still have someone working remotely at least one day a week, a sharp decline from the early-2021 peak of 37%. 
Apple's new iPhone 15 is selling far worse in China than its predecessor, reflecting stubbornly weak consumption as well as the rise of rivals like Huawei. Sales of Apple's flagship device are down 4.5% compared with the iPhone 14 over their first 17 days after release.
What you'll need to know tomorrow
Researchers at the University of Pennsylvania reported Monday in the journal Cell that they have identified Prozac and other drugs that boost levels of the chemical messenger—serotonin—as promising targets for future study in the fight against long Covid.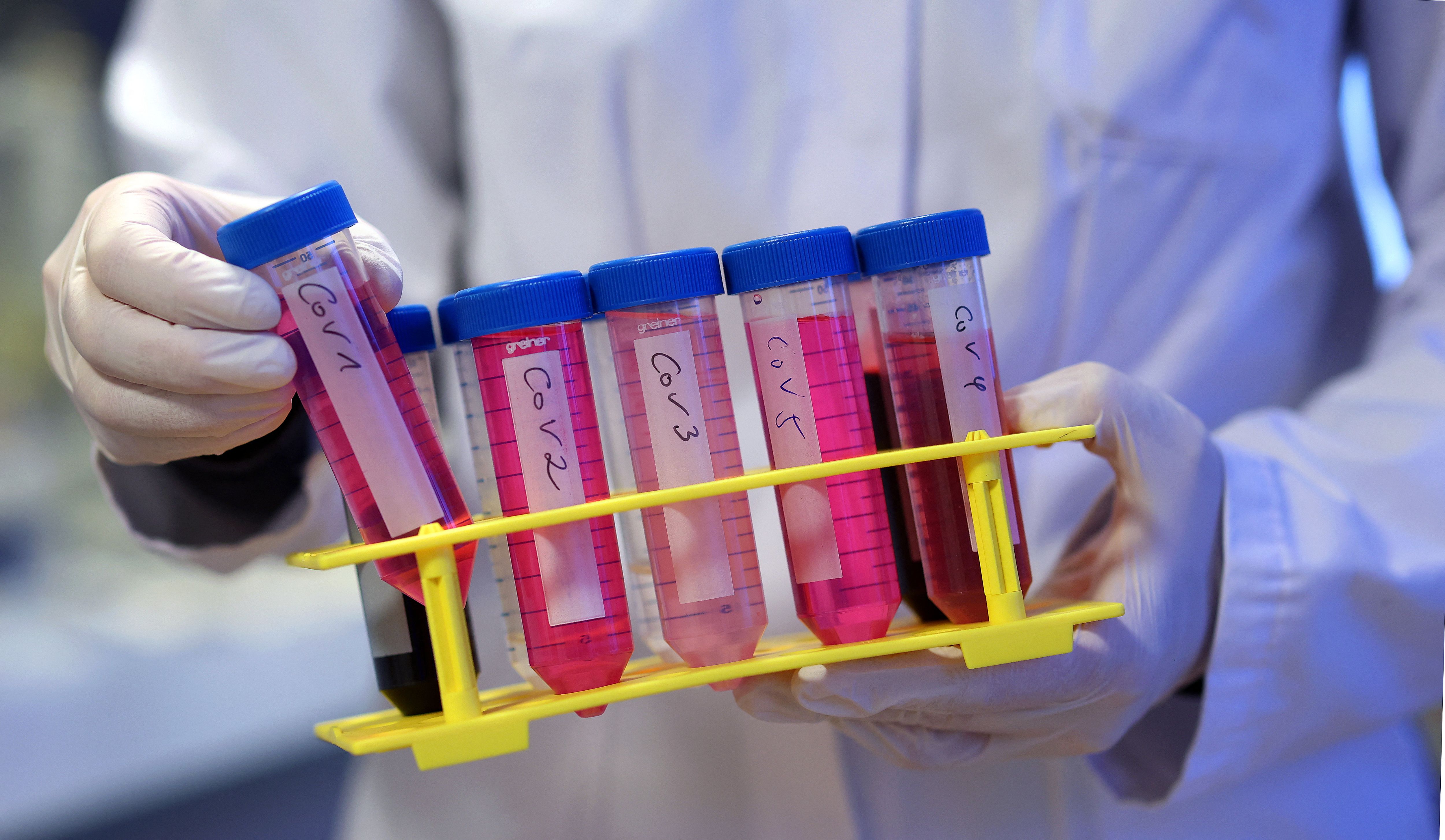 A researcher holds test tubes with Covid-19 cell cultures during a long covid sample processing in Magdeburg, Germany. Photographer: Ronny Hartmann/AFP
Get the Bloomberg Evening Briefing: If you were forwarded this newsletter, sign up here to receive Bloomberg's flagship briefing in your mailbox daily—along with our Weekend Reading edition on Saturdays.
Bloomberg's Technology Transformation & the Strategic C-Suite: Join us in New York on Nov. 2 as CFOs and other senior leaders in corporate finance and operations gather for a special evening briefing on the ways they can transform and amplify the impact of their departments. New York: Register here.
Like getting this newsletter? Subscribe to Bloomberg.com for unlimited access to trusted, data-driven journalism and subscriber-only insights.
Before it's here, it's on the Bloomberg Terminal. Find out more about how the Terminal delivers information and analysis that financial professionals can't find anywhere else. Learn more.
Want to sponsor this newsletter? Get in touch here.
Older messages
Thursday, October 19, 2023
Bloomberg Evening Briefing View in browser Bloomberg President Joe Biden is set to travel to Israel Wednesday in a show of solidarity with the American ally. Simultaneously, the US is sending an
Thursday, October 19, 2023
Bloomberg Evening Briefing View in browser Bloomberg President Joe Biden's trip to Tel Aviv signaled his full backing of Israel, but fell short on another key goal: winning over Arab leaders. Biden
Tuesday, October 10, 2023
Bloomberg Evening Briefing. View in browser Bloomberg The conflict between Israel and Hamas has exposed both new and old geopolitical fault lines, and not just in the Middle East. Already, the combined
Monday, October 9, 2023
Bloomberg Evening Briefing View in browser Bloomberg The surprise attack on Israel by Gaza-based militant group Hamas and intensifying retaliatory strikes by Israeli forces have killed more than 1500
Saturday, October 7, 2023
Bloomberg Weekend Reading View in browser Bloomberg When it comes to the near-term US economic outlook, there's been a shift in tone this week. The Federal Reserve and most central banks around the