Morning Brew - ☕ Goldilocks
| PRESENTED BY | |
| --- | --- |
Good morning. Here's a fun game to play with a group of friends this weekend: Someone in the group thinks of a number between 1 and 100 but keeps it to themselves. The rest of the people in the group have to guess the number that person is thinking of by naming categories, and the person has to respond with an item in that category that corresponds to their number on a rating scale of 1–100.
For example, if the person was thinking of 40 and you asked them to name a dessert, they might respond with something like "carrot cake." If you asked them to name a Pixar movie, they might respond with Finding Dory. And you go on through multiple categories until you feel like you've got a good sense for the number.
Very wholesome, very entertaining.
—Sam Klebanov, Molly Liebergall, Matty Merritt, Adam Epstein, Neal Freyman
| | | | |
| --- | --- | --- | --- |
| | Nasdaq | 13,478.28 | |
| | | | |
| --- | --- | --- | --- |
| | S&P | 4,358.34 | |
| | | | |
| --- | --- | --- | --- |
| | Dow | 34,061.32 | |
| | | | |
| --- | --- | --- | --- |
| | 10-Year | 4.523% | |
| | | | |
| --- | --- | --- | --- |
| | Bitcoin | $34,622.07 | |
| | | | |
| --- | --- | --- | --- |
| | Paramount | $13.76 | |
*Stock data as of market close, cryptocurrency data as of 11:00pm ET. Here's what these numbers mean.
Markets:

LFG! Stocks closed out their best week all year after the "Goldilocks" October jobs report could put the Fed's interest rate hikes on ice. Paramount posted

double-digit gains

for the second straight session because…apparently Paramount+ is doing well? You learn something new every day.
Francis Scialabba
Oven mitts might no longer be necessary to handle the hiring market as the US added just 150,000 jobs last month. The employment gains reported by the Labor Department yesterday fell short of expectations and were almost half of the 297,000 jobs created in September.
Still, there's no need to hit the economic panic button. Though the unemployment rate ticked up slightly, to 3.9% in October, it's been below 4% since late 2021, the longest sub-4% stretch in over 50 years. But the hiring slowdown may be a sign that the US economy is gently releasing the gas pedal after months spent running laps around Daytona.
Who was hiring?
Not the automakers. The six-week United Auto Workers strike against the Big Three Detroit carmakers was the primary culprit in the automotive manufacturing sector shedding 33,000 people from payroll. On the flip side, healthcare, government, and construction were the top job creators, adding 58k, 51k, and 23k positions, respectively.
The jobs number was in the sweet spot for investors: Stocks posted their biggest weekly gain this year. And that's because investors view the reduced appetite for new hires as a sign the Fed is succeeding at cooling the economy (but not too much) in its fight against inflation. This jobs report makes it even more likely that the Fed will put the parking brake on its interest rate hikes, and some traders are betting that the central bank might even lower rates next year.
Zoom out: Scorching hot consumer spending in the summer fueled a 4.9% pop in Q3 GDP, and investors worried wages and prices would shoot upward again. But, yesterday's jobs report showed average hourly pay grew at a lower-than-expected 0.2% in October, calming fears that inflation would reverse its downward trend. Economic growth is projected to slow down significantly this fall, according to the US Treasury, just in time for sweater weather.—SK
Here's a hard truth to swallow: If your gut health is lagging, you're probably starting your days feeling sluggish and slow.
So what's the trick to building a healthier metabolism? A multi-strain probiotic that helps your body do way more with the food you eat. That's why Pendulum created Metabolic Daily.
Formulated by top-ranking scientists, Metabolic Daily is packed with next-gen strains, including Akkermansia muciniphila. Based on in vitro studies, it works to improve metabolism and convert food into energy more efficiently.
What's more, the Halle Berry swears by this powerful probiotic. And now you can save 20% in your first month of Pendulum membership with code MORNINGBREW.
Ahmad Al-Rubaye/AFP via Getty Images
Hezbollah won't enter the war...for now. In his first speech since Hamas's Oct. 7 attack on Israel, Hezbollah leader Hassan Nasrallah called the assault "glorious" but did not signal he'd join the conflict in a significant way imminently. The world is watching Hezbollah's next moves carefully since the Iran-backed Lebanese militant group's involvement could spark a wider regional war in the Middle East. Also yesterday, during his visit to Israel, US Secretary of State Antony Blinken called for a humanitarian pause in the Israel–Hamas war; Israeli Prime Minister Benjamin Netanyahu rejected the possibility of a cease-fire that does not include the release of the hostages being held in Gaza.
A shipping giant warns on the economy. The Danish shipping company Maersk is cutting more than 10,000 jobs and posted a 92% drop in profits as the pandemic-era shipping boom runs aground. Because Maersk moves goods all over the world, its woes are a concerning sign for global trade going into next year. The cost of shipping a 40-foot container from China to the US West Coast has dropped from more than $16,000 in March 2022 to less than $2,000 in September, per the WSJ.
Mint is shutting down. The free app's 3.6 million monthly users will soon have to look elsewhere for their personal finance needs. Owner Intuit encouraged users to move over to another one of its products, Credit Karma, which offers some of the same features and will fully absorb Mint on Jan. 1. Since acquiring Mint for $170 million in 2009, Intuit was never able to turn it into a moneymaker, even as the app helped millions of loyal users figure out what to do with their cash. Those users were caught off guard by the news, taking to Reddit to express their disappointment.
Illustration: Francis Scialabba, Photo: Getty Images
Deepfake porn is running rampant, and a New Jersey high school is one of the latest epicenters.
Police are investigating after boys at Westfield High School circulated AI-generated images that showed the faces of their female classmates on naked bodies. It's unclear if the perpetrators will be punished due to questions around the legality of their transgression: Neither federal law nor most state laws have anything on the books about deepfake porn. Plus, it may not be divulged if they are punished due to student confidentiality. In the meantime, a New Jersey state senator asked county prosecutors to take notice.
Widespread and rising: More than 90% of online deepfakes are pornographic, according to the image-detection firm Sensity AI. As of September, creeps had already uploaded 54% more deepfake porn videos this year than in all of 2022, Wired reported.
In other recent instances, a stranger virtually undressed a woman's Instagram mirror selfie, a Wisconsin man threatened minors with nude deepfakes, and more than 30 girls in Spain were targeted by classmates with fake nudes.
How is this happening? Though big-name image generators like OpenAI's Dall-E and Adobe's Firefly have guardrails that stop users from making porn, countless online face-swapping and undressing tools that use publicly available software are still out there, making it hard to shut them down.—ML
Runners, take your marks. We checked in with HOKA athletes Kellyn and Futsun to get their tips for crossing the finish line. From the importance of pacing yourself to the best breakfast to eat before a race (spoiler alert: it's white rice), these HOKA athletes are here to help you earn your hardware.
Illustration: Francis Scialabba, Photo: Simon Stacpoole/Getty Images
Meet the newest Florida Man: Jeff Bezos. In an Instagram post late Thursday, the Amazon founder said he was leaving his longtime home of Seattle for Miami to be closer to his parents and his space company, Blue Origin, which is increasing its operations at Cape Canaveral.
The third-richest man in the world isn't just going to surf Zillow for any old two-bedroom. Last month, Bezos bought a $79 million mansion on the celebrity-studded Indian Creek island near Miami—his second property on the island nicknamed the "billionaire bunker."
About Bezos's new neighborhood: The median listing price for a home there in September was $49.5 million, which only the likes of Jared Kushner, Tom Brady, and Wall Street legend Carl Icahn can afford. With individuals worth a small nation's GDP residing on the island, Indian Creek is heavily secured and has its own police force that patrols the area by land and water. But owning a home on the island (which all have ocean views, btw) doesn't even guarantee you access to the community's golf club.
Big picture: Unlike what he's done in business, Bezos is hardly innovating with his move to the Sunshine State. Between 2021 and 2022, 740,000 people moved to Florida, the most of any state in the country. And with all the growth, Florida's property market became the second-most valuable in the US last year, bumping New York to third place, according to a September Zillow report.—MM
Fortnite/Epic Games
Stat: The most popular vacation destination this weekend isn't Tulum—it's Salty Springs. Fortnite re-released its OG battle royale map from 2018 yesterday, a genuinely emotional event for gamers who used to explore the virtual world with their buds. The result? More than 5 million people were playing Fortnite at one point Friday afternoon, according to Fortnite.gg, the most ever at one time and proof that nostalgia remains undefeated. Ninja, the Twitch streamer whose fame was partly fueled by Fortnite, reached 118,000 concurrent viewers—dwarfing the size of his normal audience. The limited-time commemorative event is scheduled to end in a few weeks, but until then, Tilted Towers calls gamers home.
Quote: "There will come a point when no job is needed–you can have a job if you want for personal satisfaction, but the AI will be able to do everything."
Elon Musk sat down with British Prime Minister Rishi Sunak at an AI summit in London this week, and the X chairman had a lot to say about robots. In addition to predicting that artificial intelligence will render most of our jobs obsolete, Musk also compared it to a "magic genie" that can grant all wishes, which he acknowledged usually doesn't end well. So naturally, Musk then announced that his new AI startup, xAI, will preview its tech to a select group today.
Read: How often do you lie? (The Conversation)
Brew crossword: Tolkien fans should complete today's crossword before second breakfast. Play it here.
Open House
Welcome to Open House, the only newsletter section that knows its beef history. We'll give you a few facts about a listing and you try to guess the price.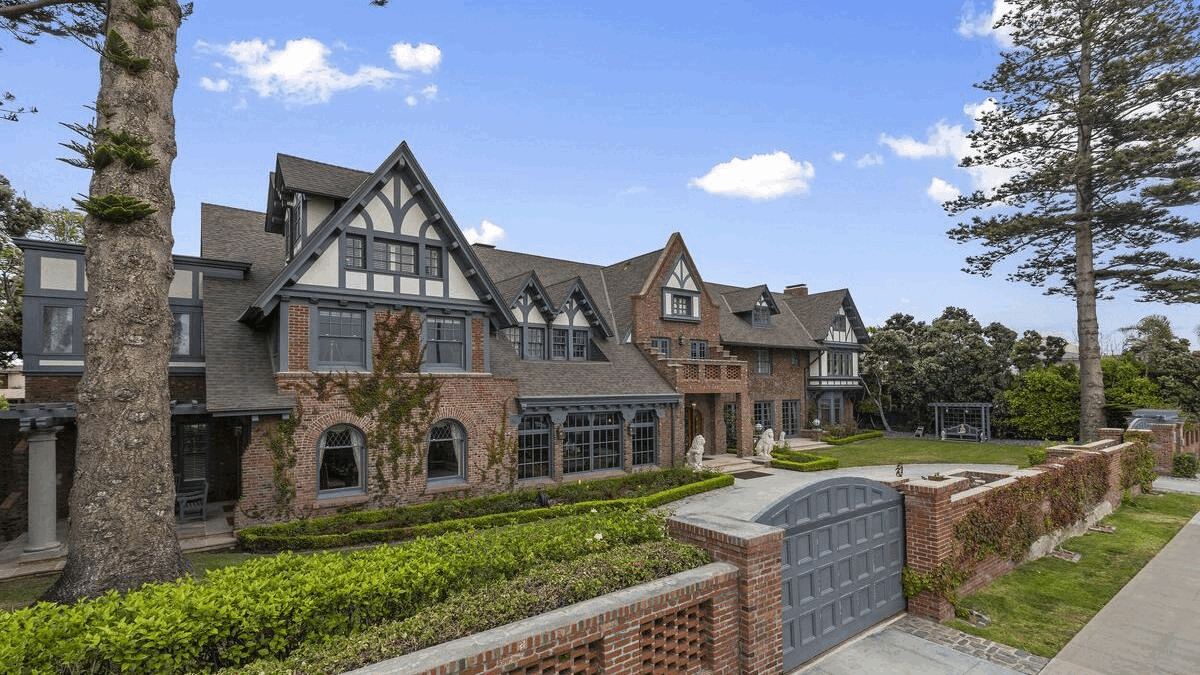 Dickinson-Clark Team/Compass
Today's listing is the historical Crown Manor mansion in Coronado, California, a peninsula in San Diego Bay. It was built in 1902 for roughly $25,000 as a winter home for Wyoming and Nebraska cattle baron Bartlett Richards. Amenities include:
12 beds, 9 baths, 7 half-baths

Beauty salon

Saltwater pool that's within walking distance of the ocean
How much to own a piece of a bygone bovine era?
$40 million
Word of the Day
Today's Word of the Day is: bovine, meaning "relating to or affecting cattle." Thanks to Allie from Long Beach, California, for the suggestion. Submit another Word of the Day here.
✤ A Note From Intuit Mailchimp
This is sponsored content. SMS is available as an add-on to US paid plans only. Visit Mailchimp.com for details.
Older messages
🔮 Creator Economy 2024: What's Next?
Friday, November 3, 2023
Join us virtually on November 9th Hey Marketing Brew reader, In a landscape where authenticity takes center stage, gone are the days of perfect kitchen reels – it's time for relatable content to
Friday, November 3, 2023
Why Hulu is working with Barnes & Noble. November 03, 2023 Marketing Brew PRESENTED BY Frontify We made it to Friday. Last night, one-time crypto wunderkind Sam Bankman-Fried was found guilty of
Friday, November 3, 2023
How the Farm Bill could help CPGs. November 03, 2023 Retail Brew PRESENTED BY TikTok Shop Happy Friday. If you've been hiring or looking for a job lately, you already know there aren't that
Friday, November 3, 2023
Dems say Congress should keep funding affordable broadband. https://ad.doubleclick.net/ddm/trackimp/N4789.3407870MORNINGBREW/B25262188.379014446;dc_trk_aid=570157629;dc_trk_cid=153466431;ord=0123456789
Friday, November 3, 2023
Why Bill Gates has clout with Gen Z... November 03, 2023 View Online | Sign Up | Shop 10% Off Morning Brew PRESENTED BY HOKA Good morning. The Curse of Dave Lozo has finally been lifted. After eight