Bloomberg - Evening Briefing - Pain on the way
US Federal Reserve Chair Jerome Powell says the central bank will continue to move carefully but won't hesitate to tighten policy further to finish off inflation. In other words, he's making sure Wall Street and everyone else gets the message he's been telegraphing for some time now. But two of his colleagues added a new twist to the interest rate guessing game Thursday when they said the economy has yet to feel the full effect of past hikes, suggesting more pain is yet to come. "In aggregate, we are still not seeing the full effects of policy," Richmond Fed President Thomas Barkin said in New Orleans. Atlanta Fed President Raphael Bostic, at the same event, said he agreed, adding that the road to 2% will include some potholes. "I think we're going to still have bumps along the way," he says. —David E. Rovella
Here are today's top stories
Get ready for a whipsaw in markets. That's according to Mark Spitznagel, the Universa Investments founder and chief investment officer whose firm is advised by Black Swan author Nassim Nicholas Taleb. Spitznagel predicts the stock market is likely to surge—then turn drastically when the Fed starts cutting interest rates. "That's when things are going to get really awful," Spitznagel says.
Day traders are heading for the exits. A big force behind the stock-market rally this year, they've now pulled more money from US equities in one month than they have over any month in two years. Retail traders sold nearly $16 billion in stocks last month, almost twice what they unloaded in September. They dumped shares in nearly every sector, although they did increase their exposure to real estate.
Republicans took a beating in this week's off-year election, just as they did in the midterms a year ago, but a new Bloomberg News/Morning Consult poll gives the GOP some good news. The multiple foreign policy crises occupying the Biden administration aren't as important to swing state voters as keeping desperate migrants from crossing the border. One of those crises is Russia's 20-month war on Ukraine, which continues apace while focus has been drawn to the war in the Middle East. Kremlin forces reportedly fired artillery and missiles at residential targets all across Ukraine yesterday.
In the US, Democratic Senator Joe Manchin has been a perpetual thorn in the side of both his party and Biden, regularly voting with Republicans to stymie the president's agenda. Now Manchin says he won't be running for re-election—but for Democrats that's actually bad news. Since West Virginia (Manchin's state) is about as Republican-leaning as they come, the chances he's replaced by another Democrat are remote. And with an almost evenly divided Senate, that could be the difference come 2024.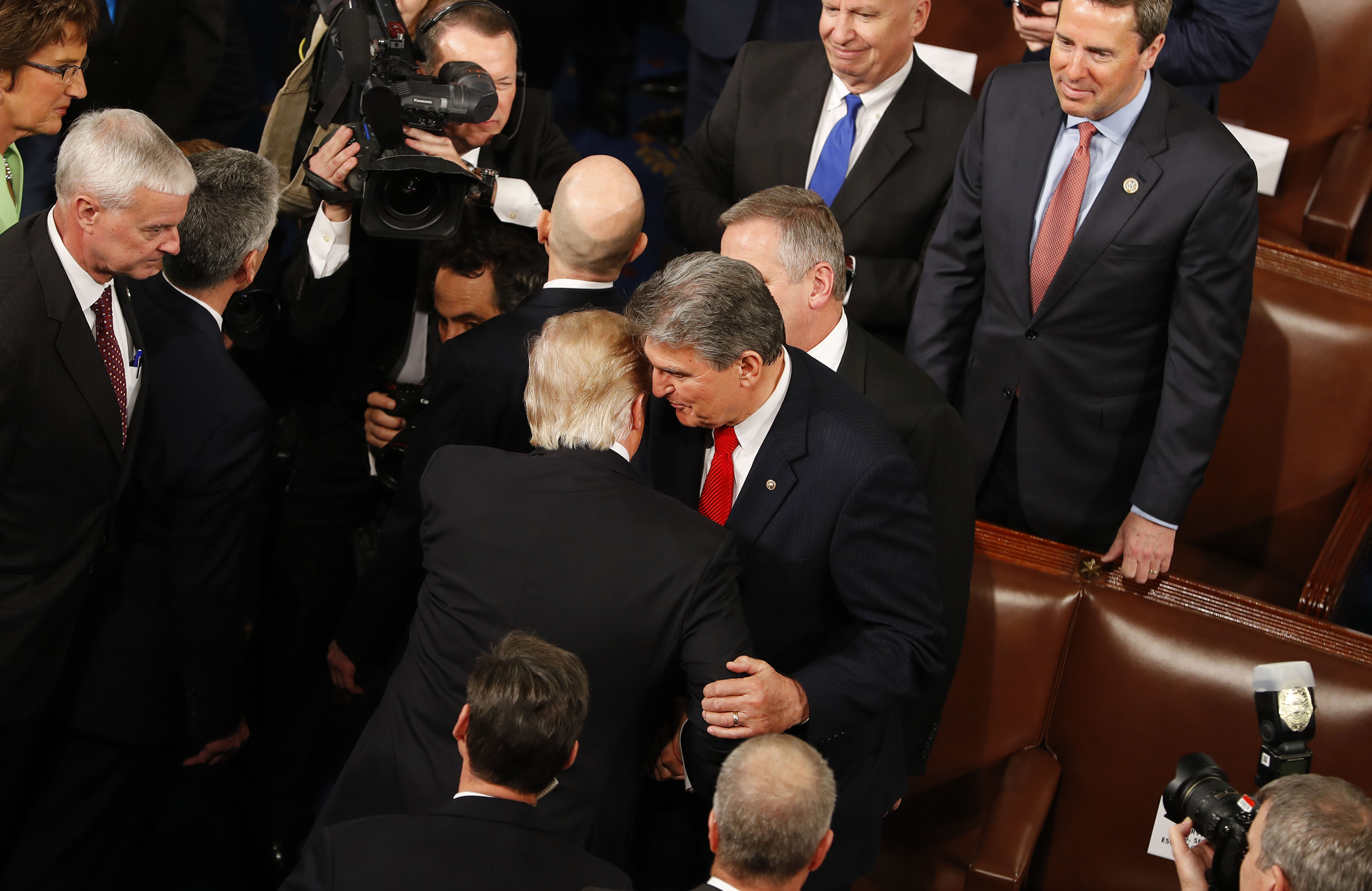 Then-President Donald Trump, center, speaks with Senator Joe Manchin of West Virginia after a joint session of Congress in 2017. Photographer: Aaron P. Bernstein/Bloomberg
A Covid-era program gave veterans a year without mortgage payments, but now some are finding that their lenders would rather foreclose than let them pick up where they left off. 
Sam Bankman-Fried may be headed for prison, but that doesn't mean cryptocurrency's day is done. Quite the opposite. The price of Ether surged on bets that BlackRock is gearing up to file for an exchange-traded fund that would be centered on the second-largest cryptocurrency.
Scores of partners have left Goldman Sachs in recent years. At least one of them is singing and dancing about it. Stacy Polley was a star of fixed-income sales at Goldman for almost 25 years. Now she's the star of a Manhattan cabaret show about life after the investment bank. In lyrics and patter, she airs what it's like to lose her work identity, and be forced to findnew definitions of success.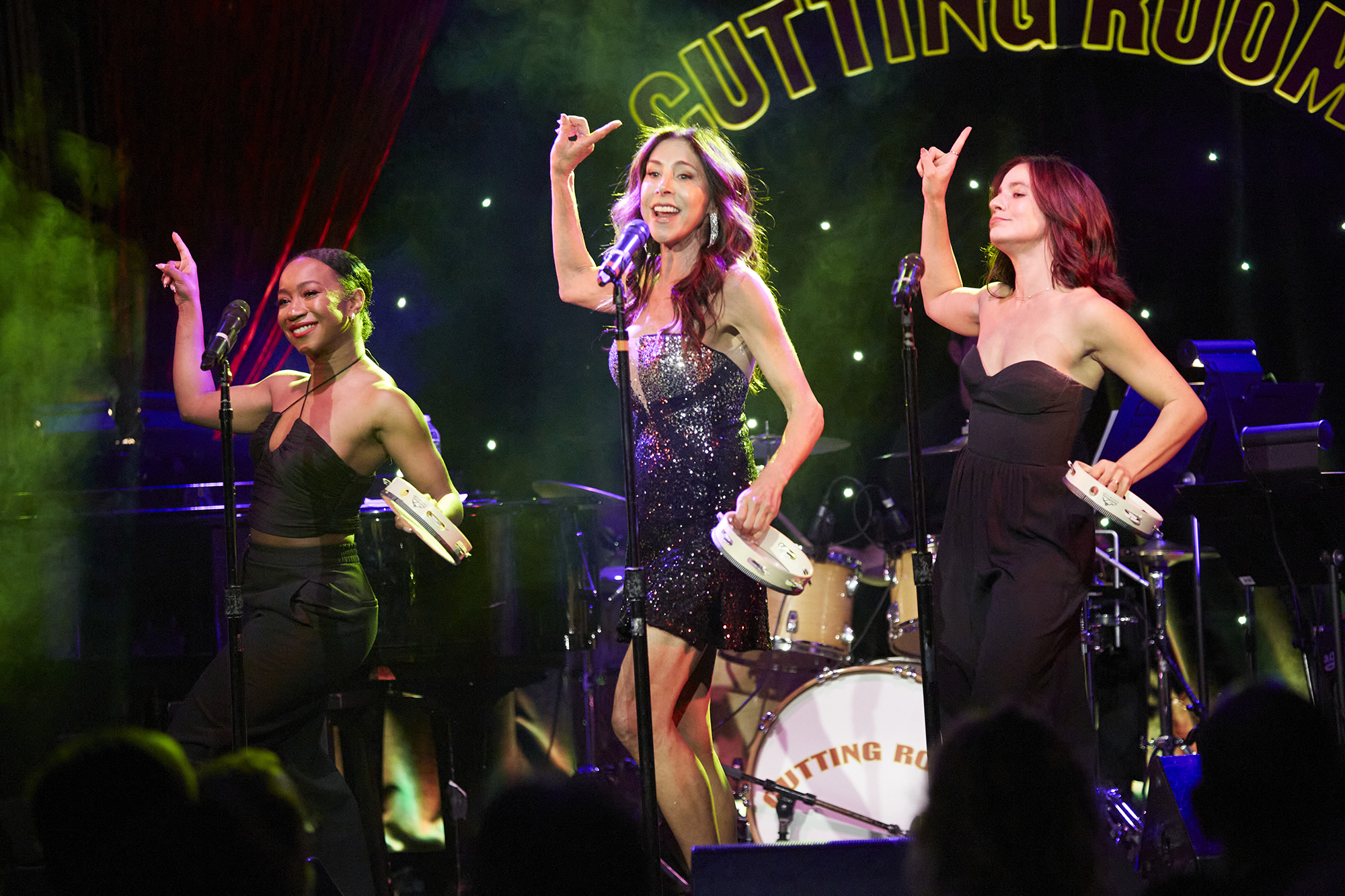 Stacy Polley debuts a new cabaret act about life after Goldman Sachs at the Cutting Room in New York. Source: Hart Studios
What you'll need to know tomorrow
PFAS, a term you may have heard, are better known as "forever chemicals." They're called that because the properties that make them so useful to consumers allow them to persist in the environment. In The Poison In Us All, Bloomberg Originals reveals how PFAS—linked to cancer and the subject of sweeping litigation—originated in the aftermath of the Manhattan Project, spread to myriad consumer products and ended up inside the bodies of almost everyone—including probably you.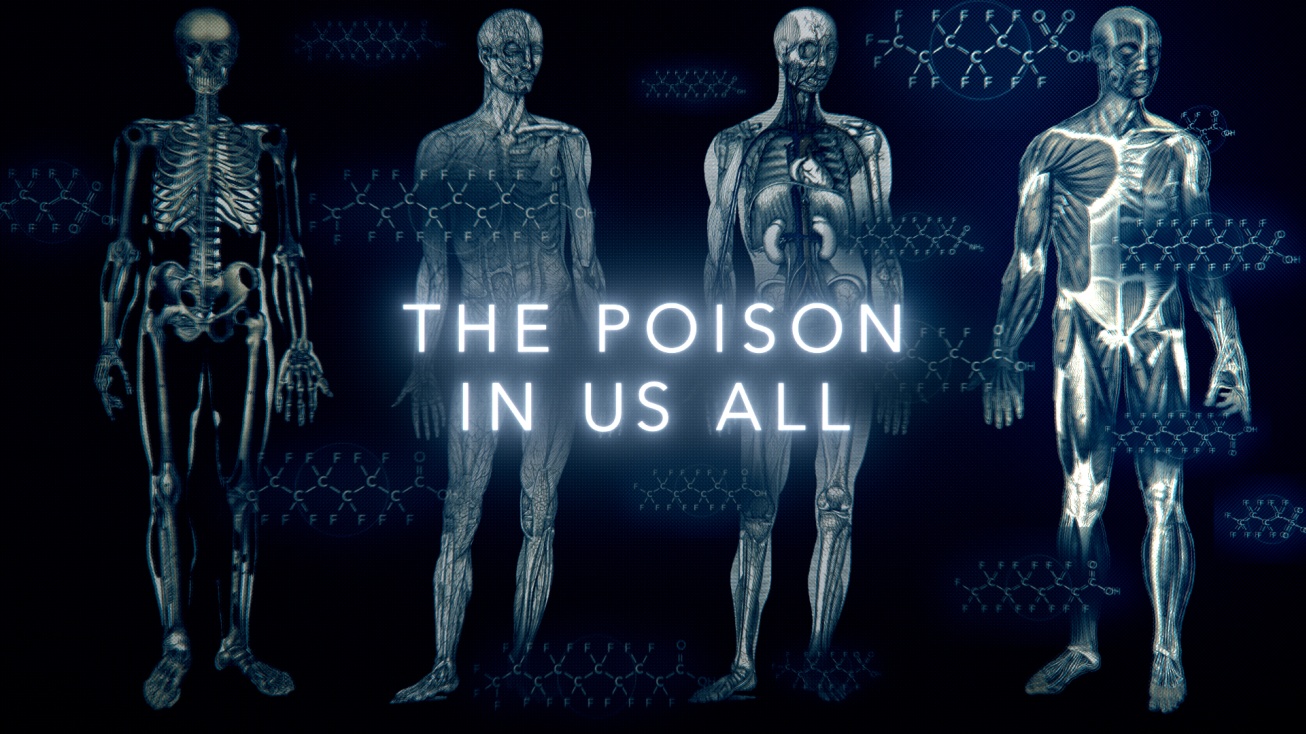 Get the Bloomberg Evening Briefing: If you were forwarded this newsletter, sign up here to receive Bloomberg's flagship briefing in your mailbox daily—along with our Weekend Reading edition on Saturdays.
The Bloomberg Canadian Finance Conference on Nov. 29 in New York brings together finance, government and business leaders from across various sectors to discuss advancements in their fields and how they are sustaining their leadership going forward. This year marks the eleventh anniversary of our Canada-focused event, and continues the tradition of providing timely, actionable insights and strategies for a global audience of leaders and decision-makers. Register here.
Like getting this newsletter? Subscribe to Bloomberg.com for unlimited access to trusted, data-driven journalism and subscriber-only insights.
Before it's here, it's on the Bloomberg Terminal. Find out more about how the Terminal delivers information and analysis that financial professionals can't find anywhere else. Learn more.
Want to sponsor this newsletter? Get in touch here.
Older messages
Wednesday, November 8, 2023
Bloomberg Evening Briefing View in browser Bloomberg The $100 billion market to make everyone thinner just got more crowded. Eli Lilly won US approval to use the active ingredient in its diabetes drug
Tuesday, November 7, 2023
Bloomberg Evening Briefing View in browser Bloomberg UBS Group reported stronger-than-expected client inflows in its wealth-management business, boosted by the first signs of stabilization at Credit
Monday, November 6, 2023
Bloomberg Evening Briefing View in browser Bloomberg While the US banking sector is stable, growing vulnerabilities leave at least some institutions under a near-term threat of funding pressure and
Saturday, November 4, 2023
Bloomberg Weekend Reading View in browser Bloomberg It's been quite a journey for the US economy over the past several years, from pandemic supply chain upheaval to the Federal Reserve's hyper-
Friday, November 3, 2023
Bloomberg Evening Briefing View in browser Bloomberg Can Jerome Powell declare victory? Maybe not just yet, but a cooling US job market gives the Federal Reserve Chair and his colleagues room to keep