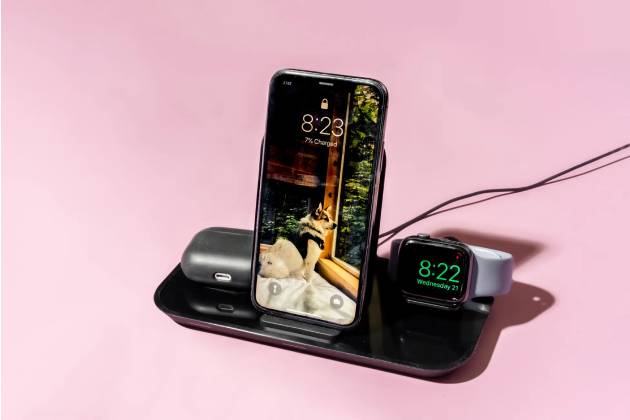 You know the drill: It's Friday and we're back at it with the best deals of the week. Here are five deals we just can't stop thinking about.
Looking for something specific? Check out the Wirecutter Deals page for even more great discounts.
When you buy through links on our site, we may earn an affiliate commission. Learn more →
$92 $140
With promo code WCSTAND34

If you have an Apple Watch, iPhone, and AirPods that need charging, skip the tangle of cords and try out the Mophie 3-in-1 Wireless Charging Stand instead. It's simply designed with a cross-shaped docking station for your AirPods, an angled stand for your phone, and a mini watch stand that holds your watch horizontally so you can easily use Nightstand Mode. This deal is scheduled to end June 11.
$9 $18
Take control of your outlets—and anything with an on/off switch that plugs in—with a smart plug. Our runner-up pick, the Kasa Smart Wi-Fi Plug Mini (HS105), is just as reliable as our top pick and integrates with a wide variety of smart home assistants, including Amazon Alexa, Google Assistant, Samsung SmartThings, and IFTTT. It's also more compact and offers a few extra bells and whistles, like sunrise and sunset scheduling.
$217 $255
With promo code SUMMER15
While a smartphone can tell you the exact time down to the second, the Tian Black + White Watch encourages you to take a step back from monitoring its constant passage. Although it's still precise, the Tian takes a more zen-like approach by only displaying the time in 15-minute increments. Whether you're looking for a Father's Day gift or want to slow down a bit in your own life, check out this deceptively simple timepiece.
Banana Boat Sport Performance Clear UltraMist Sunscreen SPF 100 (2-Pack)
$14 $18
Add 2 to your cart for BOGO 50% off
Nothing says summer like the lingering scent of sunscreen. Stay protected all summer long with Banana Boat Sport Performance Clear UltraMist Sunscreen SPF 100. It's not as efficient or cost-effective as lotion, but Banana Boat's easy-to-hold bottle and accurate nozzle produced a more concentrated and less greasy application than most other sprays we tested. Make sure to add two bottles to your cart to get the deal price.
$441 $550
With promo code XGIMIWIR01
Step up your movie nights with the Xgimi MoGo Pro Portable Projector. No projector will match the performance of a good TV, but the Xgimi handedly beats out the competition with better image quality, contrast, detail, and picture adjustment settings. It's easy to set up and offers a built-in media streamer that runs Android TV with Chromcast. The Xgimi also has an internal battery, so you can ditch the extra cords and outlets while you stream.
The Wirecutter Deals team scans the virtual aisles of the internet for great discounts on Wirecutter picks so you don't have to.
No one likes doing laundry, but the right machine can make your life much easier. Here are the washers and dryers we recommend.
As the days get warmer, you may be seeking a cooler substitute for your morning cup of joe. Beat the heat and skip the lines at the coffee shop with a cold-brew coffee maker.
Older messages
Thursday's best deals
Thursday, June 10, 2021
Check out the best deals we've found so far today ‌ ‌ ‌ ‌ ‌ ‌ ‌ ‌ ‌ ‌ ‌ ‌ ‌ ‌ ‌ ‌ ‌ ‌ ‌ ‌ ‌ ‌ ‌ ‌ ‌ ‌ ‌ ‌ ‌ ‌ ‌ ‌ ‌ ‌ ‌ ‌ ‌ ‌ ‌ ‌ ‌ ‌ ‌ ‌ ‌ ‌ ‌ ‌ ‌ ‌ ‌ ‌ ‌ ‌ ‌ ‌ ‌ ‌ ‌ ‌ ‌ ‌ ‌ ‌ ‌ ‌ ‌ ‌ ‌ ‌ ‌ ‌ ‌ ‌
Everything you need to know about Amazon Sidewalk
Wednesday, June 9, 2021
Plus, the best deals we've found so far today ‌ ‌ ‌ ‌ ‌ ‌ ‌ ‌ ‌ ‌ ‌ ‌ ‌ ‌ ‌ ‌ ‌ ‌ ‌ ‌ ‌ ‌ ‌ ‌ ‌ ‌ ‌ ‌ ‌ ‌ ‌ ‌ ‌ ‌ ‌ ‌ ‌ ‌ ‌ ‌ ‌ ‌ ‌ ‌ ‌ ‌ ‌ ‌ ‌ ‌ ‌ ‌ ‌ ‌ ‌ ‌ ‌ ‌ ‌ ‌ ‌ ‌ ‌ ‌ ‌ ‌ ‌ ‌ ‌ ‌ ‌ ‌ ‌ ‌ ‌ ‌
Stay cool with our favorite shorts
Wednesday, June 9, 2021
Plus: How to use your smart lock better, a guide to the best ring lights and more Wirecutter logo Athleta The best shorts for every summer activity After spending many months indoors, we're ready
Tuesday's best deals
Wednesday, June 9, 2021
Great deals just in time for Father's Day ‌ ‌ ‌ ‌ ‌ ‌ ‌ ‌ ‌ ‌ ‌ ‌ ‌ ‌ ‌ ‌ ‌ ‌ ‌ ‌ ‌ ‌ ‌ ‌ ‌ ‌ ‌ ‌ ‌ ‌ ‌ ‌ ‌ ‌ ‌ ‌ ‌ ‌ ‌ ‌ ‌ ‌ ‌ ‌ ‌ ‌ ‌ ‌ ‌ ‌ ‌ ‌ ‌ ‌ ‌ ‌ ‌ ‌ ‌ ‌ ‌ ‌ ‌ ‌ ‌ ‌ ‌ ‌ ‌ ‌ ‌ ‌ ‌ ‌ ‌ ‌ ‌ ‌