Switch surpasses PS3 and Xbox 360, plus OLED impressions
Your Nintendo digest for the week ending August Sunday.
Web version | Unsubscribe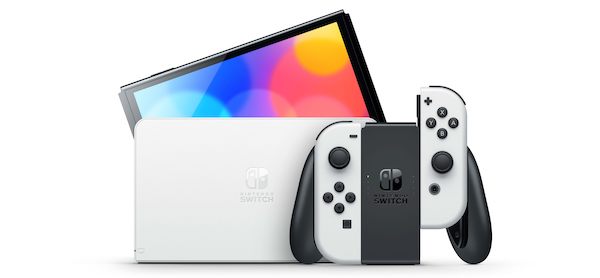 Hey, hope you're doing good. Here's issue #244 of Switch Weekly.
Nintendo shared updated earnings and sales data earlier this week, with the Switch now sitting at 89 million units sold — this puts it past the lifetime sales of both the PS3 and Xbox 360, and it's quickly catching up with Wii. Impressive stuff. The Wii U days are but a distant memory...
However, despite the solid sales milestone, things have finally slowed down when compared year over year. This is no surprise as the entertainment industry as a whole saw a huge uptick in the early months of the pandemic — and things are now coming back down to earth. I'm sure I don't need to remind you that Animal Crossing landed on Switch just as most of the world entered some form of lockdown — that combo of a hot new anticipated release, and folks spending more time at home was a perfect, if not somewhat bittersweet combo for Nintendo. As a result of the slowdown this quarter, Nintendo's share price took a nearly ten percent hit — that's the biggest fall in over two years.
Anyway, a few lucky members of the press had some hands on time with the upcoming OLED model — as such I've linked up a few previews below.
There's nearly 25 games coming to Switch next week, and the full list is below.
Oh, and just because I feel like telling you: I had my second vaccine today. Yay for science! You can't help but feel a fleeting moment of optimism when getting it — however, the reality of our collective experience is far from being truly normal. Onwards!
That's all from me,
Chris ✌️
🎮 Currently Playing — The Legend of Zelda: Skyward Sword HD, Kirby's Dream Course
🎮 Upcoming Releases

All releases are digital, Europe & U.S. unless otherwise stated.
Release data sourced in collaboration with Switch Scores.
⭐️ = Ones to Watch | 📦 = Physical release | 🎮 = Demo available
Monday, August 9
Tuesday, August 10
Wednesday, August 11
Thursday, August 12
Friday, August 13
---
❤️ Did you know: Switch Weekly remains accessible and sustainable thanks to the ongoing support of my amazing patrons, including:

PC, CapnGoat, SB, FrozenTrout, JR, MindFad, Greg, Michael Fairley, Chris D, and others — join them.

Switch Weekly is sent once weekly. If you're no longer interested, you can unsubscribe.
This newsletter may contain affiliate links, which help keep the newsletter sustainable.

Copyright © 2021 Switch Weekly - Chris Brandrick, All rights reserved.
Made in Europe.
Key phrases
Older messages
Ace Attorney on Switch is Great
Sunday, August 1, 2021
Your Nintendo digest for the week ending August Sunday. No Objections Web version | Unsubscribe Switch Weekly Issue 243 — August Sunday, 2021 Great Ace Attorney Hello, hope you're well. Chris here
Pokemon unite for your moolah
Sunday, July 25, 2021
Your Nintendo digest for the week ending July Monday. MOBAMON Web version | Unsubscribe Switch Weekly Issue 242 — July Monday, 2021 Pokemon Unite Hi, here's issue #242 of Switch Weekly, with your
Is OLED enough to get you Switching?
Sunday, July 11, 2021
Your Nintendo digest for the week ending July Sunday. New Model, Same Tricks. Web version | Unsubscribe Switch Weekly Issue 240 — July Sunday, 2021 Nintendo Switch (OLED model) Hello, Chris here with
Here's your Nintendo update
Sunday, July 4, 2021
Your Nintendo digest for the week ending July Monday. Despicable Board. Web version | Unsubscribe Switch Weekly Issue 239 — July Monday, 2021 A Nintendo Switch - Photo by Ehimetalor Akhere Unuabona on
My thoughts on Nintendo's E3
Monday, June 21, 2021
Your Nintendo digest for the week ending June 20. Live from Kazuya's cliff edge. Web version | Unsubscribe Switch Weekly Issue 237 — June 20, 2021 WarioWare Get It Together Hey, Chris here with