School reopening spat echoes 'Lyme war' controversy
| | | |
| --- | --- | --- |
| US Edition - Today's top story: What the 'Lyme wars' can teach us about COVID-19 and how to find common ground in the school reopening debate View in browser | | US Edition | 19 August 2021 |
I'm always fascinated when The Conversation's authors identify unexpected parallels between current events and topics they've been studying for years, maybe even decades.
University of Michigan medical and cultural anthropologist Abigail Dumes does just that in her article today about the "Lyme wars" and how the the heated debate about reopening schools during the COVID-19 pandemic reminds her of the intensely polarized battles around Lyme disease and its treatment. While emotions still run high about Lyme disease, Dumes identifies four lessons from the controversy that she thinks can help "parents, school districts, elected officials and scientists … find common ground – and a path forward – in the 2021-2022 school year."
Maggie Villiger

Senior Science + Technology Editor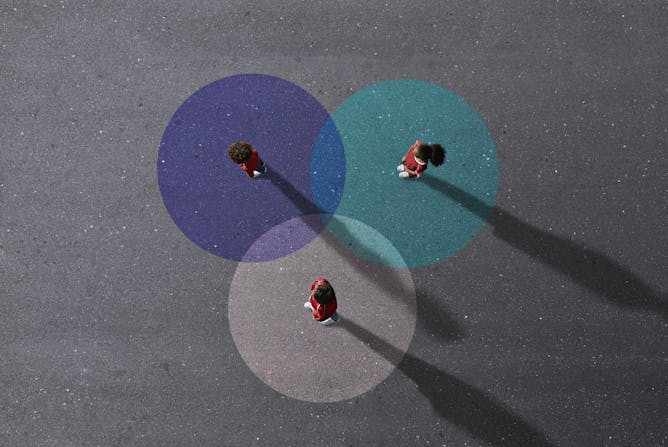 Lyme's controversy offers four lessons on how parents, school districts, elected officials and scientists can find a path forward in the 2021-2022 school year.
Politics + Society
Hanif Sufizada got caught in Kabul as the Taliban took over. A scholar and resident of the US who works at the University of Nebraska in Omaha, Sufizada describes his experience trying to leave.

If it sounds like the law is all over the place on school mask mandates, that's because it is. The nation's schools are subject to a complex web of local, state and federal laws.
Economy + Business
An economist explains what it would cost to give SNAP benefits to all Americans in households earning up to about $100,000 per year – and why it would be worth it.
Environment + Energy
Not all forests respond to hotter and drier conditions in the same way.
Science + Technology
The collective behavior of robot swarms is a route to making small, simple, inexpensive robots – and offers insights into how people make group decisions and adapt to changes.

Disputes are normal in romantic partnerships, but learning to see them from an outsider's perspective, rather than your biased point of view, could be the key to cutting down on conflicts.
Health
A new study puts numbers to the health and environmental benefits – or impacts – of individual foods and shows how small changes can make a significant difference.
Trending on site
The lasting problems of infrastructure aren't of need or construction, but of overbuilding, delayed costs and the challenges of thinking ahead.

Vaccinations, masks and some distancing – along with low community transmission – can help protect students in classrooms and cafeterias.

Because the Taliban's insurgency is so well financed, the Afghan government must spend enormous sums on war, too. A peace accord would free up funds for basic services, economic development and more.

---

Today's graphic
Older messages
Hubris led US into Afghanistan
Wednesday, August 18, 2021
+ fish fins and flexible robots ‌ ‌ ‌ ‌ ‌ ‌ ‌ ‌ ‌ ‌ ‌ ‌ ‌ ‌ ‌ ‌ ‌ ‌ ‌ ‌ ‌ ‌ ‌ ‌ ‌ ‌ ‌ ‌ ‌ ‌ ‌ ‌ ‌ ‌ ‌ ‌ ‌ ‌ ‌ ‌ ‌ ‌ ‌ ‌ ‌ ‌ ‌ ‌ ‌ ‌ ‌ ‌ ‌ ‌ ‌ ‌ ‌ ‌ ‌ ‌ ‌ ‌ ‌ ‌ ‌ ‌ ‌ ‌ ‌ ‌ ‌ ‌ ‌ ‌ ‌ ‌ ‌ ‌ ‌ ‌ ‌ ‌ ‌ ‌ ‌
Afghans' lives upended by rapid collapse
Tuesday, August 17, 2021
+ back to school precautions ‌ ‌ ‌ ‌ ‌ ‌ ‌ ‌ ‌ ‌ ‌ ‌ ‌ ‌ ‌ ‌ ‌ ‌ ‌ ‌ ‌ ‌ ‌ ‌ ‌ ‌ ‌ ‌ ‌ ‌ ‌ ‌ ‌ ‌ ‌ ‌ ‌ ‌ ‌ ‌ ‌ ‌ ‌ ‌ ‌ ‌ ‌ ‌ ‌ ‌ ‌ ‌ ‌ ‌ ‌ ‌ ‌ ‌ ‌ ‌ ‌ ‌ ‌ ‌ ‌ ‌ ‌ ‌ ‌ ‌ ‌ ‌ ‌ ‌ ‌ ‌ ‌ ‌ ‌ ‌ ‌ ‌ ‌ ‌ ‌ ‌
Teens have different stressors during the pandemic
Monday, August 16, 2021
Special newsletter: Back to school in the time of COVID-19 ‌ ‌ ‌ ‌ ‌ ‌ ‌ ‌ ‌ ‌ ‌ ‌ ‌ ‌ ‌ ‌ ‌ ‌ ‌ ‌ ‌ ‌ ‌ ‌ ‌ ‌ ‌ ‌ ‌ ‌ ‌ ‌ ‌ ‌ ‌ ‌ ‌ ‌ ‌ ‌ ‌ ‌ ‌ ‌ ‌ ‌ ‌ ‌ ‌ ‌ ‌ ‌ ‌ ‌ ‌ ‌ ‌ ‌ ‌ ‌ ‌ ‌ ‌ ‌ ‌ ‌ ‌ ‌ ‌ ‌ ‌
Afghanistan's unfolding tragedy
Monday, August 16, 2021
+ why we crave touch ‌ ‌ ‌ ‌ ‌ ‌ ‌ ‌ ‌ ‌ ‌ ‌ ‌ ‌ ‌ ‌ ‌ ‌ ‌ ‌ ‌ ‌ ‌ ‌ ‌ ‌ ‌ ‌ ‌ ‌ ‌ ‌ ‌ ‌ ‌ ‌ ‌ ‌ ‌ ‌ ‌ ‌ ‌ ‌ ‌ ‌ ‌ ‌ ‌ ‌ ‌ ‌ ‌ ‌ ‌ ‌ ‌ ‌ ‌ ‌ ‌ ‌ ‌ ‌ ‌ ‌ ‌ ‌ ‌ ‌ ‌ ‌ ‌ ‌ ‌ ‌ ‌ ‌ ‌ ‌ ‌ ‌ ‌ ‌ ‌ ‌ ‌ ‌ ‌ ‌
Women take over the UFC
Saturday, April 24, 2021
+ are there moral grounds to demand that someone else gets vaccinated? ‌ ‌ ‌ ‌ ‌ ‌ ‌ ‌ ‌ ‌ ‌ ‌ ‌ ‌ ‌ ‌ ‌ ‌ ‌ ‌ ‌ ‌ ‌ ‌ ‌ ‌ ‌ ‌ ‌ ‌ ‌ ‌ ‌ ‌ ‌ ‌ ‌ ‌ ‌ ‌ ‌ ‌ ‌ ‌ ‌ ‌ ‌ ‌ ‌ ‌ ‌ ‌ ‌ ‌ ‌ ‌ ‌ ‌ ‌ ‌ ‌ ‌ ‌ ‌ ‌