Happy Friday. This month is zipping by faster than pumpkin spice products are hitting shelves, and we just finished blowing up our pool floaties. We digress...
In today's edition: 
TikTok is driving the dorm decor category

Home improvement hangs in there

Petco's earnings go off-leash
—Katishi Maake, Julia Gray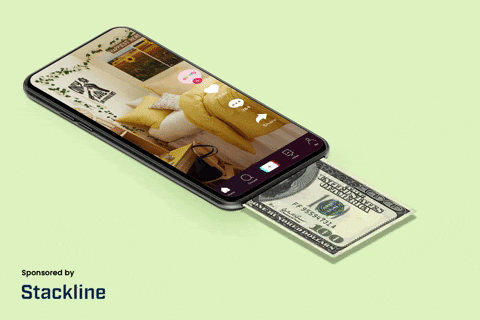 In the TikTok era, even dorm rooms become a backdrop for #content. With more than 3 million incoming freshmen looking to fly their parents' coops this fall, students are flocking to TikTok for inspiration on how to make their concrete cells sparkle. 
There's a cottage industry of influencers and home decor brands ready to help these newly independent students glam up their tiny homes. MTV's Cribs meets Extreme Home Makeover, but for dorms.
"We're seeing a lot of dorm room hauls," Mae Karwowski, CEO and founder of influencer marketing firm Obviously, told Retail Brew. "Dorm room decorating has really taken off and become its own category." 
The proof is in the platform: On TikTok, "#dorm" is tagged in 27,000+ videos and has 299+ million views. "#Dormlife" had 2.7 billion views at the time of writing. And students won't be cutting costs on comfort this year; according to Deloitte, back-to-college consumers will shell out $26.7 billion, or $1,459 per student.
One company at the forefront of dorm makeovers: Dormify, a home decor and furniture e-tailer that specializes in transforming small college rooms into sleek photo-ready pads. It's no surprise, then, that the back-to-school season accounts for nearly 80% of Dormify's annual sales. 
Mother-daughter duo Amanda and Karen Zuckerman founded the company in 2011, just as Instagram's culture of aesthetic curation began to take off. But now, TikTok, where 150,000+ people follow Dormify's account, helps inform their business strategy. 
Dormify's page offers snippets of dorm life, room makeovers, tips and tricks, and other "relatable" content.

The company, with a staff of 25, taps TikTok trends to help with product selection. What are students buying? What do they

wish

they could buy? 

Headboards are the number one trend right now, Amanda Zuckerman claimed. Accordingly, Dormify introduced a headboard with built-in charging ports. 
"It's not only the individual product, it's the aesthetic that's being pulled together," Zuckerman added. The bedroom and product photos that appear on the website are often based on what the team sees on TikTok to "capture the look that students are dreaming of." 
The medium is the message
Hana Ben-Shabat, founder of research firm Gen Z Planet, recommended approaching TikTok like a mood board. 
"Gen Z is looking for inspiration. Focusing on product, product, product is not going to be enough. And if you want to go after this generation, you absolutely have to be [on TikTok]," she told us. "What [Gen Z consumers] respond to the most is authenticity."
Ben-Shabat said home decor is among the top categories on TikTok, along with apparel and beauty, with a focus on daily Amazon finds. 
90% of Gen Zers say they discover new products and brands on social media, compared to 80% of Millennials and 54% of Gen X, according to a

Gen Z Planet report

.
Students go to TikTok for design ideas, product roundups, and "hack-oriented content," Zuckerman explained. And when social media causes us to turn our private spaces public, it adds pressure to decorate your bedroom to function as a shareable slice of life. 
"It's also a place where students are producing their own content, since there are so many creators in this age group," Zuckerman said. "It's their own production studios in these tiny rooms."
Click here to read more about the TikTok strategies brands are taking into the college season.—JG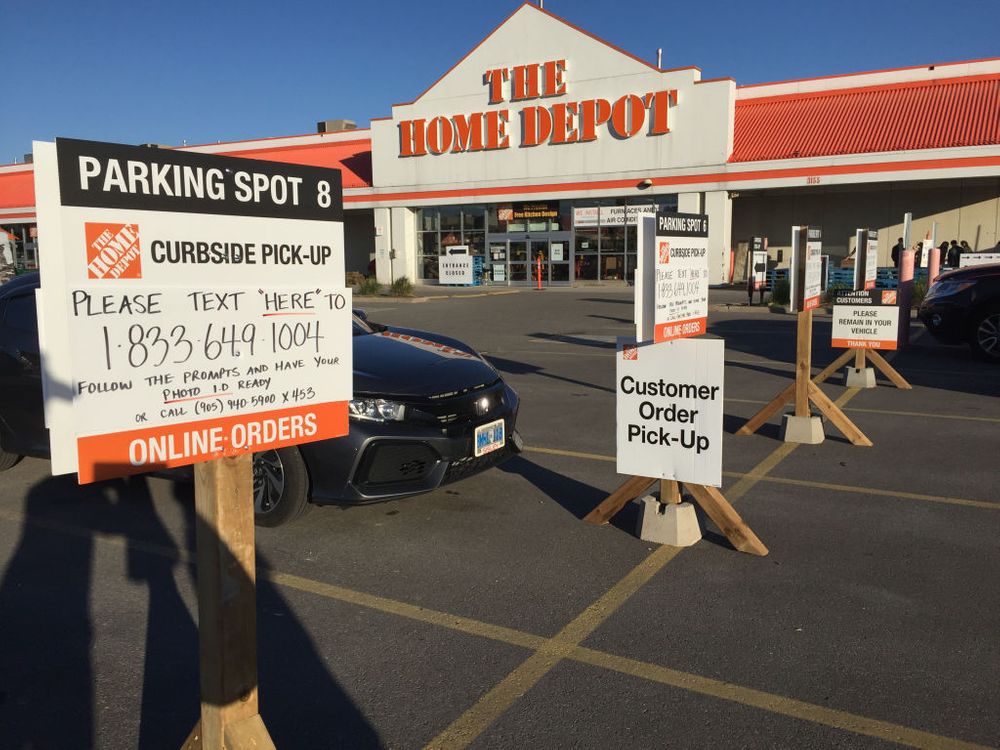 Creative Touch Imaging Ltd./NurPhoto via Getty Images
You might have woken up on Tuesday to headlines about The Home Depot's shares falling, but there's more to the story. 
While its shares fell nearly 5% due to a 5.8% drop in customer transactions, Ethan Chernofsky, VP of marketing at Placer.ai, told Retail Brew this is hardly cause for concern. 
"The home improvement sector saw such an insane surge that it was almost by definition going to see some sort of return to normalcy," he said. "Home Depot and Lowe's both are seeing visits still significantly higher than they were in 2019."
By the numbers: The home improvement companies still had YoY revenue increases, demonstrating the overall sector strength, Chernofsky said. 
Home Depot's $41.1 billion in Q2 revenue represented more than 8% in growth, and the average purchase jumped 11.3%.

Lowe's $27.6 billion in revenue was

up

from $27.3 billion in Q2 2020. 
Chernofsky said home improvement is shifting away from the DIY boom of last year. Home Depot is leaning on its professional contractor business, while Lowe's is relying on home decor, per CEO Marvin Ellison.  
"We're going to see the space start to operate more like it did in the past," Chernofsky told us. 
Zoom out: Home improvement retailers are seeing an uptick in shoppers during the week compared to the Before Times, as customers return to social events and vacation on the weekends. In June and July, Home Depot and Lowe's, respectively, have seen 3.5% and 3.6% bumps in weekday traffic compared to 2019, according to Placer.ai data.—KM
Did you know that the emblematic FRAGILE sticker was invented by shipping executives at a dinner party in 1935 as an elaborate joke? 
We just made that up for fun, but the point remains: The packages you send to customers endure arduous journeys, and the risk of loss, theft, or damage is real.
The good news is, Route protects your packages from all of the above—which is a pretty big deal for your customers. In fact, 94% of shoppers blame the retailer if a delivery goes poorly, and 87%, unsurprisingly, are more loyal to a brand that quickly remedies loss.
Route provides automated support that's powered by machine learning and backed by an insurance policy, so you can pack, ship, and relax. 
It's a system that's delivered results, including a 91% reduction in claim-related CS and a 10% bump in brand CSAT.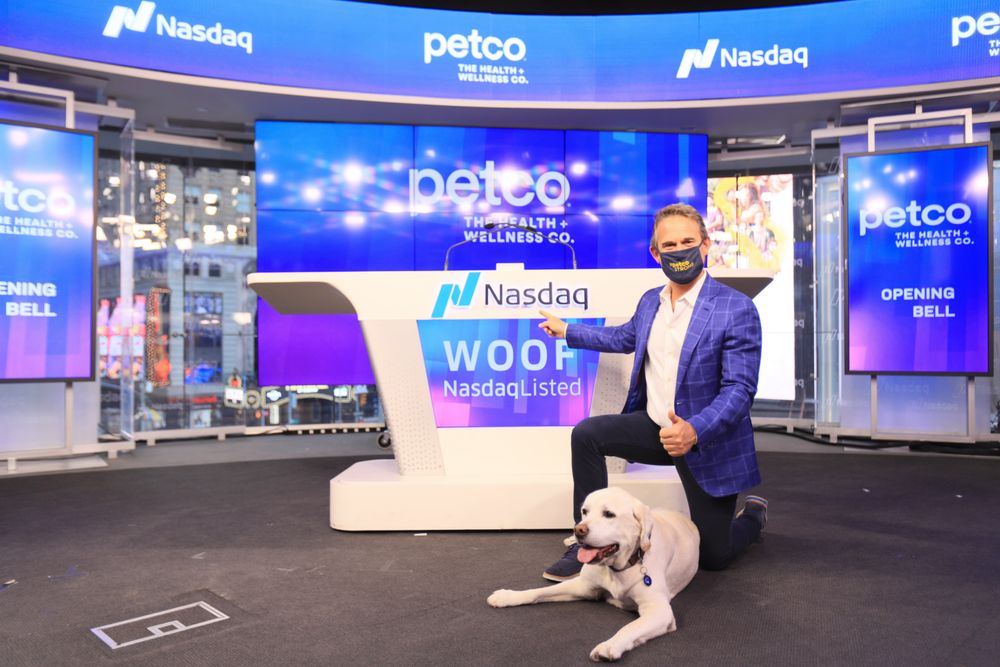 Courtesy of Nasdaq
We've already detailed how pet care sales took off last year, because people wanted a furry companion during the pandemic, but Petco isn't slowing down. 
The retailer beat Q2 earnings expectations, and CEO Ron Coughlin told us how the numbers indicate that new pet parents are using Petco's services, like grooming and veterinary care—which is, he said, something that distinguishes Petco from other pet retailers, both online and brick-and-mortar.
"It's a combination of a great category and unique value proposition, which is a one-stop shop for pets," he said. "We're shifting more and more of our business to recurring revenue streams. They're stickier, and our revenues are more predictable."
All bite, no bark: Returning customers increased 50% in Q2, and Petco saw a 60% bump in recurring revenue as a result.  
Petco's $1.4 billion in revenue represents a 19% YoY increase, with comparable sales up 20% YoY and 30% over 2019. 

E-commerce revenue is up 150% from two years ago. 87% of e-commerce sales are fulfilled through Petco's stores. That's up from 80% from when we

chatted

with Coughlin in January. 

Analysts predict pet care sales will grow 5.8% this year from an industry

high

of $103.6 billion. 
Feeding frenzy: Pet food far outpaces pet supply sales. Pet food is the fifth best-performing CPG product category—below beer and soda, but above wine and milk—according to June IRi data, while pet supplies clock in at #16, and pet treats at #43. 
Petco's pet supply business grew double digits in Q2, but consumables outpaced it, Coughlin said, though he didn't provide specific numbers.  

He explained investing in tech like the Petco app, curbside pickup, and same-day delivery drove that growth. 
"The online business picked up momentum within the quarter and that momentum has continued into Q3. We were growing 30% before Covid, 100% in Covid, and so to lap 100% a year ago with the double digit growth was a strong number for us," Coughlin said.  
+1: Petco is also hopping on the "buy now, pay later" train, hand in hand with Klarna.—KM 
A better way to engage with your customers. When you tap into Route's seamless package tracking technology and unparalleled customer support, you also get a big bump in customer engagement—up to 6x more! Route's consumer app puts your brand in front of millions of users, all for free. Engage with Route today. 
Today's top retail reads. 
Big spoonful: Magic Spoon cofounder Gabi Lewis explains how the brand is creating a cereal fit for the 21st century. (Modern Retail) 
Expressly stated: Express wants to lure customers with a smaller store format, and it will open 10 by year's end. (Retail Dive)
The great outdoors: The pandemic made consumers appreciate time outside, and it has permanently changed the outdoor activities business. (Forbes)
Catch up on the Retail Brew stories you may have missed.
Three of the retail stories below are real...and one is most definitely not. Can you spot the fake? 
Enjoying Retail Brew? Share it with your coworkers to 1) impress them with your industry knowledge and 2) earn some free swag.
We've made it as easy as possbile: click here to send a quick email about Retail Brew with your unique referral link.
Hit the button below to learn more and access your rewards hub.
Click to Share
Or copy & paste your referral link to others:
morningbrew.com/retail/r/?kid=303a04a9
You'll actually have to go to Ikea for those Swedish meatballs. 
Older messages

☕️ WFM
Friday, August 20, 2021
OnlyFans rips up its business model... August 20, 2021 View Online | Sign Up Daily Brew TOGETHER WITH WSJwine Good morning. Turns out, Facebook's big announcement wasn't even the most

📚 Bookworm
Thursday, August 19, 2021
Hi, you need transparent Post-its. August 19, 2021 | View Online | Sign Up Sidekick Logo TOGETHER WITH Empathy Wines Inspired by Bama Rush TikTok, here's Sidekick's OOTD (earrings are from

☕️ AMA
Thursday, August 19, 2021
What's next for Afghanistan's economy? August 19, 2021 View Online | Sign Up Daily Brew TOGETHER WITH Webex by Cisco Good morning. Mark Zuckerberg will make a "special announcement about the

☕️ SpongeBob Squarespace
Wednesday, August 18, 2021
A look at Squarespace's in-house agency. August 18, 2021 Marketing Brew TOGETHER WITH ParcelLab Good Wednesday afternoon. Today in brands using memes (and Seinfeld references), Pepsi is throwing

☕️ Guess who's back
Wednesday, August 18, 2021
Clothing companies grow their collections. August 18, 2021 Retail Brew Route Good morning, good afternoon, and good night, wherever you may be. Did you hear the big news? The Girl Scouts are