SEO Digest #9: SEO Starter Podcast, WordPress Plugin Issues and more

Hi Reader,
We've handpicked top pieces of content from all around the SEO community from the past week. Here's everything you need to stay up to date on new developments in search.
Search updates straight from the source
Google supports How-to rich snippets on desktop devices
Google updated its How-to Schema guidelines and stated that the feature is now available on both mobile and desktop services.
SEO Starter Guide podcast from Google team [podcast]
John Mueller, Gary Illyes, Lizzi Harvey, and Michael Wyszomierski discuss sensitive content issues, the mobile-friendly test, social media, and more. Spoiler: robots.txt will not help you block sensitive content.
Cool stuff from the rest of the SEO world
Run a WordPress website? A popular caching plugin update is to cause you trouble!
W3 Total Cache latest update has been reported to block all user agents including Google from CSS/JS, especially when the minification option is enabled.
Learn how to use the command line for SEO
Will Nye has come up with a guide on more than 20 commands aimed to improve and automate an SEO workflow without GUI, as in some cases GUI will not be of much help.
Rank in Google Discover with clickbait titles and restricted topics
Lily Ray has analyzed a lot of high-ranking URLs and found that Google Discover ranking factors may differ greatly from those of ordinary SEO. Is Discover turning into a tabloid?
Multilingual SEO case study with 41 languages
Koray Tuğberk GÜBÜR has come up with a huge (21,000 words!) multilingual SEO case study and guidelines based on research featuring 41 languages. Take an hour of your time to learn how search engines treat multilingual websites and how to succeed with one.
Hottest threads from SEO forums
Reddit: What's the best 'high level' SEO advice you ever got?
Reddit user asks for the best SEO advice other users ever had. Users seem to understand SEO each in their own way, as some suggestions are related to design and even Facebook comments optimization.
BHW: Google Translate for SEO or purchasing translations?
A user of BlackHatWorld complains about poor rankings due to Google Translate content and asks if it's better to buy some translations on Fiverr. A bit of personal experience — some Fiverr service providers perform even worse than Google Translate.
BHW: How to increase website speed?
Take some popcorn and get ready to watch neverending debates between the adepts of black SEO and white SEO techniques. For those on the light side, we have a refined PageSpeed optimization guide.
A bit of SEO humor
Page titles did make a lot of noise these days!
Credit: Izzi Smith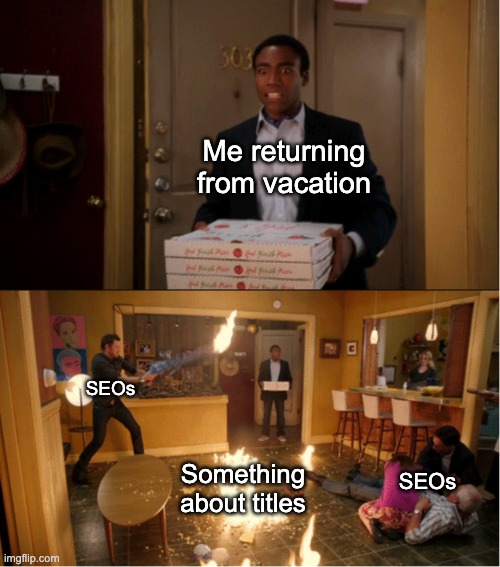 That's it for this week. Till next time!
---
Liked the digest? Share it with your friends:
Facebook | Twitter | LinkedIn | WhatsApp | Email
You are receiving this email because you subscribed to Link-Assistant.Com news. If you do not want to receive our email again, click to unsubscribe.

If you want to unsubscribe exclusively from this SEO digest, please contact our support or reply to this email.
Key phrases
Older messages

[Udemy Course] SEO for Beginners
Thursday, September 9, 2021
Improve your knowledge of the core SEO principles fast and stress-free Hi Reader, We're excited to announce the launch of the new Udemy course that features SEO PowerSuite tools - SEO for Beginners

Link Building in 2021: 12 Best Tactics
Wednesday, September 8, 2021
Want to rank on Google in 2021? Make sure link building is part of your SEO strategy. Hi Reader, How good is your link building strategy in 2021? To help you check and improve your current workflow, I

SEO Digest #8: Chrome Updates, Google Webmaster Report and more
Sunday, September 5, 2021
Handpicked SEO news of the past week straight from the source Hi Reader, We've handpicked top pieces of content from all around the SEO community from the past week. Here's everything you need

AI Content & SEO: 8 Writing Tools Tested
Tuesday, August 31, 2021
Is AI generated content any good for readers and Google? Find out in today's post Hi Reader, Thanks to machine learning, you can now create content in a matter of seconds. But is this content any

SEO Digest #7: Google's Page Title Update, Snippet Tweaks and more
Sunday, August 29, 2021
Handpicked SEO news straight from the source Hi Reader, We've handpicked top pieces of content from all around the SEO community from the past week. Here's everything you need to stay up to