SEO Digest #8: Chrome Updates, Google Webmaster Report and more

Hi Reader,
We've handpicked top pieces of content from all around the SEO community from the past week. Here's everything you need to stay up to date on new developments in search.
Featured article from SEO PowerSuite
This week we've had some fun testing eight popular AI writing tools and trying to come up with coherent copy that would be good enough to use for SEO. Surprisingly, some tools did fairly well, although none are capable of producing copy independently of human editing.
Search updates straight from the source
Chrome users can now "follow" a website to receive updates
Google tests the "follow" feature, which is currently in beta and is available to a limited number of users. The feature allows adding any website's updates to your Discover feed. Visit the documentation to learn how you can optimize your website for this new feature.
Navigation experiments and sharing quotes — more features in Chrome
More experimental features have been launched in Chrome. Particularly interesting in terms of SEO is the feature where you click on a search result and navigate to a page, but then other search results are featured in a scroll bar at the top of the page, in case you want to switch. I'm not explaining it well, so check out the article :)
Cool stuff from the rest of the SEO world
Consider removing fluff e-commerce category descriptions
Glenn Gabe makes a case for removing fluff e-commerce category descriptions. Many still think that's what Google wants, and yet Google has been clear it's not the case. And fluff descriptions never benefit users, so.. More details and a case study inside.
Check whether your title's been rewritten by Google [tool]
A new online tool for quickly checking whether your title's been rewritten by Google. Enter your URLs one by one, in bulk, or through an XML map.
Automatically generate your meta descriptions using Python and BERT
If you want a quick and dirty way to programmatically generate meta descriptions at scale using Python, this is the tutorial for you. Jupyter notebook, as well as a step-by-step process included.
Embryo's word count study 2021
Embryo has collected word count data in the top 10 of Google results for over 20,000 keywords (24,774 to be exact). Seems like pages overall are getting longer and there is still a clear correlation between the number of words and the ranking in search results.
September 2021 Google Webmaster report
Search Engine Roundtable rounds up the most important SEO news from the past month.
Hottest threads from SEO forums
Reddit: What is your biggest question about backlinking?
Reddit user claims to be an expert in link-building and offers to answer your most burning link-building questions. As of now, the thread is over 500 replies, which is a rarity for SEO threads on Reddit.
Reddit: How to get white-hat backlinks for a new eCommerce company?
Reddit user asks how you can acquire passable backlinks for a completely new e-commerce website and the community delivers some good advice. Spoiler alert — it's mostly influencer outreach.
BHW: Why was my page removed from SERP?
BlackHatWorld user wonders why would their page disappear from SERP after being ranked and the community delivers a bunch of solid guesses that would actually make a nice article on the topic.
A bit of SEO humor
For this week's of SEO humor we are to the classic dilemma in SEO: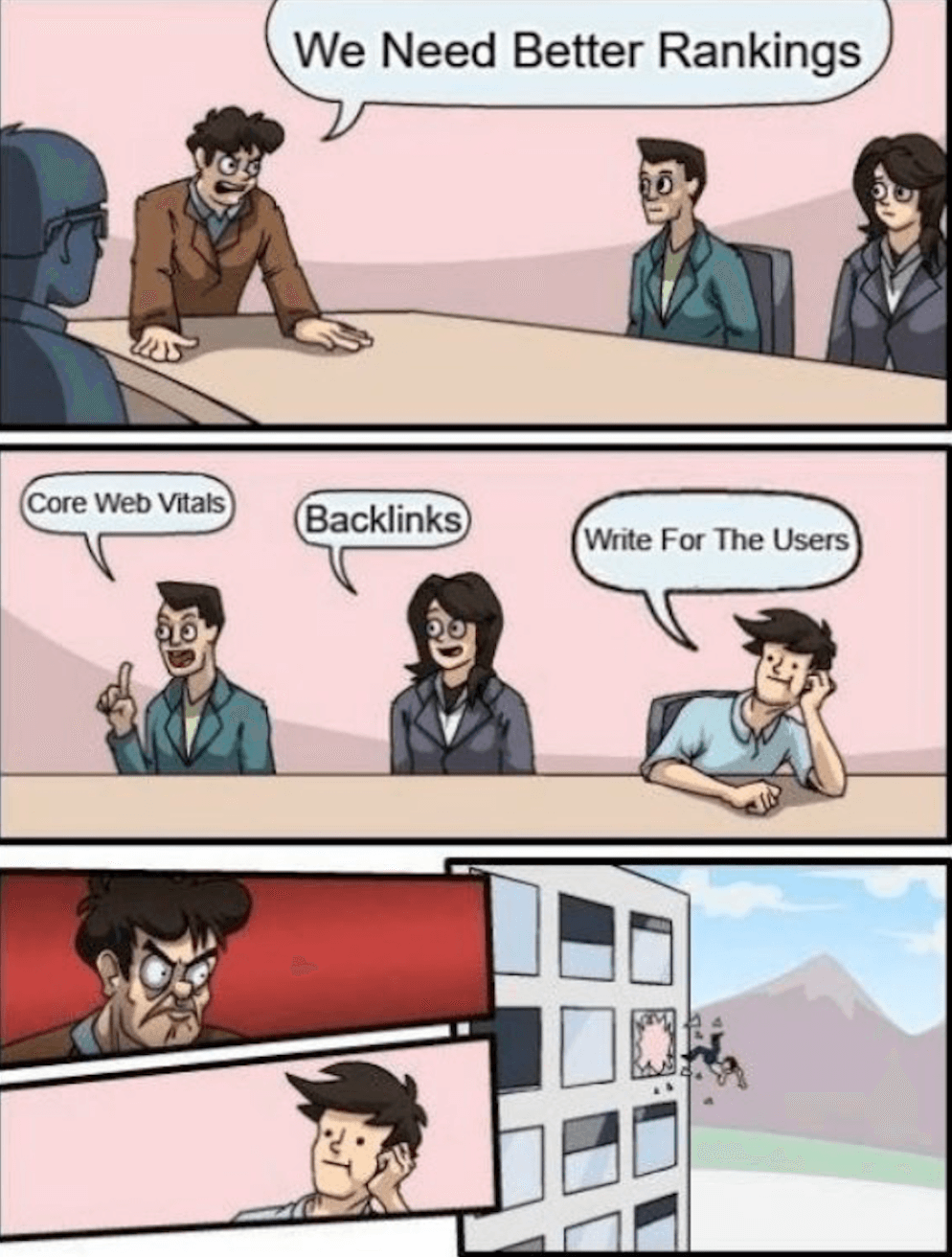 That's it for this week. Till next time!
---
Liked the digest? Share it with your friends:
Facebook | Twitter | LinkedIn | WhatsApp | Email
You are receiving this email because you subscribed to Link-Assistant.Com news. If you do not want to receive our email again, click to unsubscribe.

If you want to unsubscribe exclusively from this SEO digest, please contact our support or reply to this email.
Older messages

AI Content & SEO: 8 Writing Tools Tested
Tuesday, August 31, 2021
Is AI generated content any good for readers and Google? Find out in today's post Hi Reader, Thanks to machine learning, you can now create content in a matter of seconds. But is this content any

SEO Digest #7: Google's Page Title Update, Snippet Tweaks and more
Sunday, August 29, 2021
Handpicked SEO news straight from the source Hi Reader, We've handpicked top pieces of content from all around the SEO community from the past week. Here's everything you need to stay up to

SEO Digest #7: Google's Page Title Update, Snippet Tweaks and more
Sunday, August 29, 2021
Handpicked SEO news straight from the source Hi Reader, We've handpicked top pieces of content from all around the SEO community from the past week. Here's everything you need to stay up to

Image SEO: The Ultimate Guide for 2021
Wednesday, August 25, 2021
Rank higher and drive tons of traffic to your site using images Hi Reader, Images can drive tons of organic traffic to your site. But first, they need to be optimized. To help you out, I've put

SEO Digest #6: Google Title Tag Update, New YouTube SERP + Freebie Inside
Sunday, August 22, 2021
A very special issue of the weekly SEO digest with a FREEBIE inside Hi Reader, We've handpicked top pieces of content from all around the SEO community from the past week. Here's everything you