👟 Unboxed This Week: New KB24 Trademark Doesn't Include Sneakers
Unboxed
This Week: Revisiting Drake's Sneaker Hits, 76ers x SoleSavy, The NBA Season is Back
We're officially into Scorpio season. From the NBA season starting to Drake's upcoming Nike collab, let's talk about the biggest news.


The NBA's most important sneaker storylines

Salehe Bembury joins LeBron James' UNINTERRUPTED
Vanessa Bryant files a KB24 trademark
Feature
NBA 2021-2022 Season Preview: The League's Most Influential Sneakerheads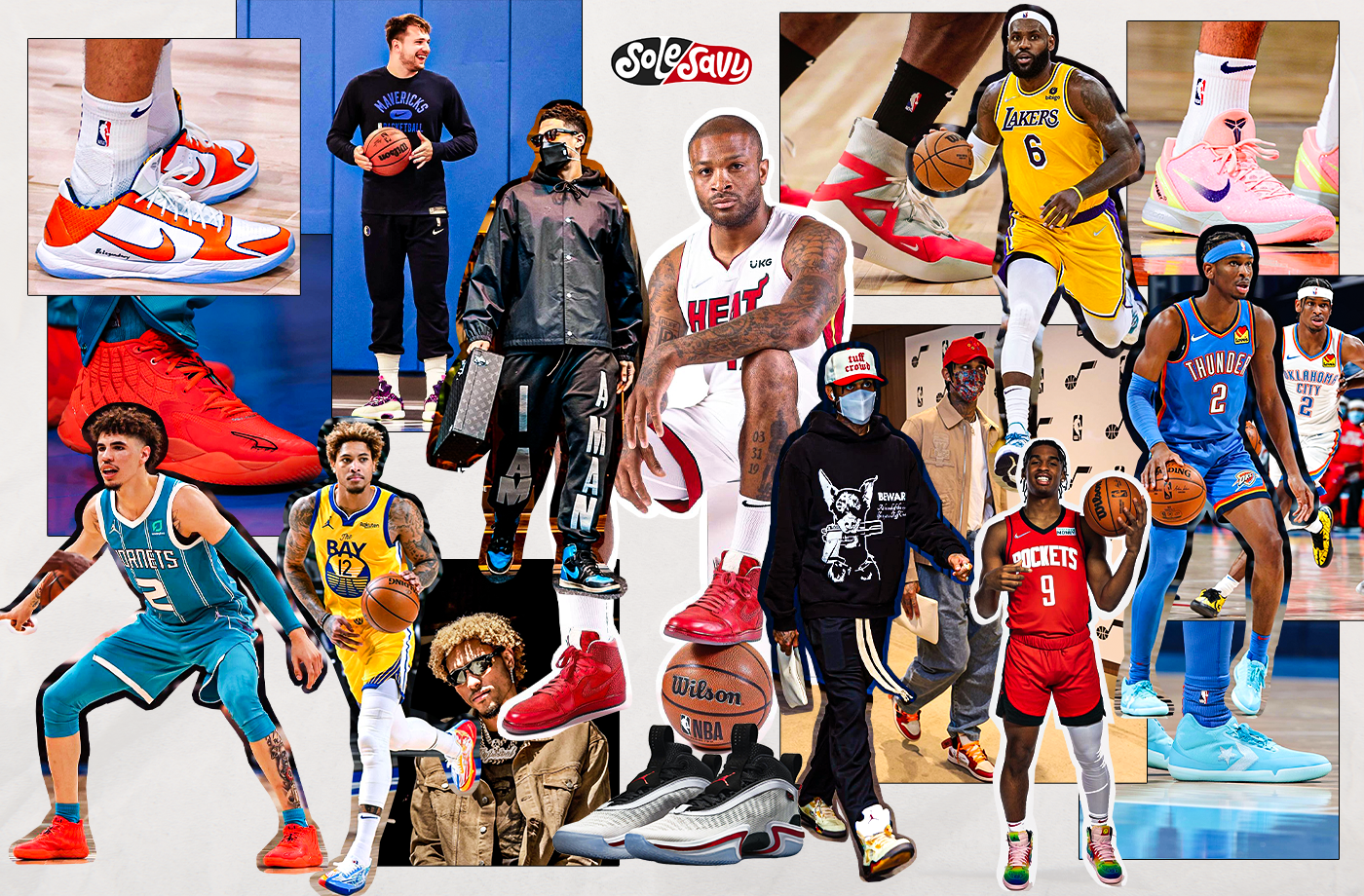 The NBA season tipped off last week, and the sneakers worn did not disappoint. Basketball and sneakers go hand in hand, and the usual suspects were in their bag trying to flex their collection of rare and unreleased sneakers.

Whether it's in the tunnel or hooping on the hardwood, over the years it's become commonplace and even a competition in the way players express themselves through their sneakers and fashion.

Players of the past like Michael Jordan, Kobe Bryant, Allen Iverson, and many others paved the way for guys today, and their influence is still very apparent to this day. Max Ciarmela highlights some of the most influential sneakerheads and fashion-forward players in the game right now.

Read more here.
SoleSavy News
SoleSavy x Philadelphia 76ers Partnership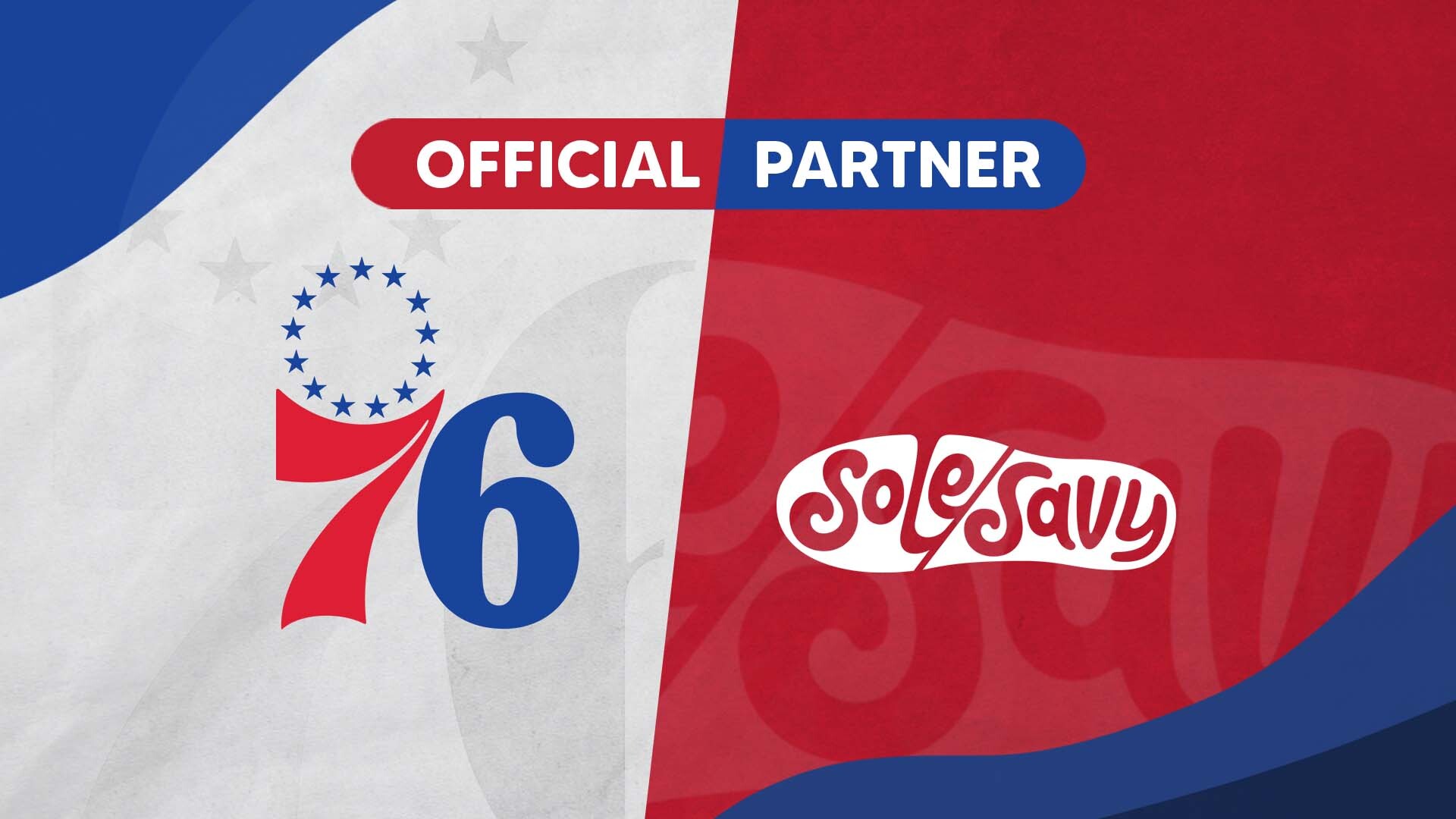 Sports and sneakers are synonymous. Without sports, sneaker culture wouldn't have advanced to the point we're at now. At SoleSavy we're committed to enhancing the experiences passionate sneakerheads have. We're proud to announce we'll continue that push with the help of the Philadelphia 76ers. Together, we look forward to innovating and producing content throughout the 2021-22 NBA Season. A lot of exciting things are in the works, from sneaker spotlights with some of the 76ers roster, Kicks Cam at home games, and a 76ers x SoleSavy co-branded custom sneaker. Keep it locked!

To kick things off, we invited 10 members on an all-expense trip to the 76ers home opener. Expect more member opportunities like this throughout the season. As always, this partnership is a reflection of our amazing community. Big thank you to every member, as you've all helped make this possible.
Opinion
The NOCTA x Nike Hot Step Air Terra Puts Drake's Hype to the Test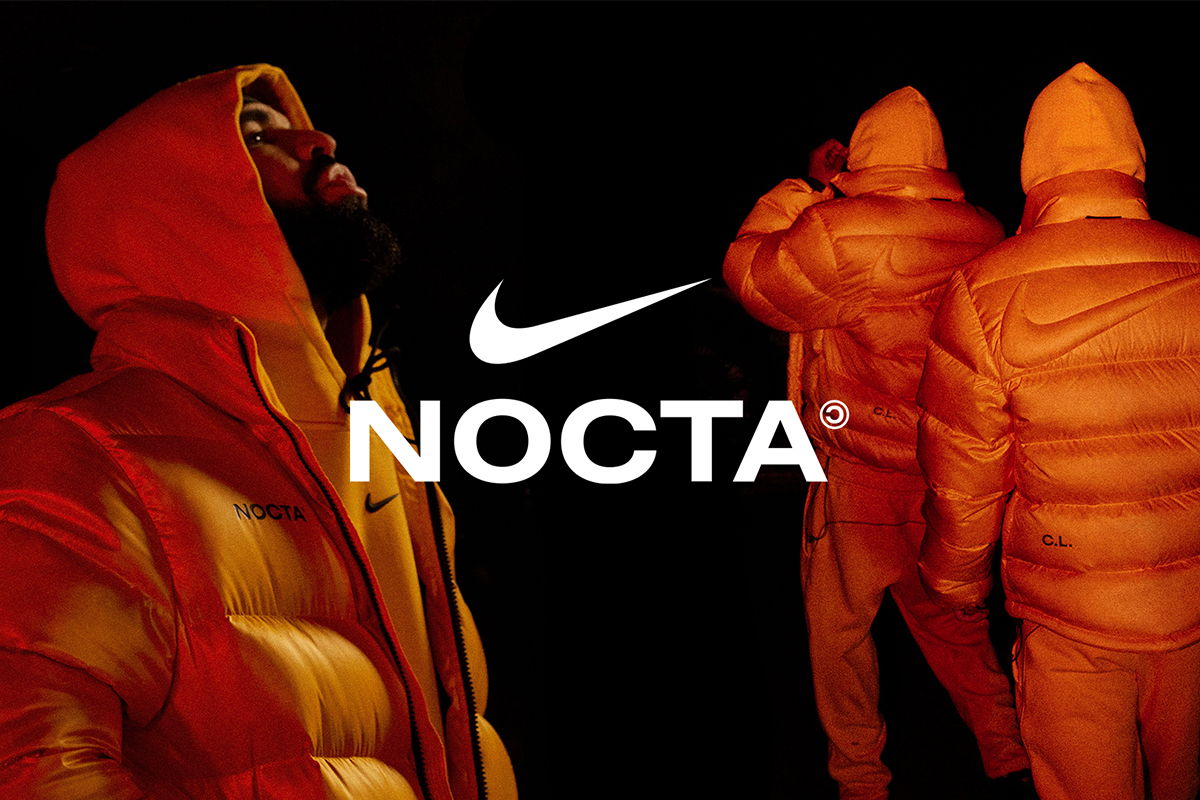 Nike don't pay me to tell you 'Just Do It,' They pay me to show you I do it again.

We're in OVO territory with Drake's birthday taking place yesterday. Coming off the momentum of Certified Lover Boy and with his Air Hot Step Terra on the way, all eyes are on Drake and what NOCTA can deliver. We all know Drake's influence can reach the masses unlike most of his peers. But his upcoming collabs will be a new test. While the Jordan Brand partnership was short-lived, the hits were abundant. The Raptors-esque Air Jordan 4 with (and without) his signature), the OVO heavy Air Jordan 8, 10, and 12 were all part of this new-era of artists and sneaker brands. Under his NOCTA label, we've seen a refined version of what Drake has to offer. From technical vests, golf apparel, and now an all-new silhouette with minimal branding, the boy and the Swoosh are ready to takeover with Scorpio season underway.

While the upcoming collab might not have the same gravitas as his previous sneaker collabs, the Air Hot Step Terra is poised to be a certified hit – like all of Drake's creations (whether you like it or not).

–Luis T.
Industry News
Salehe Bembury Named Creative Director of LeBron James' UNINTERRUPTED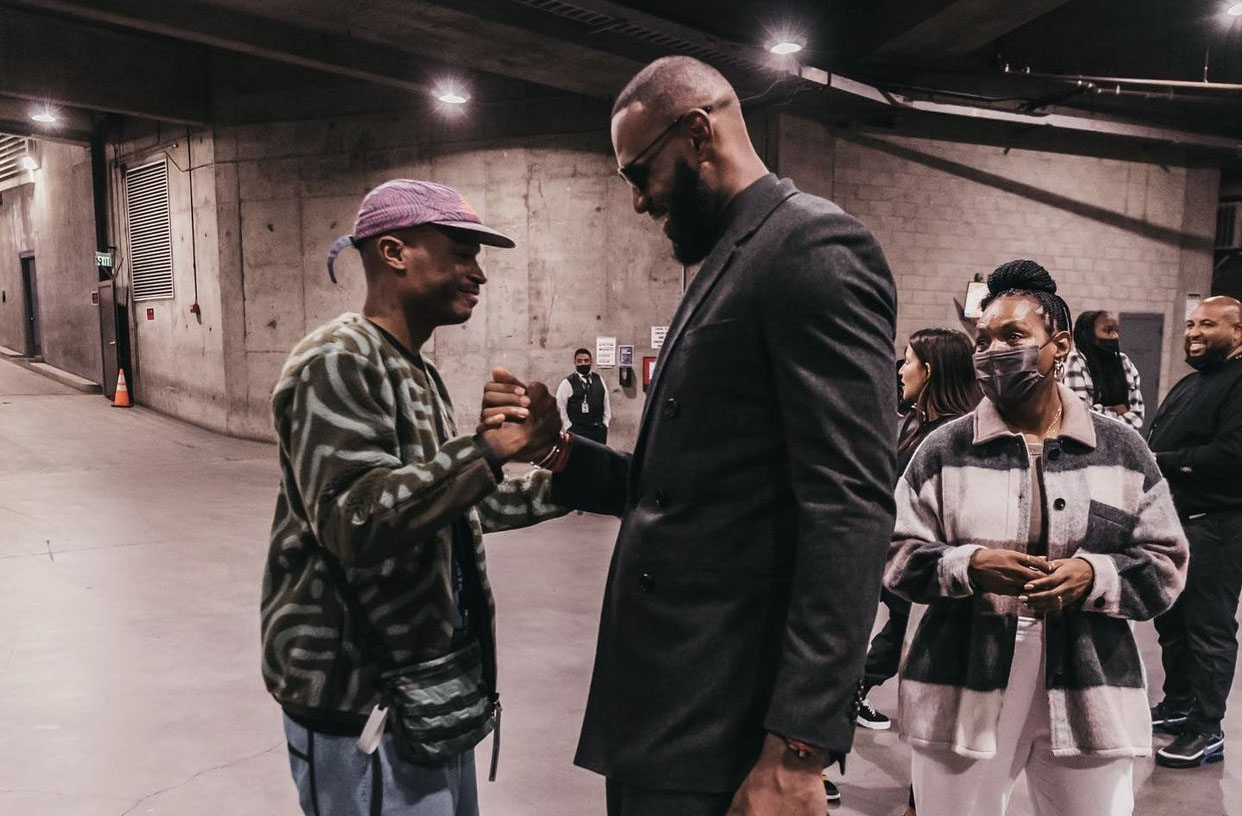 Salehe Bembury is everywhere. From his latest co-creation with New Balance and his upcoming collection with Crocs, the footwear designer is taking over the space with each partnership.

Now, Bembury is joining LeBron James' UNINTERRUPTED brand as its Creative Director of apparel. The brand, which is an athlete-empowerment-focused multi-platform, will be Bembury's latest creative endeavor. Founded by The King and Maverick Carter, UNINTERRUPTED has its eyes set on apparel and more with Bembury's visionary portfolio.

Does this mean we'll see Bembury put his touch on a Nike silhouette? The designer helped bring the ultra successful LunarGrand to life when he was at Cole Haan. The footwear brand was owned by Nike at the time and utilized a Lunar running outsole, creating a trend that is still alive today.

Stay tuned as we await to see Bembury's creative direction take over.

–Luis T.
Industry News
Dior's B30 Sneaker Looks...Familiar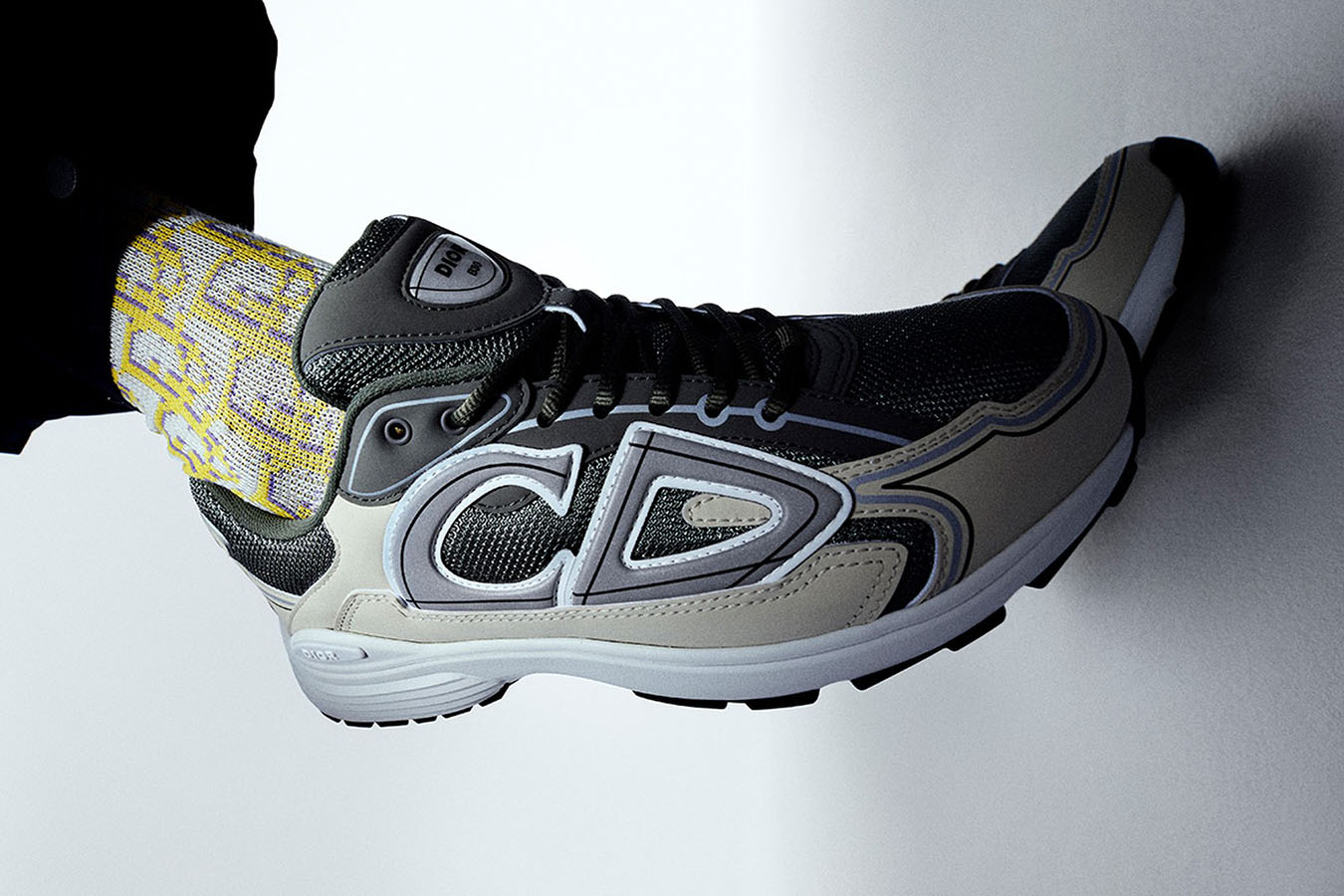 We've seen high-fashion and luxury houses dip their toes into sneaker trends for years.

From Air Jordan 1 to Stan Smith lookalikes, it's not uncommon to see sneakers influence transcend into a different echelon and price point. But Dior's latest sneaker is a head-turner. No, this isn't a New Balance sneaker, but the Dior B30 strikes some bold similarities to the Boston-based brand's iconic 990 series.

Again, this isn't the first time we've seen sneakers influence. But with New Balance' current hot streak, it was only a matter of time that a high-end brand reinterpreted a model of theirs.

Take a look at the Dior B30 here.

–Luis T.
When it comes to a brand's presence, tunnel fits are just as important, if not more, than what's worn on the court. As the pre-game routine has transformed into a runway, brands are partnering with the league's most fly.

The technical athletic clothing brand announced Jordan Clarkson as its first-ever NBA brand ambassador.

More details

here

.

🐝

IVY PARK, Peloton, & adidas are Releasing a Collab Soon
Beyoncé's IVY PARK label and the Three Stripes continue their partnership. In a short amount of time, the collab has delivered footwear, apparel, and an overall redefinition of what a partnership can achieve. As Queen Bey and adidas have more on the way, Peloton is being brought into the fold for a three-party collab
. Read

here

.
Style
Bill Clinton Just Wore Your Favorite Brand.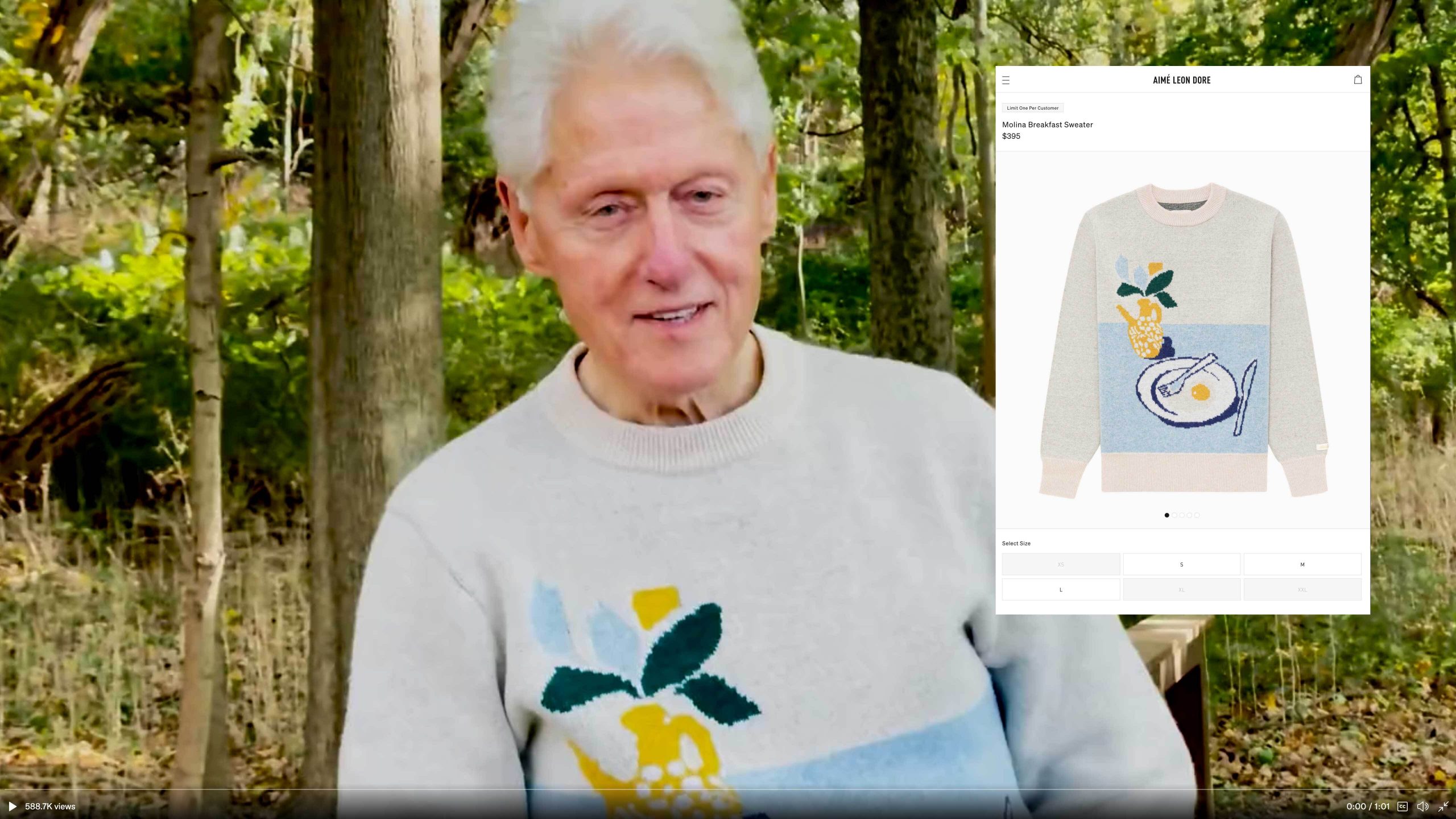 Earlier last week, a video of Bill Clinton went semi-viral in streetwear circles as he had on the Molina Knit Sweater from one of the hottest brands in the world: Aimé Leon Dore.

I had so many questions. Does he have a stylist now? Is there someone on his team like Greg from Succession doing cultural temperature checks for "cool brands" to make him more relatable? Was someone at ALD behind this? It's safe to say that Clinton would be on the bottom list of people who we expected to wear ALD, even with how popular the brand has become in recent years. With collaborations and co-signs ruling the world of sneakers and fashion, brands have been hyper aware of who is seen in their products.

Whether this is good or bad for the brand remains to be seen, but they've successfully transitioned from an "if you know you know" label to a full on household name.

–Dean H.
Industry News
Vanessa Bryant's KB24 Trademark Filing Doesn't Include Footwear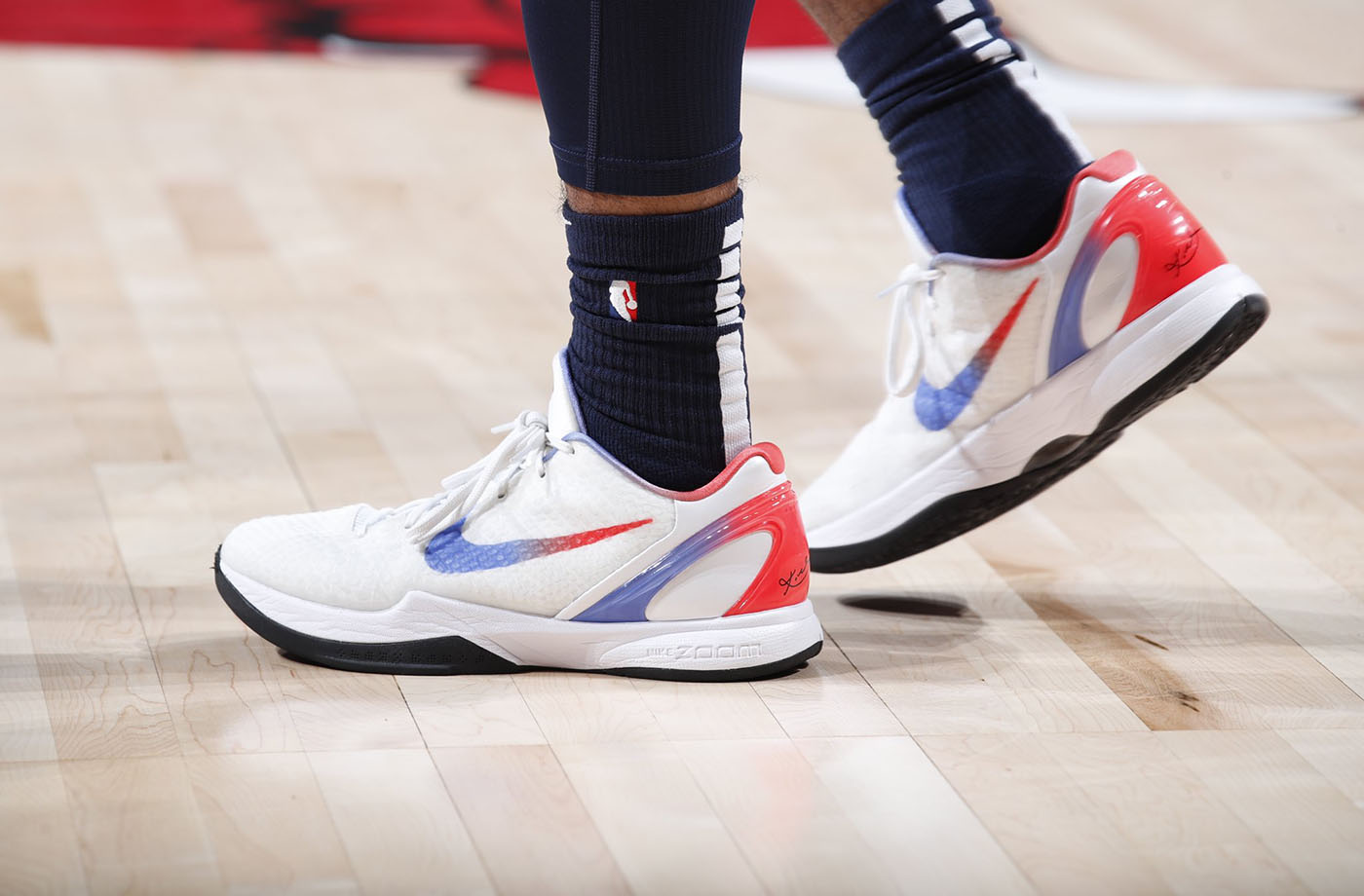 The Mamba legacy lives on. While the Nike and Kobe Bryant Estate partnership has been paused after a new deal was never reached earlier this year, Vanessa Bryant has filed a new trademark under the Kobe, Inc. name.

Mrs. Bryant filed documents in early October to trademark the KB24 name and logo. The trademark will be part of a multi-faceted enterprise that includes a website, podcasts, television programs, documentaries, collectible cards, food and drink containers, t-shirts, digital items, training camps, and more. However, the trademark filing had no mention of sneakers. The KB24 trademark differs from the Mamba & Mambacita trademark filing from March, which included footwear among other things.

The omission of footwear within KB24 adds to the looming question of what will happen with the popular Kobe Bryant sneaker lines. adidas is rumored to bring back some of Kobe Bryant's old adidas signature shoes under their non-Bryant affiliated names, but a Vanessa Bryant co-sign earlier this year could mean official licensing is in the works. Meanwhile, Nike athletes continue to wear their player exclusive colorways, but there's no indication if more will be in production since a new deal was never reached. What could become of the Kobe footwear line is still up in the air as we explored on the SoleSavy podcast.

Read more here, and stay tuned to SoleSavy as we continue to cover the Kobe Bryant estate from KB24 to Nike and beyond.

–Luis T.
👟 SNEAKERS TO BUY FOR RETAIL OR LESS
Nike Air Force 1 Luxe $130

An elevated take on the classic Air Force model, featuring premium leather up top and a retooled midsole, this has all the makings of a great addition to your rotation.
New Balance 991 $209

Along with the 990v3, New Balance has been pushing out 991s this year. This navy color blocking works especially well on this silhouette and we're big fans of this model.
Converse Chuck 70 Utility $150

The Kim Jones x Converse collab gets the GR treatment getting rid of the Kim Jones branding, and better yet, the Kim Jones price tag. Use the code FW2021 to get them on further discount.
Air Jordan 36 $155

Classic Red & White combo makes its way to Jordan Brands' latest performance model. With best-in-class technology and a striking colorway, these came right on time as the NBA season started.
F U N   F A C T

Drake signed a deal with Jordan Brand in 2013. In 2018, after rumors of him leaving for adidas, he re-signed to Nike Inc., this time repping the Swoosh primarily.
SHARE THIS EMAIL
If not, give us your feedback and we will do our best to become better...
...and take a moment and share our newsletter ❤️
Key phrases
Older messages
👟 Unboxed This Week: How Members Copped the Social Status Dunks
Monday, October 18, 2021
Plus: Jordan x SoleSavy Recap, Candace Parker Brings a Championship Home, and More ‌ ‌ ‌ ‌ ‌ ‌ ‌ ‌ ‌ ‌ ‌ ‌ ‌ ‌ ‌ ‌ ‌ ‌ ‌ ‌ ‌ ‌ ‌ ‌ ‌ ‌ ‌ ‌ ‌ ‌ ‌ ‌ ‌ ‌ ‌ ‌ ‌ ‌ ‌ ‌ ‌ ‌ ‌ ‌ ‌ ‌ ‌ ‌ ‌ ‌ ‌ ‌ ‌ ‌ ‌ ‌ ‌ ‌ ‌
👟 Unboxed This Week: WNBA Playoffs are Here
Tuesday, October 12, 2021
Plus: How a Sneaker Trend Inspired an Air Jordan 1, Member Only Events are Back, and More ‌ ‌ ‌ ‌ ‌ ‌ ‌ ‌ ‌ ‌ ‌ ‌ ‌ ‌ ‌ ‌ ‌ ‌ ‌ ‌ ‌ ‌ ‌ ‌ ‌ ‌ ‌ ‌ ‌ ‌ ‌ ‌ ‌ ‌ ‌ ‌ ‌ ‌ ‌ ‌ ‌ ‌ ‌ ‌ ‌ ‌ ‌ ‌ ‌ ‌ ‌ ‌ ‌ ‌ ‌ ‌
Unboxed This Week: How Members Got The Patta x Air Max 1 🌊
Tuesday, October 12, 2021
Plus: Member-Only Events are Back, SoleSavy x Jordan Brand Partnership, and More ‌ ‌ ‌ ‌ ‌ ‌ ‌ ‌ ‌ ‌ ‌ ‌ ‌ ‌ ‌ ‌ ‌ ‌ ‌ ‌ ‌ ‌ ‌ ‌ ‌ ‌ ‌ ‌ ‌ ‌ ‌ ‌ ‌ ‌ ‌ ‌ ‌ ‌ ‌ ‌ ‌ ‌ ‌ ‌ ‌ ‌ ‌ ‌ ‌ ‌ ‌ ‌ ‌ ‌ ‌ ‌ ‌ ‌ ‌ ‌