How persistence can pay off, 17 Free Digital Marketing Courses, One-Touch to Inbox Zero
​
This email found its way into your inbox because you were awesome and subscribed here OR here or maybe here. This email may contain affiliate links where I receive a small commission for recommending products I use & love at no extra cost to you.
---
Welcome to Growth Currency⚡ #46 — your weekly dose of links⚡, winks😉, and hijinks🌯
And an unbelievably huge "WELCOME HERE!" to the 90 (🤯) newest members of the Growth Currency⚡ newsletter community! What's up Harlaksh, Hector, Maggie, Luis, Dipak, Dominik, Paulina, Lee, Sean and Erin! Wish I could shout-out all 90 of you amazing souls.
I appreciate you being here and I hope you get what you're after. Send me a DM if not! 🙏
---
GROWTH INSIGHTS | Persistence pays off: Proof of Concept.
"Write a newsletter every week for a year and watch it change your life."
It was April 2021.
I had barely started this newsletter and wasn't really sure where it was going. Then I heard Dickie Bush share those words of inspiration on Jay Clouse's Creative Elements podcast.
It worked—I was inspired.
Now 46 weeks later... I've crossed the 1,000-subscriber milestone seven weeks before the newsletter turns a year old. Vanity metrics be damned—I'm proud and grateful.
And the past 46 weeks have proven to me this concept: persistence pays off.
I didn't want to be the guy who writes 11 newsletters and then quits [insert Jack Butcher image here]. I wondered what a little persistence mixed with a steady stream of consistency could bring.
I'm not trying to outwit anyone. I'm just trying to deliver value to you every week—and maybe outlast (and learn from) others who might do it better.
I wanted to bet on myself and see where this could go (and I still do)!
So thank YOU!
This newsletter is "just another newsletter"—but it means so much to me that 1,000+ of you took the time to subscribe (and many actually read!)
Your words of encouragement and support over the past year have kept me going—I'm very grateful for you.
"Teach Everything You Know"
↑ Another impactful lesson I learned in the latter half this year, I plan on teaching you "everything" I know in an email a day for 30 days.
My goal: teach you the things I wish I knew when I was starting my online journey a year ago.
I've learned a lot growing and monetizing this newsletter, and you can learn from my mistakes and successes.
​
---
​
CREATOR SPOTLIGHT 🔦
🔦 SONAM G || I set a lofty goal of publishing 100 newsletters in a row. Sonam is wiser than I: she set a goal of writing 12 newsletters in a row. She's already published 8 editions of Sonam's Secrets newsletter and I highly recommend it! It's full of interesting facts about the brain, math, ego, and Twitter growth (Sonam is on a rocket ship, folks). Check her out!
​
---
​
YOUR GROWTH CURRENCY ⚡ THIS WEEK
​17 FREE Courses To Learn Digital Marketing by Ahrefs
What's better than an online course? A FREE online course. Here are 17 free courses about various digital marketing topics, curated for you by Ahrefs.
​
---
​
​Your email newsletter is no longer important—it's vital: 11 reasons why by Ann Handley
Ann 's Total Annarchy newsletter has over 41,000 subscribers and she just published edition #100—her insights are golden. Here, she declares some strong rationale as to why you should be leveraging email newsletters as a key part of your marketing strategy—whether you're a solo creator or a bigger brand.
​
---
​
​4 Underrated Ways To Improve Your Content Marketing by Brandkit
"It's time to shake things up."
Your content marketing can be improved. So can mine. Which is why I'm digging into this post from Brandkit.
PS: Tip #3 in this article is really great advice 👌
---
​
​The Sales Ladder by Daren Smith of Craftsman Creative
This post by Daren Smith is poignant. How are you approaching monetization? How many rungs have you skipped?
"Most creators make the mistake of skipping the first two rungs of the ladder and go straight for the third or fourth rung." - Daren Smith
​
---
​
​Content Entrepreneurship 101 by The Tilt
The Tilt was founded by the guy who coined the term content marketing: Joe Pulizzi. He went on to form the Content Marketing Institute and write several books, including Content Inc.
Now Joe and his team @ The Tilt have created Content Entrepreneurship 101: a self-paced online course to help you build a business as a content entrepreneur.
You'll find over 75 videos, worksheets and explainer shorts to help you build your content creation business into a million-dollar enterprise (the right way).
IMPORTANT: "If you are creating content as a hobby, this course is NOT for you." — The Tilt's words, not mine ;)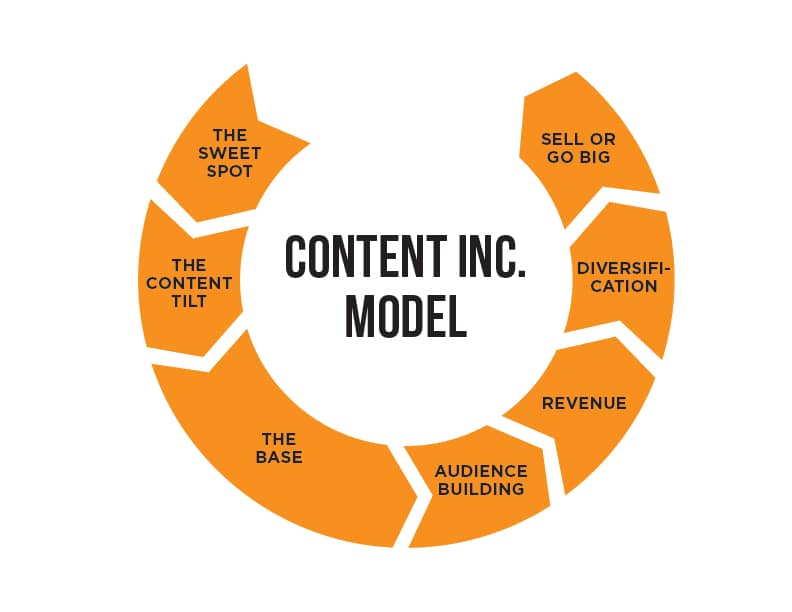 (I love everything The Tilt is doing for content creators, and I'm a proud affiliate!)
​
---
​
​One-Touch to Inbox Zero: How I Spend 17 Minutes Per Day on Email by Tiago Forte
I've been spending way too much time in my inbox. You too? Email is a time & attention vortex. Which is why this system by Tiago Forte is brilliant. Every email that isn't immediately replied to or deleted goes into one of four downstream systems:
CALENDAR
TASK MANAGER
REFERENCE APP
READ LATER APP
(Hat tip to Tim Stoddart for featuring this in his recent newsletter)
​
---
​
​Running an Internet Business with Dickie Bush on the Gumroad Podcast w/ Justin Mikolay
Dickie's been building Ship 30 For 30 for over a year now. The course has helped propel his growth (or the other way around?) to over 99,000 Twitter followers. The January 2022 cohort for Ship 30 has 1,000 students, including returning alumni. A modest estimate is that 30-day cohort will gross Dickie and his team $200k.
So, when Dickie talks about running an internet business, I'm taking notes.
​
---
​
​Best 50+ entrepreneur newsletters from marketing to coding by James Fleischmann
I owe a bit of my recent subscriber growth to being featured as one of these 50 newsletters. So thank you James! There are a LOT of great newsletters here to check out. I'm already subscribed to a good 20% of them (I'm a newsletter junkie).
​
---
That's a wrap! Now I want a wrap...
Important question: are your more of a soft shell taco kind of person, or are you weird and like those hard ones? No judgment 😉
And in case you missed it, here are last week's most popular links:
#1: The Part-time Creator Manifesto by Sean Wang
​#2: ​​​​​How to build an email list: A proven system for getting 1,000+ Subscribers by Bryan Harris
Peace and platonic love,
Dylan
​

Key phrases
Older messages
What to do AFTER you start creating, Write more by writing less, The Part-time Creator Manifesto
Wednesday, November 24, 2021
What do you do once you take the advice and "Just start"? Here are some ideas. ‌ ‌ ‌ ‌ ‌ ‌ ‌ ‌ ‌ ‌ ‌ ‌ ‌ ‌ ‌ ‌ ‌ ‌ ‌ ‌ ‌ ‌ ‌ ‌ ‌ ‌ ‌ ‌ ‌ ‌ ‌ ‌ ‌ ‌ ‌ ‌ ‌ ‌ ‌ ‌ ‌ ‌ ‌ ‌ ‌ ‌ ‌ ‌ ‌ ‌ ‌ ‌ ‌ ‌ ‌ ‌
How to Mix It Up, Lessons from hitting 1,000 subscribers, Building Content for Charity
Tuesday, November 16, 2021
All the links from all the Growth Currency newsletters—in one place! ‌ ‌ ‌ ‌ ‌ ‌ ‌ ‌ ‌ ‌ ‌ ‌ ‌ ‌ ‌ ‌ ‌ ‌ ‌ ‌ ‌ ‌ ‌ ‌ ‌ ‌ ‌ ‌ ‌ ‌ ‌ ‌ ‌ ‌ ‌ ‌ ‌ ‌ ‌ ‌ ‌ ‌ ‌ ‌ ‌ ‌ ‌ ‌ ‌ ‌ ‌ ‌ ‌ ‌ ‌ ‌ ‌ ‌ ‌ ‌ ‌ ‌ ‌ ‌ ‌ ‌
Why you should teach everything you know, Better Twitter Bios, Free Creator Workshops
Wednesday, November 10, 2021
Grow an audience just by sharing your knowledge. ‌ ‌ ‌ ‌ ‌ ‌ ‌ ‌ ‌ ‌ ‌ ‌ ‌ ‌ ‌ ‌ ‌ ‌ ‌ ‌ ‌ ‌ ‌ ‌ ‌ ‌ ‌ ‌ ‌ ‌ ‌ ‌ ‌ ‌ ‌ ‌ ‌ ‌ ‌ ‌ ‌ ‌ ‌ ‌ ‌ ‌ ‌ ‌ ‌ ‌ ‌ ‌ ‌ ‌ ‌ ‌ ‌ ‌ ‌ ‌ ‌ ‌ ‌ ‌ ‌ ‌ ‌ ‌ ‌ ‌ ‌ ‌ ‌ ‌ ‌ ‌
Creating 2x Content from ONE Conversation, 16 Marketing Ideas to Grow Your Biz, and Minimum Viable Creativity
Wednesday, November 3, 2021
Get the most out of your live audio convos and grow your audience! ‌ ‌ ‌ ‌ ‌ ‌ ‌ ‌ ‌ ‌ ‌ ‌ ‌ ‌ ‌ ‌ ‌ ‌ ‌ ‌ ‌ ‌ ‌ ‌ ‌ ‌ ‌ ‌ ‌ ‌ ‌ ‌ ‌ ‌ ‌ ‌ ‌ ‌ ‌ ‌ ‌ ‌ ‌ ‌ ‌ ‌ ‌ ‌ ‌ ‌ ‌ ‌ ‌ ‌ ‌ ‌ ‌ ‌ ‌ ‌ ‌ ‌ ‌ ‌ ‌ ‌ ‌
How I Grew Growth Currency⚡ from 0 to 500, How to 10x your content's value, A community coin business model
Tuesday, November 2, 2021
Learn 3 ways I grew my newsletter to hit 500 subscribers, how to create 10x the value of your content, and how to earn a living with a community coin! ‌ ‌ ‌ ‌ ‌ ‌ ‌ ‌ ‌ ‌ ‌ ‌ ‌ ‌ ‌ ‌ ‌ ‌ ‌ ‌ ‌ ‌ ‌ ‌ ‌