How to Raise Extra Capital From Existing Investors Right Now; Plus Weekly SaaS News and Updates
To view this email as a web page,
click here
Hey SaaStr Community,
There's a lot of panic from VCs now. The markets, at least for now, for SaaS and Cloud stocks have fallen dramatically from their post-Covid peaks. Many aggressive late stage funds like Tiger and Softbank are, for now at least, sitting on massive losses. And no one knows when revenue multiples, now at multi-year lows, will rebound — if at all.
So fundraising is harder now. It has to be.
But there's a group of you who will be very attractive investments to their existing investors — especially if you keep it simple, and just raise a little more capital at the last round price.
If Your Numbers Are Good — Now Might Be a Great Time to Raise a Little Extra Capital From Your Existing Investors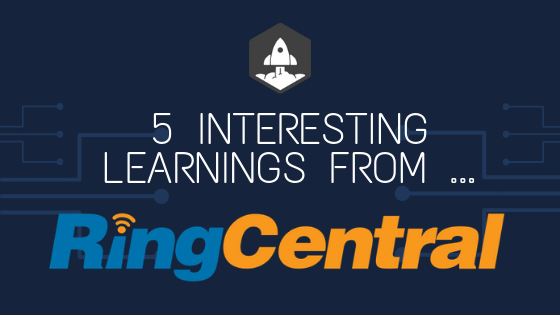 So we took a look at RingCentral early in this series at $1B in ARR. RingCentral is a very interesting case study in SaaS of starting very SMB, way in the early days of SaaS in 1999, keeping at it … and then tilting upmarket to going much more enterprise post-IPO.
Fast forward to today, they are 27% SMB and 63% Mid-Market and Enterprise at $2B in ARR growing 33%. And the real growth is all in bigger deals.
This edition of the SaaStr weekly is sponsored in part by DuploCloud
I remember about 24 months back, I asked one of the very best VPs of Sales I know to help me find a VP of Customer Success. This VP of Sales has built legendary teams, and his Directors and Managers have gone on to run many of the top SaaS companies out there.
And he said to me, "You know, I don't really know that much about Customer Success."
I didn't totally get it at the time.
This edition of the SaaStr weekly is sponsored in part by Reachdesk
You can certainly start with a few small checks — to learn. As long as they are experiments, to learn, and you are OK losing it all.
But you probably need at least $2,500,000 liquid to do it right. $10,000,000 to do it well.
From a remote-first company founded in 2005 to a $7B valuation in 2022, 1Password grew for 14 years through word-of-mouth marketing and a core focus on its customers. Today the company has grown to over 600 employees, serves over 100,000 businesses, and counts individual customers in the millions.
The processes have changed and the teams have grown, but the core focus on customers remains. CEO Jeff Shiner and Board Advisor Carilu Dietrich will dive into the seven most meaningful tactics that have brought 1Password to this stage.
SaaStr is seeking new team members! We're hiring in Sales, Marketing, Event Content, and Customer Success. If you're ready to help us grow the SaaStr community, see all the opportunities!

Carta is looking for a Marketing Operations Associate. In this vital GTM role, you'll own and manage all foundational marketing and customer data, including governance, enablement and processes and related technologies.
Invest in capital-efficient startups, with prudent CEOs and good early indicators of success
Offer a fair and market-correct price
And ignore the rest
Like, whatever
© SaaStr 2022
255 Kansas, Suite 300, San Francisco, CA 94103
If you'd like to stop receiving the SaaStr Weekly, click here
Key phrases
Older messages
The Latest from SaaStr: 7 Drivers in Building to $7 Billion
Saturday, May 21, 2022
Plus, the latest from SaaStr To view this email as a web page, click here saastr daily Need a Second Check From Your VCs? Here's How "Reserves" Work By Jason Lemkin · Friday, May 20, 2022 |
it's Friday again, then
Friday, May 20, 2022
saturday, sunday, then SaaStr Europa (What!) saturday, sunday :) Hi SaaStr Superfan Happy Friday and hope you're excited about the weekend. This means we're even closer now to SaaStr Europa in
The Latest from SaaStr: 5 Interesting Learnings from RingCentral at 2 Billion ARR
Thursday, May 19, 2022
Plus, the latest from SaaStr To view this email as a web page, click here saastr daily 5 Interesting Learnings from RingCentral at $2 Billion in ARR By Jason Lemkin · Wednesday, May 18, 2022 | 5
The Latest from SaaStr: Cloud Stocks May Be Down. But the Cloud Remains on Fire.
Tuesday, May 17, 2022
Plus, the latest from SaaStr To view this email as a web page, click here saastr daily Cloud Stocks May Be Down. But the Cloud Remains on Fire. That Matters More. By Jason Lemkin · Monday, May 16, 2022
VC Sunday School with Jason Calacanis and Jason Lemkin; Plus Weekly SaaS News and Updates
Sunday, May 15, 2022
The latest SaaStr articles and Cloud news To view this email as a web page, click here saastr weekly Hey SaaStr Community, The other day, I asked Doug Pepper to join us for our podcast and YouTube to