The Conversation - How to improve sustainability investing
| | | |
| --- | --- | --- |
| US Edition - Today's top story: How a sustainability index can keep Exxon but drop Tesla – and 3 ways to fix ESG ratings to meet investors' expectations View in browser | | US Edition | 28 May 2022 |
If you pay attention to investing, you've probably seen ESG funds and ratings. About one-third of all investments under management right now use these sustainability criteria, including a lot of pension funds. ESG ratings look at companies' performance on environmental, social and governance issues on the theory that companies that manage those issues well are well managed overall so are likely to make money for investors.
But a good ESG rating doesn't necessarily mean a company is a good steward of the environment. Managers of the S&P 500 ESG Index set off a roiling debate over the value of ESG ratings last week when they dropped electric vehicle maker Tesla from their index while keeping the oil giant Exxon. A few days later, the U.S. Securities and Exchange Commission voted to propose new ESG disclosure rules.
Tom Lyon, a business economics professor at the University of Michigan, explains what happened and offers three ideas for how to make ESG investments better reflect investors' expectations.
This week we also liked articles about how "-gate" became attached to so many scandals, the abortion-related privacy risks from phones and research on arming teachers with guns.
Stacy Morford

Environment + Climate Editor
Sustainable investing's credibility took a hit when the S&P 500 ESG index dropped the electric vehicle-maker but kept the oil giant. The SEC is now considering new disclosure rules.
Many of the coinages fail to differentiate the mundane from the momentous. Has the suffix's overuse rendered it essentially meaningless?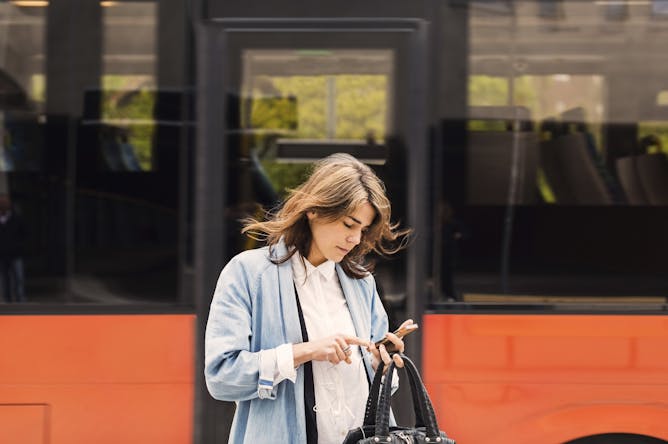 Even a burner phone paid for with cash can reveal your identity and where you've been. A data privacy expert explains.
Putting guns in the hands of schoolteachers is a popular idea among gun-owners and conservatives, but research suggests it may pose more problems than it solves.

In the 1960s, the Catholic Church sought to downplay demonic possession, but its views since then have changed.

It's common for people to live near others who speak a different – but similar – language. But generally, they handle their differences without violence.
Key phrases
Older messages
The political standstill on US gun control
Friday, May 27, 2022
+ 6 charts on the gun industry; nasal vaccine for COVID-19 ‌ ‌ ‌ ‌ ‌ ‌ ‌ ‌ ‌ ‌ ‌ ‌ ‌ ‌ ‌ ‌ ‌ ‌ ‌ ‌ ‌ ‌ ‌ ‌ ‌ ‌ ‌ ‌ ‌ ‌ ‌ ‌ ‌ ‌ ‌ ‌ ‌ ‌ ‌ ‌ ‌ ‌ ‌ ‌ ‌ ‌ ‌ ‌ ‌ ‌ ‌ ‌ ‌ ‌ ‌ ‌ ‌ ‌ ‌ ‌ ‌ ‌ ‌ ‌ ‌ ‌ ‌ ‌ ‌ ‌ ‌
Thursday, May 26, 2022
+ why booster shots are recommended for 5- to 11-year-olds ‌ ‌ ‌ ‌ ‌ ‌ ‌ ‌ ‌ ‌ ‌ ‌ ‌ ‌ ‌ ‌ ‌ ‌ ‌ ‌ ‌ ‌ ‌ ‌ ‌ ‌ ‌ ‌ ‌ ‌ ‌ ‌ ‌ ‌ ‌ ‌ ‌ ‌ ‌ ‌ ‌ ‌ ‌ ‌ ‌ ‌ ‌ ‌ ‌ ‌ ‌ ‌ ‌ ‌ ‌ ‌ ‌ ‌ ‌ ‌ ‌ ‌ ‌ ‌ ‌ ‌ ‌ ‌ ‌ ‌ ‌
Mass shooters at schools – what the data shows
Wednesday, May 25, 2022
+ how to make sustainable investing better reflect investor expectations ‌ ‌ ‌ ‌ ‌ ‌ ‌ ‌ ‌ ‌ ‌ ‌ ‌ ‌ ‌ ‌ ‌ ‌ ‌ ‌ ‌ ‌ ‌ ‌ ‌ ‌ ‌ ‌ ‌ ‌ ‌ ‌ ‌ ‌ ‌ ‌ ‌ ‌ ‌ ‌ ‌ ‌ ‌ ‌ ‌ ‌ ‌ ‌ ‌ ‌ ‌ ‌ ‌ ‌ ‌ ‌ ‌ ‌ ‌ ‌ ‌ ‌ ‌ ‌
Repowering Europe without Russian oil
Monday, May 23, 2022
+ a conviction in war crimes trial; the world's first zoo ‌ ‌ ‌ ‌ ‌ ‌ ‌ ‌ ‌ ‌ ‌ ‌ ‌ ‌ ‌ ‌ ‌ ‌ ‌ ‌ ‌ ‌ ‌ ‌ ‌ ‌ ‌ ‌ ‌ ‌ ‌ ‌ ‌ ‌ ‌ ‌ ‌ ‌ ‌ ‌ ‌ ‌ ‌ ‌ ‌ ‌ ‌ ‌ ‌ ‌ ‌ ‌ ‌ ‌ ‌ ‌ ‌ ‌ ‌ ‌ ‌ ‌ ‌ ‌ ‌ ‌ ‌ ‌ ‌ ‌