Family photos reveal racist past in Texas
| | | |
| --- | --- | --- |
| US Edition - Today's top story: One family's photo album includes images of a vacation, a wedding anniversary and the lynching of a Black man in Texas View in browser | | US Edition | 30 May 2022 |
Long before Instagram and smartphones, most people stored their cherished memories in an all-but-forgotten medium – photo albums.
Mary "Teddie" Kemp was one of them, and the memories she stored reveal what life was like in Texas in the early decades of the 20th century. In addition to images of vacations and wedding celebrations, Kemp had photographs of the charred remains of a Black man lynched in Texas.
As a historian and director of the Lynching in Texas project, Jeffrey L. Littlejohn writes that the album reveals the priority that Anglo Texans placed on white supremacy and Black subjugation.
"Teddie likely pasted the picture of Jesse Thomas' burning body at the beginning of her album because it featured an electrifying, adrenaline-charged event that viscerally illustrated the nature of her new Texas home," Littlejohn writes.
It is this portrayal of history, found in everyday family photo albums, that Texas Gov. Greg Abbott wants to ban from public schools. But in reality, lynchings were the rule rather than the exception.
Also today:
Howard Manly

Race + Equity Editor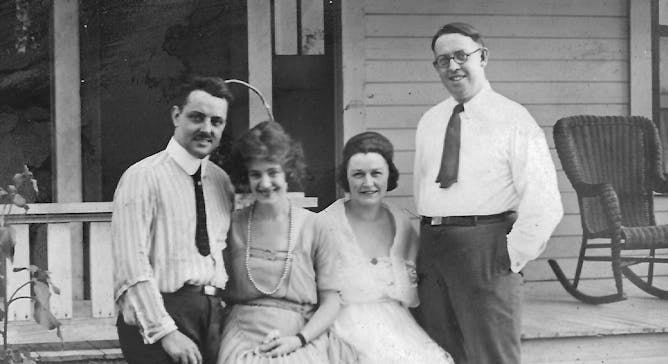 If Texas Gov. Greg Abbott had his way, the state's past of lynching Blacks would be taught as an exception rather than the rule. History tells a different story.
Education
Putting guns in the hands of schoolteachers is a popular idea among gun-owners and conservatives, but research suggests it may pose more problems than it solves.
Politics + Society
Memorial Day was born out of generous gestures after the Civil War: Southerners decorated graves of Confederate soldiers as well as those of former Union enemies.

An Army veteran and professor of rhetoric explores poetry written by veterans about a divisive holiday born of the Civil War.
Health + Medicine
Belonging to one or more groups with long-standing social and economic disadvantages increases the risk of cancer diagnoses and death.
Environment + Energy
Plastic is made from oil and natural gas, which started out as fossilized plant and animal material. But buried deep underground for millions of years, those materials changed in important ways.
Ethics + Religion
For some military members, a hillside in California embodies the sacrifices of serving.
Older messages
How to improve sustainability investing
Saturday, May 28, 2022
+ research on arming teachers; the Catholic Church and exorcism ‌ ‌ ‌ ‌ ‌ ‌ ‌ ‌ ‌ ‌ ‌ ‌ ‌ ‌ ‌ ‌ ‌ ‌ ‌ ‌ ‌ ‌ ‌ ‌ ‌ ‌ ‌ ‌ ‌ ‌ ‌ ‌ ‌ ‌ ‌ ‌ ‌ ‌ ‌ ‌ ‌ ‌ ‌ ‌ ‌ ‌ ‌ ‌ ‌ ‌ ‌ ‌ ‌ ‌ ‌ ‌ ‌ ‌ ‌ ‌ ‌ ‌ ‌ ‌ ‌ ‌ ‌ ‌ ‌
The political standstill on US gun control
Friday, May 27, 2022
+ 6 charts on the gun industry; nasal vaccine for COVID-19 ‌ ‌ ‌ ‌ ‌ ‌ ‌ ‌ ‌ ‌ ‌ ‌ ‌ ‌ ‌ ‌ ‌ ‌ ‌ ‌ ‌ ‌ ‌ ‌ ‌ ‌ ‌ ‌ ‌ ‌ ‌ ‌ ‌ ‌ ‌ ‌ ‌ ‌ ‌ ‌ ‌ ‌ ‌ ‌ ‌ ‌ ‌ ‌ ‌ ‌ ‌ ‌ ‌ ‌ ‌ ‌ ‌ ‌ ‌ ‌ ‌ ‌ ‌ ‌ ‌ ‌ ‌ ‌ ‌ ‌ ‌
Thursday, May 26, 2022
+ why booster shots are recommended for 5- to 11-year-olds ‌ ‌ ‌ ‌ ‌ ‌ ‌ ‌ ‌ ‌ ‌ ‌ ‌ ‌ ‌ ‌ ‌ ‌ ‌ ‌ ‌ ‌ ‌ ‌ ‌ ‌ ‌ ‌ ‌ ‌ ‌ ‌ ‌ ‌ ‌ ‌ ‌ ‌ ‌ ‌ ‌ ‌ ‌ ‌ ‌ ‌ ‌ ‌ ‌ ‌ ‌ ‌ ‌ ‌ ‌ ‌ ‌ ‌ ‌ ‌ ‌ ‌ ‌ ‌ ‌ ‌ ‌ ‌ ‌ ‌ ‌
Mass shooters at schools – what the data shows
Wednesday, May 25, 2022
+ how to make sustainable investing better reflect investor expectations ‌ ‌ ‌ ‌ ‌ ‌ ‌ ‌ ‌ ‌ ‌ ‌ ‌ ‌ ‌ ‌ ‌ ‌ ‌ ‌ ‌ ‌ ‌ ‌ ‌ ‌ ‌ ‌ ‌ ‌ ‌ ‌ ‌ ‌ ‌ ‌ ‌ ‌ ‌ ‌ ‌ ‌ ‌ ‌ ‌ ‌ ‌ ‌ ‌ ‌ ‌ ‌ ‌ ‌ ‌ ‌ ‌ ‌ ‌ ‌ ‌ ‌ ‌ ‌