The best deal we've ever offered (75% off)
Hi , 
Right now we're knocking 75% off three of our most popular courses.
Because, we've seen that the entrepreneurs who are quickly growing their businesses and incomes in today's competitive environment…
All have MULTIPLE business building skills.
They build an ecommerce store AND know how to crush it with Facebook ads, sell on Amazon, quickly grow an Instagram account, or find thousands of new customers on YouTube, etc.
They have an effective "business skill stack", can move fast, and experience a true edge against their competition.
Now it's your turn.
Take advantage of our limited-time "75% Off" Foundr Summer Flash Sale by clicking on the individual link of the course you're interested in below…
INSTAGRAM DOMINATION
Using what we call the "Instagram Domination Method" helped take us from zero to more than 3.5M followers while adding 500 to 1,000 new followers every single day.
It's been used to help an aesthetician go from 300 to 10k followers, a marketing strategist go from 500 to more than 12k, and even help a lifestyle blogger grow her account to over 200,000 followers in just two years.
It's updated and contains the latest strategies for growing a highly engaged group of followers for any kind of business or niche in 2022.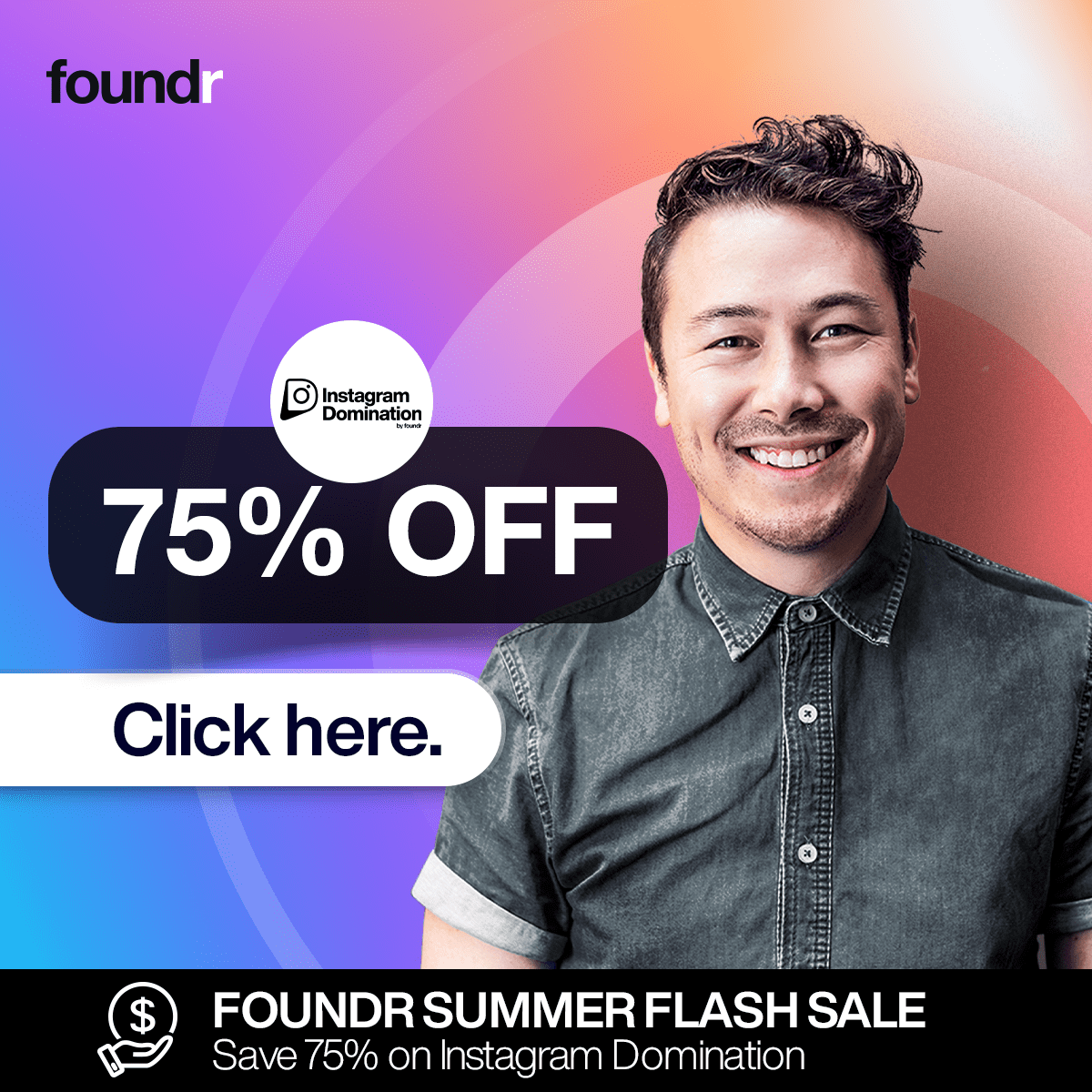 Click here to get 75% off Instagram Domination.
HOW TO RUN FACEBOOK ADS
$100M spend on Facebook ads, 150+ different businesses, 1 proven formula. That's the insane resume of one of the world's most renowned Facebook advertisers, Nick Shackelford.
Nick's methodology has been so effective that Facebook has done 3 separate case studies on how he's able to do what he does.
If you want an easy-to-follow Facebook ads strategy that works for any business or budget, no matter the algorithm change…this course is for you.
Click here to get 75% off How To Run Facebook Ads.
HOW TO MASTER YOUTUBE ADS
Tommie Powers is referred to as the seasoned expert of YouTube advertising as he started running them way back in 2012. He's now spent well over $30M just on YouTube ads alone.
He helped take Organifi from $0 to $30M in 3 years and his ads have generated well over $500M in revenue for his clients and partners.
If you want to finally crack YouTube ads and learn from the same person who taught Alex Becker, Dean Graziosi and countless others… check this out.
Click here to get 75% Off How To Master YouTube Ads.
Just FYI: This deal is only available until Sunday, 26th June, 11:59pm US Eastern.
After that prices increase by 4x back to normal.
If you have any questions please feel free to reach out before this expires.
Level Up Your Skill Stack,
Nathan Chan
CEO of Foundr
P.S. If you're not interested in receiving emails about our special Flash Sale promo on select courses, click here & we will only send you content relevant to your entrepreneurial journey.
Key phrases
Older messages
Our special summer flash sale is live…
Friday, June 24, 2022
Hi , Our special "75% Off" Foundr Summer Flash Sale has officially started. We're doing this because recently during our "Buy 1 Get 1" deal we had members of the Foundr community reach out asking
Monday, June 20, 2022
Hi , where are you starting from this week? Are you overwhelmed by the tasks ahead, or don't know where to start? It's time to focus on the ideas that make a difference for your business,
[Save 75%] An email worth reading
Monday, June 6, 2022
Hey , This is the best deal we've ever made for our industry-leading Start & Scale ecommerce program. Tomorrow (June 7th 2022 US Eastern), we're opening access to the entire program, all