Bloomberg - Evening Briefing - Oil falls, but gas rises
As the Bloomberg recession tracker rose to 38%, the price of oil has plummeted below $100 a barrel, the first time since early May. Citigroup is predicting that crude, which has soared as a direct result of Russia's war on Ukraine, could fall to $65 a barrel by year end. While lower crude prices (theoretically) will lead to less pain at the pump, the surge in cost for natural gas (also made worse by the war) may do lasting damage to the global economy. The fossil fuel has skyrocketed by 700% in Europe since the start of 2021. All of this is not helping when it comes to keeping Wall Street from panicking. But Mohamed A. El-Erian writes in Bloomberg Opinion that, while the first half of 2022 was excruciating for investors in stocks, corporate bonds, crypto and lots of other assets, there are a fewsilver linings to make you feel a little better. Three to be exact. —Margaret Sutherlin
Bloomberg is tracking the coronavirus pandemic and the progress of global vaccination efforts.
Here are today's top stories
Two of the most senior members of Boris Johnson's cabinet—Chancellor of the Exchequer Rishi Sunak and Health Secretary Sajid Javid—quit, putting the scandal-plagued Tory prime minister in even deeper peril. The latest controversy is over his promotion of a Conservative Party member despite allegations of sexual abuse. The party was already angry with Johnson over a long series of missteps, including becoming the first sitting premier found to have broken the law: He was fined for illegal parties in Downing Street as the pandemic raged.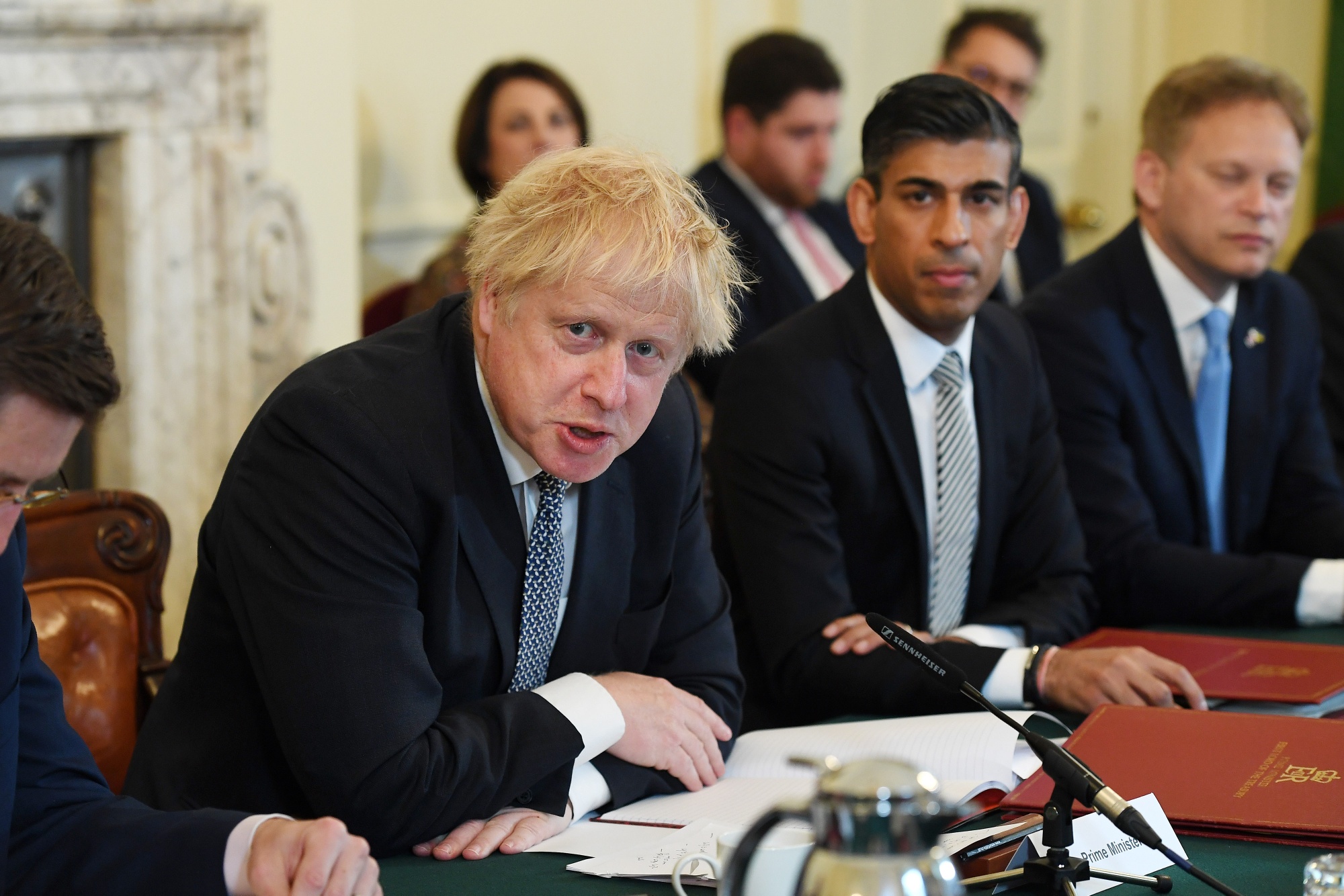 Boris Johnson, UK prime minister, left, and Rishi Sunak, chancellor of the exchequer, center, during a cabinet meeting in May. Photographer: Andy Rain/EPA
Claims of the largest cyberattack in Chinese history have sparked an open debate about the extent to which Beijing collects personal data from its citizens—and the use of private firms to safeguard it. If the claims of hackers are verified, it could be one of the biggest leaks the world has ever seen. 
Just two months after a brutal Covid-19 lockdown took a huge toll on residents and its economy, fears are growing that Shanghai could be heading for another Covid zero crisis. Officials launched mass testing in nine districts after detecting cases in the past two days.
Seventy rounds. That's how many bullets were fired from a high powered rifle on a crowd filled with families waiting for a parade outside Chicago on July 4. Highland Park, Illinois, has become the latest American community ripped apart by gun violence, with seven killed and more than two dozen injured during the nation's now almost-monthly mass killings with legally bought assault rifles. The alleged shooter planned the attack for weeks, according to police, but a motive has yet to be identified.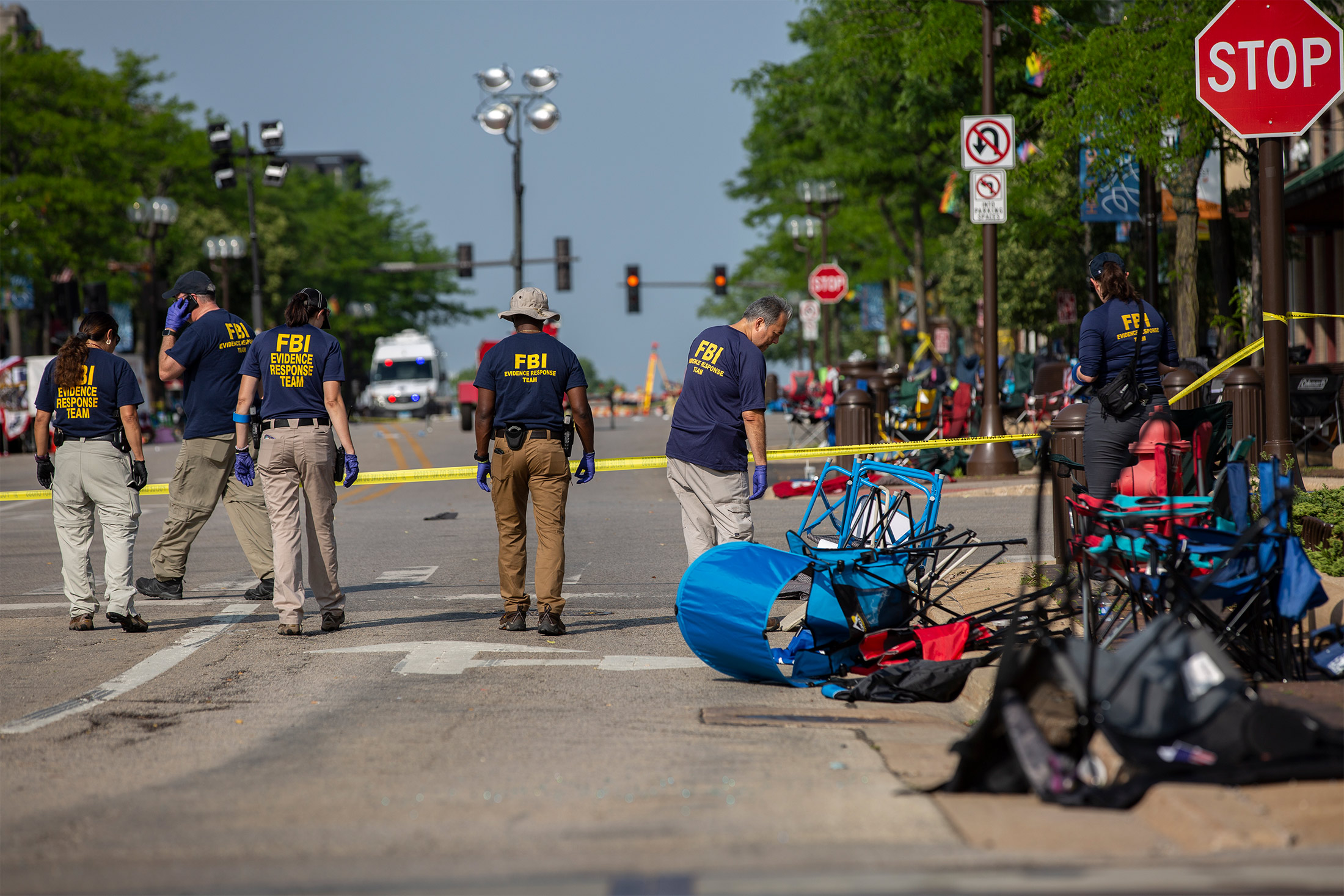 FBI agents on the scene of the mass shooting at a July 4 parade in Highland Park, Illinois.   Photographer: Jim Vondruska/Getty Images
NATO formally signed off on plans to bring Sweden and Finland into the fold, moving a step closer to bolstering the defensive alliance following Russia's invasion of Ukraine. The expansion must be ratified by the legislatures of each of the 30 member nations, a process that may take months. Turkey however has renewed its threat to block the expansion if the two Nordic nations don't extradite individuals it considers terrorists. Meanwhile, on the ground in Ukraine, the Kremlin turned its attention to the Donetsk region, intensifying shelling there after fully occupying Lysychansk, the last bastion of Kyiv control in the Luhansk region. 
Rudy Giuliani and Republican Senator Lindsey Graham of South Carolina and five others have been called to testify before a special grand jury in Atlanta as part of a criminal probe into attempts by Donald Trump and his supporters to circumvent his defeat in Georgia during the 2020 election. Meanwhile, the US Justice Department sued Arizona over its attempt to impose new restrictions on access to voting. 

The "personality cult" of Bill Hwang at Archegos Capital Management is at the heart of a lawsuit filed by a former managing director. Hwang faces federal charges of market manipulation and multiple counts of fraud and conspiracy. The complaint alleges staffers were forced to publicly profess their allegiance to "God, Hwang and Archegos."
What you'll need to know tomorrow
As companies from JPMorgan to Starbucks pledge to fund employees' abortion-related travel costs, human resources departments are scrambling to nail down the details—and finding that having less of a paper trail is better. These big firms are likely to be the first on the list of targets for future lawsuits by anti-abortion forces in a post-Roe world. 
An abortion rights demonstration near the US Supreme Court on June 30. Photographer: Al Drago/Bloomberg
Get the Bloomberg Evening Briefing: If you were forwarded this newsletter, sign up here to receive it in your mailbox daily along with our Weekend Reading edition on Saturdays. 
Bloomberg Sustainable Business Summit: Anchored in Singapore, the inaugural Asia-Pacific summit on July 27 will focus on helping companies and investors meet ambitious ESG goals while exploring the region's unique challenges and opportunities. Also discussed will be strategies for successful stakeholder collaboration, the latest in green financing and how to best measure and report progress. Register here to attend virtually or in-person.
Like getting this newsletter? Subscribe to Bloomberg.com for unlimited access to trusted, data-driven journalism and subscriber-only insights.
Before it's here, it's on the Bloomberg Terminal. Find out more about how the Terminal delivers information and analysis that financial professionals can't find anywhere else. Learn more.
Key phrases
Older messages
Saturday, July 2, 2022
Bloomberg Weekend Reading View in browser Bloomberg Follow Us Get the newsletter After a white-hot streak during the first two years of the pandemic, business has started to evaporate for mortgage
Friday, July 1, 2022
Bloomberg Evening Briefing View in browser Bloomberg JPMorgan cut its US midyear economic growth forecast after an influx of weaker data this week—most notably a slowdown in consumer spending. The bank
Thursday, June 30, 2022
Bloomberg Evening Briefing View in browser Bloomberg With June now over, we can say that the S&P 500 has suffered its toughest first half since Richard Nixon was in the White House. It was a rout
Wednesday, June 29, 2022
Bloomberg Evening Briefing View in browser Bloomberg Whether it's hope, self-delusion or they just didn't get the memo, the receding stock market tide has left Wall Street analysts sitting on
Tuesday, June 28, 2022
Bloomberg Evening Briefing View in browser Bloomberg A former White House aide testified before Congress that in the run-up to Jan. 6, 2021, Donald Trump's closest deputy confided in her that "real