Pandemic aid theft - Russian-backed referendums - Human composting legalization
21 SEP 2022
Facts, not fear.
TRENDING TOPICS
Pandemic aid theft • Human composting legalization • Russian-backed referendums • Norwegian wealth fund's climate goal • Routine anxiety screening
FEATURED UNDER-REPORTED STORIES
Perils of paying later • Corn syrup in formula • Myanmar rebels' digital currency
You are on the free plan of The Factual


Get a free month of Premium for referring just 1 friend.


TRENDING TOPICS, MOST CREDIBLE STORIES
#1 in U.S. News • 29 articles
What do federal officials allege about a large scheme to steal pandemic aid?
Highly-rated - last 48 hrs
Feds: 47 exploited pandemic to steal $250M from food program.
Associated Press (Center) • Factual Grade 74% • 4 min read


Prosecutors say the defendants created companies that claimed to be offering food to thousands of Minnesota children, then sought reimbursement through the Agriculture Department's federal child nutrition programs. Many of the companies that claimed to be serving food were sponsored by a nonprofit called Feeding Our Future, which submitted the claims for reimbursement.
...
In Minnesota, meals have historically been provided to kids through educational programs. The sites that serve the food are sponsored by public or nonprofit groups, such as Feeding Our Future. The sponsoring agency keeps 10% to 15% of the reimbursement as an administrative fee. But during the pandemic, some of the standard requirements for sites to participate in the federal food nutrition programs were waived.
...
The Justice Department has made prosecuting pandemic-related fraud a priority. The department has taken enforcement actions related to more than $8 billion in suspected fraud. [This case is] the largest scheme yet.
Different political viewpoint


DOJ accuses 47 of stealing millions in largest Covid-19 fraud scheme yet.
Washington Examiner (Right) • Factual Grade 57% • 2 min read
Selected long-read


The most wasteful pandemic relief program was the one the rich loved.
Jacobin (Left) • Factual Grade 79% • 5 min read
#2 in U.S. News • 6 articles
How does California's newly-passed human composting law work?




AB 351, signed by Gov. Newsom, allows residents to choose human composting, or natural organic reduction, after death starting in 2027. The process, legal in Washington, Colorad...


Full summaries, images, and headlines for subscribers only.
One payment. Once a year. $25

Upgrade Now


SPECIAL COVERAGE: UKRAINE


#1 in World News • 130 articles
Why is Russia moving to annex the regions of Ukraine it occupies?




The leaders of the self-proclaimed Luhansk and Donetsk People's Republics said they would hold a referendum to formally join the Russian...


Full summaries, images, and headlines for subscribers only.
Free your time. Get rid of multiple news feeds.

Upgrade Now


#1 in Business News • 8 articles
How will Norway's sovereign wealth fund try to curb greenhouse gas emissions?




[Norway's $1.2 trillion wealth fund, one of the world's largest investors] invests the revenue from Western Europe's biggest oil and gas producer for future generations in stocks...


Full summaries, images, and headlines for subscribers only.
Just the facts. Just about $2/mth.

Upgrade Now


#1 in Health News • 8 articles
Why does an expert panel recommend all US adults get screened for anxiety?




For the first time, a US government-backed expert panel has recommended that adults under 65 should be screened for anxiety disorders. The influential US Preventive Services...


Full summaries, images, and headlines for subscribers only.
Multiple perspectives + Quick summaries = $25/yr

Upgrade Now


TODAY'S POLL
Should screening for anxiety be a component of routine checkups?
All votes are anonymous. This poll closes at: 9:00 PDT
Have you ever encountered a library book that you felt the library should not have carried?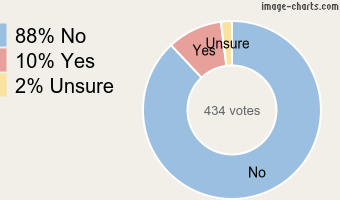 434 votes, 52 comments
Context: Recent reports find book bans increasing in public libraries as well as school libraries.
HIGHLIGHTED COMMENTS
" No - I never go to the library. We have the internet now. That being said, I don't like the idea of banned books, period. In a school setting you can certainly make the case that some books should be removed, but I'd rather stay more on the open side. Kids have access to the internet anyway, you can't stop them from seeing/reading things no matter how hard you try."
" Yes - My elementary school library had a book called something like "Throwing Playing Cards as Weapons" co..."
" No - But school libraries are different and I have seen plenty o..."
UPDATES & BREAKING NEWS

HIGHLY CREDIBLE, UNDER-REPORTED STORIES

EDITOR'S PICKS

Got feedback? Just reply to this newsletter and we'll respond within 48 hours.
Was this email forwarded to you? Sign up now to get The Factual in your inbox.
You received this email because you signed up for The Factual newsletter. Unsubscribe here.
The Factual, 55 E 3rd Ave, San Mateo, CA 94401, USA
Key phrases
Older messages