business.com - ☕🥱 Work without caffeine
The next big online shopping extravaganza is Cyber Monday, right? Not for Amazon Prime subscribers, who are getting another Prime Day (technically called Prime Early Access Sale) with "hundreds of thousands" of products marked down on October 11-12.
Back in July, Prime Day brought in an estimated $12 billion for Amazon. It's no surprise they want to repeat the record-setting haul, but is this too much of a good thing? With prices rising on every product imaginable lately, shoppers might jump at the extra savings opportunity. Or will they hold out in hopes of snagging some better deals on Black Friday and the rest of the holiday shopping season?
Time will tell, but maybe we should buy Halloween candy before worrying about holiday presents.
Decaf life: Stay productive without coffee. Really.
Infographic: CSR by the numbers.
"Frugalpreneur": Build your business on the cheap.
The Daily Grind: How to Stay Productive When You Can't Drink Caffeine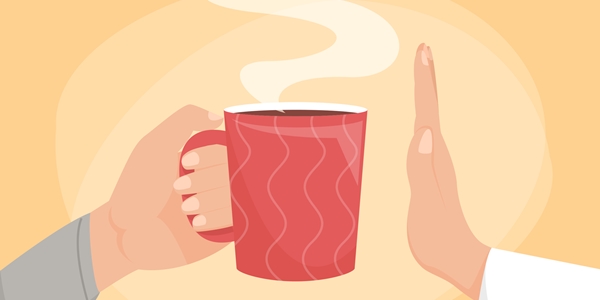 Coffee is a morning necessity for most of us, especially on workdays. But millions of people who are pregnant or have certain health issues — including IBS, glaucoma, and anxiety — need to be able to function on little to no caffeine.
That's easier said than done. Consider the positives if you're able to drink coffee. Studies show that it can Increase cognitive function by reorganizing neural connectivity, as South Korean researchers found in 2021.
That's great news for java lovers, but what about those who can't stomach it? (If so, you're in good company because this includes Jennifer Lopez, Zendaya, and Tom Brady — and, oh, most of Gen Z.) Here are a few mind hacks to help you power through your 9 to 5.
Mushroom Coffee
It's not that kind of shroom, but it may be magic. A slew of products hitting the market purport to increase focus and neural dexterity — and they're fungi-based, not bean-based. Hot beverage brands like Four Sigmatic, Mud\WTR and Laird Superfood mimic the earthy taste of coffee while claiming to lend energy without an afternoon caffeine crash.
Many of these mushroom elixirs include adaptogens, which are compounds claiming to help the body respond to stress and fatigue by restoring cortisol balance. Critics argue that the marketing has eclipsed science, but customers have made "functional mushrooms" a multimillion-dollar industry.
Be sure to consult your doctor before trying any new supplements, especially if you're pregnant.
"B" Taking Your Vitamins
Energy shots from the gas station aren't the healthiest option, but B vitamins "help a variety of enzymes do their jobs, ranging from releasing energy from carbohydrates and fat to … transporting oxygen and energy-containing nutrients around the body," according to Harvard researchers.
In most cases, you don't need a megadose, but you should try to meet the FDA's recommended daily allowance.
Cardio Wake-Up
One tried-and-true trick — that offers all positives and no drawbacks — for better energy and focus in the morning is exercise. Cardio can increase the size of the hippocampus, a part of the brain involved in learning and memory. Strength training and yoga are also linked to fighting depression and stress by flooding the brain with endorphins.
Even if you can't drink coffee, it's helpful to know that the path to a clearer and more energetic day is still ahead of you.
33%/63%
Millennials vs. Gen Zers who abstain from coffee
[Source: YouGov]
Corporate Social Responsibility by the Numbers
The business community didn't always care about environmental and other social issues. In the past decade, however, companies have made gigantic efforts to improve their accountability and sustainability — and here's the proof.
'Frugalpreneur': A Podcast for Building Your Business on the Cheap
(Source: 20th Century Fox)
For entrepreneurs with mountains of venture capital, growth is (relatively) easy. But for those on a "bootstrapped budget," it takes creativity.
"Frugalpreneur" host Sarah St. John offers innovative ways to do more with less. She brings in business founders, professors, financial advisors, and other leaders to help expand companies without breaking the bank. With wide-ranging topics, such as the basics of intellectual property to customer retention to student repayment, you'll learn how to keep your expenses low while keeping your start-up afloat.

The podcast started in 2019 and it couldn't have come at a better time. Since the pandemic, more Americans are starting businesses than ever before — even if it's just out of their apartments and garages. Hey look, you're already saving on office space!
"I don't drink coffee; it doesn't do anything for me. I don't drink energy drinks or soda, either. And I hate water."
— Zendaya
Written by Carolyn Neuhausen, Lauren Treadwell, and Ali Saleh.
200 5th Ave., 2nd Floor Waltham, Massachusetts 02451

©️ 2022 business.com. All Rights Reserved
Older messages
🍔👓 Bob's Burgers: business case study
Friday, September 23, 2022
Making your business the best place to work, every Friday. Most job candidates believe that matching the right keywords or using the boldest font will get their resumes noticed. But digital product
📉🤬📈 Is normal ever coming back?
Tuesday, September 20, 2022
Grow your business. Then grow it more, every Tuesday. Automation is supposed to be the future, but some industries are struggling to get there. Consumer vehicles don't (fully) drive themselves yet
⛰️ Patagonia climbs to new heights
Friday, September 16, 2022
Making your business the best place to work, every Friday. Many business owners transfer their companies to family or sell to interested parties when they retire. Nothing wrong with that, but Patagonia
🚆 Will a train strike derail your business?
Tuesday, September 13, 2022
Grow your business. Then grow it more, every Tuesday. Supply chain experts thought slowdowns were easing up, but that train might've left the station. Nearly 60000 rail workers are preparing to
Friday, September 9, 2022
Making your business the best place to work, every Friday. Today we offer condolences as the world mourns the death of Queen Elizabeth II on Thursday at the age of 96. As the longest-serving British