SoleSavy - 🚫 adidas & Kanye are OVER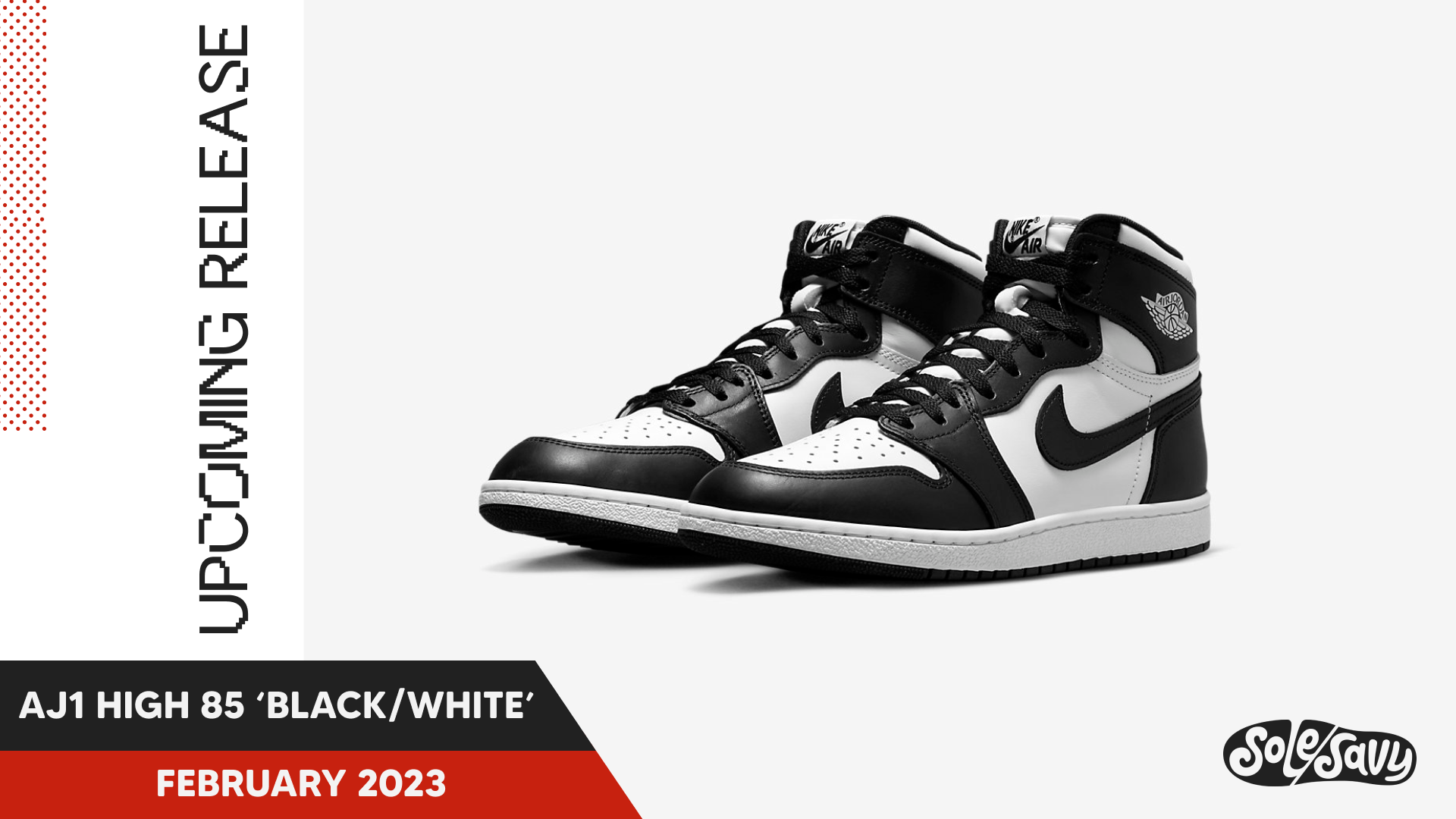 The '85 cut returns! As part of their Spring 2023 line-up, the brand is releasing the Air Jordan 1 High 85 in a familiar 'Black/White' colorway that hasn't been retroed since 2014. Keeping everything OG from shape, materials and branding, this drop will be sure to satisfy OG collectors and new sneakerheads alike.
As part of 1985's "Be True to Your School" campaign, the Kentucky & Syracuse colors are arguably the best Dunk colorways. While already re-released in 2020, they're set to return this November . . .
This week we're featuring Angelica Gotuzzo from Ontario, Canada. We chat about being a member since the beta, the current sneaker industry and of course her impressive sneaker collection . . .
Celebrating the best in the business, Jordan Brand has had a year. From signing players like Deebo Samuel, Paolo Ranchero & introducing the Jordan Luka 1, the Footwear News Achivement Awards has named Jordan its Brand of the Year . . .
Also known as Homegurl Heather, we sit down with Clark Atlanta University graduate and cultural game changer Heather Haynes and chat about designing a pair of Nike Dunks . . .
Stay Savy-on-the-go
To stay connected with us, download the SoleSavy app to follow all news, upcoming events, and track the latest releases!
You're receiving this email because you created an account with SoleSavy. We will be sending you exclusive promotions, breaking SoleSavy news, and more.

© SoleSavy. All rights reserved
Key phrases
Older messages
Thursday, October 20, 2022
Plus this week's best drops! ‌ ‌ ‌ ‌ ‌ ‌ ‌ ‌ ‌ ‌ ‌ ‌ ‌ ‌ ‌ ‌ ‌ ‌ ‌ ‌ ‌ ‌ ‌ ‌ ‌ ‌ ‌ ‌ ‌ ‌ ‌ ‌ ‌ ‌ ‌ ‌ ‌ ‌ ‌ ‌ ‌ ‌ ‌ ‌ ‌ ‌ ‌ ‌ ‌ ‌ ‌ ‌ ‌ ‌ ‌ ‌ ‌ ‌ ‌ ‌ ‌ ‌ ‌ ‌ ‌ ‌ ‌ ‌ ‌ ‌ ‌ ‌ ‌ ‌ ‌ ‌ ‌ ‌ ‌ ‌ ‌ ‌ ‌ ‌
👟 RESTOCKS: Off-White AF1 & Panda Dunk
Thursday, October 13, 2022
Affordable Grails Alternatives ‌ ‌ ‌ ‌ ‌ ‌ ‌ ‌ ‌ ‌ ‌ ‌ ‌ ‌ ‌ ‌ ‌ ‌ ‌ ‌ ‌ ‌ ‌ ‌ ‌ ‌ ‌ ‌ ‌ ‌ ‌ ‌ ‌ ‌ ‌ ‌ ‌ ‌ ‌ ‌ ‌ ‌ ‌ ‌ ‌ ‌ ‌ ‌ ‌ ‌ ‌ ‌ ‌ ‌ ‌ ‌ ‌ ‌ ‌ ‌ ‌ ‌ ‌ ‌ ‌ ‌ ‌ ‌ ‌ ‌ ‌ ‌ ‌ ‌ ‌ ‌ ‌ ‌ ‌ ‌ ‌ ‌ ‌ ‌ ‌
📈 AJ1 Lost & Found Stock, September's Bests & more
Wednesday, October 5, 2022
SS4 Available Tomorrow! ‌ ‌ ‌ ‌ ‌ ‌ ‌ ‌ ‌ ‌ ‌ ‌ ‌ ‌ ‌ ‌ ‌ ‌ ‌ ‌ ‌ ‌ ‌ ‌ ‌ ‌ ‌ ‌ ‌ ‌ ‌ ‌ ‌ ‌ ‌ ‌ ‌ ‌ ‌ ‌ ‌ ‌ ‌ ‌ ‌ ‌ ‌ ‌ ‌ ‌ ‌ ‌ ‌ ‌ ‌ ‌ ‌ ‌ ‌ ‌ ‌ ‌ ‌ ‌ ‌ ‌ ‌ ‌ ‌ ‌ ‌ ‌ ‌ ‌ ‌ ‌ ‌ ‌ ‌ ‌ ‌ ‌ ‌ ‌ ‌ ‌ ‌ ‌ ‌
📉 The Current State of Sneakers
Wednesday, July 27, 2022
Recapping July and looking onward! ‌ ‌ ‌ ‌ ‌ ‌ ‌ ‌ ‌ ‌ ‌ ‌ ‌ ‌ ‌ ‌ ‌ ‌ ‌ ‌ ‌ ‌ ‌ ‌ ‌ ‌ ‌ ‌ ‌ ‌ ‌ ‌ ‌ ‌ ‌ ‌ ‌ ‌ ‌ ‌ ‌ ‌ ‌ ‌ ‌ ‌ ‌ ‌ ‌ ‌ ‌ ‌ ‌ ‌ ‌ ‌ ‌ ‌ ‌ ‌ ‌ ‌ ‌ ‌ ‌ ‌ ‌ ‌ ‌ ‌ ‌ ‌ ‌ ‌ ‌ ‌ ‌ ‌ ‌ ‌ ‌ ‌ ‌
☀️ Yeezy restocks & an interview with Social Status!
Friday, July 15, 2022
July's remaining drops and more ‌ ‌ ‌ ‌ ‌ ‌ ‌ ‌ ‌ ‌ ‌ ‌ ‌ ‌ ‌ ‌ ‌ ‌ ‌ ‌ ‌ ‌ ‌ ‌ ‌ ‌ ‌ ‌ ‌ ‌ ‌ ‌ ‌ ‌ ‌ ‌ ‌ ‌ ‌ ‌ ‌ ‌ ‌ ‌ ‌ ‌ ‌ ‌ ‌ ‌ ‌ ‌ ‌ ‌ ‌ ‌ ‌ ‌ ‌ ‌ ‌ ‌ ‌ ‌ ‌ ‌ ‌ ‌ ‌ ‌ ‌ ‌ ‌ ‌ ‌ ‌ ‌ ‌ ‌ ‌ ‌ ‌ ‌