Early Black Friday Sale! Scale Your Ecom Store
Hi ,
It's Black Friday month!
For the next few days, we're doing something special to acknowledge the go-getters who turn ideas into thriving businesses…
So if you have an ecommerce business, we're going to help you scale it!
That's why we're doing a limited-time:
"Ecommerce Entrepreneurs Early Black Friday Sale!"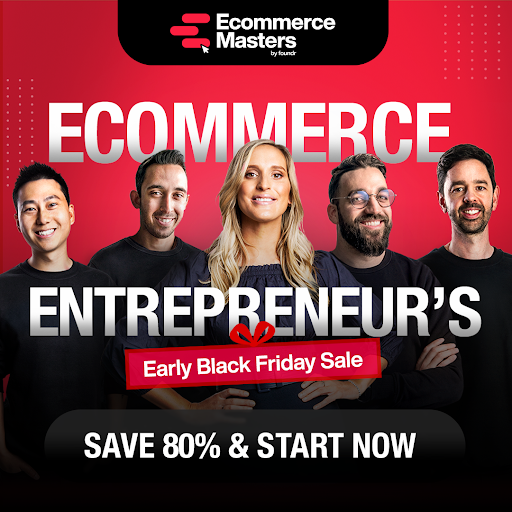 Click here to see full details for this 80% discounted ecommerce offer.
Right now, you can enroll in the 9+ hour advanced course, Ecommerce Masters, for the lowest price it will ever be. More than an 80% discount, but only for the next few days.
You'll learn:
Scaling with Advanced Influencer Marketing 


Scaling with Advanced Email Marketing


Scaling with Advanced Facebook Ads


Scaling with Advanced Product Creation



Scaling with Advanced Supply Chain
Just one of these email automations could recoup your entire investment on a single send.
Plus you'll even get these 7 extra bonuses…
Bonus 01: Ecommerce Masters Private Facebook Group
Get help and learn the latest scaling hacks and tips of what's working right now. You can share wins, and get advice from other store owners.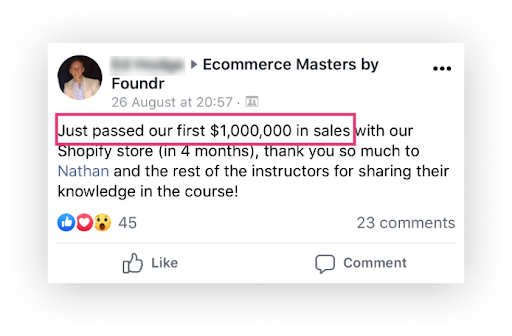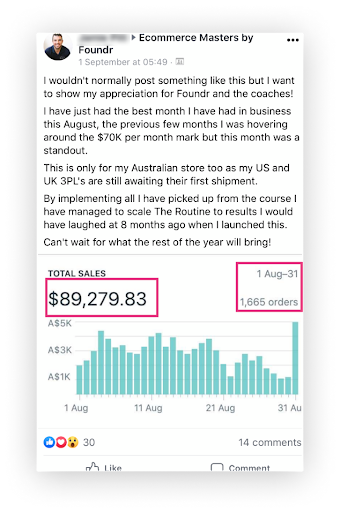 Bonus 02: Outsource Your Influencers 
Gretta reveals her exact systems that she uses to outsource her entire influencer marketing work to a virtual assistant. 
Bonus 03: Product Pages Made To Convert


After selling millions of products and seeing the conversion data behind what works and what doesn't, Rob Ward has perfected the process for creating high-converting product pages.
Bonus 04: 20 High Converting Cart Abandonment Subject Lines


Chase Dimond has now driven more than $20M+ in ecommerce email revenue and will show you how to "save sales" on autopilot with his best abandoned cart subject lines.
Bonus 05: Back-In-Stock Hack


Gretta Van Riel used this bonus to achieve her first $1M sales day with The 5th Watches.
Bonus 06: Theft-Proof Your Idea


Rich Li shows you how to properly protect yourself when disclosing product information. Comes with templates for manufacturer NDA's and Brand Authorization letters.
Bonus 07: Creative Facebook Ads That Convert Swipe File


Nick Shackelford has now spent $100M+ on Facebook ads and is now giving you his private swipe file for high converting creative that's worked over the years. 
This alone could help you create a single ad that could scale you to 7-figures and beyond.
Only available for the next few days.
Check it out while it's live.
Let's Scale.
Nathan Chan
CEO, Founder of Foundr
P.S. We're giving you an 80% discount on our advanced Ecommerce Masters course to help you scale your store ever faster. Special early Black Friday deal ends in a few days.
Get details here while it's available.
P.P.S. If you're not interested in receiving emails about our Early Black Friday offer, click here & we will only send you content relevant to your entrepreneurial journey.
Key phrases
Older messages
🎃👻 24hrs to go - treats, no tricks
Sunday, October 30, 2022
Hey , Your special deal for Foundr Startup Tools expires at midnight tomorrow. If you want to save money on your favorite software tools and services while still enjoying the amazing features they
48hrs left - how much do you want to save, ?
Saturday, October 29, 2022
Hey , After 48 hours, this deal here will expire. It's for our new and exclusive Foundr Startup Tools, which gives you access to more than 70 deals that instantly cuts down your software bills.
Increase your income with foundr+
Wednesday, October 26, 2022
There is a big caveat though… Hi , 48 hours left. If you haven't heard, we just reopened low monthly payment options for our new foundr+ membership, but only until 11:59pm this Wednesday. Plus, you