SoleSavy - 💜 A Ma Maniére Jordan 4s are coming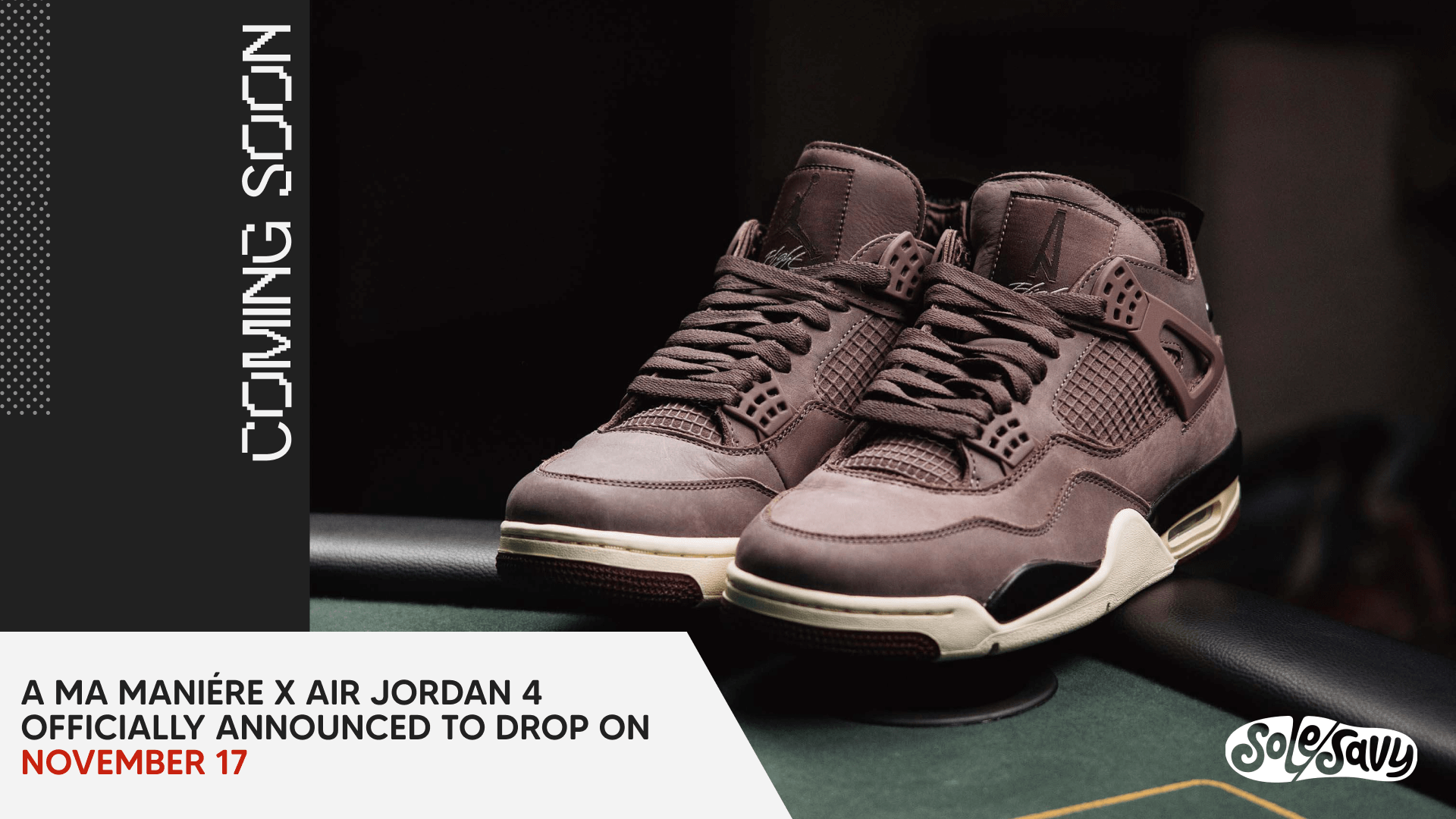 The A Ma Maniére x Air Jordan 4 is Official
James Whitner and the team at A Ma Maniére have publicly announced the release of their luxurious take on the Air Jordan 4. Set to drop November 17 exclusively via AMM, they've unveiled two release methods: an online raffle via video submission & an online drop.
At 11AM ET November 17, the shoes will likely be released through a secret website. With our premium membership, you'll unlock access to a comprehensive suite of tools to give you an advantage over everyone else. This includes:
⏱ Early insider information and links
🤐 Instant alerts to the secret AMM drop site
🖥 Auto-fill Chrome extension for the fastest checkout
🎥 Live Release Zoom call walkthrough on drop day
📲 More membership perks like DROPS App & COLLECT Marketplace
Sign up for our premium membership now to get yourself ready and give yourself the best chance to cop at retail.
From SNKRS Exclusive Access, boutique raffles& stock numbers, here is a comprehensive guide to all the details you need to know about the biggest drop of the year
Whether you're lounging around at home or in need of the perfect on-the-go pair, we breakdown a sizing guide for all the popular slip-ons, slides and clogs to cop this season.
The relationship between Nike and Kyrie Irving has been rocky long before the recent antisemitic discourse. Now they have officially cancelled the Kyrie 8 release.
After some speculation, PUMA's CEO will be stepping down after leading the company for nearly a decade and will be appointed the new CEO of adidas, succeeding Kasper Rorsted.
Stay Savy-on-the-go
To stay connected with us, download the SoleSavy app to follow all news, upcoming events, and track the latest releases!
You're receiving this email because you created an account with SoleSavy. We will be sending you exclusive promotions, breaking SoleSavy news, and more.

© SoleSavy. All rights reserved
Older messages
Thursday, November 3, 2022
Rounding up the Jordan drops you can't miss! ‌ ‌ ‌ ‌ ‌ ‌ ‌ ‌ ‌ ‌ ‌ ‌ ‌ ‌ ‌ ‌ ‌ ‌ ‌ ‌ ‌ ‌ ‌ ‌ ‌ ‌ ‌ ‌ ‌ ‌ ‌ ‌ ‌ ‌ ‌ ‌ ‌ ‌ ‌ ‌ ‌ ‌ ‌ ‌ ‌ ‌ ‌ ‌ ‌ ‌ ‌ ‌ ‌ ‌ ‌ ‌ ‌ ‌ ‌ ‌ ‌ ‌ ‌ ‌ ‌ ‌ ‌ ‌ ‌ ‌ ‌ ‌ ‌ ‌ ‌ ‌
Friday, October 28, 2022
See the entire collection & its inspiration The Doernbecher x Nike Freestyle XVIII Collection SoleSavy is honored to be the Presenting Sponsor for the Nike x Doernbecher Freestyle XVIII. Since
Wednesday, October 26, 2022
and '85 AJ1s are back! ‌ ‌ ‌ ‌ ‌ ‌ ‌ ‌ ‌ ‌ ‌ ‌ ‌ ‌ ‌ ‌ ‌ ‌ ‌ ‌ ‌ ‌ ‌ ‌ ‌ ‌ ‌ ‌ ‌ ‌ ‌ ‌ ‌ ‌ ‌ ‌ ‌ ‌ ‌ ‌ ‌ ‌ ‌ ‌ ‌ ‌ ‌ ‌ ‌ ‌ ‌ ‌ ‌ ‌ ‌ ‌ ‌ ‌ ‌ ‌ ‌ ‌ ‌ ‌ ‌ ‌ ‌ ‌ ‌ ‌ ‌ ‌ ‌ ‌ ‌ ‌ ‌ ‌ ‌ ‌ ‌ ‌ ‌ ‌ ‌ ‌ ‌
Thursday, October 20, 2022
Plus this week's best drops! ‌ ‌ ‌ ‌ ‌ ‌ ‌ ‌ ‌ ‌ ‌ ‌ ‌ ‌ ‌ ‌ ‌ ‌ ‌ ‌ ‌ ‌ ‌ ‌ ‌ ‌ ‌ ‌ ‌ ‌ ‌ ‌ ‌ ‌ ‌ ‌ ‌ ‌ ‌ ‌ ‌ ‌ ‌ ‌ ‌ ‌ ‌ ‌ ‌ ‌ ‌ ‌ ‌ ‌ ‌ ‌ ‌ ‌ ‌ ‌ ‌ ‌ ‌ ‌ ‌ ‌ ‌ ‌ ‌ ‌ ‌ ‌ ‌ ‌ ‌ ‌ ‌ ‌ ‌ ‌ ‌ ‌ ‌ ‌
👟 RESTOCKS: Off-White AF1 & Panda Dunk
Thursday, October 13, 2022
Affordable Grails Alternatives ‌ ‌ ‌ ‌ ‌ ‌ ‌ ‌ ‌ ‌ ‌ ‌ ‌ ‌ ‌ ‌ ‌ ‌ ‌ ‌ ‌ ‌ ‌ ‌ ‌ ‌ ‌ ‌ ‌ ‌ ‌ ‌ ‌ ‌ ‌ ‌ ‌ ‌ ‌ ‌ ‌ ‌ ‌ ‌ ‌ ‌ ‌ ‌ ‌ ‌ ‌ ‌ ‌ ‌ ‌ ‌ ‌ ‌ ‌ ‌ ‌ ‌ ‌ ‌ ‌ ‌ ‌ ‌ ‌ ‌ ‌ ‌ ‌ ‌ ‌ ‌ ‌ ‌ ‌ ‌ ‌ ‌ ‌ ‌ ‌