Inflation cools - Meditation vs antidepressants - Washington, DC sues NFL
11 NOV 2022
Facts, not fear.
TRENDING TOPICS
Tropical Storm Nicole's landfall • Inflation cools • World Cup abuses • Meditation vs antidepressants • Washington, DC sues NFL
FEATURED UNDER-REPORTED STORIES
US-Latin America relations • Regulating biofuel booms • Options trading wealth
You are on the free plan of The Factual


Get a free month of Premium for referring just 1 friend.


TRENDING TOPICS, MOST CREDIBLE STORIES
#1 in U.S. News • 73 articles
What has been the impact of Tropical Storm Nicole since it made landfall in Florida?
Highly-rated - last 48 hrs
Tropical Storm Nicole sends beachfront homes into ocean.
Associated Press (Moderate Left) • Factual Grade 76% • 5 min read


The storm, which caused at least two deaths, was the first November hurricane to make landfall in Florida in 37 years and only the third on record. It delivered another blow just weeks after Ian came ashore on the Gulf Coast, killing more than 130 people.
...
Gov. Ron DeSantis said at a Thursday news conference in Tallahassee that about 333,000 customers were without power at mid-morning, about 2.9% of the state's total. He said there were 17,000 electricity linemen ready to begin restoring power and that numerous other assets including rescue boats and vehicles will be deployed as needed.
...
Although Nicole's winds did minimal damage, its storm surge was more destructive than might have been in the past because seas are rising as the planet's ice melts due to climate change, said Princeton University climate scientist Michael Oppenheimer. It adds up to higher coastal flooding, flowing deeper inland, and what used to be once-in-a-century events will happen almost yearly in some places, he said.
Selected local viewpoint


Deadly Tropical Storm Nicole passes Orlando after overnight landfall as hurricane.
Orlando Sentinel (Moderate Right) • Factual Grade 76% • 12 min read
Selected long-read


Nicole is U.S.'s first November hurricane in 40 years — why climate change extends hurricane season.
MarketWatch (Center) • Factual Grade 78% • 5 min read
#2 in U.S. News • 42 articles
How did inflation change last month?




The Consumer Price Index rose 7.7% year-over-year in October, according the Bureau of Labor Statistics. That is less than the 8.0% estimate from economists surveyed by Bloomberg. O...


Full summaries, images, and headlines for subscribers only.
One payment. Once a year. $25

Upgrade Now


#1 in World News • 25 articles
What has a human rights group alleged about Qatar's World Cup labor practices?




While the report also documents a number of cases of good practice, including "adequate channels for reporting concerns with working conditions", good access to healthcare...


Full summaries, images, and headlines for subscribers only.
Free your time. Get rid of multiple news feeds.

Upgrade Now


#1 in Health News • 6 articles
What has a recent study indicated about meditation's potential in reducing anxiety?




[Researchers] took 276 adults diagnosed with untreated anxiety disorders and split them into two groups. One received a 10 to 20 mg daily dose of Lexapro. The other half was as...


Full summaries, images, and headlines for subscribers only.
Just the facts. Just about $2/mth.

Upgrade Now


TODAY'S POLL
Should psychiatrists prescribe meditation before resorting to antidepressants?
All votes are anonymous. This poll closes at: 9:00 PDT
Did the issue of abortion increase your likelihood of turning out for the midterms?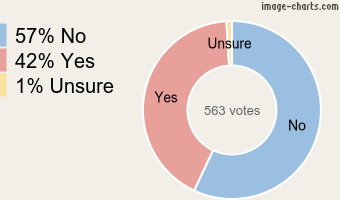 563 votes, 49 comments
Context: Debate as to how much the issue of abortion drove voter turnout.
HIGHLIGHTED COMMENTS
" No - I have voted in all 24 elections for which I have been eligible. More if you count school board and special elections. I have never voted based on a single issue. I make it a point to be informed about issues and candidates. I have never voted straight ticket because I believe party platforms are more talking points than legislative priorities. So, I usually look for candidates that seem informed, can articulate their positions well, and who have a track record of service and/or ethical behavior."
" Yes - Yes, I am a GenXer who has always been afforded the comfort of that right, and believe it should be there for others. We can't force people to be accountable for the decisions they make all the w..."
" No - Democrats had 2 years to codify abortion into law. The fact is they didn't want to do it much like Republicans didn't..."
#1 in Sports News • 32 articles
Why is DC suing the NFL, Washington Commanders, and the team's owner?




D.C. Attorney General Karl Racine alleges that "The Commanders, [team owner Daniel Snyder], the NFL, and [league commissioner Roger Goodell] misled fans about what was being done to address decades of sexua...


Full summaries, images, and headlines for subscribers only.
Multiple perspectives + Quick summaries = $25/yr

Upgrade Now


The Factual app. Faster reading. Always ad-free.
UPDATES & BREAKING NEWS

HIGHLY CREDIBLE, UNDER-REPORTED STORIES

EDITOR'S PICKS

Got feedback? Just reply to this newsletter and we'll respond within 48 hours.
Was this email forwarded to you? Sign up now to get The Factual in your inbox.
You received this email because you signed up for The Factual newsletter. Unsubscribe here.
The Factual, 55 E 3rd Ave, San Mateo, CA 94401, USA
Older messages