SoleSavy - 🗓 AJ1 Chicago - One More Week!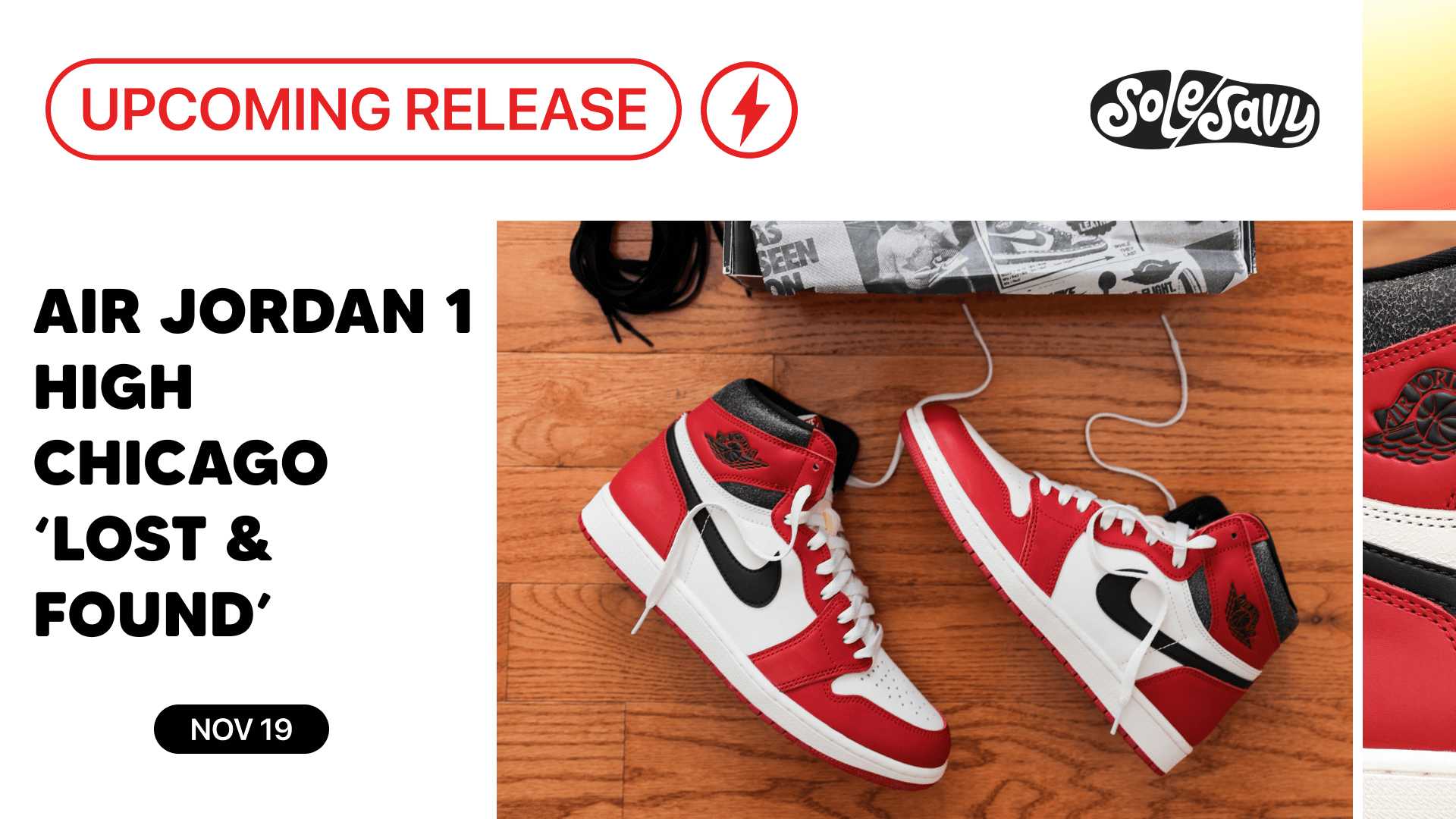 All the leaks and rumors are finally leading us to the biggest drop of the year. The Air Jordan 1 High Chicago 'Lost & Found' officially drops at Nike and at a plethora of other retailers on November 19!
We've set up a guide to give you a one-stop shop for information and release details you'll need to cop these for retail including a list of confirmed retailers, drop times and stock numbers. Bookmark it and check back often to stay up to date on this release!

For the ultimate advantage, we're prepping our members with our entire suite of tools. This includes:
🤐 Early insider industry information
⚡️ Drop Alerts to cop drops & restocks on mobile
🎟 Links to all store raffles as soon as they're made available
🖥 Auto-fill Chrome extension for the fastest desktop checkout
🎥 Live Release Zoom call walkthrough on drop day
📲 More membership perks like the DROPS App & COLLECT Marketplace

Sign up for our premium membership now to get yourself ready and give yourself the best chance to cop at retail.
Stay Savy-on-the-go
To stay connected with us, download the SoleSavy app to follow all news, upcoming events, and track the latest releases!
You're receiving this email because you created an account with SoleSavy. We will be sending you exclusive promotions, breaking SoleSavy news, and more.

© SoleSavy. All rights reserved
Key phrases
Older messages
💜 A Ma Maniére Jordan 4s are coming
Tuesday, November 8, 2022
What you need to know before the drop! ‌ ‌ ‌ ‌ ‌ ‌ ‌ ‌ ‌ ‌ ‌ ‌ ‌ ‌ ‌ ‌ ‌ ‌ ‌ ‌ ‌ ‌ ‌ ‌ ‌ ‌ ‌ ‌ ‌ ‌ ‌ ‌ ‌ ‌ ‌ ‌ ‌ ‌ ‌ ‌ ‌ ‌ ‌ ‌ ‌ ‌ ‌ ‌ ‌ ‌ ‌ ‌ ‌ ‌ ‌ ‌ ‌ ‌ ‌ ‌ ‌ ‌ ‌ ‌ ‌ ‌ ‌ ‌ ‌ ‌ ‌ ‌ ‌ ‌ ‌ ‌ ‌ ‌ ‌ ‌ ‌
Thursday, November 3, 2022
Rounding up the Jordan drops you can't miss! ‌ ‌ ‌ ‌ ‌ ‌ ‌ ‌ ‌ ‌ ‌ ‌ ‌ ‌ ‌ ‌ ‌ ‌ ‌ ‌ ‌ ‌ ‌ ‌ ‌ ‌ ‌ ‌ ‌ ‌ ‌ ‌ ‌ ‌ ‌ ‌ ‌ ‌ ‌ ‌ ‌ ‌ ‌ ‌ ‌ ‌ ‌ ‌ ‌ ‌ ‌ ‌ ‌ ‌ ‌ ‌ ‌ ‌ ‌ ‌ ‌ ‌ ‌ ‌ ‌ ‌ ‌ ‌ ‌ ‌ ‌ ‌ ‌ ‌ ‌ ‌
Friday, October 28, 2022
See the entire collection & its inspiration The Doernbecher x Nike Freestyle XVIII Collection SoleSavy is honored to be the Presenting Sponsor for the Nike x Doernbecher Freestyle XVIII. Since
Wednesday, October 26, 2022
and '85 AJ1s are back! ‌ ‌ ‌ ‌ ‌ ‌ ‌ ‌ ‌ ‌ ‌ ‌ ‌ ‌ ‌ ‌ ‌ ‌ ‌ ‌ ‌ ‌ ‌ ‌ ‌ ‌ ‌ ‌ ‌ ‌ ‌ ‌ ‌ ‌ ‌ ‌ ‌ ‌ ‌ ‌ ‌ ‌ ‌ ‌ ‌ ‌ ‌ ‌ ‌ ‌ ‌ ‌ ‌ ‌ ‌ ‌ ‌ ‌ ‌ ‌ ‌ ‌ ‌ ‌ ‌ ‌ ‌ ‌ ‌ ‌ ‌ ‌ ‌ ‌ ‌ ‌ ‌ ‌ ‌ ‌ ‌ ‌ ‌ ‌ ‌ ‌ ‌
Thursday, October 20, 2022
Plus this week's best drops! ‌ ‌ ‌ ‌ ‌ ‌ ‌ ‌ ‌ ‌ ‌ ‌ ‌ ‌ ‌ ‌ ‌ ‌ ‌ ‌ ‌ ‌ ‌ ‌ ‌ ‌ ‌ ‌ ‌ ‌ ‌ ‌ ‌ ‌ ‌ ‌ ‌ ‌ ‌ ‌ ‌ ‌ ‌ ‌ ‌ ‌ ‌ ‌ ‌ ‌ ‌ ‌ ‌ ‌ ‌ ‌ ‌ ‌ ‌ ‌ ‌ ‌ ‌ ‌ ‌ ‌ ‌ ‌ ‌ ‌ ‌ ‌ ‌ ‌ ‌ ‌ ‌ ‌ ‌ ‌ ‌ ‌ ‌ ‌