Foundr - 9 Free Courses?! [48 Hours Only]
Hi ,

Just a quick reminder that you have 48 hours left to invest in your learning at the biggest discount we've ever offered…and get an extra course absolutely free.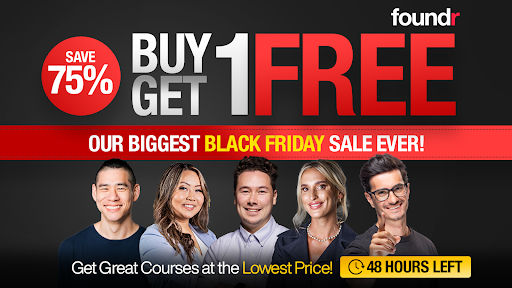 These proven business building blueprints ensure that unlike others…
Your 2023 isn't limited by fear, recession talk, or feeling stuck.
But instead you'll be energized, taking laser focused action, and avoiding mistakes by following step-by-step frameworks.
You'll be the "weird one" who's actually thriving in uncertain times…
The one making daily progress and making money online…
And the one even in a position to quit your full-time job if you choose!
That's what this "Biggest Black Friday Sale Ever" is all about.
Because we both know the difference between a "dream 2023" and a "gloomy 2023" that looks like what all the "naysayers" are saying it will be for all of us…
Is decided by the actions we take RIGHT NOW…
And by the things we learn and the mentors we follow.
Get 75% Off + A Free Course Of Your Choosing
Note: This first-ever deal ends in 48 hours. Then it's over for good.
Carpe Diem.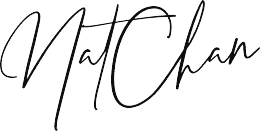 Nathan Chan
CEO, Founder of Foundr
P.S. Want to see all the premium programs included in this deal? Here they are:
Start & Scale Your Online Store
Instagram Domination
How To Run Facebook Ads
How To Master YouTube Ads
Infinite Income On Amazon
Rapid Course Formula
Ignite Your Digital Agency
How To Run TikTok Ads
Find Your Dream Clients
P.P.S. If you're not interested in receiving emails about our Black Friday offer, click here & we will only send you content relevant to your entrepreneurial journey.
Older messages
Friday, November 25, 2022
Biggest sale ever is ending soon. Hi , For the next 72 hours, when you claim Foundr's Biggest Black Friday Deal Ever… You'll save 75% and pay the lowest price we've ever offered… And then
Don't regret missing this deal…
Thursday, November 24, 2022
Free courses for Black Friday and more! Hi , Don't miss out on the biggest Black Friday Sale we've ever done. Click here and see all the free courses we're giving away. Build a profitable
Buy 1 Get 1 Free - Limited Time
Wednesday, November 23, 2022
Plus get 75% off. Deal ends soon. Hi , If you haven't heard, for the first-time in Foundr history, we're giving you… 75% off any of these 9 courses below… Plus you get to choose another one
🎁 Free Gift: Start & Scale Course!
Tuesday, November 22, 2022
Or choose Instagram Domination… Hi , This choice and business building skill could easily change your life forever… You can learn how to start your own ecommerce business from scratch… From Shopify-
Monday, November 21, 2022
Only while Black Friday deal is live! Hi , Want the biggest and best Black Friday deal we've ever done? While others are worried about a recession in 2023, you'll be getting mentored by world-