Executive order on guns - ChatGPT sequel released - Forever chemical regulations
15 MAR 2023
Facts, not fear.
TRENDING TOPICS
Forever chemical regulations • Executive order on guns • US-Russia drone collision • California gig worker ruling • GPT-4 release
FEATURED UNDER-REPORTED STORIES
New city construction • Military recruitment crisis • Female teacher pay
You are on the free plan of The Factual


Get a free month of Premium for referring just 1 friend.


TRENDING TOPICS, MOST CREDIBLE STORIES
#1 in U.S. News • 34 articles
Why is the EPA proposing limits on PFAS chemicals in drinking water?
Source: Centers for Disease Control and Prevention
Summary

The EPA has proposed rules for the presence of six PFAS chemicals in water. It is the first national drinking water standard related to PFAS, also known as "forever chemicals" because of their high durability in the environment and body. There are thousands of PFAS chemicals. The EPA targeted six because the evidence they harm health is clearest for those.

The standard limits two chemicals, PFOS and PFOA, to four parts per trillion. Treatment is required if a combination of four other chemicals reach a certain level. PFAS can be found in about 98% of the US population, although most were phased out of use in manufacturing years ago. The EPA says its proposal, which is still in a public comment period, will prevent thousands of deaths and tens of thousands of serious illnesses.

The rule may overhaul the nation's water infrastructure. Water systems would need to assess their PFAS levels and if needed, treat the water or switch to other sources. Industry groups said the proposed limits are too low, and questioned the scientific basis for them.

Highly-rated - last 48 hrs
EPA proposes standards to make drinking water safer from PFAS.
CBS News (Moderate Left) • Factual Grade 82% • 6 min read

Different political viewpoint


EPA proposes limits for "forever chemicals" in drinking water.
Wall Street Journal (Moderate Right) • Factual Grade 68% • 7 min read
Selected long-read


Why EPA's long-awaited proposal on 'forever chemicals' is bound to be controversial. (2022)
STAT News (Center) • Factual Grade 79% • 12 min read
#2 in U.S. News • 31 articles
How will President Biden's new executive order impact gun control?




President Biden signed an executive order on Tuesday that is aimed at tackling gun violence. Citing authority from a bipartisan gun law that was passed last year, the order directs the attorney general to cla...


Full summaries, images, and headlines for subscribers only.
One payment. Once a year. $25

Upgrade Now


SPECIAL COVERAGE: UKRAINE


#1 in World News • 36 articles
What is known about an apparent collision between US and Russian aircraft?




On Tuesday an American MQ-9 Reaper drone appeared to have collided with a Russian fighter jet over the Black Sea. The US was forced...


Full summaries, images, and headlines for subscribers only.
Free your time. Get rid of multiple news feeds.

Upgrade Now


#1 in Business News • 15 articles
How did an appeals court rule on California's gig work regulations?




A California appeals court has upheld a 2020 state ballot initiative classifying some gig workers as independent contractors. Proposition 22, as it is called, was created to oppose a...


Full summaries, images, and headlines for subscribers only.
Just the facts. Just about $2/mth.

Upgrade Now


TODAY'S POLL
Should Uber and Lyft drivers be classified as employees?
All votes are anonymous. This poll closes at: 9:00 PDT
Do you agree with the Biden administration's approval of a large drilling project in Alaska?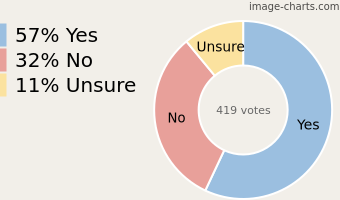 419 votes, 52 comments
Context: President Biden approves controversial Willow Project in Alaska.
HIGHLIGHTED COMMENTS
" Yes - ConocoPhillips discovered this oil field in 2016, and has since spent hundreds of millions of dollars in appraisal drilling and project planning costs. They have spent nearly five years meeting all the regulatory and environmental study requirements. There is no legal basis to deny them approval of this project. The oil and gas produced by the Willow project will be needed to meet the demand for reliable energy while alternative energy sources are still ramping up. So stopping this project would only serve to increase future energy costs."
" No - Absolutely not, the environmental devastation and climate change effects should be more than enough to stop it with ..."
" Unsure - Although our energy future will shift away from fossil fuels, we will still need them for a long ..."
#1 in Tech News • 41 articles
What are the latest developments in generative AI?




OpenAI, the company that manages ChatGPT, announced the latest iteration of its foundational generative AI system: GPT-4. The company says it performs significantly better than the GPT-3.5 model that powers...


Full summaries, images, and headlines for subscribers only.
Multiple perspectives + Quick summaries = $25/yr

Upgrade Now


No more paywalls
When you share The Factual
Step 1: Refer friends to start a trial with The Factual
Step 2: At each reward level, get a free 1-year digital subscription or donate to a charity of your choice
Your referral count: 0
You can also copy & paste your referral link:
https://thefactual.com/?refid=27228436
UPDATES & BREAKING NEWS

HIGHLY CREDIBLE, UNDER-REPORTED STORIES

EDITOR'S PICKS

Got feedback? Just reply to this newsletter and we'll respond within 48 hours.
Was this email forwarded to you? Sign up now to get The Factual in your inbox.
You received this email because you signed up for The Factual newsletter. Unsubscribe here.
The Factual, 55 E 3rd Ave, San Mateo, CA 94401, USA
Key phrases
Older messages