Loosening child labor laws - Weed legalization fails - UK asylum changes
9 MAR 2023
Facts, not fear.
TRENDING TOPICS
Louisville police conduct • Oklahoma rejects recreational weed • Arkansas child labor law • UK asylum changes • Georgia protests
FEATURED UNDER-REPORTED STORIES
Taxing the affluent • Social effects of fatherlessness • Exploiting office abandonment
You are on the free plan of The Factual


Get a free month of Premium for referring just 1 friend.


TRENDING TOPICS, MOST CREDIBLE STORIES
#1 in U.S. News • 36 articles
What are the Justice Department's findings on the conduct of Louisville police?
Source: Associated Press
Summary

Findings from the Justice Department's two-year investigation into the Louisville Metro Police Department (LMPD) were released on Wednesday. The report was commissioned after the 2020 death of Breonna Taylor.

Attorney General Merrick Garland said that the LMPD "cites people for minor offenses [...] while serious crimes [...] go unsolved." The report found incidents of officers calling Black people "monkey" or "boy," and said the LMPD unlawfully executes search warrants and uses excessive force, among other things. It also found that Black motorists were twice as likely to be searched as white ones.

The Department outlined 36 remedial measures for the LMPD to take and said the city has agreed to let a judge monitor its progress in adopting the reforms. The associate attorney general said similar consent decrees have significantly reduced police use of force in Baltimore, Seattle, and Albuquerque. Some of the measures, such as a ban on no-knock warrants, have already been implemented by the city.

Highly-rated - last 48 hrs
AG Merrick Garland issues scathing report into Louisville police practices.
USA Today (Moderate Left) • Factual Grade 73% • 6 min read

Different political viewpoint


Justice Department probe finds illegal, violent, and discriminatory policing in Louisville, Kentucky.
Reason (Moderate Right) • Factual Grade 67% • 4 min read
Selected long-read


Federal civil rights investigations are not the only way to check for police misconduct. (2022)
Marshall Project (Center) • Factual Grade 81% • 5 min read
#2 in U.S. News • 22 articles
Why did Oklahoma voters reject the legalization of recreational marijuana?




Oklahoma voters rejected a ballot measure that would have legalized recreational marijuana use for those older than 21 by a margin of 63% to 38%. Advocates of legalization had argued that it was a justice issue, as th...


Full summaries, images, and headlines for subscribers only.
One payment. Once a year. $25

Upgrade Now


#3 in U.S. News • 10 articles
How is Arkansas changing its child labor laws?




This week Arkansas Gov. Sarah Huckabee Sanders signed The Youth Hiring Act. The law removes the requirement that children under 16 seeking work acquire state certificates that document their age and proof of p...


Full summaries, images, and headlines for subscribers only.
Free your time. Get rid of multiple news feeds.

Upgrade Now


TODAY'S POLL
Should children under the age of 16 be allowed to work without state approval?
All votes are anonymous. This poll closes at: 9:00 PDT
Would concerns about safety keep you from traveling to Mexico?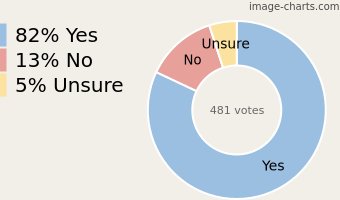 481 votes, 53 comments
Context: Four American tourists kidnapped after being caught in cartel conflict in Mexico; two die.
HIGHLIGHTED COMMENTS
" Yes - I have traveled all over Mexico 100s of times in the last 50+ years. There has always been an element of corruption and violence brought on by the drug cartels. The instances of violence, kidnappings, disappearances, etc of tourists has been on the increase over the last 10 years to the point where I no longer want to risk myself, family or friends becoming victims. This is very unfortunate as Mexico is rich in culture and has a lot to offer. "
" No - I'm just going to add a little quote I was told in Mexico. I had my wedding there and spent a good amount of tim..."
" Unsure - It depends on both why I was traveling to Mexico and where I would be going in Mexico. Would I go somewhere for pu..."
#1 in World News • 52 articles
What is the UK government's planned asylum law reform?




Prime Minister Rishi Sunak has been facing backlash for his administration's new asylum policy proposal, which was announced on Tuesday. The bill would automatically deport all who enter the United Kingdom illeg...


Full summaries, images, and headlines for subscribers only.
Just the facts. Just about $2/mth.

Upgrade Now


#2 in World News • 27 articles
Why are thousands protesting a new law in Georgia?




Thousands have taken to the streets in the Republic of Georgia in recent days, to protest Parliament's consideration of a...


Full summaries, images, and headlines for subscribers only.
Multiple perspectives + Quick summaries = $25/yr

Upgrade Now


The Factual app. Faster reading. Always ad-free.
UPDATES & BREAKING NEWS

HIGHLY CREDIBLE, UNDER-REPORTED STORIES

EDITOR'S PICKS

Got feedback? Just reply to this newsletter and we'll respond within 48 hours.
Was this email forwarded to you? Sign up now to get The Factual in your inbox.
You received this email because you signed up for The Factual newsletter. Unsubscribe here.
The Factual, 55 E 3rd Ave, San Mateo, CA 94401, USA
Key phrases
Older messages