Demand Curve - The Growth Newsletter #113
The Growth Newsletter #113

Greetings everyone. Spring is springing. AI is exploding. The economy is shrinking. The '20s really have been a strange decade thus far. And I'm excited to see where it goes from here.

One thing I'm sure of is that the rate of technology will continue to exponentially increase. As will the amount of work that can be done per person. More people will start more companies and work for themselves. And we'll be here to help make the growth part a bit easier :)
Without further ado, this week we cover cart abandonment, unconventional subscribers, and 80/20 influencer marketing.
As always, if you don't find this valuable, you can unsubscribe at the bottom of this email.
–Neal
Together with Superside
There's a new way to get creative assets—and it's called Creative-as-a-Service (CaaS).
It's ideal for when internal teams are stretched thin and the typical outsourcing solutions aren't able to deliver creative work at the scale, speed, and quality you need. 
Superside's Creative-as-a-Service combines the top creative talent from around the world, enabling you to produce creative assets twice as fast and at half the cost.
The designers can even start your projects in under 30 minutes and at any time of the day (yes, even at 3 AM).
"I see you started an order but didn't get around to completing it. Here's a free one to try..."

When asked whether this tactic worked, KetoneAid's founder Frank said:

"The cost of posting a can is $10. People get hooked and buy subscriptions. And the lifetime value of a subscriber is $3,000." 
For a kinda strange new product that people aren't sure they're gonna like, they definitely want to try it before committing to a $79 12-pack.
This tactic does a few things:
Handles buyers' biggest objection—knowing if they'll like it.
Surprises and delights people—and as we've said, delight is the best way to build brand loyalty.

Gives them a coupon for free shipping to sweeten the deal further.
Humanizes the brand. Frank's upfront about it costing $50 normally. It uses his name and is written in first person (even the coupon code uses his name).
2. Three unconventional ways to get more subscribers from social media
Insight from Alex Llull.
What doesn't work: Just dumping a link to your newsletter in a post or your bio. 
Mix up your strategy by trying one or more of these three creative methods.
1. Newsletter ad break – Twitter
Threads are all the rage (see the Something Fun today)—and they often end with a signup CTA. But people often leave before they get there.
So instead of making this CTA your final tweet, try plugging your newsletter in the middle. Example here.
2. Before-after – LinkedIn and Twitter
Share a new issue of your newsletter on these two occasions:
The day before you send it: Give a sneak peek of what it'll cover. Tell users to sign up so they can find out more.
The day after sending:

Broadly recap what your email covered. Then encourage users to sign up so they don't miss the next one.
Here's an example from Justin Welsh: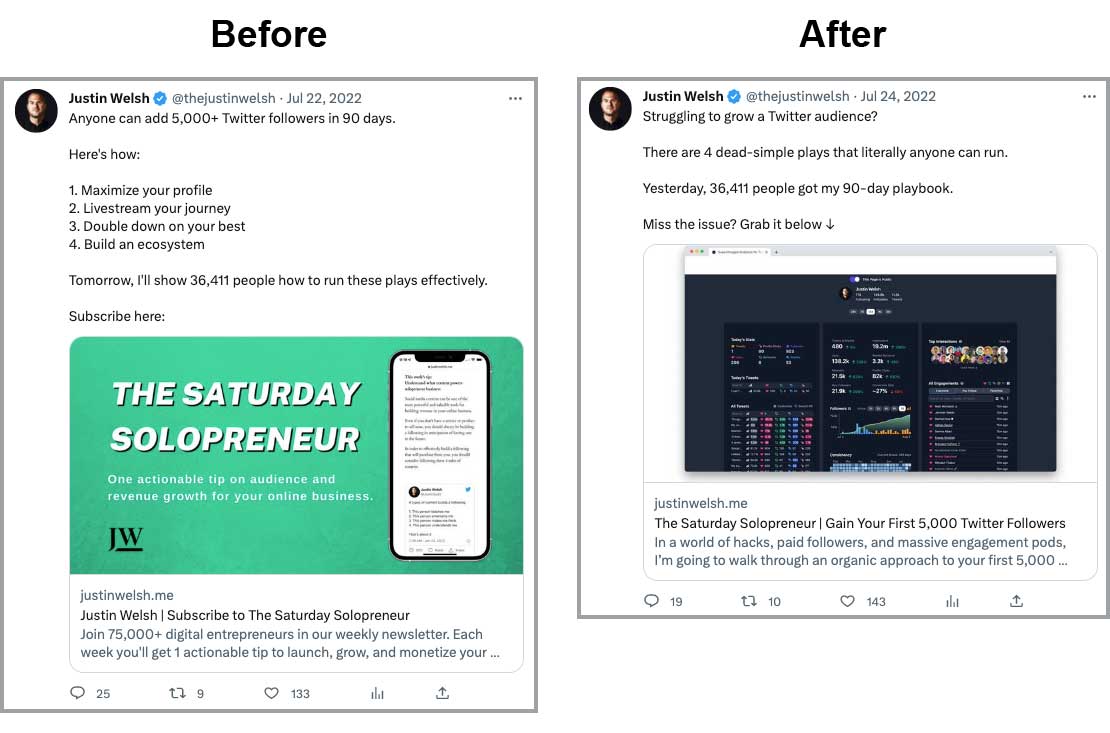 3. Leverage social proof – everywhere
Whenever you get a nice review/testimonial, take a screenshot and use it to promote your newsletter (or product!). Often, this causes your biggest fans to flock and give you even more reviews/testimonials to use too.
Katelyn Bourgoin does this a lot: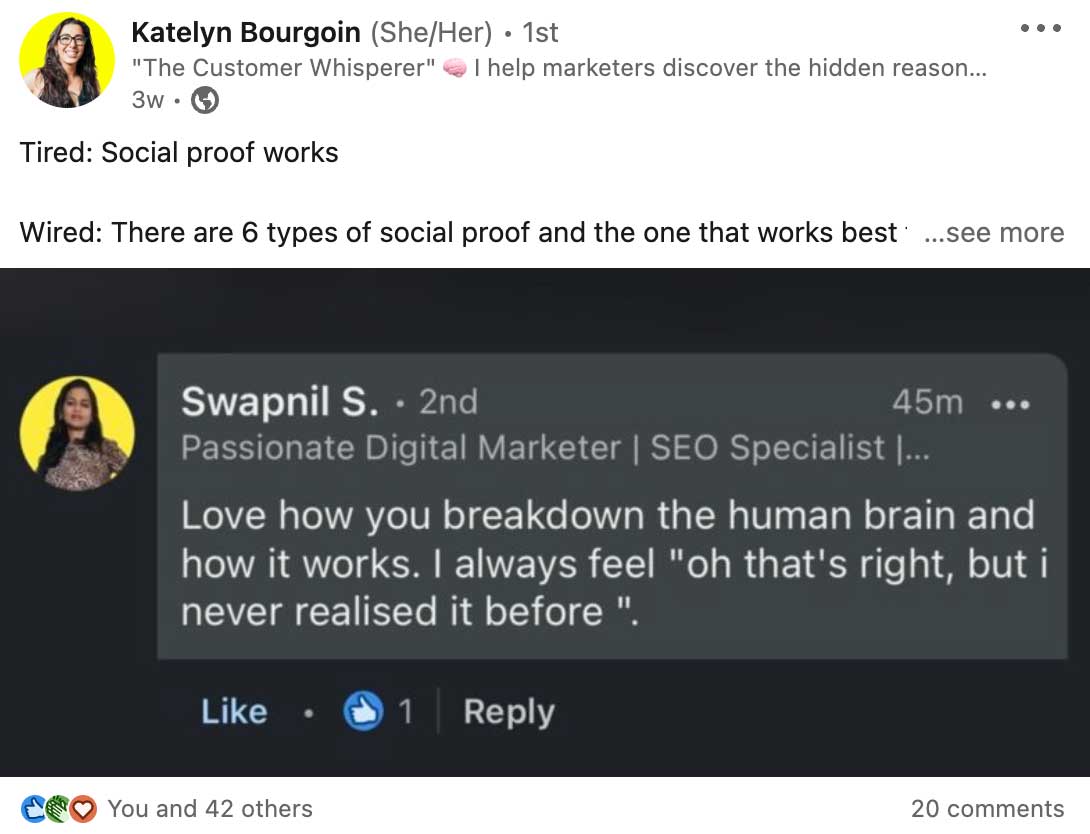 3. 80/20 influencer marketing strategy
Insight from Stephanie Jiang.
We love nuance. But nuance sucks when you just wanna take action. Here's an 80/20 way to land on an influencer marketing strategy.
First, ask these four questions:
What exactly are you looking for from an influencer partnership? Choose only one: content, revenue, or brand awareness.

What's your main KPI? $$$, subscribers, demos, eyeballs?

What's your budget?

If you've got an influencer in mind, do they have a record of delivering on what you're looking for?
Use these answers to choose which influencers to partner with for the best ROI.
Three guiding principles based on your main objective:
If you're looking for reusable content, prioritize nano-influencers and small-time creators who can create TikTok-style ads for $200-$350.
If you want to drive revenue, identify macro-influencers with strong engagement—take a look at their comments to find this out. Expect to pay $10-$15k for 100k views on YouTube or Instagram.
If you want to increase brand awareness, you've got two routes:

Parade: Send your products to a lot of nano-influencers. This is ideal for companies that don't have much budget but have low product costs.
Revolve: Identify a few big influencers (600k+ followers) for long-term partnerships requiring content creation. This is best for companies with big budgets and products that are too expensive to give freely in bulk.
There's a ton more nuance to every bulletpoint, but this is a great place to start.
4. How we improved our homepage
Sponsored by Oddit.
A few weeks ago, we submitted our homepage and quickly got back this image:
We realized that they were actually pretty good changes that made the page more compelling, readable, and more likely to convert.
We got it from Oddit.
They provide UX teardowns for sites to boost conversions & strengthen brand loyalty. They're offering a free user experience teardown to every reader of Demand Curve!
Let's breakdown the smart suggestions they made:
They made the banner text bolder and easier to read. Way better on mobile.

They broke up our 3 paragraphs of text into one, and highlighted the key features of "Free" and "Once a week."

They suggested a testimonial right before the form (social proof is strong).

They suggested making button text larger and bolder (easier to read) and make it more explicit what they were signing up for.

Added a link to say "hey, we sell courses too, we're not just a newsletter."

And added the 5 stars above the social proof.
It was free, and very helpful.
Get your own free UX teardown for your site. No downside in trying.
News you can use:
SEO Service we recommend: dofollow.io*
Most link-building agencies use outdated methods and build low-quality links on link farms. They hurt more than they help.
dofollow.io specializes in building links on the largest websites for B2B/SaaS companies. Turn your website into a traffic & lead gen machine with links from major sites like HubSpot, BigCommerce, Business Insider & more.
If you're investing in SEO, get in touch with dofollow.io. They're pay-for-performance, and they focus only on quality links.
*Sponsored by dofollow.io
Top new marketing jobs
If you're looking for a top growth role, check out the opportunities below from our job board.
What did you think of this week's newsletter?
Loved it | Great | Good | Meh | Bad
If you enjoyed this, please consider sharing it with a friend. The number one way to support us is to share us with fellow founders and marketers.

Who's Demand Curve?
We're on a mission to help make it easier to start, build, and grow companies.
We share high-quality, vetted, and actionable growth content as we learn it from the top 1% of marketers. We democratize senior growth knowledge.
How we can help you grow:
See you next week.
— Neal, Grace, Joyce, Dennis, and the DC team.
© 2023 Demand Curve, Inc. All rights reserved.
4460 Redwood Hwy, Suite 16-535, San Rafael, California, United States
Unsubscribe from all emails, including the newsletter, or manage subscription preferences.

Key phrases
Older messages
Tuesday, March 21, 2023
Objection Smashers, 5 questions for better messaging, and Shiny Objective Syndrome ‌ ‌ ‌ Demand Curve The Growth Newsletter #112 Read on demandcurve.com Welcome everyone! We're now almost 25% of
Tuesday, March 14, 2023
3 rules of 3, 3 questions for adopting features, and 3 things I learned from Ali Abdaal ‌ ‌ ‌ Demand Curve The Growth Newsletter #111 Read on our site Happy almost St. Patrick's Day! With a last
Tuesday, March 7, 2023
Averted gazes, TikTok growth, and gamified free trials. ‌ ‌ ‌ Demand Curve The Growth Newsletter #110 Read on our site Hey everyone! This week we cover averted gazes, TikTok growth, and gamified free
New Sprint: Creative Strategy (20% off)
Monday, March 6, 2023
Hey there, Paid marketing is dying. Most marketers think this is true. They see things like: random spikes in growth but nothing meaningful metrics constantly going in the wrong direction And no matter
Tuesday, February 28, 2023
Emotional hooks, value prop stories, and useful ChatGPT prompts. ‌ ‌ ‌ Demand Curve The Growth Newsletter #109 Read on our site Hello and welcome! This week we cover emotional hooks, value prop stories