Foundr - ⛸️ This was pure accident
Hi ,
When I first started Foundr, it was by pure accident.
I was working in an IT job, which I wasn't getting joy from. 
I wanted to get a job in marketing, and so I went down this pathway of studying for a master's of marketing and then wanting to exercise my marketing skills. 
I thought that I could marry my passions with online marketing. I was looking to launch this magazine because I thought digital magazines were the future. 
This was 10 years ago.
Over the past decade, I've learned a ton about starting a company, building a community, scaling a business, collaborating with a team, managing work-life balance, growing as a person, and so much more.
At Foundr, we demystify all of that, share stories from my own experience as well as other successful founders, and empower as many people as possible to define success on their terms.
How bad do you want it?
If you're really serious about building your own ecommerce business in 2023, we're going to help you do it faster.
That's what this special Summer foundr+ sale is all about. It's the best deal we've ever made, taking you by the hand to help you build any business faster…no matter your experience level.
Here's just some of what you're getting:
27+ cutting-edge programs with proven frameworks on ecommerce and more (skip the years of trial and error)

The biggest foundr+ discount ever (start fast, cheaper)

2 live q&a instructor calls each month (see what's working now)

$250k+ of savings with foundr+ startup tools (save on IT costs!)

Private community of 30k+ like-minded entrepreneurs (get feedback)
Plus you'll get instant access to every new course we release. 
That even includes the newest update to our legendary "How to Run Facebook Ads" course which includes 2 new instructors sharing, among other things, how they use their ad creatives to call out their target audience and how they tap into first-party data to optimize and scale their ad spend profitably.
You get that and more free when you join foundr+ today.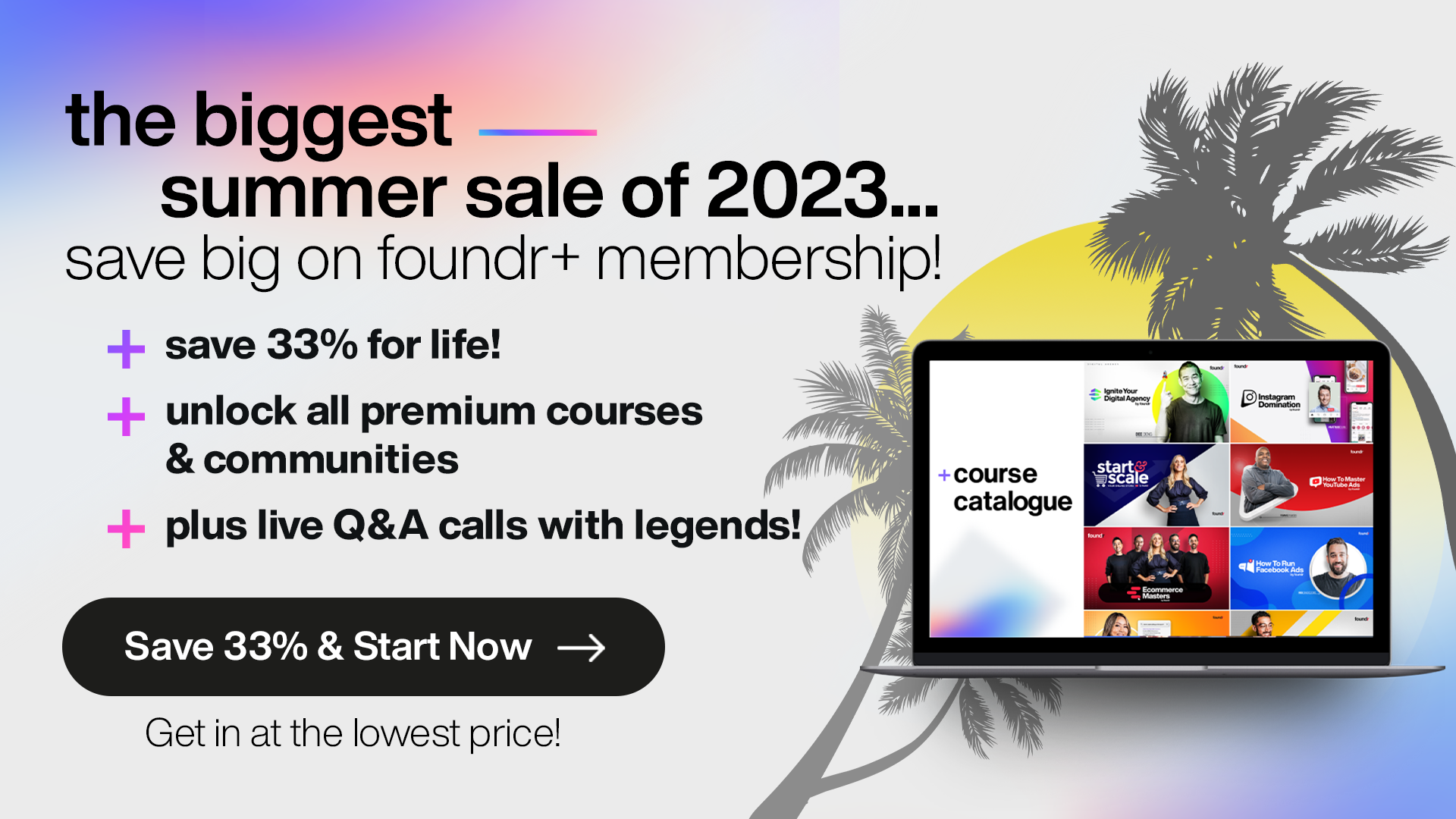 For a limited time, you can get everything for just $83.25 a month ($2.73 a day). That's the lowest we've ever offered it at and the absolute lowest it'll ever be.
There's no need for us to "overhype" this… 
We'd obviously love to have you join us and grow your business faster inside the foundr+ private community, but we also know a deal this good should sell itself for the right person.
If that's you, claim this deal before it ends.
Less than a cup of coffee a day to build your dream business. If you're ready to build, we're ready to help.
Start today.
Nathan Chan
CEO
P.S. While we have countless testimonials that show how life-changing our online programs can be (you can see case studies here), we also know today the world is changing faster than ever before…
That's why with foundr+ you also get 2 LIVE q&a calls with world-renowned instructors each month! The on-demand courses give you proven frameworks to follow to build faster, while these live calls give you timely answers to any questions you have about what's working right now.
Check out the biggest summer sale for foundr+ here
P.P.S. Opt out text and link here

Key phrases
Older messages
Friday, June 2, 2023
plus powerful motivation Hi , One of my most powerful entrepreneurial lessons came when I was pursuing my first job—at McDonald's. After getting turned down at one location, I dropped off my resume
🚨 6 hours to go - Memorial Day sale
Thursday, June 1, 2023
We have to remove it by then Hi , In 6 hours, we'll be closing doors to this: The Memorial Day sale for foundr+ membership Foundr+ will help you: Start a business from scratch Scale your existing
⏰ 12 hours left for Memorial Day sale
Thursday, June 1, 2023
ends today Hi , Keeping it short… Just 12 hours to go! Grab your special Memorial Day deal for foundr+ our flagship membership that grants you instant access to… 27 premium cutting-edge courses on
Fwd: 🇺🇲 24 hours left for 's Memorial Day savings
Thursday, June 1, 2023
hurry up and claim the deal Hi , Just a friendly reminder that less than 24 hours from now we'll be removing this special Memorial Day deal for our flagship foundr+ membership. Even though you'
🇺🇲 big foundr+ sale for 48 hours only
Wednesday, May 31, 2023
Memorial Day Hi , 48 hours left. We can only keep this special Memorial Day deal for our new foundr+ membership till 11:59 pm this Thursday. Costs less than $7 a day… And will make it easy for you to