Dreadful emulation, Sora in Smash, and OLED envy
Your Nintendo digest for the week ending October 10.
Web version | Unsubscribe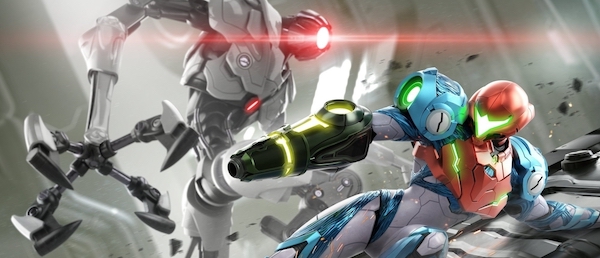 Hello, Chris here with issue #252 of Switch Weekly.
I had to tear myself away from playing Metroid to actually sit down and get this week's issue together — hats off to Mercury Steam, it's rather good. 😁
Beyond Metroid, this week also saw new hardware arrive with the fancy new OLED model. I said to myself I wasn't going to get one (my original Switch still works fine!) — but seeing lots of you sharing your pick-ups on Twitter and over on the Discord has proven mighty tempting. 😆 BTW, if anyone wants an invite to the Switch Weekly Discord, just hit reply and let me know, it's a rather nice, inclusive community if I do say so myself.
Anyway, a big issue this week with plenty for you to check out. Just under 30 games are coming over the next seven days, including Disco Elysium.

That's all from me.

Cheers,
Chris ✌️
🎮 Currently Playing — Metroid Dread, Super Monkey Ball: Banana Blitz
🎮 Upcoming Releases

All releases are digital, Europe & U.S. unless otherwise stated.
Release data sourced in collaboration with Switch Scores.
⭐️ = Ones to Watch | 📦 = Physical release | 🎮 = Demo available
Tuesday, October 12
Wednesday, October 13
Thursday, October 14
Friday, October 15
---
❤️ Switch Weekly remains accessible and sustainable thanks to the ongoing support of my absolutely amazing patrons, including:

PC, CapnGoat, SB, FrozenTrout, JR, MindFad, Greg, Michael Fairley, Chris D, and others — why not join them?

Switch Weekly is sent once weekly. If you're no longer interested, you can unsubscribe.

This newsletter may contain affiliate links, which help keep the newsletter sustainable.

🌳
In an effort to offset the carbon of sending this newsletter a tree is planted for every issue sent.

Copyright © 2021 Switch Weekly - Chris Brandrick, All rights reserved.
Made in Europe.
Key phrases
Older messages
Nintendo's 4K problem, OLED and Dread imminent
Sunday, October 3, 2021
Your Nintendo digest for the week ending October 03. 11 devs, 4k res, 1 rebuttal. Web version | Unsubscribe Switch Weekly Issue 251 — October 03, 2021 Super Monkey Ball Banana Mania Hey, here's
So, how about that Nintendo Direct...
Sunday, September 26, 2021
Your Nintendo digest for the week ending September 26. Leaky Kirb. Web version | Unsubscribe Switch Weekly Issue 250 — September 26, 2021 Kirby for Nintendo Switch Hi, Chris here with issue #250 (250!)
I'm still legit shocked at the Bluetooth audio news
Sunday, September 19, 2021
Your Nintendo digest for the week ending September 19. Switching to wireless. Web version | Unsubscribe Switch Weekly Issue 249 — September 19, 2021 Splatoon 2 AirPods Hey, Chris here with issue #249
back with some Wario reviews and Nintendo news
Sunday, September 12, 2021
Your Nintendo digest for the week ending September 12. WAH. Web version | Unsubscribe Switch Weekly Issue 248 — September 12, 2021 WarioWare: Get It Together Hi, here's issue #248 of Switch Weekly
No More Heroes wraps and MLK in Fortnite
Sunday, August 29, 2021
Your Nintendo digest for the week ending August 29. Emargo. Web version | Unsubscribe Switch Weekly Issue 247 — August 29, 2021 No More Heroes III Hey, Chris here with issue #247 of Switch Weekly and