No More Heroes wraps and MLK in Fortnite
Your Nintendo digest for the week ending August 29.
Web version | Unsubscribe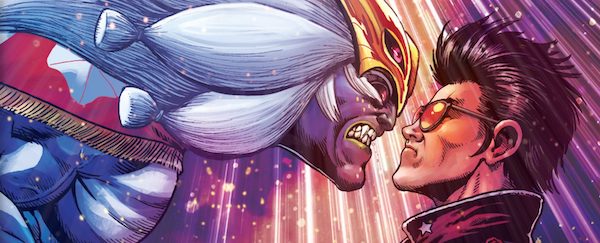 Hey, Chris here with issue #247 of Switch Weekly and your Nintendo round-up.
This week saw the release of No More Heroes III and Baldo. Unrelated games of course, but they both seemed to have botched the handling of their reviews in some way or another.
The red flag was raised for No More Heroes III when it came to light that the review embargo (when coverage can go live) wasn't to be lifted until nine hours after the game came out. This is usually a big, bad sign that the publisher isn't overly confident in the product. A fair bit of backlash on this odd timing stipulation arose, and the publisher did thankfully change course, but only slightly. The publisher said the original embargo was set to minimize the chance of spoilers. Anyway, worry not — as reviews are now live, and SUDA 51s latest has been rather warmly received. More on that in the issue below.
As for Baldo, from what I can gather journalists didn't even get copies to review until the day before release — as such I've got no review of the Switch version to share with you this week. Initial impressions don't seem overly generous though. I've seen it described as beautiful, but very unpolished, with bugs to boot. If you really wanted an easier way to try it yourself it is available as part of the Apple Arcade sub. A shame, as this looked the part.
So yeah, embargos aren't going anywhere, but I think we can all read between the lines when situations like these occur by exercising a bit of caution. More tranparency all round on stuff like this can't hurt either!
---
Next, I want to talk briefly about Fornite. Epic revealed a new interactive experience for the game this week dubbed 'March Through Time' — and it immediately drew criticism for not really hitting the mark. In essence this in-game experience focused on Martin Luther King Jr's "I Have a Dream" speech, putting a digital museum of sorts into Fortnite, along with with a space to gather and watch the remarkable civil rights speech.
Fortnite, being the third place that it is, does have a varied history of creating largely compelling digital spaces for events, be that an in-game concert, or public relations special. This one however, didn't get it right.
For many I think the sheer juxtapostion of it all is what the sticking point is. I think the intent here is probably good, and Fornite (or similar) can no doubt be used as an effective digital education tool, but ultimately I think it's fair to say having a civil rights icon talking about racial equality in a silly cartoon shooter is generally objectionable; "tonal dissonance" is right. For what it's worth: The King Center was not involved.
I'm all for games teaching history, but this is just one big grimace emoji: 😬
---
Right, so next week there's over 30 games coming to the Switch. Full list is below.
Finally, the newsletter will be taking a rare break next week. I'm heading away for a few days — I'd say to relax, but with a toddler I know it'll be anything but relaxing 😅 ...but hey, a trip to the zoo will be nice too. 😄
If you enjoy these Nintendo updates you can buy me a coffee to keep me going.
I'll be back on September 12th.
Catch you then,
Chris ✌️
🎮 Currently Playing — Townscaper, The Legend of Zelda: Skyward Sword HD, Button City
🎮 Upcoming Releases

All releases are digital, Europe & U.S. unless otherwise stated.
Release data sourced in collaboration with Switch Scores.
⭐️ = Ones to Watch | 📦 = Physical release | 🎮 = Demo available
Tuesday, August 31
Wednesday, September 1
Thursday, September 2
Friday, September 3
---
❤️ Did you know: Switch Weekly remains accessible and sustainable thanks to the ongoing support of my amazing patrons, including:

PC, CapnGoat, SB, FrozenTrout, JR, MindFad, Greg, Michael Fairley, Chris D, and others — join them.

Switch Weekly is sent once weekly. If you're no longer interested, you can unsubscribe.
This newsletter may contain affiliate links, which help keep the newsletter sustainable.
In an effort to offset the carbon of this newsletter a tree is planted for every issue sent.

Copyright © 2021 Switch Weekly - Chris Brandrick, All rights reserved.
Made in Europe.
Older messages
So, Legends is looking better
Sunday, August 22, 2021
Your Nintendo digest for the week ending August 22. Stick on. Web version | Unsubscribe Switch Weekly Issue 246 — August 22, 2021 Pokemon Brilliant Diamond and Shining Pearl Hi, Chris here with another
Indie updates and Axiom arrives
Sunday, August 15, 2021
Your Nintendo digest for the week ending August 16. On the verge... Web version | Unsubscribe Switch Weekly Issue 245 — August 16, 2021 Axiom Verge 2 Hi, Chris here with issue #245 of Switch Weekly.
Switch surpasses PS3 and Xbox 360, plus OLED impressions
Sunday, August 8, 2021
Your Nintendo digest for the week ending August Sunday. Watch out Wii Web version | Unsubscribe Switch Weekly Issue 244 — August Sunday, 2021 Nintendo Switch OLED Hey, hope you're doing good.
Ace Attorney on Switch is Great
Sunday, August 1, 2021
Your Nintendo digest for the week ending August Sunday. No Objections Web version | Unsubscribe Switch Weekly Issue 243 — August Sunday, 2021 Great Ace Attorney Hello, hope you're well. Chris here
Pokemon unite for your moolah
Sunday, July 25, 2021
Your Nintendo digest for the week ending July Monday. MOBAMON Web version | Unsubscribe Switch Weekly Issue 242 — July Monday, 2021 Pokemon Unite Hi, here's issue #242 of Switch Weekly, with your