Brewster's coffee goes cold on Expansion Pack price reveal
Your Nintendo digest for the week ending October 17.
Web version | Unsubscribe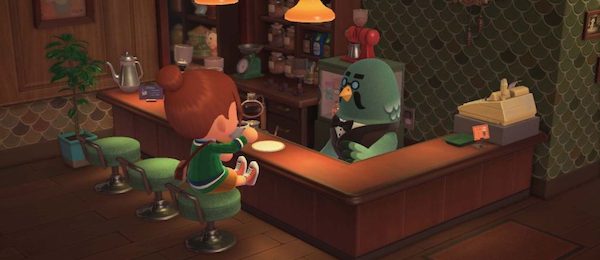 Hey, Chris back in your inbox again, this time with issue #253 of Switch Weekly. Hope you're doing well.
I'm still chipping away at Metroid Dread — I've seen a lot of folks that I talk to / follow that have now finished it. I'm playing at something of a leisurely pace by comparison, squeezing in the odd hour or so when I get chance. I'm loving it, but the longer it takes me, the more likely I am to stumble across end-game spoilers online. Also, it's really tempting to start watching some of the insane speedruns of this game that are starting to emerge. Anyway, that light blue EMMI sure is a pain in the ass huh? 😅 How far along are you? Have you finished it? I'd love to know what you think — hit reply and share.
Anyway, everyone expected the big news this week to be whatever came out of the Animal Crossing Direct (which aired Friday) — and well, true enough it was — but not for the reasons we were expecting. To the surprise of many, this Direct ended up announcing the price points for the imminent Switch Online 'Expansion Pack'. Many, myself included, expected Nintendo to pop ten bucks on the existing asking price of $20 and that would be that, but they threw something of a curveball, announcing that the new tier would also get the new 25 dollar Animal Crossing DLC thrown in — at a cost. As such, the Expansion Pack tier (which also gets you access to a library of Genesis and N64 titles) will set you back $50 a year. That's a 150% difference over the original twenty dollar NSO tier, which is proving a bit rich for some and a rather unpopular move generally. In the UK the jump isn't quiet so dramatic at 95%, with prices now set at £17.99 and £34.99 annually for each respective tier. These things vary from market to market.
My take on this is, no matter what you perceive the value of the original Nintendo Switch Online service to be, Nintendo really did underprice it. This new tier feels like a course correction, getting them to where they now think they should be.
One respected commenter theorized that pricey licensing costs may be behind the higher than expected price point.
The reality is this, I understand all the frustrations, but personally in a world of Netflix, Disney+, and countless other subs I'm happy to pay a few bucks a month to get access to something that's so near and dear to me (N64 titles say hi). Playing Mario Kart 64 online is a real draw for me. Yup, nostalgia is quite the money maker. I'm also in a family plan which makes this really afforable - I'll get everything for like £7.50 a year — it really is worth getting together with a group of seven others to get this as cheap as possible. Nintendo don't seem to mind that it ain't your actual family. I'd love to know your thoughts on this as it seems to have sparked quite the conversation. Hit reply.
Anyway, another big slew of games hitting the Switch next week, with just under 30 games on the way — a varied bunch, not many heavy hitters like the last few weeks though.
Finally, for the Twitter users out there — I've been kicking the tires on a new communities feature Twitter are trying out. Naturally I've set up a Nintendo community. Drop me a DM if you want in. 🤙

Thanks for reading, catch you next time.
Chris ✌️
🎮 Currently Playing — Metroid Dread
🎮 Upcoming Releases

All releases are digital, Europe & U.S. unless otherwise stated.
Release data sourced in collaboration with Switch Scores.
⭐️ = Ones to Watch | 📦 = Physical release | 🎮 = Demo available
Monday, October 18
Tuesday, October 19
Wednesday, October 20
Thursday, October 21
Friday, October 22
---
❤️ Switch Weekly remains accessible and sustainable thanks to the ongoing support of my absolutely amazing patrons, including:

PC, CapnGoat, SB, FrozenTrout, JR, MindFad, Greg, Michael Fairley, Chris D, and others — why not join them?

Switch Weekly is sent once weekly. If you're no longer interested, you can unsubscribe.

This newsletter may contain affiliate links, which help keep the newsletter sustainable.

🌳
In an effort to offset the carbon of sending this newsletter a tree is planted for every issue sent.

Copyright © 2021 Switch Weekly - Chris Brandrick, All rights reserved.
Made in Europe.
Key phrases
Older messages
Dreadful emulation, Sora in Smash, and OLED envy
Sunday, October 10, 2021
Your Nintendo digest for the week ending October 10. #ThankYouSakurai Web version | Unsubscribe Switch Weekly Issue 252 — October 10, 2021 Metroid Dread Hello, Chris here with issue #252 of Switch
Nintendo's 4K problem, OLED and Dread imminent
Sunday, October 3, 2021
Your Nintendo digest for the week ending October 03. 11 devs, 4k res, 1 rebuttal. Web version | Unsubscribe Switch Weekly Issue 251 — October 03, 2021 Super Monkey Ball Banana Mania Hey, here's
So, how about that Nintendo Direct...
Sunday, September 26, 2021
Your Nintendo digest for the week ending September 26. Leaky Kirb. Web version | Unsubscribe Switch Weekly Issue 250 — September 26, 2021 Kirby for Nintendo Switch Hi, Chris here with issue #250 (250!)
I'm still legit shocked at the Bluetooth audio news
Sunday, September 19, 2021
Your Nintendo digest for the week ending September 19. Switching to wireless. Web version | Unsubscribe Switch Weekly Issue 249 — September 19, 2021 Splatoon 2 AirPods Hey, Chris here with issue #249
back with some Wario reviews and Nintendo news
Sunday, September 12, 2021
Your Nintendo digest for the week ending September 12. WAH. Web version | Unsubscribe Switch Weekly Issue 248 — September 12, 2021 WarioWare: Get It Together Hi, here's issue #248 of Switch Weekly