🎵 If you like Jordan Rakei, FINNEAS, JAWNY, Mallrat, or Black Pistol Fire...
Album Daily Week #105 [November 15 - 19]

Hello all. We'd like to take a second to say that our deepest condolences go out to everyone affected as a result of the Astroworld tragedy. We won't pretend to have the right words to say right now, but the music community is hurting and the best thing we at Album Daily can do to help is share a resource to learn more about the tragedy and what we all can do to prevent another similar incident in the future.

We think a phenomenal source of information is a 27 minute Explained podcast episode by Vox. They host a discussion with a crowd scientist who is able to break down the situation and leave us with the knowledge needed to make sure something like this never happens again.

Have a safe week everyone. Now, turn your speakers up!

- Andrew, Lowell, and Matt
Swimming Static
Elder Island
Genre: Electronic
Release Date: May 28, 2021
Top Tracks: Purely Educational, Embers, Trailblazer
Similar Artists: Jordan Rakei, Maribou State, Tycho

Dance music… but make it an indie band. This 3-piece band from Bristol has been on my radar ever since their release of You & I a couple of years ago, which various funk & disco electronic artists remixed. They're now back with their 2021 full length album and it certainly doesn't disappoint. As mentioned, the band is essentially a small indie-rock/pop band but aided by loads of synthesizers. The band forgoes the light, airy and fun type music that many with similar constructions pursue in favor of a darker, more haunting vibe. This is established with lead singer Katy Sargent's vocals on every track. Swimming Static is best enjoyed on a rainy day.

Bonus content: if you're anything like me, then you love getting a "behind the scenes" look into how not only bands put together their albums but also how the bands construct their live shows. This behind the scenes video breaks down both for Elder Island. Interestingly, the band has fairly rigid responsibilities for live shows; Katy on vocals, Luke on bass and drums and Dave does guitar and synths, all aided by a loop pedal. However, when it comes to the studio, all rigid construction falls apart. The band members are all grabbing different instruments and doing all they can to find that perfect sound, regardless of who normally plays the instrument.
Click below to listen on your favorite platform:
Friends That Break Your Heart
James Blake
Genre:

Indie-Alternative
Release Date: October 8, 2021
Top Tracks: Life Is Not The Same, Coming Back, Friends That Break Your Heart
Similar Artists: FINNEAS, Jamie xx, Four Tet

If you weren't able to gather this from the album art, James Blake is one weird cookie. One highly respected and talented cookie… but a weird cookie nonetheless. Never one to abide by traditional song structure, this newest album from Blake certainly comes the closest to doing this. This eccentricity is what attracted so many artists to work with him previously from Frank Ocean, to Kendrick Lamar to Metro Boomin. This album is notably devoid of features… only garnering a couple from slowthai and SZA… which happen to be a couple of the best tracks on the album.

This latest album from Blake might be the most approachable or easy to listen to because he actually for once can drop a beat on the down beat instead of leaving the listener off-kilter and confused. Still not an album to turn to if you're trying to sing along but if you're looking for something to get introspective on and really deconstruct, Blake never disappoints in this department. Check out this Vulture article that discusses the influence Blake has had on song writing, production and the music industry at large.
Click below to listen on your favorite platform:
How Did We Get Here?
Blu DeTiger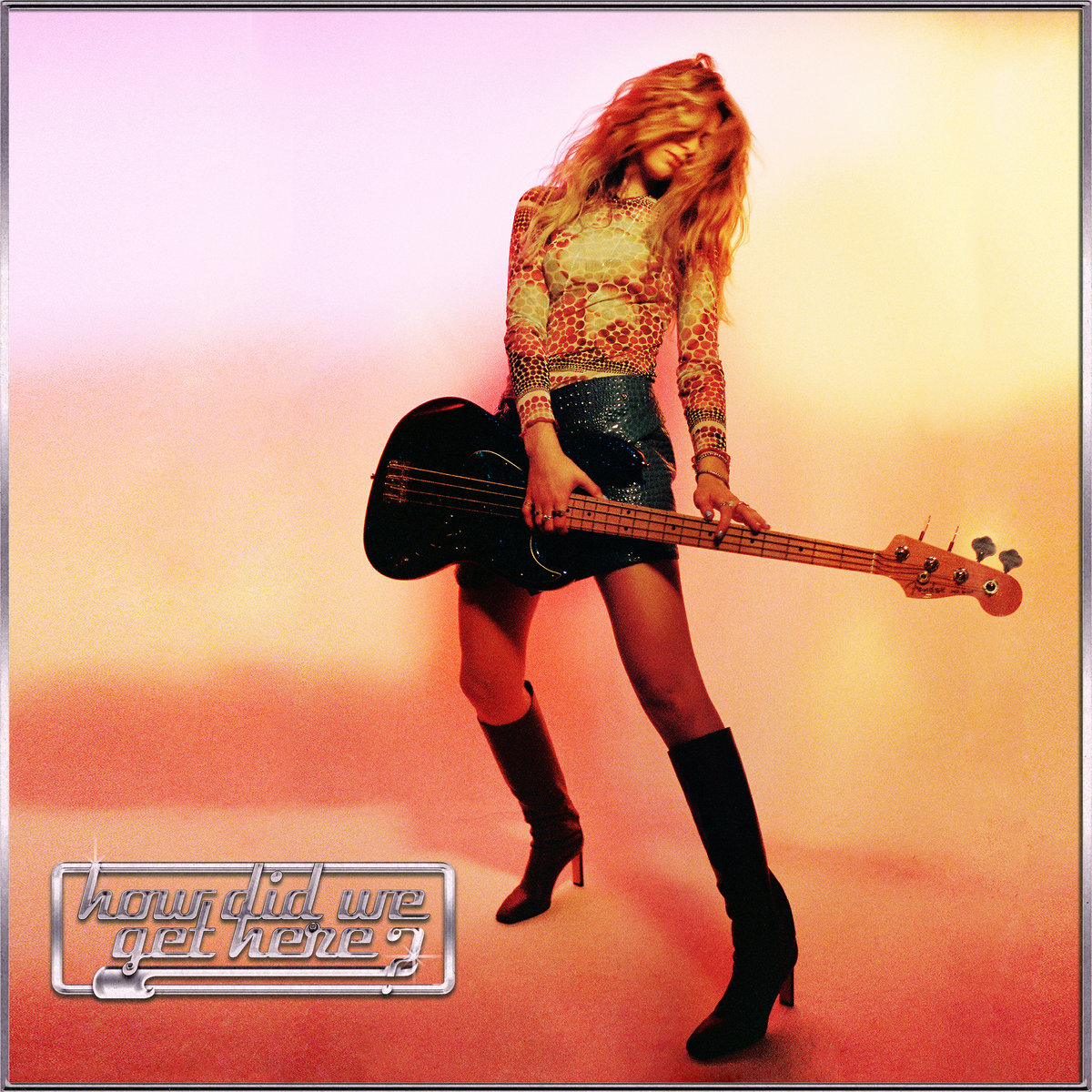 Genre: Funk
Release Date: March 5, 2021
Top Tracks: Figure It Out, Cotton Candy Lemonade, Vintage
Similar Artists: NoMBe, JAWNY, spill tab

Another week of Album Daily, another featured artist whose success can, in one way or another be attributed, to Tik Tok. This time, it's Blu DeTiger, otherwise known as the "Tik Tok bassist" who first rose to fame with the virality of her bass-led tutorials, covers, and duets on the rapidly growing social media platform. Check out her most famous videos here. Before her videos were reaching millions of viewers, she was attending NYU and traveling the country as a production DJ for pop artists like Caroline Polacheck. It's this background in electro-pop production that she masterfully combines with undeniably catchy baselines to produce a truly unique sound - one that is groovy, a bit wonky, definitely fabulous but in an alt sort of way. Either way, I can promise you haven't heard a project quite like 'How Did We Get Here?'
Click below to listen on your favorite platform:
Genre: Pop
Release Date: April 5, 2019
Top Tracks: Sweet Little Lies, Euphoria, Get Stupid
Similar Artists: Mallrat, girl in red, Carlie Hanson

If you're into the new-age lo-fi bedroom pop movement, this album is for you. Crisp electronic production, vibe-y synths, and angsty lyrics that just speak to that "mood" we all get in from time to time - Crystalline has it all. Despite its relatively upbeat sound, this EP does not shy away from heavier and even darker topics. At just 19 years, bulow uses catchy yet undeniably haunting melodies to address topics like drug use, mental health, and her personal struggles with the highs and lows of love. There's also an easy parallel between the 7th song on the album "Euphoria" and the Zendaya-led tv show that shares the same name. Both are evocative, sensual, and will certainly put you back in that "mood." As bulow warns, "this Euphoria don't last forever" … listen accordingly.
Click below to listen on your favorite platform:
Pressure & Time
Rival Sons
Genre:

Rock
Release Date: June 20, 2011


Top Tracks:

Young Love, Pressure & Time, Get Mine
Similar Artists: Black Pistol Fire, The Stone Foxes, Black Stone Cherry

If I'm ever running out of adjectives to describe music and sounds when I'm writing, sometimes I just want to write: this some good shit. Well, here I am: this is some good shit and if you like rock music, I think you should check this album out.
Click below to listen on your favorite platform:
Let us know what you think of the albums!
Share Album Daily
Be the friend that recommends great music,

forward this email to someone who loves music
Have an album suggestion, or interested in doing a guest review? Just reply to this email and you'll reach us.

Until Next Time!
- Andrew, Lowell, and Matt
This email was sent to you


why did I get this?

unsubscribe from this list

update subscription preferences


Album Daily · 242 N Summit St · Indianapolis, IN 46201 · USA


Key phrases
Older messages
🎶If you like Ed Sheeran, Toro y Moi, or Julia Jacklin ...
Monday, November 8, 2021
Albums this week from Max Boyle, Kaytranada, Ruby Waters and MORE! Album Daily Week #104 [Novermber 8th - 12th] Ahhh yes it's that time of year again. Not even a week past Halloween and Mariah
🎵 If you like H.E.R, Adele, Ashe, Elderbrook, The White Stripes or Golden Features..
Monday, November 1, 2021
We've got Rock, Folk, Jazz, Indie and Electronic albums for you this week! Album Daily Week #103 [November 1 - 5] GoOoOoOoD Morning (or afternoon.... or evening) Album Daily subscribers! Last week
🎵 If you like Muse, Nathaniel Rateliff, Hans Zimmer, Matt and Kim, or HUNNY...
Monday, October 25, 2021
We've got Rock, Folk, Indie-Alternative, and Electronic albums for you this week! Album Daily Week #102 [October 25 - 29] Hey, howdy, hello! Welcome back for another week of a new album every day.
🌞 If you like Wallows, Bendigo Fletcher, or Caamp ...
Tuesday, October 19, 2021
"The indie pop band is new but have locked down a synth focused sound and positive vibe that seems like a local band in an indie coming of age movie" Album Daily Logo Sunmates - Live at Radio
🎶 If you like Future, Jason Isbell or Magic City Hippies ...
Monday, October 18, 2021
Albums this week from Drake, Trash Panda, Sunmates, No Suits, and Nathaniel Rateliff ... Album Daily Week #101 [October 18th - 22nd] Happy Monday Folks! Sometimes it's worth it to take a step back