No growth for growth's sake, Minimum Viable Promise, The Super Specific How
​
​
This email found its way into your inbox because you were awesome and subscribed here OR here or maybe here. This email may contain affiliate links where I receive a small commission for recommending products I use & love at no extra cost to you.
​
---
Welcome to Growth Currency⚡ #51 — your digital dose of creator caffeine
And a special welcome to the 11 newest members of the Growth Currency⚡ newsletter community! Welcome Jay, Carlo, Gregor, David, Donald, Scott, and Teresa—to name a few!
I appreciate you being here and I hope you get what you're after. Send me a DM if not! 🙏
​
---
​
GROWTH INSIGHTS | No growth is still growth.
Thanks for being here. Next week is issue #52, and I'm excited.
For a few reasons...
1) I'll hit the one year straight publishing milestone (something I never thought I could do)
2) I'm going to end my streak at #52
Why?
#52 is significant for me and something I am very proud of. I've grown this newsletter from zero to over 1,100 of you fabulous people in a year. And learned so much in the process.
But I'm also feeling caught in a hamster wheel.
My friend Merott from Course Creators Weekly recently ended his 73-week newsletter streak for some time to "figure things out".
I'm going to do the same.
I'm taking a much needed week off (or two?) from publishing this newsletter to think through my direction, focus, and what I truly want 2022 to look like for me and my family.
So the newsletter won't be "growing"—but I will be.
And that's what matters most.
​
---
Check it out → The Ultimate Creator Database of Awesomeness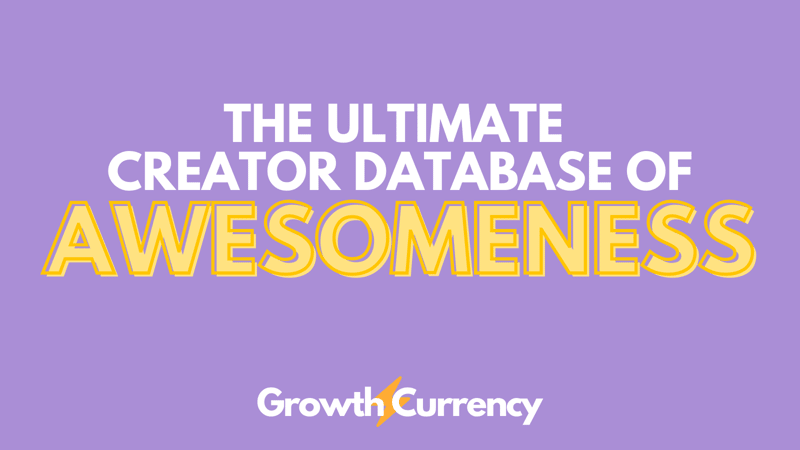 I've published over 50 editions of this newsletter with at least 5 links per edition.
That means I've curated more than 200 links to helpful…
» tools
» guides
» articles
» courses
» communities
to help YOU—the modern day creator.
Now I've captured them in what I'm calling The Ultimate Creator Database of Awesomeness!
---
[#Ad] Create immense clarity, confidence, and momentum for your freelance business in UNDER 30 minutes a day, for 7 days.
Matt Lady of Ventursom will teach you how to prep, embark, and navigate your personal AND business life as a freelancer with daily lessons & prompts so you can start to make money and earn back your freedom.
---
​
YOUR GROWTH CURRENCY ⚡ THIS WEEK
"Knowledge is the currency of growth."
​
---
​
​Nifty Generator — Generate your own NFT collection using no-code.
(via BrainPint)
​
---
​
​5 actionable ways to grow a brand Twitter account by Brian Dean (via ilo.so)
This article might be focused on growing a brand's Twitter following, but the concepts can easily apply to your personal brand, too.​
​
---
​
​1-3-5 List app — Use the 1-3-5 formula to create a highly prioritized to-do list with the FREE 1-3-5 List app.
​
---
​
​The Super Specific How by Wes Kao
"When a student is paying so much more for a CBC... their patience runs out quickly if your course is a blog post masquerading as something more." - Wes Kao
---
​
​How To Get Followers On Twitter by Josh Spector
​​
Here are a few pieces of Josh's advice: (much more where that came from)
→ Use Your Pinned Tweet To Get Followers
→ Use Quote Tweets Instead of Retweets
→ When You Follow Someone On Twitter, Tweet About It
​
​
---
​
​MPV: Minimum Viable Promise by Jay Clouse
I had no idea who Jay Clouse was at the beginning of 2021—yet he's become one of the creators I most look up to now. And articles like this are part of the reason why.
"The point is getting clear on the bare minimum you can promise your customers that gets them to buy in …and then you can surprise and delight them with more." - Jay Clouse
---
Happy New Year to you and yours!
I hope the flip of the calendar has you focused on what you truly want for the year ahead.
See you next week.
And in case you missed it, here are last week's most popular links:
#1: ​18 Trends That Will Shape Our Careers in 2022 by Nick deWilde
​#2: ​​​​​​Dickie's Digest — The Best Podcasts of 2021 by Dickie Bush
Peace and platonic love,
Dylan
PS: Whether you think you can or think you can't, you're right.
Key phrases
Older messages
Don't set goals, Best podcasts of 2021, 6 figures a day teaching Excel on Tiktok.
Thursday, December 30, 2021
Setting big goals sets you up for disappointment. Do this instead. ‌ ‌ ‌ ‌ ‌ ‌ ‌ ‌ ‌ ‌ ‌ ‌ ‌ ‌ ‌ ‌ ‌ ‌ ‌ ‌ ‌ ‌ ‌ ‌ ‌ ‌ ‌ ‌ ‌ ‌ ‌ ‌ ‌ ‌ ‌ ‌ ‌ ‌ ‌ ‌ ‌ ‌ ‌ ‌ ‌ ‌ ‌ ‌ ‌ ‌ ‌ ‌ ‌ ‌ ‌ ‌ ‌ ‌ ‌ ‌ ‌ ‌ ‌ ‌ ‌ ‌ ‌
The GC⚡ Top 12 Resources from 2021!
Wednesday, December 22, 2021
I've shared over 250 resources this year. Here are the 12 most popular. ‌ ‌ ‌ ‌ ‌ ‌ ‌ ‌ ‌ ‌ ‌ ‌ ‌ ‌ ‌ ‌ ‌ ‌ ‌ ‌ ‌ ‌ ‌ ‌ ‌ ‌ ‌ ‌ ‌ ‌ ‌ ‌ ‌ ‌ ‌ ‌ ‌ ‌ ‌ ‌ ‌ ‌ ‌ ‌ ‌ ‌ ‌ ‌ ‌ ‌ ‌ ‌ ‌ ‌ ‌ ‌ ‌ ‌ ‌ ‌ ‌ ‌ ‌
Don't like this tweet, How to write copy like Hemingway, How to pitch yourself to podcasts
Wednesday, December 15, 2021
Stop liking tweets. Here's what to do instead. ‌ ‌ ‌ ‌ ‌ ‌ ‌ ‌ ‌ ‌ ‌ ‌ ‌ ‌ ‌ ‌ ‌ ‌ ‌ ‌ ‌ ‌ ‌ ‌ ‌ ‌ ‌ ‌ ‌ ‌ ‌ ‌ ‌ ‌ ‌ ‌ ‌ ‌ ‌ ‌ ‌ ‌ ‌ ‌ ‌ ‌ ‌ ‌ ‌ ‌ ‌ ‌ ‌ ‌ ‌ ‌ ‌ ‌ ‌ ‌ ‌ ‌ ‌ ‌ ‌ ‌ ‌ ‌ ‌ ‌ ‌ ‌ ‌ ‌ ‌
Is Web3 really for Creators? Plus, Formula for making $10k/month, and Time Billionaires
Wednesday, December 8, 2021
The answer is a resounding yes. Web3 is for creators. Read on... ‌ ‌ ‌ ‌ ‌ ‌ ‌ ‌ ‌ ‌ ‌ ‌ ‌ ‌ ‌ ‌ ‌ ‌ ‌ ‌ ‌ ‌ ‌ ‌ ‌ ‌ ‌ ‌ ‌ ‌ ‌ ‌ ‌ ‌ ‌ ‌ ‌ ‌ ‌ ‌ ‌ ‌ ‌ ‌ ‌ ‌ ‌ ‌ ‌ ‌ ‌ ‌ ‌ ‌ ‌ ‌ ‌ ‌ ‌ ‌ ‌ ‌ ‌ ‌ ‌ ‌ ‌ ‌
How persistence can pay off, 17 Free Digital Marketing Courses, One-Touch to Inbox Zero
Wednesday, December 1, 2021
What do you do once you take the advice and "Just start"? Here are some ideas. ‌ ‌ ‌ ‌ ‌ ‌ ‌ ‌ ‌ ‌ ‌ ‌ ‌ ‌ ‌ ‌ ‌ ‌ ‌ ‌ ‌ ‌ ‌ ‌ ‌ ‌ ‌ ‌ ‌ ‌ ‌ ‌ ‌ ‌ ‌ ‌ ‌ ‌ ‌ ‌ ‌ ‌ ‌ ‌ ‌ ‌ ‌ ‌ ‌ ‌ ‌ ‌ ‌ ‌ ‌ ‌