#52: Reflection & a favor, 10 tips to write better, the best FREE software
​
​
This email found its way into your inbox because you were awesome and subscribed here OR here or maybe here. This email may contain affiliate links where I receive a small commission for recommending products I use & love at no extra cost to you.
​
---
Welcome to Growth Currency⚡ #52 — the one where I celebrate one year straight!
And a special welcome to the 21 newest members of the Growth Currency⚡ newsletter community! Welcome Carina, Briannon, Rob, Phil, Jenny, Tiago, David, Graham, Sarah, Deborah, and Mark—to name a few :)
I appreciate you being here and I hope you get what you're after. 🙏
​
---
​
GROWTH INSIGHTS | A reflection + a favor.
I heard Dickie Bush on the Creative Elements podcast in April 2021 explaining why he persistently published a weekly newsletter.
The advice given to him: "Write an email newsletter every week for a year and watch it change your life."
That advice was from Khe Hy, founder of RadReads. It was the push he needed to publish Dickie's Digest—which he did for over 70 weeks straight.
Dickie embraced the writing + publishing habit and is now the successful founder of one of the most popular online cohort-based courses, Ship 30 For 30.
Would he have gotten there without his newsletter publishing habit? Impossible to say—but I suspect not.
There's power in publishing and putting your work out there for all to see. Dickie, along with thousands of others, are proof of the opportunity creating and publishing can bring. And, the more you publish, the more opportunity you create for yourself.
Another way I've heard it said: "you expand your surface area for luck."
This Growth Currency newsletter has been anecdotal proof of that concept. This is my 52nd edition in a row—meaning I have been publishing it for a year straight.
The benefits? I've earned a bit of income from it—but more than that, I've learned so much from drafting, editing, publishing, and promoting the newsletter for 52 weeks. And I've had a few opportunities arise from my efforts.
But... I need to refocus.
And as alluded to last week, I'm going to take a week (or two?) off from publishing to rethink this newsletter and where I hope to take it in 2022.
I've been caught up in the hamster wheel of writing & publishing that I haven't given myself time to consider any goals or direction going forward.
With that, can I ask for a quick favor?...
I would be so grateful if you took 1 minute and filled out this simple 4-question survey to help guide this newsletter's direction and focus.
I have nothing to offer you as incentive except for an improved product offering. Hopefully ;)
Thank you a million times over in advance.
​
---
Check it out → The Ultimate Creator Database of Awesomeness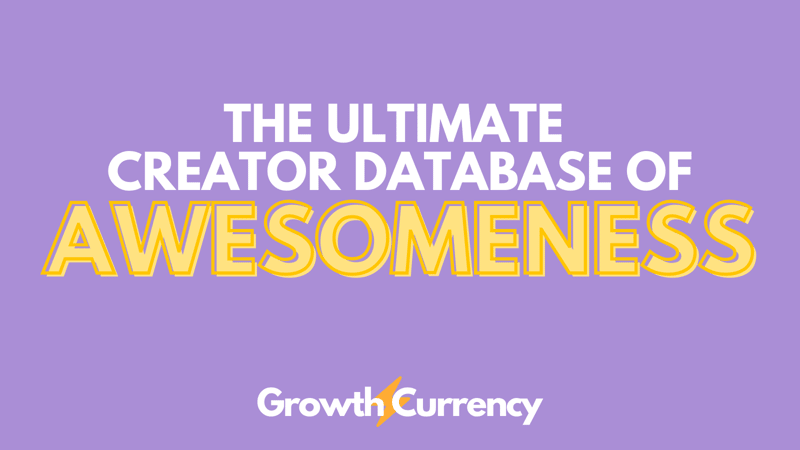 I've published over 50 editions of this newsletter with at least 5 links per edition.
That means I've curated more than 200 links to helpful…
» tools
» guides
» articles
» courses
» communities
to help YOU—the modern day creator.
Now I've captured them in what I'm calling The Ultimate Creator Database of Awesomeness!
---
[#Ad] Create immense clarity, confidence, and momentum for your freelance business in UNDER 30 minutes a day, for 7 days.
Matt Lady of Ventursom will teach you how to prep, embark, and navigate your personal AND business life as a freelancer with daily lessons & prompts so you can start to make money and earn back your freedom.
---
​
YOUR GROWTH CURRENCY ⚡ THIS WEEK
"Knowledge is the currency of growth."
​
​​
​⚡ There's a ton of FREE software out there. This thread is loaded with favorites for the Creator Economy. Many I didn't even realize that have free options!
​
⚡ Ali Abdaal earned over $4M in 2021. Here's how he did it.
​
⚡ This tool will take your sales decks to another level — AND — give you valuable data and engagement insights, too.
​
⚡ Gamify your Twitter growth and win $ with this Twitter growth challenge.
​
⚡ Become a better writer with these 10 tips by a best-selling author.
​
⚡ Can't stick to your goals? Maybe failing isn't painful enough. This app charges you if you miss your goals. This app pays your friends if you miss your goals. THAT'S incentive. ​
​​
​
---
​
Are you measuring your content correctly? 🤔
[#Ad] Nudge cut their teeth on enterprise content marketing clients (helping them buy from creators like you) and now is opening up their tools to all content creators.
Content marketing is art & science AND business. Creators use Nudge to get measurement done right—from content focused metrics, automated insights, to benchmarks & conversions. Nudge is your complete solution.
​Explore at giveitanudge.com »​
​
---
Thanks once again for reading.
Not sure if you noticed, but I changed up the Growth Currency links section a bit. Blame the Josh Spector influence ;)
I'm looking forward to your survey response, and looking forward to coming back at you with a refreshed focus in a few weeks.
In the meantime, be sure to connect with me on Twitter—DMs are open, too!
And in case you missed it, here are last week's most popular links:
#1: ​​5 actionable ways to grow a brand Twitter account by Brian Dean
​#2: ​​​​​​Nifty Generator — Generate your own NFT collection using no-code.
Peace and platonic love,
Dylan
PS: Whether you think you can or think you can't, you're right.

Key phrases
Older messages
No growth for growth's sake, Minimum Viable Promise, The Super Specific How
Wednesday, January 5, 2022
Take some time off from growing, for growth's sake. ‌ ‌ ‌ ‌ ‌ ‌ ‌ ‌ ‌ ‌ ‌ ‌ ‌ ‌ ‌ ‌ ‌ ‌ ‌ ‌ ‌ ‌ ‌ ‌ ‌ ‌ ‌ ‌ ‌ ‌ ‌ ‌ ‌ ‌ ‌ ‌ ‌ ‌ ‌ ‌ ‌ ‌ ‌ ‌ ‌ ‌ ‌ ‌ ‌ ‌ ‌ ‌ ‌ ‌ ‌ ‌ ‌ ‌ ‌ ‌ ‌ ‌ ‌ ‌ ‌ ‌ ‌ ‌ ‌ ‌ ‌ ‌ ‌
Don't set goals, Best podcasts of 2021, 6 figures a day teaching Excel on Tiktok.
Thursday, December 30, 2021
Setting big goals sets you up for disappointment. Do this instead. ‌ ‌ ‌ ‌ ‌ ‌ ‌ ‌ ‌ ‌ ‌ ‌ ‌ ‌ ‌ ‌ ‌ ‌ ‌ ‌ ‌ ‌ ‌ ‌ ‌ ‌ ‌ ‌ ‌ ‌ ‌ ‌ ‌ ‌ ‌ ‌ ‌ ‌ ‌ ‌ ‌ ‌ ‌ ‌ ‌ ‌ ‌ ‌ ‌ ‌ ‌ ‌ ‌ ‌ ‌ ‌ ‌ ‌ ‌ ‌ ‌ ‌ ‌ ‌ ‌ ‌ ‌
The GC⚡ Top 12 Resources from 2021!
Wednesday, December 22, 2021
I've shared over 250 resources this year. Here are the 12 most popular. ‌ ‌ ‌ ‌ ‌ ‌ ‌ ‌ ‌ ‌ ‌ ‌ ‌ ‌ ‌ ‌ ‌ ‌ ‌ ‌ ‌ ‌ ‌ ‌ ‌ ‌ ‌ ‌ ‌ ‌ ‌ ‌ ‌ ‌ ‌ ‌ ‌ ‌ ‌ ‌ ‌ ‌ ‌ ‌ ‌ ‌ ‌ ‌ ‌ ‌ ‌ ‌ ‌ ‌ ‌ ‌ ‌ ‌ ‌ ‌ ‌ ‌ ‌
Don't like this tweet, How to write copy like Hemingway, How to pitch yourself to podcasts
Wednesday, December 15, 2021
Stop liking tweets. Here's what to do instead. ‌ ‌ ‌ ‌ ‌ ‌ ‌ ‌ ‌ ‌ ‌ ‌ ‌ ‌ ‌ ‌ ‌ ‌ ‌ ‌ ‌ ‌ ‌ ‌ ‌ ‌ ‌ ‌ ‌ ‌ ‌ ‌ ‌ ‌ ‌ ‌ ‌ ‌ ‌ ‌ ‌ ‌ ‌ ‌ ‌ ‌ ‌ ‌ ‌ ‌ ‌ ‌ ‌ ‌ ‌ ‌ ‌ ‌ ‌ ‌ ‌ ‌ ‌ ‌ ‌ ‌ ‌ ‌ ‌ ‌ ‌ ‌ ‌ ‌ ‌
Is Web3 really for Creators? Plus, Formula for making $10k/month, and Time Billionaires
Wednesday, December 8, 2021
The answer is a resounding yes. Web3 is for creators. Read on... ‌ ‌ ‌ ‌ ‌ ‌ ‌ ‌ ‌ ‌ ‌ ‌ ‌ ‌ ‌ ‌ ‌ ‌ ‌ ‌ ‌ ‌ ‌ ‌ ‌ ‌ ‌ ‌ ‌ ‌ ‌ ‌ ‌ ‌ ‌ ‌ ‌ ‌ ‌ ‌ ‌ ‌ ‌ ‌ ‌ ‌ ‌ ‌ ‌ ‌ ‌ ‌ ‌ ‌ ‌ ‌ ‌ ‌ ‌ ‌ ‌ ‌ ‌ ‌ ‌ ‌ ‌ ‌