Switch Weekly - Taking a Tour of Mario's new tracks
Your Nintendo digest for the week ending March 20.
Web version | Unsubscribe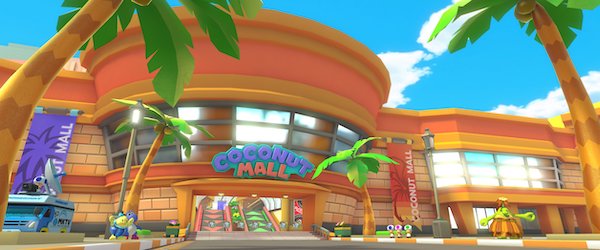 Hey, here's issue #274 of Switch Weekly with your update on the week in Nintendo.
This week saw the first wave of new Mario Kart 8 tracks drop, and it's been a blast to revisit the game and be reminded of just how darn great it is. For a game that debuted originally back in 2014, it still feels super fresh. I get why some may want to nitpick over the visuals, but honestly — to see one of the best racers of all time updated with new content years after release is just great. Whatever you think of the graphics, Mario Kart 8 Deluxe remains endlessly silly fun, and I'm all for another slice of that right now.
What's ahead? Well, there's just under 25 games coming to the Switch next week — the highlight of course is the new Kirby game. The full list is below for you as ever.
I'd hoped to be sharing the State of Switch survey results with you today, but sadly, after two plus years of doing our very best to avoid it, COVID finally caught up with the Brandrick household. I've somehow personally managed to avoid it, but caring for others has taken priority of course.
I'll hopefully be sharing the results with you next week. Catch you then.
Cheers,
Chris ✌️
🎮 Currently Playing — Mario Kart 8 Deluxe, Pokemon Legends: Arceus, Tunic (Xbox)
🎮 Upcoming Releases

All releases are digital, Europe & U.S. unless otherwise stated.
Release data sourced in collaboration with Switch Scores.
⭐️ = Ones to Watch | 📦 = Physical release | 🎮 = Demo available
Tuesday, March 22
Wednesday, March 23
Thursday, March 24
Friday, March 25
---
💌 Switch Weekly remains accessible and sustainable thanks to the ongoing support of the following amazing patrons:

PC, CapnGoat, SB, FrozenTrout, JR, MindFad, Greg, Michael Fairley, Chris D, Andrew E, and others — why not join them?


Switch Weekly is sent once weekly. If you're no longer interested, you can unsubscribe.

This newsletter may contain affiliate links, which help keep the newsletter sustainable.

🌳
In an effort to offset the carbon of sending this newsletter a tree is planted for every issue sent.

Copyright © 2022 Switch Weekly - Chris Brandrick, All rights reserved.
Made in Europe.
Older messages
Sunday, March 13, 2022
Your Nintendo digest for the week ending March 13. Chocono. Web version | Unsubscribe Switch Weekly Issue 273— March 13, 2022 F-Zero X Hello, Chris here with issue #273 of Switch Weekly — your update
Trying Kirby as the Switch turns 5
Sunday, March 6, 2022
Your Nintendo digest for the week ending March 06. Half decade. Web version | Unsubscribe Switch Weekly Issue 272— March 06, 2022 Triangle Strategy Hey, Chris here with issue #272 of Switch Weekly —
Sunday, February 27, 2022
Your Nintendo digest for the week ending February 27. Team Quaxly. Web version | Unsubscribe Switch Weekly Issue 271— February 27, 2022 Pokemon Scarlet / Violet Hi, issue #271 of Switch Weekly here
Monday, February 14, 2022
Your Nintendo digest for the week ending February 14. Waddle Dee knows... Web version | Unsubscribe Switch Weekly Issue 269— February 14, 2022 EarthBound Hey, Chris here — back in your inbox with issue