💼 What women want (from their employers)

Sallie's Opinion
The cost of corporate silence
This summer, I was at a gathering in the weeks after the Supreme Court decision striking down Roe v. Wade. A senior executive from one of the country's largest corporations was asked about his company's reproductive rights benefits. As is befitting of his company's size and stature, he sketched out, with some pride, its top-of-the-line health care benefits. He went on to describe how pleased — and relieved — his senior leadership team was when they confirmed that their health insurance already covered travel for medical procedures. This means that it covers travel from states that restrict reproductive rights to those that provide abortions.
He was pleased because the travel provisions were in place, yes. He was also pleased because it meant his company did not have to take any action in those immediately post-Roe days. Instead of having to "make a statement," they could keep their proverbial corporate head down and not risk "becoming part of the story."
Crisis averted. Sigh of relief.
Except maybe not. Because sometimes remaining silent is not a bullet dodged, but rather a cost postponed. And the cost, in this case, can be many of the women who work for — and buy from, and invest in — these companies.
I wrote this and more in a note to business leaders for Fortune magazine this week. Read it at the link below. (And then maybe send it to your boss.)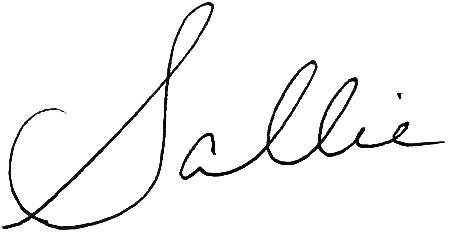 CO-FOUNDER & CEO
The first pillar of financial wellness: your financial foundation
It might be uncomfortable at first, but knowing what your $ is doing is an essential step toward feeling confident about your finances. Check a few of these off your list today.
"It's not just about money. Remote work, standing desk, tuition, etc. can all be negotiated."
– Elle Raiser @mademoiselle.nat on Instagram when we asked, "If you're a strong negotiator, what has worked for you?" We couldn't agree more — here are some more things you can ask for.
Give yourself a jump-start with two ~*~free~*~ worksheets
Getting started can be tough — especially when it comes to financial self-care. That's why we made not one, but two financial wellness worksheets — one to assess your financial health and one to get you thinking about what financial wellness means to you — and also made them free for everyone.
Mark your calendar: Workshops this week
•

How to Pay Off Debt: It's a lot easier to pay off those balances when you know which methods work for you. We teach you a few in this workshop. 💳

TODAY 5 PM ET: Sign up

•

Investing, Part 1: How It All Works: No one gets left behind! Learn everything you never quite got from Googling, from "What's a stock?" to "How do compounding returns work?" in this intro crash course. 📈

THURSDAY 5 PM ET: Sign up
Busy this week? Check out all upcoming workshop dates and times.
Links to give you thinks (sorry)
| | |
| --- | --- |
| • | ICYMI, CEO Sallie Krawcheck joined NPR's Michel Martin to chat about what the new Ellevest Women's Financial Health Index tells us. |
| • | The EPA finally established an environmental justice office — so we loved this piece from The 19th about Dollie Burwell, who started the fight to get the government to acknowledge environmental racism more than 40 years ago. 🌿 |
| • | We're about halfway through Hispanic Heritage Month, which kicked off on September 15 (Mexican Independence Day) and runs through October 15. Check out our list of 14 incredible Latinas disrupting business and money and what it means to be successful. 👑 |
| • | What do abortions really cost? It's not just about the procedure itself. The New York Times did a breakdown of what it costs people — and who's ultimately footing the bill. (Hint: It's the people who contribute to abortion funds.) |
| • | Supreme Court Justice Ketanji Brown Jackson was formally sworn in on Friday as the 116th justice to serve on the court (not to be confused with the official swearing-in (?), which happened back in June when Justice Breyer stepped down). ⚖️ |
Start investing in your future.
This week's newsletter was brought to you while pretending to be in Europe. 🎻 Forward it to your friends who yearn for tiny espressos.
FOLLOW US
All opinions and views expressed by Ellevest are current as of the date of this writing, for informational purposes only, and do not constitute or imply an endorsement of any third party's products or services.

Information was obtained from third-party sources, which we believe to be reliable but not guaranteed for accuracy or completeness.

The information provided should not be relied upon as investment advice or recommendations, does not constitute a solicitation to buy or sell securities and should not be considered specific legal, investment or tax advice.

The information provided does not take into account the specific objectives, financial situation, or particular needs of any specific person.

Investing entails risk, including the possible loss of principal, and there is no assurance that the investment will provide positive performance over any period of time.

As of

8/15/2022

, Ellevest Membership fees can be found

here

. Other fees as described in Ellevest's Wrap Fee Program Brochure and the Ellevest Membership Terms and Conditions Agreement will continue to apply.

Key phrases
Older messages
💡 5 Surprising Stats on Women and Money
Tuesday, September 27, 2022
Plus, how the Ellevest community practices financial wellness. ‌ ‌ ‌ ‌ ‌ ‌ ‌ ‌ ‌ ‌ ‌ ‌ ‌ ‌ ‌ ‌ ‌ ‌ ‌ ‌ ‌ ‌ ‌ ‌ ‌ ‌ ‌ ‌ ‌ ‌ ‌ ‌ ‌ ‌ ‌ ‌ ‌ ‌ ‌ ‌ ‌ ‌ ‌ ‌ ‌ ‌ ‌ ‌ ‌ ‌ ‌ ‌ ‌ ‌ ‌ ‌ ‌ ‌ ‌ ‌ ‌ ‌ ‌ ‌ ‌ ‌ ‌ ‌ ‌
📣 Today's Financial Wellness Day!
Thursday, September 22, 2022
And wow, do we have some big news to share. ‌ ‌ ‌ ‌ ‌ ‌ ‌ ‌ ‌ ‌ ‌ ‌ ‌ ‌ ‌ ‌ ‌ ‌ ‌ ‌ ‌ ‌ ‌ ‌ ‌ ‌ ‌ ‌ ‌ ‌ ‌ ‌ ‌ ‌ ‌ ‌ ‌ ‌ ‌ ‌ ‌ ‌ ‌ ‌ ‌ ‌ ‌ ‌ ‌ ‌ ‌ ‌ ‌ ‌ ‌ ‌ ‌ ‌ ‌ ‌ ‌ ‌ ‌ ‌ ‌ ‌ ‌ ‌ ‌ ‌ ‌ ‌ ‌ ‌ ‌ ‌ ‌ ‌ ‌
💸 Money Cheat Sheet: Do You Have a $ Map?
Thursday, September 15, 2022
Plus, next week's live events. (See you there?) ‌ ‌ ‌ ‌ ‌ ‌ ‌ ‌ ‌ ‌ ‌ ‌ ‌ ‌ ‌ ‌ ‌ ‌ ‌ ‌ ‌ ‌ ‌ ‌ ‌ ‌ ‌ ‌ ‌ ‌ ‌ ‌ ‌ ‌ ‌ ‌ ‌ ‌ ‌ ‌ ‌ ‌ ‌ ‌ ‌ ‌ ‌ ‌ ‌ ‌ ‌ ‌ ‌ ‌ ‌ ‌ ‌ ‌ ‌ ‌ ‌ ‌ ‌ ‌ ‌ ‌ ‌ ‌ ‌ ‌ ‌ ‌ ‌ ‌ ‌
👋🏼 Opinionated: Quiet ... Retirement
Tuesday, September 13, 2022
Plus, a workshop to help you feel good about money. ‌ ‌ ‌ ‌ ‌ ‌ ‌ ‌ ‌ ‌ ‌ ‌ ‌ ‌ ‌ ‌ ‌ ‌ ‌ ‌ ‌ ‌ ‌ ‌ ‌ ‌ ‌ ‌ ‌ ‌ ‌ ‌ ‌ ‌ ‌ ‌ ‌ ‌ ‌ ‌ ‌ ‌ ‌ ‌ ‌ ‌ ‌ ‌ ‌ ‌ ‌ ‌ ‌ ‌ ‌ ‌ ‌ ‌ ‌ ‌ ‌ ‌ ‌ ‌ ‌ ‌ ‌ ‌ ‌ ‌ ‌ ‌ ‌ ‌ ‌
💸 Money Cheat Sheet: Back-to-School Szn
Friday, September 9, 2022
Is it 85 degrees? Yes. Are we sipping a hot cider and playing around with our budget? Also yes. ‌ ‌ ‌ ‌ ‌ ‌ ‌ ‌ ‌ ‌ ‌ ‌ ‌ ‌ ‌ ‌ ‌ ‌ ‌ ‌ ‌ ‌ ‌ ‌ ‌ ‌ ‌ ‌ ‌ ‌ ‌ ‌ ‌ ‌ ‌ ‌ ‌ ‌ ‌ ‌ ‌ ‌ ‌ ‌ ‌ ‌ ‌ ‌ ‌ ‌ ‌ ‌ ‌