Nuclear plant bailout - Disney leadership shakeup - Rail strike fears
22 NOV 2022
Facts, not fear.
TRENDING TOPICS
Rail strike threat • Nuclear plant bailout • Saudi ruler's immunity • Turkish airstrikes • Disney leadership shakeup
FEATURED UNDER-REPORTED STORIES
Rogue diplomats • German nuclear weapons • Vacancy taxes
You are on the free plan of The Factual


Get a free month of Premium for referring just 1 friend.


TRENDING TOPICS, MOST CREDIBLE STORIES
#1 in U.S. News • 24 articles
Why did a major rail union reject a tentative contract?
Source: Bureau of Labor Statistics
Summary

Following months of negotiations, the SMART-TD union, which represents about 28,000 rail conductors, rejected the terms of a compromise contract worked out with the assistance of the Biden administration. The president of the union said "This can all be settled [...] without a strike." Just 50.9% of SMART-TD's members voted to reject the contract.

If a single union goes on strike, all 12 major rail unions will strike in solidarity -- even if the other unions agreed to the contract. Currently eight of the twelve unions have approved the contract. As 30% of U.S. cargo is moved through freight rail, a total strike would have large ramifications for the economy and supply chains. The American Chemistry Council, an industry group, projects a month-long strike could cost about 700,000 jobs.

Railroad companies have argued that workers are already well-paid, with the last round of negotiations hiking average pay up to $110,000 a year by 2024. Workers claim they are overworked and argue the tentative contract does not contain sufficient provisions for paid sick leave.

Highly-rated - last 48 hrs
Freight rail workers at the biggest unions split over their contract deal, raising the specter of a strike.
NBC News (Moderate Left) • Factual Grade 83% • 5 min read

Different political viewpoint


Rail strike threat renewed as largest rail union rejects labor contract.
Washington Examiner (Right) • Factual Grade 65% • 3 min read
Selected long-read


Potential rail worker strike caused by erratic scheduling.
American Prospect (Left) • Factual Grade 77% • 5 min read
#2 in U.S. News • 11 articles
Why is the Biden administration providing a grant to California's last nuclear plant?




The Biden administration's $6 billion Civil Nuclear Credit program is intended to support nuclear power, as some nuclear plants have struggled to compete with renewable energy and natural gas projects....


Full summaries, images, and headlines for subscribers only.
One payment. Once a year. $25

Upgrade Now


TODAY'S POLL
Should the government provide grants to keep struggling nuclear plants running?
All votes are anonymous. This poll closes at: 9:00 PDT
Should people be barred from running for federal office past the age of 70?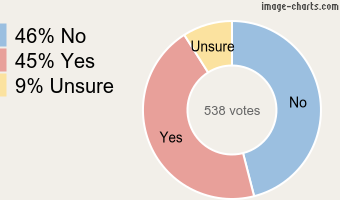 538 votes, 74 comments
Context: President Biden turns 80, a first for a U.S. president.
HIGHLIGHTED COMMENTS
" No - Although everyone running for or accepting any public office should be both mentally and physically capable of performing the task there is no specific age at which that capacity is magically lost, some people lose it earlier (John Fetterman for example), and some people lose it later. I have no issues with the age of the public servants so long as they actually serve the will of the people (their constituency) rather than force the people to accept their will (because they 'know better' than us). I do, however, believe there should be term limits for all public offices. The same people that were ruling the country 30 years ago should not still be here."
" Yes - And… I believe such folks should be cut out of the equation even though I am closing in on that magic age! I suffer no mental sluggishness, nor any physical limitation..."
" Unsure - My initial reaction is that age shouldn't be an obstacle for holding any office...then I remembered Article II section 1 of the US Constitution: "No..."
#1 in World News • 27 articles
Why did the U.S. say the Saudi crown prince should have immunity in a U.S. lawsuit?




After the death of Washington Post journalist Jamal Khashoggi, a lawsuit was filed against Saudi Arabia's crown prince by Khashoggi's fiancée, Hatice Cengiz, and DAWN, a rights group founded by Khashoggi...


Full summaries, images, and headlines for subscribers only.
Free your time. Get rid of multiple news feeds.

Upgrade Now


#2 in World News • 16 articles
Why has Turkey launched airstrikes into parts of Iraq and Syria?




Turkey launched airstrikes Saturday against Kurdish targets in Iraq and Syria following a bombing in Istanbul last week. Turkey blamed l...


Full summaries, images, and headlines for subscribers only.
Just the facts. Just about $2/mth.

Upgrade Now


#1 in Business News • 60 articles
Why is Bob Iger returning as Disney's CEO?




Bob Iger, who previously served as Disney's chief executive from 2005 to 2020, returned as the company's leader in a...


Full summaries, images, and headlines for subscribers only.
Multiple perspectives + Quick summaries = $25/yr

Upgrade Now


The Factual app. Faster reading. Always ad-free.
UPDATES & BREAKING NEWS

HIGHLY CREDIBLE, UNDER-REPORTED STORIES

EDITOR'S PICKS

Got feedback? Just reply to this newsletter and we'll respond within 48 hours.
Was this email forwarded to you? Sign up now to get The Factual in your inbox.
You received this email because you signed up for The Factual newsletter. Unsubscribe here.
The Factual, 55 E 3rd Ave, San Mateo, CA 94401, USA
Key phrases
Older messages